Dear Subscriber
Hello and welcome to the December ParishRegister.com newsletter.
Online Searchable Databases
In transcription now is:

St George in the East 1795-1808
St Dunstan, Stepney 1826-1835

Next up will be:

St Dunstan, Stepney 1770-1798
St Anne , Limehouse 1783-1812

There are now over 350,000 entries on the website, making it the largest collection of baptism registers for Tower Hamlets available online.


New Docklands Ancestors CD

Volume 46, St George in the East 1837-1848, is out now, continuing our coverage of this large east end parish.

As mentioned many times previously, the CDs of our transcriptions are a much better way to search the entries, as you can see all the different variations that a name might be found under...
Listing of Tower Hamlets Parish Registers
As a site about Tower Hamlets and parish registers, I thought it would be a jolly good idea if we had a listing of what parish registers are available for Tower Hamlets. So I compiled one. (It's been raining a lot lately ). The result, all 129 pages of it, can be found on our Area Maps & Churches page. It was too long to put on the site as a list, so it's available as a PDF download. Free of charge too. Do enjoy.
Compendium 4 Vols 41-50

Our Compendium CD 4 is out now comprising volumes 41-50, as follows:

Volume 41 St John, Wapping Baptism Registers 1842-1865
Volume 42 St Paul, Shadwell Baptism Registers 1813-1827
Volume 43 St George in the East Baptism Registers 1835-1837
Volume 44 St Paul, Shadwell Baptism Registers 1828-1852
Volume 45 St Dunstan, Stepney Baptism Registers 1757-1770
Volume 46 St George in the East Baptism Registers 1837-1848
Volume 47 Christchurch, Spitalfields Baptism Registers 1819-1842
Volume 48 St George in the East Baptism Registers 1771-1794
Volume 49 St George in the East Baptism Registers 1809-1815
Volume 50 St Dunstan, Stepney Baptism Registers 1730-1745

There are approx. 60,000 entries on the CD.

The price of the CD is £39.99. Purchased separately they would cost 10 x £7.95, £79.50. This really is the most cost effective way to search all of our transcriptions.

All purchasers at the pre-publication price should have received their delivery by now.
Featured Book 2: East End Neighbourhoods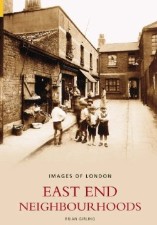 You'll recall I gave this book a mention last month, saying I had 8 copies. Now 8 copies of a book is a lot for us! I expected 4 or 5 of you to order it, so imagine my surprise when I woke up the following day and there were orders for over 20.
Fortunately I managed to get hold of more stock, and apart from taking a few days longer to get the orders out, everyone should by now have received their copy.
We have about 10 left now. I spoke to the publisher and they don't have that many left, which is a pity as it's far and away the most popular book that features the East End of London in archive photos.


Museum in Docklands
For those of you that live abroad ( i. e south of the Thames or north of Watford ) and can't get to this great museum, I've got just the thing for you. No, not a passport. You can now take a virtual tour online.
I couldn't see the button though to eat a virtual lunch in the restaurant next door, but I'm sure they're working on it.
Some diary dates
Sunday 9th December 2007. Museum of London.
Boudica. What survived Boudica's visit to London?

Saturday 19th January 2008. East of London Family History Society Fair, at Eastbury School, Hulse Avenue, Barking IG11 9UW. We're going to be at this one so please come and say hello!

Looking a bit further ahead, the Museum in Docklands are holding a Jack the Ripper exhibition next May. It's sure to prove popular, as the mystery of who exactly was the macabre stalker of the East End continues to grip the imagination over a century later. It's amazing how many theories and fantasies this still causes.......

Google any of these three organisations to find out full details.


Bishops Transcripts
An important source of information for the family historian often overlooked is Bishops Transcripts. From 1598 an annual return was made to the Bishop of a copy of all entries from the Parish Register for that year to about Easter or Lady Day. The information in these transcripts is not necessarily the same as in the original register. Sometimes there is less info, but sometimes more.
Obviously, where the parish register has not survived, BTs are invaluable. I would also suggest searching them particularly in the case where other evidence, such as a census, suggests that an event occurred in that parish, but no trace can be found in either a transcription or the original register.
Those of you who use our CDs will have noticed a block of entries at the beginning where the surname is either blank or labelled illegible. Sometimes these entries can be found in the BTs.
For the area that this website covers the BTs can be found at the London Metropolitan Archives. Elsewhere, at the County Record Office.
The coverage is not as extensive as parish registers, ( with 19 out of 70 parishes ), nor do they go back far in time. The majority start around 1800. Anyway, here's a list of what is available:

All Saints, Poplar; Christ Church, Spitalfields; Holy Trinity, Mile End; Holy Trinity, Minories; St Anne, Limehouse; St Bartholomew, Bethnal Green; St Benet, Mile End; St Dunstan, Stepney; St George in the East; St James, Ratcliff; St John, Wapping; St Jude, Bethnal Green; St Mary, Stratford; St Mary, Bromley by Bow; St Mary, Whitechapel; St Matthew, Bethnal Green; St Matthew, Stepney; St Paul, Shadwell; St Peter, Bethnal Green.

So, if you can't find an ancestor in the parish where you think he should be, don't overlook this source.

The link below is to the 'Generations' database of the LMA. Very handy for finding out what records are available.
Thames Watermen & Lightermen
I am indebted to Mrs Jean Simmons, who got in touch with me after I mentioned Tales of a Thames Lighterman in the last newsletter with the very kind offer of a copy of this book, which belonged to her late husband. Thank you Jean, it has pride of place on my bookshelf, and completes my collection of every book written by a Thames Lighterman.
Amazingly enough, the very next day another copy came on the market, the first in 5 years. ( No Ian, I didn't swipe the copy I had from the library ).
I've typed out a chunk of it and included it in the extracts section of the Waterman page. Ernie Murray is an excellent and observant writer, whose dry wit and laconic style make for a very good read. I lent Jean's copy to the widow of another lighterman, Mrs Drogman, from down the estate and she says it's just like hearing her husband talking.
Anyway, for those of you that share my passion for this subject, enjoy the read...

Right, I swore I wasn't going to do anymore of that book writing stuff. I did I know I did. But I know Esme won't let me off if I don't and I owe her a favour. So, there is something that somebody really should do, before it's too late, and I suppose I can't really think of a good enough reason, ie one I'll remember tomorrow, why it shouldn't be me that does it.

Basically, there isn't a book, in print, about what is was like to be a lighterman in the 20th century. And there should be. So, on the basis that a gardener isn't really qualified to gob off on the subject, what I need is to find someone who is qualified, ie a retired lighterman, who wouldn't mind spending a considerable amount of time recording their memories, which I'll then turn into a book. So, if that's you who are reading this, or if you know of somebody I should approach, please get in touch.
Clearance items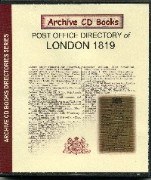 Following the demise of Archive CD Books (UK) we've got a few titles remaindered, which I really can't be bothered to list here as well as listing on the website. Most retail at £20 odd quid, but as they're review copies they cost us nowt, so you can have them for a fiver. I dare say a bargain Christmas present for someone ( I won't tell if you don't ). Obviously it's first come first serve!
Which parish?
One of the questions I get asked the most, ( apart from when are you going to get a haircut James? ) goes something like this:

' My grandfather says his dad was born in the East End. What parish should I look in?'

There are numerous variations, including 'my family came from Poplar etc/ lived near the river/had a whelk stall on the Mile End Road', (actually, I made the last one up ).

Anyway, there are two approaches you can take. The first is to randomly surf the internet on a wet Wednesday afternoon at work whilst the boss is attending a seminar on 'Health & Safety from a Buddhist Perspective; A Guide to Inclusiveness in a Radically Tolerant Workplace Environment'. This approach, especially if combined with booking a holiday for a spot of shopping in New York, checking your online horoscope and seeing what's new on YouTube, does have the merit of passing the time. Who knows, you might even get lucky, ( especially if you squeeze in a visit to ParishRegister.com of course ).

The second approach will not yield instant gratification, but you might just find your ancestor. However, your boss might really prefer if you did this one at home.

Begin by accumulating all the information that you either already have or can get by speaking to someone in your family who might be able to tell you more. Remember though that anything you are told at this stage should be treated as gossip, ( gosh, I'm really being polite here ), until proven otherwise.

Now, try to work out the likely time period of the event you are looking for. Chances are, you know how old you are, ( please, no emails asking how this is done!), and hopefully you know how old your parents are, or indeed were. By and large, a generation covers about 30 years, so you should be able to work out, give or take some years, approximately when such and such should have happened.

Righty ho, we're doing nicely, so now's a good time to do some thinking! By and large, parish registers contain info on people who, nominally at least, were Church of England. So, ask yourself, before you charge off to do some more hopeful surfing, is there any reason why great granddad just won't be in a parish register at all? For example, if he was called Paddy Murphy, there's a chance that he might just have been a Catholic. A chance too that he wasn't even born in England at all. Do you have a name that sounds foreign, or anglicised? If you're still pretty sure at this stage that your ancestor should be in a parish register, we'll carry on, ( well after I've made a nice cup of tea anyway ).

Now where were we? Oh yes, the next thing to do is to start eliminating places where this event just can't have taken place. You can't borrow my crystal ball for this I'm afraid, ( it's still out on loan ), so instead you'll have to use logic. No, sorry, they don't have any left in Tesco before you ask. Consult a list of parishes in Tower Hamlet that has the dates of consecration on it. (I hasten to add that these are not an organic import from Waitrose, but the year the church opened for business ). Handily enough, you'll find the excellent one compiled by John Henley, in the Area Maps & Churches page of this website ( ParishRegister.com in case you've forgotten ). Might be a good idea to print it off, hint hint. You might think it's a jolly good idea to cross of parishes that didn't exist back in great granddad's day. That will get rid of loads of them, as the late 19th century was the most prolific period for chucking up churches.

What you are left with is your primary target list, comprising probably about 20 to 30 parishes. Some of these will have records that go back to the 16th century, others will be more recent.

At this stage it's a good idea to get some idea of where exactly these places are. The East End is not the eastern bit of the City of London, nor indeed is it anywhere near Southend pier. St Dunstan, Stepney is not to be confused with St Dunstan in the East, St Dunstan in the West or indeed with South Mimms service station on the M25. On the other hand, St George in the East is to be found in St George in the East. Confused? The answer is to put your paws on a map that shows parishes. Wait for it, here it comes, why yes indeed, we do sell such a thing! It's called an Ecclesiastical Map and it's been officially designated ( by me ), a JOLLY USEFUL THING, (RBM for short).. So useful that there's a link to it in this newsletter somewhere………

Now, if you have any information to go on, (that whelk stall on the Mile End Road for example), in conjunction with a modern map, you should be able to identify which parish it was in, and the ones that neighbour it. If you have no such info, you still know what the likely parishes are, and where they are.

You are now ready to start searching, provided you have two vital tools. A piece of paper, and a pencil. Now, I know these don't seem very high tech or sexy, but you'll overlook these things at your direst peril. The reason is, you need to record exactly what records, and sources of records, you've searched. Believe you me, there is nothing worse than spending a day scrolling through a microfilm only to find out you've already done that one. Also, the absence of certainty as to what exactly you have searched and haven't searched renders this logical approach redundant. So, pencil and paper then, we're agreed? ( Pens aren't allowed in record offices ), but go on then, treat yourself to a pencil sharpener.

At this stage, there will be those of you that can get to the London Metropolitan Archives and those that can't. ( Although actually the latter group is probably going to be quite the larger at the moment, on account of the LMA is shut till January 21st!). I recommend the former, as the most rigorous form of research, but I appreciate that it might be a longish trip if you have to pop over from Australia. ( Although plenty of people do, greetings Peter ). But, there are such institutions as the Latter Day Saints family history centres all over the world that have many of these original registers on microfilm. You can also lobby your local family history society to buy the films. ( £66 a pop, or £26 if it was filmed by the LDS).

So, if you can get access to a microfilm of the original registers, start searching! This is a tremendously exciting activity, involving sitting in front of a microfilm reader and scrolling through it all day. Ignore any films that are indexes, as there is a risk that they will contain errors. Now, you might get lucky and find what you want fairly quickly, ( in which case I can recommend a variety of local taverns ). Chances are though that what you will achieve is to be able to cross off from your list that particular time period, in that parish.

Now, it's back to that map, ( the one you bought earlier ), and have a look at what parish borders the one you've just searched, and repeat the procedure. And keep doing that until either you find your chappy, or conclude he just wasn't born in the East End at all, in which case I'm told basket weaving is a good antidote to family history.

So, I'm sure those of you who are still awake are thinking, where does that leave all these transcriptions, CDs, online resources etc? A very good question. My answer is that all these sources should be regarded purely as finding aids. They are not a substitute for the approach outlined above. If you find an ancestor is baptised at St George in the East in 1780, great. But what that find should tell you is that that would be a good place to start your search. (Unless of course you're just after that one entry, in which case verify it by getting a printout of the entry from the original microfilmed register).

Phew. Thanks for bearing with me. Hope that helps someone. I think I deserve a beer don't you?

Ramblings from the Shed
Autumn has been a busy old time. Notwithstanding the many walks that my youngest sibling has dragged me along on, I've had to concentrate on one of my day jobs, which is gardening. We've had my other sibling working with us this year, as he's off sick with stress from his proper job (teaching). I do wonder what he's thinking when he's mowing, such an intense look as he furiously mows down the daisies and hacks away at the vegetation, machete twirling maniacally. Of course, I'm feet up with a well deserved coffee, contemplating the meaning of life and where a public school education gets you.....
Anyway, we did our first fencing job together the other day. Simple matter of replace two panels, and one post. Materials arrived on time, picked up the Kango, customer is educated into the expected arrival times of the coffee, all is going swimmingly. Jon gets introduced to the delights of digging a 21" hole, after I've drilled up the concrete, with only a few sense of humour failures when I pull the tape measure out of the hole saying, just a few more inches. Eventually the requisite depth is achieved, ( never mind the small lake of Jon's sweat at the bottom ) and it's in with the post, marry it all up, whack a bit of plop in, grab the money and get down the pub, ( if it's open yet of course ). What could possibly go wrong?
Now, ( this is the Ronney Corbett bit ), did you see that episode of Only Fools and Horses where the boys are taking down the chandalier for cleaning? It looks like, for once, Del Boy has got it all sorted out. Del and Rodders are under the chandalier on step ladders, waiting with a large sheet, inches under the precious crystal chandalier, Uncle Albert is in the loft, carefully undoing the retaining bolt, a turn at a time. 'Nearly there Del Boy' he says, as the final turn sees the nut come off. Nothing happens. Del says give a light tap, NOW! Uncle Albert taps the bolt, Del Boy and Rodders brace themselves, and down comes the chandalier, the one next to where they're waiting expectantly, smashing itself into a million pieces on the floor below. Priceless!
Now the moral of the story is obviously, measure twice, ( cut once, if you're a carpenter that is ). So, back to the moment of triumph as Jonny's first hole accepts the post to precisely the right depth, slides into the adjacent gravel board with the clearance of a Rizzla paper and there he is , looking down, beaming with satisfaction at this magnificent achievement, happy as Larry. Only to see me standing with my arms folded, muttering and spluttering, cursing and moaning, and generally gnashing my teeth.
The problem? The post is a foot shorter than all the others.

There is a post script to this story. We put up another fence last week. Obviously using 8' posts. There's now not one leftover, but three! But it's a bloody good fence!
Kind regards and have a good Christmas
James and the ParishRegister team