Dear Subscriber
Hello and welcome to the December ParishRegister.com newsletter.

A couple of transcriptions completed, a new CD, some new book titles and some interesting websites are featured this month.

If this is your first Newsletter, I hope you find it to be of use. We do try not to make it yet another sell, sell, sell email, which I for one have my inbox flooded with. ( I only read the ones from the National Archives and the Guildhall Library ).
Online Searchable Databases
This is the progress of our transcriptions:

Completed
St George in the East 1729-1749 100% completed & uploaded
St Dunstan Stepney 1798-1816 100% completed & uploaded

Uploaded
St George in the East 1750-1770 40% completed and uploaded

Coming next:
St Dunstan Stepney 1826-1835
St Mary Whitechapel 1832-1842
Christchurch Spitalfields 1819-1842
St Mary Newington 1837-1842
St George in the East 1837-1848
St Mary Magdalen Bermondsey 1813-1822

Approx. 12,000 entries have been added this month.


New Docklands Ancestors CD Vol 31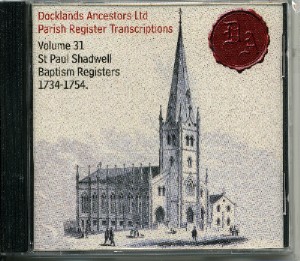 Out this month is Volume 31, St Paul, Shadwell, 1734-1754, baptism registers, with approx. 5,688 entries. I have spent a great deal of time searching the records of this parish, as it's where my ancestors first turn up in London. So I was most surprised to find an ancestor in this CD that I didn't know about! Although I do recall that it is a horrible microfilm from the point of view of legibility.

That reminds me: I often get asked what the point is buying the CD when you've searched the database online. The point is, you get to see all the records, not just the name you searched by. For example, take a name that is searched for quite often, SYMS. If you search just that spelling online, you will indeed get all the entries spelt that way. But what you should be considering is SIMS, SYMMS, SIMMS etc. Also, if we have a surname that we record as 'ILLEGIBLE', or transcribe it wrongly, on the CD you may be able to find the entry you want by looking at the dates, address, occupation etc.

This is all part and parcel of gathering ALL the evidence, considering it, and then CHECKING it against the original record. You should NEVER treat any information that you find on the internet as true until you can indeed prove that it is. All transcriptions, without exception, should be regarded as finding aids that help you to find the evidence more quickly. Sermon finished!
Useful link: Mapco
I'm always on the look out for maps from around docklands and so I was delighted when I was sent details of this site. Basically it hosts more maps than any other site I've come across. The first is from 1560, the last 1897. Click on any one and it zooms in for more detail. Absolutely great, and free!
New book titles
I had my wrist slapped by a visitor this month who said 'you're a family history website that sells books, how come you don't have any books about family history?' Gosh, what a good point I said.
So here you go Alison, I've been a good boy and got some. I have to say that the Genealogist's Internet has kept me very busy; I'm amazed at the growth in family history websites over the last few years.
Click here for Books
Special Offer: Compendiums 1 & 2

This is a special offer price for customers who wish to buy both of our Compendium CDs.

The two CDs comprise volumes 1-30 of the Docklands Ancestors Series of parish register transcriptions.
Together, there are almost 180,000 entries.

Please see the itemised descriptions on the individual CDs for a complete list of contents.

Price if bought seperately: 30 x £6.95 = £208.50
Price of individual Compendium CDs: £49.99 + £39.99 = £89.98
Special Offer price: £69.99

Gazetteer of British Places
This is a handy website. You know how it is when you hear an ancestor comes from, say, Wold in the Stow and you think, where on Earth is that? Also, and what I use it for, what county is that?
An excellent resource, and free too!
Thomas Legon 1769-1828

I'm in one of my periodic bouts of total despondency about ever finding the baptism of my oldest ancestor, John Gleghorne, who got married at St Paul Shadwell in 1701. So I've shelved that search for now and focused on one of my more colourful ancestors,( there's more than one James?), Thomas Legon, a grandson of John's.

He was born on 25th July 1769 and baptised at St Paul Shadwell in August 1769, the son of Thomas & Sarah. He was apprenticed as a waterman in 1785 and made Free in 1796, which is 4 years longer than it should have been. You'll recall that this was at the time when the Napoleonic Wars were at their height, and watermen were THE prime target for impressment into the Navy. I wondered if this might account for the extra 4 years and decided to find out more.

I found a record of Thomas' naval career in the Waterman's Company records at the Guildhall. He was indeed in the Navy. He'd managed to get himself injured and was discharged from HMS Achille, (not a mispelling), in 1800. The Achille, a 74 gun ship of the line, was launched at Gravesend in 1798, under Captain H.E. Stanhope. She later went on to take part at Trafalgar, being part of Admiral Collingwoods division.

So I now knew that he was in the Navy at some point, and was discharged in 1800. The question was, when did he join the ship? Obviously not before 1798, although he might have been on another ship prior to 1798 ( and I'll be looking into that later ).

The answer was to be found in the Ship Muster books records, in the Admiralty records section of the National Archives. I was able to obtain a printout of Thomas' service in the Achille, and it is an extract from this that is reproduced above. He joined in January 1799, and was paid £1 10 shillings bounty. I note he was also advanced 9 shillings for tobacco, so nothing much has changed in the Legon family!

I think he was probably impressed: All the entries on the page are for the same date. 'History of the Origins & Progress of the Company of Watermen' confirms that many watermen were impressed around then. I need to find the first page in this muster to confirm that.

Anyway, lots of fun, ( not for Thomas though, as he was engaged in generally boring blockade work off Brest ), and a nice change from banging my head against the wall looking for John Gleghorne.

The link below is to the Royal Navy service records of the National Archives. It is of enormous benefit if you know what ship your ancestor was on, before you start searching though.
Changing email address; contacting us
Sadly, at least 30 of you will not be reading the newsletter next month :(
One person on average will unsubscribe, the remainder will have changed email address and the newsletter will be lost in cyberspace.
The easiest thing to do,( for me anyway! ), is just to visit the website and sign up again.
Failing that, send me an email rembering to include both your old and new email addresses.

Speaking of emails, I'm sure that most of you will know that we try to reply pretty much straightaway, and certainly within 24 hours. If that isn't the case it's usually because your email has ended up in my spam bin, ( no, I didn't put it there-honest! ). This happens when the subject line is scanned by Gmail ( my ISP ) and is diagnosed as spam. Some examples of this are a subject line that says: 'Re' or 'website' or 'seeking help'. If it ends up in my spam folder, it's lost, as I no longer have the willpower to look at my spam folder, as I get about 300 per day!
So, the moral of the story is, make your subject line accurate. For example, ' St George in the East query' or ' East End ancestor query'
Bits & Bobs
# One of the best resources, yet surprisingly little used, are the archives of Parliament, in particular the House of Lords Record Office. In common with most archive collections these days, the holdings are catalogued online, ( www.portcullis.parliament.uk/DserveA/ ), but you do have to persevere with it, as what you're looking for might not be immediately apparent. For example, I knew that the Watermen petitioned Parliament in 1641/2 regarding the governance of the Company. No trace. However, a search on the name of the clerk to the Company ( John Taylor, aka the Water Poet ), unearthed this petition. ( Yes, I'm going to transcribe it. With a bit of luck it'll be written by my old mate Thomas Lowe, who penned the later 1648 petition of Watermen for the King). The great thing is the nice people at the HLRO will provide me with a paper copy and an image copy on CD. For £5.00. What a bargain!

# Another project I've gotten myself involved in is the writing of a second book. This one is going to be a guide to researching ancestors impressed into the Navy, of whom a great many were Watermen. This practice went on from at least the 13th century. Indeed, one could say that with National Service, it persisted well into the 20th century. It will probably take me a year, as I'm not going to have a nervous breakdown over it, ( probably ).

# Did I mention that we're going to be at the Bracknell and East of London family history fairs in January? People keep telling me I have to get out more, and when someone ( Pam actually ),said why don't you stay in a nice hotel the night before, I ran out of arguments. Of course, I sold it to the wife as a nice weekend away! I must remember to tell her about the work part, ( breakfast will be a good time for that!). Anyway, I can't remember the dates, but this handy website has all the details. I expect we'll have special offers on everything, as I don't want to have to load it all back up into the van afterwards, ( call me lazy, I don't care ).

# Our new search pages are at the stage of final testing. Launch date is probably around the 18th. More about this next month..
Useful website: Dictionary of Victorian London
This is the website of Lee Jackson, who is another London history nut like me. I've watched Lee's site growing over the last few years and my admiration of what he's achieved has continued to grow too. The link below is to his map page, where you'll find a collection of 16 maps, from 1827-1899. The interactive map is particularly good fun, ( although be warned it won't work unless you're browsing with Internet Explorer ).

I should say Merry Christmas and all that stuff, as it will be January before the next newsletter goes out, but to be honest, I'm not a Christian, and nor do I worship the great god Retail Shopping. What I will wish you is health, happiness and good luck with your family history in 2007.

I'd also like to thank you all for your continued support of our website. I know many of you have been with us since 2002. All of us, me, Yvonne, Simon, Esme and our transcribers, appreciate so much the kind emails we get about our project. Thanks too for all the contributions to the site, you've helped make ParishRegister.com what it is today.

Kind regards
James and the ParishRegister team