Dear Subscriber
Hello and welcome to the November ParishRegister.com newsletter. In this edition there's news of the latest parish transcribed, our new CDs and new products from other suppliers. John Henley's updated Stepney parish listing is reproduced in full, ( it's at the end, as it is rather long ) and important news if your planning a visit to the LMA or Kew in November, December or January.

Online Searchable Databases
Newly completed and uploaded transcriptions:

St Mary, Whitechapel 1832-1842 approx. 6,338 entries. This completes our St mary's coverage from 1792 to 1865. There are a lot of gunmakers, sugar bakers & refiners, shoemakers, tailors and weavers in this parish at this time. Many of the names seem to have originated in Germany too. I was surprised to see also a couple of entries relating to people who came from Loughton, which is where I'm from. Back then Loughton would have been a small village way out in the sticks.

I have been covering myself in sackcloth and ashes. I neglected to mention last month that we will be transcribing the portion of St Dunstan, Stepney, that is to say 1771-1798. I know many of you are eagerly awaiting this. I have sent off for the film, (they cost £66 by the way).

So, in transcription now are:

St George in the East 1795-1809
St Dunstan, Stepney 1826-1835

The missing St Dunstan transcription will follow hotly on the tail of the above.

I'm often asked, not in so many words I hasten to add, why does it take so long to transcribe this stuff? The answer is that everything costs money. We pay our transcribers and there's only so much money to go round, and it's all a delicate balancing act. Of course anybody wishing to donate money to the cause is always welcome. I promise not to spend all of it down the Three Colts.

You will notice that we've changed the 'catchpa' on the site. That's the security feature where you have to type in the letters. This one is a lot clearer! There's also a refresh button if you need another go, an audio phonetic button and a help menu.
To answer the question again about why this is necessary, it's because without it hackers program computers to enter letters into the search box, with the result that the site gets overloaded and crashes. I've seen the site uptime report for October, and at 100.00% it's the best we've ever had. Which proves the thing works! ( And is not as one irate e-mailer called it, a 'yuppy gimmick put there to waste my time! )

As many of the growing readership of this newsletter might be termed somewhat new to family history, I thought I might slip in a word or two about our transcriptions. They are transcribed from the microfilmed parish registers held at the London Metropolitan Archives. These registers are the books that the clerk of the parish used to record the baptisms on a daily basis. In theory, that is! Sometimes entries got added later on.
When we transcribe the entries into our databases it is important to realise that we are not interpreting the information, but recording what we find. Thus, if the clerk recorded a date of birth as 29th February, and it wasn't a leap year, 29th February is what we will transcribe. Commonly, addresses are abbreviated, MEOT is a good example, meaning Mile End Old Town, but if MEOT is what is written, MEOT is what we transcribe.
19th century records are usually legible, on pre-printed forms and easy to transcribe. Earlier ones are much more difficult. Often the entries are faded, smudged, damaged, or crammed together due to a shortage of paper! As transcribers we have our pet hates for particular clerks, who seem not to have been employed for their literacy skills!
Above all it should be borne in mind that transcribing is an art, not a science. An authority on the subject wrote that every transcription contains errors, the only question is , how many?
We are fortunate that our transcribers are experienced, knowledgeable of the times and areas, and above all, dedicated family historians.
( Mind you, Jimbo got caught out this month, when an IGI entry proved correct, and ours was wrong. Well you did say rub it on Jim!)
New Docklands Ancestors CD

Volume 45, St Dunstan, Stepney 1757-1770 is out now. There are 5,100 entries on it. Here's a typical entry:

Id No: 4121
Entry No: 0
Birth Date:
Baptism Date: 13 February 1757
Firstname: John Knight
Father: Graveley
Mother:
Surname: Seabore
Address: Ratcliff
Occupation: Carpenter
Source Ref: X024/016
Note: 19 Days Old. Mother Deceas'd

As can be seen, no note was made of an entry number, which is not unusual in the period before pre-printed forms were introduced in 1812, (Rose's Act). John was born 19 days before he was baptised, giving a likely date of birth of 26th January 1757. It looks fairly likely that his mother died in childbirth, a common fate at this time. Perhaps she was buried at St Dunstan, perhaps the burial entry might give the cause of death?

New Thames Riverside Series CD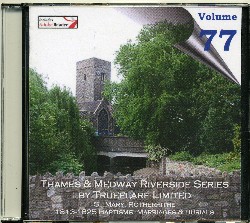 Volume 77 St Mary Rotherhithe 1813-1825 is the latest transcription from the ever prolific Rob Cottrell. It covers baptisms (6,834 entries), marriages (823) and burials (4,512) and follows on from Rob's previous 1834-1870 transcription.

A typical baptism entry from the CD looks like this:

58. ALLEN, JOHN CHARLES NORMAN, 1824 OCT 20, SON OF JAMES & HANNAH (BORN 6 MAY 1818).

All entries are indexed alphabetically, as well as being fully searchable using the excellent search function in Adobe Acrobat.

The keen observer has probably noted that his last volume was number 74. The missing two are in the process of being checked, I'm reliably informed.

Rotherhithe is well noted for its connection with the Thames, and all the usual collection of watermen, lightermen, shipwrights etc were to be found living there. A branch of my own family emigrated there from Shadwell in the 18th century ( traitors!).




Compendium 4 Vols 41-50

Our Compendium CD 4 is in production now, and is available to you at the pre-publication price. It comprises volumes 41-50, as follows:

Volume 41 St John, Wapping Baptism Registers 1842-1865
Volume 42 St Paul, Shadwell Baptism Registers 1813-1827
Volume 43 St George in the East Baptism Registers 1835-1837
Volume 44 St Paul, Shadwell Baptism Registers 1828-1852
Volume 45 St Dunstan, Stepney Baptism Registers 1757-1770
Volume 46 St George in the East Baptism Registers 1837-1848
Volume 47 Christchurch, Spitalfields Baptism Registers 1819-1842
Volume 48 St George in the East Baptism Registers 1771-1794
Volume 49 St George in the East Baptism Registers 1809-1815
Volume 50 St Dunstan, Stepney Baptism Registers 1730-1745

There are approx. 60,000 entries on the CD.

The normal price of the CD is £39.99. Purchased separately they would cost 10 x £7.95, £79.50. This really is the most cost effective way to search all of our transcriptions.

The pre-publication price is £34.99, until 30th November.

Delivery is anticipated around the end of the month.

If you order this now, and pay up now, please make sure you understand the above.

You've got it, right?

Sure?

Excellent!

Featured Book: Greenwich-Center of the World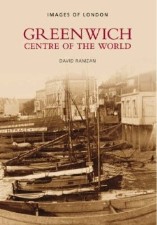 The Images of London series continues to be popular amongst family historians and others. The combination of archive photographs and informed text is a winning format. This latest edition to the series continues this trend.

Greenwich has always been well known for its position on the Meridian Line. As David Ramzan illustrates in this new book, the area also has a rich history with its commercial and industrial businesses in the town or on the river, and its naval and military connections. Illustrated with over 200 images, the book brings to life bygone days when Greenwich was a major tourist attraction where visitors could take a steamer trip along the river, spend a day in the park to watch the deer or visit the theatre or a famous riverside tavern. At the turn of the twentieth century, it was also a fashionable area in which to live with many Regency style and Edwardian buildings. Although today much of Greenwich's heritage has been lost, this book will show what a wonderful place Greenwich was and still is today.

The chapters included are: A Brief History in Time; Living Society; Industrious People; Law and Order; On the Move; Sporting Pastimes; Family Roots.

Featured Book 2: East End Neighbourhoods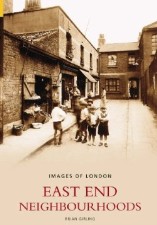 I've managed to source some remaindered stock on this popular title. It's without a shadow of a doubt our number one bestseller. I've got 6, so it's first come, first served. If the stock is all gone, and the link below doesn't work, it will be because I'll have had to delete it from the website again.

Here's the back cover blurb:

The river Thames, with its docks, wharves and associated industries, has been a source of livelihood for generations of East Enders living in the historic riverside neighbourhoods of the former Metropolitan Boroughs of Stepney, Poplar and adjacent areas.

From images of the maritime stores of old nautical Limehouse and the silk-weaving houses in Bethnal Green at the turn of the 19th century, to views of the prefabs in Poplar after World War II, this selection recalls how life was lived in the tightly packed streets of the East End.

East End Neighbourhoods draws on both private and public pictorial archives to offer a fascinating glimpse into the past of one of the most individual and fascinating quarters of London.

Chapters cover Maritime Neighbourhoods, Traders' Places, Lost Neighbourhoods, Leisure Time & Celebrations, and Aspects of East London.

Most, if not all, of these photos record building and places that simply do not exist anymore.
New Trade Directory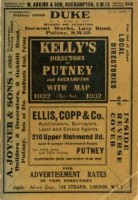 Kelly's Directory of Putney & Roehampton, 1932

The area covered by this directory is roughly from Barnes Common & the River Thames on the north to Wimbledon Common on the south and from Wandsworth on the east to the Beverley Brook on the west.
As with many of these directories, the map was missing when we obtained the copy used for scanning.
The directory comprises: Public officers & offices; Parochial information; Churches, chapel, institutions &c; Street directory; Private residents (alphabetical list of); Commercial directory: Tradesmen and others (alphabetical list of); Professional and trades directory.
Some of the corners of the scanned pages appear to be clipped. This is a result of having to scan at a slight angle to compensate for skewed print in the original publication.
Published by Jigrah Resources.
Special Offer

I've got 2 packs of Who Do You Think You Are? Family Tree Maker Deluxe 2006 at the heavily discounted price of £19.99. First come, first served......

Some diary dates
Wednesday 14th November 2007. Museum of London.
The river Thames in prehistory. Discover the many uses to which the river Thames was put by its local communities.

Sunday 18th November 2007.
East Anglia Family History Fair
St Andrew's Hall, St. Andrews Plain, Norwich NR3 1AU

Tuesday 27th November 2007 Guildhall Library.
City of London and Livery Company freedom records.

Sunday 9th December 2007. Museum of London.
Boudica. What survived Boudica's visit to London?

East of London Family History Society Fair. Saturday 19th January 2008, at Eastbury School, Hulse Avenue, Barking IG11 9UW. We're going to be at this one so please come and say hello!

Google any of these three organisations to find out full details.


Company of Merchant Taylors
About two years ago my good chum Esme, our researcher, said it would be a wizard wheeze to give another Livery Company the same treatment that we've given to the Company of Watermen. Well, I just can't do that, because Watermen are my passion, and it's in my blood. But, what we can do is transcribe the records, and finally, after two years faffing about, the microfilm has arrived. The Merchant Taylors' Company have given us the official go ahead, as has the Guildhall Library, whose Keeper of Manuscripts, Stephen Freeth, is their Archivist.
What we'll be transcribing is the Index of Freemen 1520-1929. I've seen the originals, and it's all very legible.
As winter is upon us and the hours of daylight are few, I thought I'd tackle the project myself. I'm sure the Black Deer, Three Colts and Foresters Arms can survive without me for a while.
If you have Merchant Taylor ancestors, their website makes interesting reading. ....
Archive closures
As mentioned last month, the LMA is now closed until 21st January 2008. It has also now become clear that you will have to register as a user, with your photograph being taken and identification being produced. ( A birth certificate seems appropriate!).

Also, due to the relocation of the Family Records Center to the National Archives at Kew, Kew is also closed from Saturday 1 to Sunday 16 December 2007 inclusive and from Monday 21 to Saturday 26 January 2008 inclusive.

I'm told that the online version of the BMD indexes project is now running a year late. Those of us involved in family history online will be smiling rueful smiles right now as we know that these projects rarely run smoothly. The rest of you will no doubt be gnashing your teeth at the fact that they closed the FRC before the online version was up and running. Some of you will know what PPP gets PPR means!

The LMA digitisation project looks like it will launch in the spring, ( but refer to last paragraph before you get too excited!). Not however with the transcriptions of the images, as that, surprise surprise, will follow 'later'. The good news for you though is that once you've got an entry from us, you'll be able to locate it precisely in their online image of the register. And that really is a step forward, as in genealogy, verification is the difference between research,..........................and family history!

Thames Watermen & Lightermen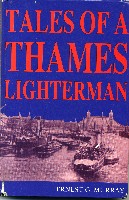 I managed to borrow a copy of one of my favourite books, Tales of a Thames Lighterman, by Ernest Murray, from the library the other day. Sadly long out of print, only two copies have passed through my hands in the last 7 years. Anyway, I've copied out a section from Chapter 2, which describes his first day in the lighterage trade. This will be on the site next month.

Rob Cottrell's latest waterman project is, I believe, a listing of Doggett's Coat and Badge competitors, which will flesh out nicely our lists of winners, of this the oldest sporting race in the world. I don't know when it will be finished, but as usual you'll hear about it here first.

I have finally finished the 2nd edition of my book, My Ancestors were Thames Watermen, published by the SoG. This monkey has been on my back for the last two years and it's good to be rid of it. ( I have heavily censored my language here).
I'm actually quite chuffed with it, as it is about 3 times the size of its predecessor. There are new bits regarding Watermen & Monarchy, Watermen & Navy, Employment Status, Almshouses & Charities and the Docks.
The Appendices have grown from 6 to 17 with new ones on Lighterage Companies; Clerks of the Company; An 1809 list of Members & their employment ; Number of Apprentices & Freedoms by Year; London's Docks; a complete listing of the Campany's Archives at the Guildhall Library; Watermen in the Navy Killed or Invalided; 1628 Admiralty Muster of Watermen (listing nearly 2400 names); Subscriptions for the first Almshouses.

There are many more illustrations too, including some from inside Waterman's Hall. It should be published in a month or two's time.

The 1809 list you'll find on the Waterman page on the site, together with the Ballad of the Lost Lighterman.
Stepney Church list - updated
I am very grateful to my friend John Henley, who has been of much help over the last 7 years with his comprehensive list of Stepney churches. I reproduce below is latest, which you will also find on the website. This is essential reading in understanding which church your ancestor might have been baptised, married or buried in.

C of E Churches in Stepney in 1890: . with date founded where known. Stepney is the original parent
parish of all, and the first-named in each group, parent parish to those within it.
Additional note: Parishes soon became a convenient unit for the Crown to use for civil
administration, but after about 1840 division of parishes was not followed automatically by the
division of the coterminous civil parish. In the case of Stepney, nine hamlets (whence the name of
the modern London Borough, Tower Hamlets) are listed in Hatton's New View of London (1708) -
Spitalfields, Bethnal Green, Mile End New Town, Mile End Old Town, Stratford-le-Bow, Ratcliff,
Limehouse, Poplar, & Blackwall. By 1708 some of these were already separate parishes. Stepney's
history, with its proximity to the City, is especially convoluted. The original four hamlets were
Ratcliff, Poplar, Limehouse (separate parish 1720) , and Mile End (+Stratford-le-Bow (church 1311,
parish 1719) by the 16th century), Whitechapel having been created as a parish out of Stepney as
early as 1329; Bromley St.Leonard c.1536, and out of Whitechapel came the hamlet of
Wapping-on-the-Wose, later Wapping (chapel of ease 1617, parish 1694).
Then out of Ratcliff (not a parish until 1838) came the hamlets of Shadwell (1645, parish 1670),
Wapping-Stepney (or St.George's in the East) (1670,parish 1728);
out of Poplar (separate parish 1817) came Blackwall and the Isle of Dogs (never separate civil
parishes);
out of Mile End came Bethnal Green (1597, parish 1746), Sipitalfields (1662, parish 1729); and Mile
End New Town (1691, parish 1838); leaving Mile End Old Town (parish, 1840).
By 1890, there were some 67 parishes. Now there are only 23.
For civil administration most of the parishes founded before 1837 also became civil parishes. The
county was Middlesex until 1890, then the new County of London. The parishes and vestries became
part of Metropolitan Boroughs in 1900 -
Bethnal Green - Bethnal Green group
Stepney - Stepney group, + Limehouse, Mile End New Town, Ratcliff, Shadwell,
Spitalfields, St.George-in-the-East , Wapping, Whitechapel
Poplar - Poplar, Bromley St.Leonard, St.Mary Bow.
In 1874 all these M.B.s became part of the new London Borough of Tower Hamlets, almost if not
entirely co-terminous with the original parish of Stepney!.

A good site for more info on this area is the East of London Family History Society at
http://www.eolfhs.rootsweb.com/
I've tried to comment about their IGI status, but if you go to www.familysearch.org and Browse >
Browse
Library Catalogue > Placename Search [enter Poplar or St George in the East or Stepney or Bromley or
Bethnal Green &c. and select the one in Middlesex - it can be picky about the spelling of the
placename , if no luck first time try all possible variations] > Church Records and Church
Records-Indexes, you will see a list of all the LDS film holdings.
Batch numbers are at this site
>http://home.clear.net.nz/pages/nzsoghamilton/batchnumbers.htm
Some churches may appear on the BVRI rather than the IGI.
If on the IGI or BVRI then the LDS has a film of the registers.[which may not be complete].


BETHNAL GREEN, St.Matthew, Church Row [out of Stepney 1746] still open
Bethnal Green, City of London Hospital for Diseases of the Chest Chapel,
St.James's Road non-parochial
Bethnal Green, Jew's Episcopal Chapel, Palestine Place [1809] non-parochial Demolished 1895.
Bethnal Green, St.Andrew, Viaduct Street [1841/43] Closed & demol.1958, parish united with
St.Matthew.

Bethnal Green, St.Barnabas, Grove Road, Bow [1870] Began as St.Luke's Mission from St.Simon Zelotes,
1865. bombed, rebuilt 1957,still open
Bethnal Green, St.Bartholomew, Coventry Street (Essex, later Buckurst Street) [1844] 1941 Bomb
damage, re-opened 1955. United to St.Simon Zelotes 1978. Church closed 1983, converted to flats .
Bethnal Green, St.James the Great, Bethnal Green Road [1844] Par united to St.Jude, 1951. Church
redeveloped as flats, 1983-4. Parish united to St.Matthew's.
Bethnal Green, St.James the Less, St.James's Road [1842] Blitzed, restored 1961, still open. Parish
united to St.Mark, Old Ford 1973.
Bethnal Green, St.John, Cambridge Road (now Cambridge Heath Road) [1818, separate parish 1837]
still open. 1951, parish united with St.St.Simon Zelotes and St.Anthony; 1978, parish united with
St.Batholomew.
Bethnal Green, St,Jude, Old Bethnal Green Road [1844] Bombed 1940, later demolished, 1951 parish
united to St.James the Great.
Bethnal Green, St.Matthias, Hare Street [1848] 1954 parish united to St.Matthew's. 1957 church
demolished.
Bethnal Green, St.Paul, Virginia Row [1852/65] bombed, 1951 parish united to St.Matthew's & church
demolished.
Bethnal Green, St.Peter, St.Peter's Street [1841/43] 1941 bombed, re-opened 1955. 1951 par.united
with St.Thomas & part of St.Jude. still open
Bethnal Green, St.Phillip, Mount Street [1842] 1954 parish united to St.Matthew's & church
closed.Demolished 1966.
Bethnal Green, St.Simon Zelotes, Morpeth Street [1844] bombed 1943,44, later demolished. 1951 parish
united to St.John's
Bethnal Green, St.Thomas, Baroness Road [1844/1851] War damage, demolished 1954. 1951, parish united
to St.Peter's

BROMLEY ST.LEONARD (St.Mary's) (High Street) [c.1100, out of Stepney c.1536] The lady chapel of
Benedictine convent of St.Leonard, became the parish church 1536, destroyed by bombing and
construction of Blackwall Tunnel northern approach road. Porch and part of a wall remain. Parish
united to St.Mary Bow, St.Mary.
Bromley St.Andrew [?1900]
Bromley, All Hallows, Devons Road [1874] still open rebuilt 1955. united to Holy Trinity
Congregation worshipping in Bow Road Methodist Church. Bromley,
St.Gabriel, Chrisp Street, [1873] gone? - united to All Saints, Poplar
Bromley, St.Mary the Virgin [1900]
Bromley, St.Michael and All Angels, St.Leonard's Road [1867] united to All Saints, Poplar
Bromley, All Hallows, Abbott Road, East India Docks. [1874] rebuilt 1955 - still open
Bromley, Christ Church, Oxford (Mission District), Lodore Street [may have become
St.Frideswide's???]

LIMEHOUSE, St. Anne, Commercial Road [out of Stepney 1720] still open
Limehouse, St.James, Butcher Row, Ratcliff [1838] damaged in WW2, , Royal Foundation of St.Katherine
moved to site from Regent's Park, 1952, parish united to St.Paul, Shadwell.
Limehouse, St.John, Limehouse Fields [before 1874] now gone?
Limehouse, St.Peter, Garford Street [1885] demolished 1980s united toSt.Anne's

MILE END NEW TOWN, All Saints, Buxton Street [1838] - demolished
Mile End New Town, St.Olave, Hanbury Street [before 1886] - now gone

MILE END OLD TOWN - see under Stepney.

POPLAR, All Saints, East India Dock Road [1653 chapel-of-ease built by the East India Company in the
High Street], separate parish out of Stepney 1817 or 1821, with new parish church on new site to
which registers were transferred from the old chapel, now named St.Matthias [see below]
- All Saints' still open [by 1958 described as being w.St.Nicholas Blackwall and S.Frideswide East
India Dock Road]; 1971 united with St. Michael & AA.Bromley and Poplar St. Saviour w.S.Gabriel &
S.Stephen to form Parish of Poplar. Youngs "The Parishes of England", gives 1817 as the date of the
new parish, but the building was complete and the registers begin June 1821

Poplar All Saints, East India Dock Road [with the church at St. Matthias, chapel of ease in Stepney
1653, separate parish out of Stepney 1817, this became the parish church on completion 1823.] -still
open. 1952 parish united with St. Frideswide [by 1958 described as being w.St. Nicholas Blackwall
and S.Frideswide East India Dock Road.
Poplar, Christ Church, Manchester Road, Isle of Dogs [1857] - still open

Poplar, S.Frideswide East India Dock Road/Lodore Street (1914) bombed WW2, closed 1947, not
re-built, parish united to All Saints 1952.


Poplar, St.John, Manchester Road, Cubitt Town [before 1873] now gone?? - united with Christ Church.
Poplar, St.Luke, Strafford Street, Milwall [1857] still open in church hall, united with Christ
Church
Poplar, St. Matthias, High Street [1867] enclosed East India Company Chapel of 1776 replacing chapel
of 1654; a chapel of ease to Stepney until 1817, in Poplar All Saints until 1867, when gained
separate parish and registers re-commence: when in 1823 All Saints became the parish church the
registers had gone to All Saints. As chapel, licensed for baptisms and burials from opening in 1653,
but marriages ceased from 1754 (Hardwicke's Act) until became a parish church in 1867. Marriages
take place in Stepney 1754-1821, and in All Saints 1821-1967. - Still open 1966. Derelict by 1976,
renovated 1991 as a community centre - there is a long description of this church in the "London
Docklands" edition (1998) in Pevsner's "The Buildings of England"

Poplar, St. Nicholas, Blackwall Stairs (Yabsley Street) (1900) bombed 1940 and closed 1941, not
rebuilt. Mission Church in All Saints. East India Dock Road. The LMA have an odd marriage register
for June 1967!!!
Poplar, St.Saviour, Northumberland Street [later Northumbria Street] [before 1889] united to All
Saints, Poplar
Poplar, St.Stephen, East India Road [before 1867] united to St.Gabriel, Chrisp Street, Bromley

ST.GEORGE'S-IN-THE-EAST, St.George in the East, Cannon Street Road [out of Stepney 1729] - still
open
St.George's-in-the-East, Christ Church, Watney Street [1841] - now gone??
St.George's-in-the-East, St.John, Grove Street [before 1879] -now gone???
St.George's-in-the-East, St.Mary. Johnson Street (Cable Street) [1850] still open
St.George's-in-the-East, St.Matthew, Princes Square [before 1890] - now gone???
St.George's-in-the-East, St.Peter, Old Gravel lane, London Dock [ 1866] - still open
St.George's-in-the-East, St.Saviour's Mission [?]

ST.MARY BOW, (Bromley by Bow, otherwise Stratford-le-Bow or Stratford-atte-Bowe - do NOT confuse
with Stratford, Essex, the other (east) side of Bow Bridge, originally called Stratford Langthorne)
St.Mary, Bow Road [1311, out of Stepney 1719] sometimes simply called Bow Church [ do NOT confuse
with St.Mary-le-Bow [Sancta Maria d'Arcubus or St.Mary of the Arches, home of the Court of Arches,
in the City of London; home of Bow Bells] damaged in WW2 restored, still open.
St.Mary Bow, St.Stephen, Tredegar Road, Old Ford [1858] demolished afrer bomb damage, 1940s.
St.Mary Bow, St.Paul, St.Paul's Road (St.Stephen's Road) [1856] - still open.
St.Mary Bow, St.Mark, Victoria Park ( Cadogan Terrace)[1872] rebuilt 1960s united with
St.Paul's(previous entry)
St.Mary Bow, Mission District of Christ Church, Old Ford [???]

SHADWELL, St.Paul, High Street [1656, out of Stepney 1669] still open

SPITALFIELDS, Christ Church, Commercial Street [out of Stepney 1729] still open
Spitalfields, St.Mary, Church Passage, Spital Square [before 1868] now gone
Spitalfields, St.Stephen, Commercial Street [before 1880] now gone.

STEPNEY, St.Dunstan, (St.Dunstan & All Saints)White Horse Street [the mediæval parish church of
Stepney] - still open
Stepney, Cologne Street Mission [18??] [in previous parish] - long gone
Stepney, Holy Trinity, (Morgan Street) Tredegar Square (MILE END OLD TOWN) [1840] [now worshipping
at Bow Road Methodists??]

Stepney, Christ Church, Jamaica Street [before 1877] now gone ??
Stepney, St.Augustine, Settle Street (Newark Street), Commercial Road [1879] the largest church in
Stepney, bombed 1940, registers finish 1848, bombed 1940 . 1951 parish united to St. Philip the
Apostle.
Stepney, St.Benet, Mile End Road (MILE END OLD TOWN) [1873] now chapel of Queen Mary's College[?]
parish united to St.Peter Cephas Street
Stepney, St.Luke, Burdett Road [1869] church blitzed WW2 and demolished. 1951 united to St. Paul's,
Burdett Road as Bow Common St. Paul w.St. Luke parish
Stepney, St.Matthew, Commercial Road/Salmon Lane [1872] Church closed 1955. - now gone?? 1951 parish
united to Limehouse Fields St. John. 1956 united parish abolished and divided between Stepney St.
Dunstan w.All Saints and Limehouse St. Anne .
Stepney, St.Paul, Burdett Road, Bow Common [1858] blitzed WW2, rebuilt 1960 - still open
Stepney, St.Peter. St.Peter's Road / Cephas Street [1838] still open 1978, now closed, building gone
??
Stepney, St.Anthony, Globe Road [1879] 1936 Parish united to Bethnal Green St. Simon Zelotes. Church
now gone?
Stepney, St.Philip the Apostle, New Road (Stepney Way) Stepney, St. Philip the Apostle, New Road
(Stepney Way)/Newark Street [1819, parish 1837] rebuilt 1892 as magnificent vaulted church, the
largest church in Stepney 1951 parish united to St. Augustine's Closed July 1978, in 1988 it became
the Medical Library for the Royal London Hospital, Whitechapel.
Stepney, St.Thomas, Arbour Square [1838] bombed 1940 closed 1940 church gone?, 1951 parish united to
St. Dunstans.
Stepney, St Faith, Shandy Street. [1891] badly damaged bomb blast 1940. 1951 parish united to St.
Dunstans. Hall survives.
Stepney, Emmanuel Mission

WAPPING, St.John, Church Street [1617, out of Stepney 1694] gutted in WW2, tower remains, small
church built in ruins, parish united to St.Peter, London Docks.


WHITECHAPEL, St. Mary, (St. Mary Matfelon) Whitechapel Road [out of Stepney in 1323] bombed, WW2,
not rebuilt. 1951 parish divided between Spitalfields Christ Church with All Saints and Stepney St.
Augustine w.S.Philip.
Whitechapel, St. Jude, Commercial Street [1848] 1923 parish united to St. Mary Whitechapel. Church
now gone???
Whitechapel, St. Mark Goodman Fields, St. Mark's Street [1841] 1926 Closed and Parish united to
Whitechapel St. Paul Dock Street. Church now gone???
Whitechapel, St. Paul, Dock Street [1847] closed 1990. Parish united to St. George-in-the-East.


OTHER INSTITUTIONS WITH ANGLICAN CHAPELS/CHAPLAINS:

London Hospital, Whitechapel ; Bethnal Green Workhouse ; Whitechapel Workhouse and Infirmary ;
Operative Jewish Converts' Institution ; Oxford House.
City of London and Tower Hamlets Cemetery [do not confuse with the City of London Cemetery at
Ilford] ; Mile End Workhouse, Infirmary and School ;
Poplar Union ; Stepney Union ; St.George's-in-the-East Workhouse, Infirmary and Schools ; Poplar and
Stepney Sick Asylum ; City of London Union, Bow Road; Church Workers' Training Home.

Kind regards,
James and the ParishRegister team

PS, to make sure you're looking at the newest version of the site, press F5, or use the refresh button.