Dear Subscriber
Hello and welcome to the November ParishRegister.com newsletter.



Online Searchable Databases
This is the progress of our transcriptions:

Completed
St Paul Shadwell 1744-1774

Transcriptions underway
St Dunstan Stepney 1798-1816 90% completed & uploaded
St George in the East 1729-1749 25% completed & uploaded

Coming next:
St Dunstan Stepney 1826-1835
St Mary Whitechapel 1832-1842
Christchurch Spitalfields 1819-1842
St Mary Newington 1837-1842
St George in the East 1837-1848
St Mary Magdalen Bermondsey 1813-1822

Approx. 10,500 entries have been added this month.


New Docklands Ancestors CD Vol 30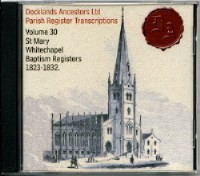 Out this month is Volume 30, St Mary, Whitechapel 1823-1832, with approx. 6,300 entries. This is part of an ongoing series that will encompass all the records from 1865 back as far as the records are legible. St Mary's is one of the oldest parishes of Tower Hamlets, with records surviving from 1558.
There are quite a few Spitalfields addresses mentioned and many workhouse entries too.
Worthwhile Project
The BBC have an excellent family history section on their website, which obviously features the Who Do You Think You Are programme quite prominently. Less well known is a section they have that archives people's family photographs. I spent hours on it! The really useful thing about it is that it's searchable. I was looking for East End churches, so I typed in St Mary for example. ( What I actually got was the liner , the Queen Mary, so then I started looking at all sorts of ships, next thing the whole day had gone!).
Obviously you can search it by typing in a family name. Who knows, you might just find a picture of an ancestor posted by a relative.
Featured book: The Coat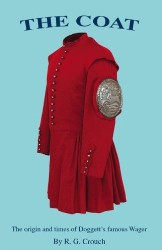 At last a book about watermen & lightermen that is actually in print & available ! The Coat: The Origin and Times of Thomas Doggett's Famous Wager is written by Robert Crouch, a former Master of the Company and former Bargemaster to the Queen.
This is Bob's second book, ( the first being From Sussex Yeomen to Greenwich Watermen) and was brought to my attention by our mutual friend, Rob Cottrell.
Don't let the title mislead you, it's not just about Doggett's Coat & Badge Race. This is a story of the river Thames. It's working people, and the Port of London in the early 18th century. It is the tale of the hard lifestyle of the rivermen and citizenry of London in those harsh and brutal times, it tells of the livery Guilds and how the river was used as the main artery of London, how it was used as a stage on which to hold the popular water sporting events, splendid pageants and as an arena on which to celebrate great events and grand occasions.
Written as a novel, the story tells of the origin of the famous rowing wager initiated by Thomas Doggett, which has been held on the river each year since 1715. The race for Doggett's Coat and Badge is now the oldest, continuously held, annual event in the sporting calendar, simply called 'The Coat' by the Thames Waterman of today.
The story is told through the eyes of Edwin Crossback, the unknown young wherryman, on whom Doggett supposedly based his race. It is the story of Edwin's and his comrade's lifestyle, working the Thames as Waterman, Wherrymen and Lighterman. It tells of his capture by a Press-Gang for service in the Royal Navy.
Although fiction, the book is based on accounts passed down through generations of the river fraternity, on facts gleaned from a study of the records held at Waterman's Hall, the City's archives and those of the trading Livery Guilds of London.

The print run of this book was not very big, so I expect it to go out of print within a year at most. And then the price will rise!

Our copies are coming straight from Bob but I have to order them in one go. Be warned therefore that our usual 24 hour dispatch won't be possible, it will be about a month before we can fulfill orders.
Special Offer: Compendiums 1 & 2

This is a special offer price for customers who wish to buy both of our Compendium CDs.

The two CDs comprise volumes 1-30 of the Docklands Ancestors Series of parish register transcriptions.
Together, there are almost 180,000 entries.

Please see the itemised descriptions on the individual CDs for a complete list of contents.

Price if bought seperately: 30 x £6.95 = £208.50
Price of individual Compendium CDs: £49.99 + £39.99 = £89.98
Special Offer price: £69.99

The River Postman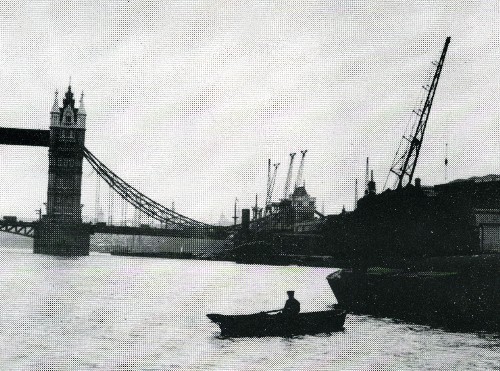 As promised last month, we can reveal the identity of the postman in the iconic picture of the famous River Postman. First of all, I hear you ask, what's this all about? About 2 years ago I bought a calendar on eBay that had 12 black & white photographs of various Thames views. One of these was of a postman rowing a boat. I'd previously read books which alluding to this chap, mostly in the war years and afterwards. I was intrigued by this man and resolved to find out more. I next spotted him on page 21 of Dockland Life: A Pictorial History and learnt that his name was Mr Evans.
I was then contacted by his grand-daughter, Kay Pilgrim, ( one of the perks about running this website is that the most extraordinary gems fall into my lap!). Kay explained that her grandfather was the last of four generations of full time river postmen. Her grandfather, the man in the photographs was called Herbert Lionel Evans, and the boat was the Alice Maud.
Kay also said that the first Evans postman was an assistant to a man called Simpson, who apparently got himself deported to Australia following some misconduct at work, the job then passing into the Evans family, where it was passed down from father to son.
I then did a little research of my own, and found out that a William Simpson was appointed to the job in February 1800.
Lionel Herbert was of course a licensed waterman, apprenticed on 11th August 1908, from Stepney.
An interesting postscript to this story is that the Alice Maud was lent to a film crew, who promptly managed to sink it!

New Search Pages
# As I've mentioned before, we're changing the website to accomodate parish registers transcribed by other people, as well as adding occupational records in our popular searchable database format. The programming work is nearly completed, and this will incorporate the facilty to search across all databases in a sub-category and add them to a shopping basket. ( No more having to pay for each transaction individually-which was a complete pain, I know).
All that's left now is the design work, which Simon and I are working on this month, with a view to a launch date on 1st December. As we'll be adding over a million entries from Rob Cottrell's Thames Riverside Series and Pam Drake's Cornish Forefather's we've also changed our website hosting to be able to cope with the increased volume and traffic. For the techies amongst you, we're also standing by for a change from Access to MySQL format if demand proves excessive.
Anybody who wants a sneak preview at the new search procedure is quite welcome to have a look at our development site. Your comments and feedback as usual would be most appreciated.

By the way, this is yet another website project delivered on time and on budget by Simon from www.thedesignsalon.com. I've heard one or two stories recently about the nightmare times people have had with their website developers. Simon has been with us since day 1 and I can't sing his praises highly enough, ( which is why I made him a shareholder & director of our company ). He's also a very nice chap, whose calm advice I have come to depend upon.

Best wishes & good luck with your researches,

James and the ParishRegister team