A hearty welcome to the parishregister October newsletter. It's that void, nothingy period, between the heady heights of the summer holidays and the excitement of Christmas, wistfully wishing for the warmth we've just lost, but still being grateful that we're not trudging through ice and snow desperately trying to get to work without succumbing to frostbite; slight exaggeration I know, but I suddenly came over all poetic! OK, so this month what have I in store for you? Well, we've another CD out, volume 75 St Dunstan Stepney 1568-1608 and two new databases just uploaded, just cast your eyes down a bit and you'll see them! Also, check out the book section for a special offer!
Searchable Databases
Last month: St Dunstan Stepney 1641-1652 10045 entries
This month: St Dunstan Stepney 1652-1656 4797 entries
St Anthony Globe Road Stepney 1879-1903 2886 entries (Whilst looking through this database I noticed few amusing entries. For example under first names I found Minnie, Job and Ettie, under surnames I found Uncle and Husband, under occupations I found a private detective and a bladder maker, and one husband and wife going by the name of Toseland waited until they had eight children before taking them all to the church to be baptised, and finally in the notes I found two odd comments; one simply said 'nil' and another said 'lady day'?
Anyway, to search these databases, or any other then click here: search
St Anthony is a new one to me, so I thought I'd find a bit more out about it:
The church stood in the borough of Bethnal Green, but was part of the rural deanary of Stepney, which explains why I wa slightly confused at one stage, thinking there was one in Bethnal Green and one in Stepney. The church was funded by the sale of the building and site of All Hallows Staining in the City of London. The church was designed by Ewan Christian and consecrated in July 1879, which is obviously when our transcription started. A small parish was created in 1859 which was united with St Simon Zealotes in 1836, but demolished shortly after in 1937.
New CD
Last month:
Volume 74 St John Wapping 1707-1734
To buy this CD please click here: Vol 74
This month:
Volume 75 St Dunstan Stepney 1568-1608 (8104 entries)
To buy this CD please click here: Vol 75
To browse our other single CDs please click here: single CDs
If you think you may have a relative who was a merchant Taylor then don't forget to search our 36000 entry database (you've nothing to lose!)
Now In Transcription
St George in the East 1877-1893
Christchurch Spitalfields 1843-1865
St Andrew Bethnal Green 1843-1875
St George in the East 1893-1904
St Dunstan Stepney 1656 onwards (it seems to be going on and on and on......!!!!)
Other selected products
East of London Family History Society
Tower Hamlets Rate Books (Vol 1)- Disc 1 1725-1875

To buy this product please click here: Ratevol1
Tower Hamlets Marriages & Banns (Vol 1)-Disc 3
Holy Trinity Minories 1676 - 1754
Christ Church Spitalfields Banns 1833 - 1861
To buy this product please click here: THM&B
Tower Hamlets Burials & MI's (Vol 1) Disc 5
To find out more about this CD or buy it please click here: THB
Burials & M.I. St. Andrews Church, Hornchurch. 1576-2000
Monumental Inscriptions and Burials, of 17,195 names for the years of 1576 - 2000.
This month there's £2 off this product. To buy it please click here: St Andrew
Cockney Ancestor. The first 100.
Now £10, to buy this click here: Cockney
The Frogley Index and Manuscript (History of Barking)
Please click here if you'd like to buy it: Frog
Other products in this series include:
Crow Lane Burial index 1871-1953 listing 20,000 entries.
Census 1851 West Ham.HO107/1768.
Census 1891 Hackney Part 1.RG12/0179 - 0194.
Census 1891 West Ham Part 1 RG12/1310 - 1325
Census 1891 West Ham Part 2 RG12/1326 - 1342
You can browse all of the Watermen and Lightermen products by clicking here: W&L but here's my selected CDs of interest in this department:

1648 Petition of Watermen for the King.


This document, from the House of Lords, records the names of 2,026 watermen from the last year of the reign of Charles I. It was instigated by the Royal Bargemasters, Nowell Warner and Robert Bursey, and written by the clerk to the Company, Thomas Lowe.

The Petition is the vital link between the earlier 1628 Admiralty Muster and the beginnings of the Company's records in 1692.

Also included on the CD are an index to the names, commentary & analysis by James and image samples of the original 350 year old scroll together with a 1673 list of Watermen in the Tower of London.

Transcribed by James Legon. Published by Docklands Ancestors Ltd
or how about this:
The Company of Watermen & Lightermen : Reassignment Index 1688-1908



This CD lists some 12,000 apprentices that were reassigned from their original master to another. In some cases to more than one other master.

The entries were extracted from the Apprenticeship Bindings Indexes that cover the same time period.A typical entry reads as follows:
6687. LEGON GEORGE GAMBLES BOUND 1851 DEC 11 REASSIGNED 1858 JAN 14 TO JUDITH LEGON
(Whom I happen to know was his mother).
Catholic Registers
SS. Mary and Joseph, Poplar Roman Catholic Chapel.

Marriages and Baptisms 1818 - 1856


To buy this CD please click here: SSMary
Misc Catholic London District Baptism, Marriages and Burials Vol 1
27 indexed transcriptions of Catholic Parish Registers from churches, chapels and missions in the county of Middlesex
To buy this CD please click here: Catholic 2
The Registers of the Sardinian Embassy Chapel, London, 1772 - 1841(Church of SS Anselm and Cecilia in Holborn). This comprises indexed transcriptions of over 22000 baptisms hitherto unpublished, a work which has taken them about 10 years to produce!!In total there are 60000 odd entries on this CD, a bargain at £7.95!
To buy this CD please click here: Catholic 3
Misc Catholic London District Transcriptions, Baptisms, Marriages,Confirmations Vol 2
If you would like more details about this CD or you would like to buy it please click here: Catholic 4
Merchant Taylors
The Merchant Taylors 1520-1929 (36000 entries-Exclusive to Docklands Ancestors!) The index gives the name, date of freedom, method of admission (apprenticeship, patrimony, or redemption), name of master if by apprenticeship, date of election to livery, and 'Remarks'.
To purchase this CD please click here: Merchant Taylors
SPECIAL OFFER Compendium CDs 1-5
Docklands Ancestors Parish Register CDs - Compendiums' Department
Docklands Ancestors Parish Register CD Department
East of London FHS Publications Department
'Thames & River Medway Series - Compilation CDs'
'Thames & River Medway Series - Single Parish CDs' Rob's now transcribed 85 of these!
Map Department
Ecclesiastical Map-County of London 1903
A Map of the Ecclesiastical Divisions within the County of London 1903.
To buy this really useful map (if you're not sure which parish is next to which and wish to search for neighbouring parishes) then click here: Parishmap (a bargain at £5)
Map of Middlesex 1611 by by John Norden and John Speed
Black and white print measures 46cms x 58cms.
To buy this map for £4.95 plus p&p please click here: Middlesex
A Balloon View of London 1851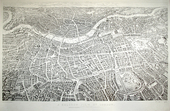 To buy one for £6.95 (that's £1.55 off!) click here: Balloon
Devastated London - The Bombed City As Seen From A Barrage Balloon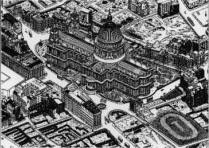 To buy this (folded) map for the bargain price of £4.50 click here: Devastated London
London and Its Environs 1813

Price: £3.95! To buy this map and for more information please London
Rocque's 1745 Survey of London

Price: £7.95 To buy this map and for more information please rocque
To view our comprehensive Alan Godfrey maps collection please Alangodfrey (still only £2.25)
Waterman & Parish Register Special Offer Price: £129.93