Dear Subscriber
Hello and welcome to the October ParishRegister.com newsletter.

Online Searchable Databases
Newly completed and uploaded transcriptions:

St Dunstan Stepney 1734-1745. 8,451 entries.
This is one of the hardest transcriptions to have made it onto the website. John & Beryl Powell have done an outstanding job of deciphering this register. It is of immense importance for two reasons. Firstly, St Dunstan's was the original 'outside-the-walls' parish, to the east of London. Secondly, there just aren't that many parishes that go that far back. For the family historian this means that people came from far and wide ( and in those days of almost universal foot transport, far can be defined as 5 miles or more! ).
This takes our St Dunstan coverage from 1730 to 1826, with a further 1826-1835 transcription to come.

A word of warning about the data: It's heavily abbreviated. Not by us I hasten to add! For example, in the address field, initials are used. BG, Bethnal Green, POP, Poplar, MNT, Mile End New Town etc. Occupations too, of which Beryl informs me Wea, Weavers, is very prominent. The good news though is that dates of birth are given, stated as eg 20 days old ( ie 20 days old at the date of baptism ).


St Mary Whitechapel 1823-1832.
This, our last St Mary transcription, is now underway. More details next month as to completion, number of entries etc.

After that, I'm hoping to get our final St George in the East transcription underway. This is 1795-1809. I've sent off for the film, but the LMA are closing soon, ( see below for more about that ).


New Docklands Ancestors CD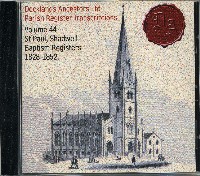 Volume 44, St Paul, Shadwell 1828-1852 (baptisms) is out now. This completes our Shadwell coverage, from 1712-1881. It was 7 years ago that I first clapped eyes on the microfilms for this parish. I remember thinking what a nightmare it was to read them. I transcribed the easy bit, 1852-1881 myself, but the praise has to go to Jim Sheppard, over in Canada, who is not only a top geezer, but a transcriber of the top order. Well done Jim.
Featured book :Thames, Sacred River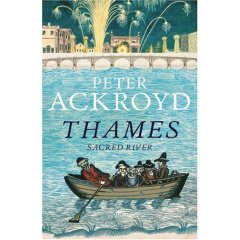 This book, just published, came my way courtesy of www.wisdom-books.com, (book distributors, who have the very good fortune to have me as their bookkeeper. That's what I keep telling them anyway).
This is Peter Ackroyd's latest book. I haven't actually read it yet, ( in fact I'm reading a book called Rogue's River, which was very kindly lent to me by Sylvia Law ), so here's what it says on the jacket:

Thames:Sacred River , by the bestselling author of London:The Biography, is about the river from source to sea. It covers history from prehistoric times to the present; the flora and fauna of the river; paintings and photographs inspired by the Thames; its geology, smells and colours; its literature, laws and landscapes; its magic and myths; its architecture, trade and weather. [Typical Peter Ackroyd then!]

This book meanders gloriously, rather as the river does itself: here are Toad of Toad Hall and Julius Caesar, Henry VIII and Shelley, Turner and Three Men in a Boat. The reader learns about the fishes that sim in the river and the boats that plied on its surface; about floods and tides; hauntings and suicides; sewers, miasmas and malaria; locks, weirs and embankments; bridges, docks and palaces. All the towns and villages along the river's 215-mile length are described.
Peter Ackroyd has a genius for digging out the most surprising and entertaining details, and for writing about them in the most magisterial prose.

It's a big heavy hardback book, of 490 pages and many photographs, the sort that graces any bookshelf.

The RRP on it is £25, we can let you have it for a bargain £15.95.
LMA digitisation programme
I learnt earlier in the year that the LMA were putting out to tender the digitisation of all of their holdings, including the parish registers. Hmm I thought, better carry on with my day job ( gardener), as there's not much point transcribing if the LMA are going to do the same.
However, it turns out that by digitisation they don't mean turn the microfilm images into (searchable) words, but the scanning of the images so that they can be viewed online.
Ok, that's a massive improvement on having to go to the LMA to view the microfilms, absolutely. But what it won't do is to allow for easy searching, such as that you'll find on ParishRegister. You will have to sit at your computor and trawl through the registers a page at a time until you find ( or don't as the case maybe ) what you're looking for.
When you consider that many registers are virtually illegible, whilst others have been written by clerks with handwriting styles that are very difficult to read, well, I wish you luck!
And now it seems that this project too is another that is experiencing severe delays. Where have we heard that before?
The 'gold standard' of searching parish registers online would be a searchable database containing a double checked transcription ( done by family historians with local knowlwdge ), allied to a search that took you to the original image.
I hope my descendents enjoy using it! Meanwhile, we'll keep transcribing away, at least until we've completed Tower Hamlets.
You can follow the progress of this project by visiting the LMA site using the link below.
Speaking of the LMA, be warned that they're closed from 2nd November to 21st January. Now that's what I call a Christmas break!
An evening out
Not often I go out at night. I'm usually in bed by 8 these days. I did make an exception on the 26th Sept at the kind (insistent) invitation of Sylvia Law, who organises the Barking branch of my local FHS. The main speaker of the evening was my chum Rob Cottrell, who had been dragged up from deepest darkest Kent to give us his interesting talk on the Thames watermen & lightermen.
First time I've been to a branch meeting, even though I've been a member for years. Far be it for me to exhort anyone else to get involved and get out there, but I have to say it was a most enjoyable evening, supported by about 60 odd members.
I'm sure this had a point, but I'm sorry I've completely forgotten what it was!
Waterman sources at the Guildhall Library
My daughter and I have completed our updated listing of the material that the Guildhall Library have from the Waterman's Company. The full listing will be included in the 2nd edition of my book, 'My Ancestors were Thames Watermen'. It is also now available on CD. It will enable researchers to plan their research ahead of a visit to the Guildhall and also publicise some of the lesser known material.

Here's a few snippets from it...

MS6289 A

Registers of apprentices taken on trial. 1828-1923.

1. 1828-45
2. 1846-59
3. 1860-95*
4. 1895-1923
*Page references are to the register of freeman, MS6307/2

MS6292 A

Sunday ferry account book, giving account for each ferry, listing ferrymen and inspectors' names, money earned, and payments for work. 1715-1718.
See also MS6292 for later accounts.

MS6295

Register of apprentice licences, giving names and addresses of masters and dates of licences and renewals. 1859-1878.

For licences after 1878, see MS6316.
Note: page references refer to masters' entries in register of freemen, MS6307/2.

MS6299

"The "Black book", kept for the entry of the names of persons suspected of binding apprentices and not working them. 1814-1881.

Cyril George Chapman
I received an email recently from Johannah Patmore, the daughter of the late Cyril Chapman. I reproduce it below:

"Dear James,

I have followed your site since 2002 (my member name is JOP), as my dad was a waterman and lighterman, as were my ancestors. My dad had no internet access so I used to show him articles and tell him about yourselves, and he liked what your were doing.

Anyway, to cut a long story short my dad died of cancer in December and as mum and I felt that the river really was my dad's life, it would be fitting to donate something to The Museum of Docklands in his memory. We decided on a book, one in which anybody who had stories to tell connected to the river and the life surrounding it could record their memories in. Hopefully, over time it will become a history book for a way of life which sadly is being eroded.

It is a lovely leather bound book, and the front shows the Watermen's coat of arms (we had to get permission from Watermens Hall), and is embossed with the words:

"In memory of Cyril George Chapman, Freeman of the River Thames, Licensed Lighterman and Waterman. Always a Thames man."

The museum people felt it would be best locked away so that it does not get defaced, so to get access to the book you have to request to see it. They do have a sign advertising the fact of its existence, but it is a bit tucked away. We would like as many people connected with the river as possible, to be able to make a contribution to it. Therefore I hope you don't mind me bringing this to your attention, and ask if you would kindly spread the word amongst your colleagues.

To sign the book you can either go to the museum and ask for it, or an entry can be emailed to them, and they will 'stick' the page in. Would it be possible to mention the book on your website, in order to embrace as many memories of this element of river history , as possible. I would of course find out who it should be for the attention of etc. I have attached some articles from the press coverage we received, which I hope will be of interest to you. The sign at the museum shows a photo of my dad, and a copy of the wording is also attached."

I can't think of a more worthwhile project to be honest. It's exactly what this website is all about, so I'll be giving it my full support. We have a Waterman Tour planned for the new year which will include the Docklands Museum, so those of you likely to come, get your thinking caps on! We'll also give this project a mention on our Waterman page on the website.
Guided Walk - Tower Bridge to Big Ben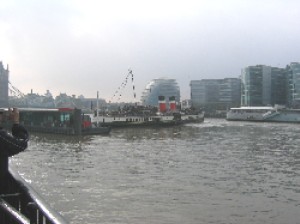 Date: Wednesday 14th November
Start time: 11.00 am
Meeting point: Roman Wall, at Tower Bridge Gateway
Distance: 3.5 miles approx.
Duration: 2 hours approx.
Cost: £10.00 per person

This is an easy stroll along the Thames taking in many of London's famous landmarks. It's obviously along the banks of the Thames, so nice and flat. Legon minor and myself did this as part of our Tower Bridge to Kew Bridge walk last month. We were lucky enough the see the last of the Thames paddle steamers, the Waverley, making it's way under the raised Tower Bridge down to Southend.
On arrival at Westminster many other sites of interest are nearby, or you might fancy hopping on a boat for a trip down to Greenwich.


More walking stuff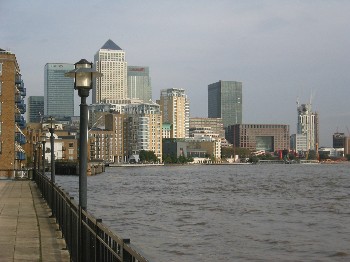 Gosh. Whilst we're on the subject of walking, I went for another stroll the other weekend. The plan was to get to Tottenham Hale from Broxbourne, in Hertfordshire, along the banks of the river Lea. I managed to do that, in no time at all really. It was such a lovely day, a perfect day for walking, with not too much sunshine, no rain and a gentle breeze. I got to Tottenham by 3 o'clock so I thought I'd wander on a bit further. Where did I end up? Tower Bridge! I can hear the wise heads nodding and saying, actually James we know you really ended up, in some boozer near Tower Bridge. Ah, guilty as charged! The Dickens Inn on St Katherine Docks actually, a wonderful place to sit outside of an autumn evening. I feel spiritually at home there, and not just because of the beer. The earliest trace of my ancestors was a marriage at St Katherine by the Tower, in 1688. And I'm sure you all know that it got demolished to make way for the dock, in 1827. A sundial commemorates its passing.
The (rather good) picture is Canary Wharf, from Limehouse Lock.
Some diary dates
25th October 2007 Guildhall Library.
Behind the scenes tour of the Manuscripts Section store and Conservation workshop. ( I've done this, most enlightening )

27th October 2007 Museum in Docklands
Maeve Dawson. Have a chat with the landlady at The Three Mariners in Sailortown, you'll find she has some amazing stories to tell.

31st October 2007 Museum of London.
Walk: Hauntings, burnings and murder most foul. Halloween walk through Smithfield.

7th November 2007 Guildhall Library.
A Place in the Sun: fire insurance records for local and family history.

14th November 2007 Museum of London.
The river Thames in prehistory. Discover the many uses to which the river Thames was put by its local communities.

27th November 2007 Guildhall Library.
City of London and Livery Company freedom records.

Google any of these three organisations to find out full details.


Tufts Digital library
This is a very useful site that features the Edwin C. Bolles collection, which is a digital archive on the history and topography of London.

In its own words "The digital archive combines texts, maps, and images into a flexible resource that complements the discovery process. Users can take advantage of the non-linear nature of both research and the Internet, and access the resources in the Bolles collection from a variety of entry points, moving from text, to image, to map and back again to make intellectual connections among the resources".

There are 3 main sections that I've been looking at that feature on texts, maps and and images. The texts that are available online to read include such titles as:

Life & Labour of the Poor, by Charles Booth
Degeneration amongst Londoners, by James Cantlie
A Journal of the Plague Year, by Daniel Defoe
London Labour & London Poor, by Henry Mayhew
A Survey of London, by John stow.

In other words, an absolute treasure house of books about London, all free of charge. Good eh?Then there are the map and images collections to explore too....

Kind regards,
James and the ParishRegister team