Dear Subscriber
Hello and welcome to the October ParishRegister.com newsletter.

This month sees the release of Compendium 2, with, of course, a special introductory price for you guys. We've got a campaign that we need your help with and we've a special guest blogging for us, ( no, it's not Dave Cameron).




Online Searchable Databases
This is the progress of our transcriptions:

Completed
St Paul Shadwell 1712-1743

Transcriptions underway
St Dunstan Stepney 1798-1816 83% completed & uploaded
St Paul Shadwell 1744-1774 82% completed & uploaded

St George in the East 1837-1848
St Mary Magdalen Bermondsey 1813-1822

Coming next:
St George in the East 1729-1749
St Dunstan Stepney 1826-1835
St Mary Whitechapel 1832-1842
Christchurch Spitalfields 1819-1842
St Mary Newington 1837-1842

Approx. 10,000 entries have been added this month.

Things have slowed down a bit this month, following the recent glut of transcriptions. We've also recently introduced a 100% checking procedure and this has slowed things down a bit too.

Compendium 2: Vols 21-30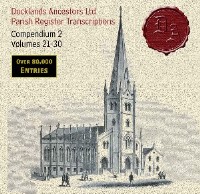 The 2nd in our series of value for money compendium CDs is out now, featuring volumes 21-30 of our parish register transcriptions.
There are approx. 80,000 entries on it and it's priced at the same cost per entry as Compendium 1.
Naturally, we've got an introductory price for subscribers of this newsletter that will save you £5.00 off the normal price of £39.99.
The parishes included are:
Volume 21 St. Mary,Newington,Southwark Baptism Registers 1829-1837
Volume 22 All Saints,Poplar Baptism Registers 1858-1872
Volume 23 St Mary Magdalen,Bermondsey Baptism Registers 1782-1812
Volume 24 St Paul,Shadwell Baptism Registers 1775-1812
Volume 25 St Mary Magdalen, Bermondsey Baptism Registers 1822-1829
Volume 26 St Dunstan, Stepney Baptism Registers 1798-1808
Volume 27 St Paul,Shadwell Baptism Registers 1712-1734
Volume 28 St Anne,Limehouse Baptism Registers 1821-1832
Volume 29 St George in the East Baptism Registers 1826-1835
Volume 30 St Mary Whitechapel Baptism Registers 1823-1832


Useful website: Index of Old Occupations
This is the most comprehensive site I've found for finding out what an occupation actually means. Rod Hall has done an excellent job on this well constructed website. He's also got a good section on marine history too.
I was asked the other day what a Jake's Farmer was. The answer made me chuckle: A cess pool emptier!

Featured book: My East End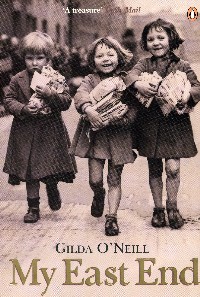 My wife works in an old peoples home and young Florrie ( 98) gave her this book as she knew I like all things East End. Florrie, may you be blessed with a long and happy life! For me, it was one of those books I pick up and don't put down until it's finished.

Written by the prolific Gilda O'Neill, herself an Eastender, it recalls her childhood in Bethnal Green and gathers together the memories of many of her contemporaries and their ancestors.

The book, 322 pages and many photographs, charts the history of the East of London from antiquity to the close of the 2nd millenium. It recalls the days when West Ham was out in the countryside of Essex, and considered posh. When the Thames was the M25 of its days. When the Empire wasn't the takeaway in the High Street and community wasn't a soundbite platitude from politicians.

I was born in West Ham, some 46 years ago and like many an East End family, mine moved out to the leafy suburbs of Ilford and Dagenham. I didn't think I had any East End memories, but reading this book made me realise that while you can take the boy out of the East End, you can't take the East End out of the boy. Gilda's description of childhood games stirred memories long forgotten. Did you play Knock Down Ginger? High Jimmy Knacker? Remember swapping cigarette cards? Staying out all day until it was dark, when if you didn't get home for tea you're mum would go mental? Building dens, starting fires, fighting the round the corner gang with bamboo swords and dustbin lids? Playing with nothing more than what you could find and an active imagination.
And the hunger. Always bloody hungry. My parents called me Rusty Gutsy for some reason. All I know was that if we went round the other side of South Park to Fat Nan's, we'd get sweets, and lots of them, which we never had at home.

All in all a thoroughly readable book.



Useful link
Now this is a site I probably use more than any other. Basically it's a database of the material held at the London Metropolitan Archives. They call it London Generations. What I use it for specifically is finding out what records are available for a parish.
You get the address of the church, the years that are covered and the microfilm reference number. If an index exists, it gives the reference number for that as well. All this saves me time when I go up to the LMA, as it means I don't have to go trawling through the folders looking them up, ( and someone has always settled day for the day to proof read the one I want to look at!

No doubt some of you are aware that there's such a thing as the London Generations CD too. Apart from the hassle of having to find where I left it, this is possibly even more useful to me, as it features the abilty to search it by film number. I think they give them away at the LMA, but I don't really know as Esme copied hers for me. ( Shh!)

The Bethnal Green Tube Disaster
And now to more recent matters. (Recent, for a family history website, being the second World War).
The date is the 3rd of March 1943, a Wednesday. The place is Bethnal Green. It is now more than 2 years since the Blitz ended on the 11th May 1940, when corporal Adolf turned his attention eastwards. Bombing raids did still occur however.
At 8.17 pm the air raid sirens sounded and more than a 1000 people began to make their way to the Bethnal Green underground station to seek shelter. At 8.27 pm, in nearby Victoria Park, an anti-aircraft battery shot off a salvo of a new type of anti-aircraft missiles. Because they made a noise that people had not heard before, panic gripped the crowd moving towards the station. Inside, a woman tripped on the poorly lit stairway, causing others to fall and disaster followed. 173 people were crushed to death . 69 of these were children. A further 62 were seriously injured.
This is the largest loss of life ever to have occurred on the London Underground, surpassing the tragedies of the Moorgate crash in 1973, the King's Cross Fire of 1987 and the more recent atrocities of last July, combined.

It is commemorated by a tiny plastic plaque.

In the words of Alf Morris, a survivor, who was 13 at the time, " that's an insult to all those people who lost their lives". Alf is campaigning for a proper memorial to the East Enders who lost their lives on that Wednesday evening. He's organised a meeting at St John's Church in Bethnal Green on Saturday 28th October to get things moving. Other survivors will also be coming.
Even if you can't make it, you can register your support by writing to Alf at 56 Grosvenors Drive, Hornchurch RM11 1PN. Transport for London have already said that they're interested, if enough people support the idea. I'm sure that with your help, Alf can achieve his commendable aim and we can build a fitting memorial to the 173 men, women and children who died that night.




Featured title: London maps through the ages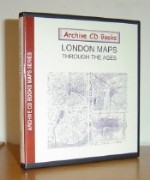 This CD, produced by Archive CD Books, contains 11 maps of London, from 1666 to 1931. I have to say that the quality of the images is stunning. I was able to zoom in at 1200% before the image started to blur. I'm told that Rod has invested £45,000 in a new scanner and after seeing what it can do I have to say it's money well spent Rod !

This collection of maps of London through the ages was taken from various publications. Also contains maps of London in Roman times, etc. Some have street indexes with grid references so that you can locate places easily.

An excellent resource for the family historian.




Another useful link: Perpetual calendar
Those of you fortunate enough to have found your ancestors back before the year dot will be familiar with the problem of dates. The Gregorian calendar as opposed to the Julian calendar. This handy website sorts it all out. Ok, it's not a triumph of website design, but full marks for substance over form!

Cornish Ancestors anyone?

Well, you never know, as most people with London ancestors have someone who migrated here from someplace else. Especially, and annoyingly, my ancient rellies, who were newcomers in the late 1680s. ( I think they came from Mars actually, as there's no trace elsewhere ).

Anyway, we're stocking 160 odd CDs from Cornwall, mostly from around the late 17th century to the start of civil registration.

Boy, they have some weird names down there! Erval, Treneglos, Wendron to name but a few.



Flotsam and Jetsam
# I notice that we've had a lot of new subscribers recently and I'd like to say hello to you all. I hope you enjoy our newsletter and that www.ParishRegister.com is of help to you in your family history research.

# Some dates for your diary. We'll be attending a couple of family history fairs in January. The first is the East of London FHS fair at Barking on Saturday 20th, followed a week later by the Bracknell fair on Sunday 28th. No doubt we'll have some special offers exclusive to the fairs, so don't spend all your money at Christmas :)

# Word reaches The Shed that all is not well with the forum community at Genes Reunited. A new forum, called Family Tree Forum has suddenly sprung up and it's thriving. Of course, one does have to be invited to join....:) ( Someone likes me!). Type GenealogistsXGR into Google......

# Young Ian, the head honcho from my FHS, the East of London, was also in The Shed this week. Couldnt hear much of what he was saying due to the Police helicopter that took residence overhead, but he tells me that their website shop has been re-designed and relaunched. I've had a potter through it, and it seems pretty easy to use to me. ( http://store.eolfhs.org.uk/index.html ).

# Tidings have also reached The Shed about a certain young man ( whose name will remain anonymous, ok, it's Nigel Bayley from S& N Genealogy ), who has been a busy boy snapping up domain names that are similar to www.ParishRegister.com. Well Nige, good luck mate: There'll only ever be one ParishRegister.com, all else will be but pale imitation.

Now, I'll tell you why this really gets my back up. In June I sent the good folks at S&N a copy of our Compendium 1, with an invitation for them to distribute it. Now, not only did I not receive even the courtesy of a reply, it was the following week that young Nige started buying up domain names. By your deeds will ye be known...( My Nan said that, but I haven't a clue what she was on about ).

# My good friend Rob Cottrell sent me a picture recently of members of the Amalgamated Society of Watermen, Lightermen and Bargemen. It seems to have been taken in the early 20th century. The Society was formed in 1912, so perhaps shortly after that. Recognise anybody in it? Do let us know if you do.

# For the waterman buffs amongst you, next month we reveal the identity and history of the famous River Postman.



Guest Blog Spot
This is an occasional item and this month we're hosting a blog spot for my chum Pam Drake, who runs the popular Parish Chest website:

I have been involved in Family history for about twenty years now, and have been on the family history circuit attending various fairs around the country for about twelve years.
In my time on the circuit, I have met lots of stall holders, some are 'fly by nights' who think you can shove anything onto a CD, flog it, make a pile of cash and then disappear, (they never last long, thankfully) some are genuine folk who really want to help people trace their ancestry, and then we have the 'big boys' or those that intend to be one of the big boys.'
The 'fly by nights' have been known to pirate information, (census records, parish transcriptions, etc.,) or download free information from the Internet, copy it to a CD, put a pretty picture on the front and sell it at a family history fair or on Ebay. A quick buck is all they are interested in.
The genuine folk strive hard to make sure the products they sell, whether it be parish transcriptions or census, etc. are of first rate quality. They spend hours, days and sometimes months, transcribing hard to read and all too often almost illegible documents. These people are really proud of the work they have produced and they make it available at a reasonable cost which belies all the effort it has taken.
The 'big boys' or major players have loads of money to spend on advertising. I am sure you have seen the full page adverts in the magazines. The major players (or wannabe major players) are prepared to pay a fortune to keep themselves top in the pay per click bids, and buy up any and all domain names that have anything, even vaguely to do with genealogy.
No, this is not 'sour grapes' from one of the little guys. Please don't misunderstand me. I am not against anyone making a living. What I loathe is the major players doing their best to force the genuine, little guy out of business. Of course, if they succeed in getting rid of the little guy, then the major players will get a larger slice of the cake. The problem is in the end, as always, it is the customer who suffers. Limited records, not always good, and only available at the price they want to charge.

Kindest regards
Pam



Fame at last!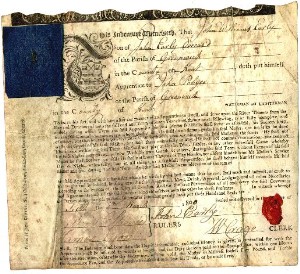 I thought us Legon's had always successfully avoided raising ourselves to any level above obscurity in history. Now it turns out that James Legon (1772-1825 ), the first of that name, and the 4th generation of Legon's at work on the Thames, was a Ruler of the Company of Watermen. This apprentice binding came my way recently, out of the blue ( thanks Esme ). In all my rummaging through the Guildhall Library I'd never come across anything to suggest that we'd ever been anything other than humble oarsmen. The moral of the story here is you just never know what treasures you'll unearth in your family history research.

You can just make out his name at bottom left.
Best wishes & good luck with your researches!

James and the ParishRegister team