This Month
Volume 10 St George in the East Marriages 1754-1784 
Now In Transcription
Baptisms: 
St Mary Whitechapel 1671 onward
St Luke Limehouse 1846-1875

St Jude 1846-1875

Interesting/Useful Sites

Watermen and Lightermen Section
DOGGETT'S COAT AND BADGE RACE
Did you know that Thomas Doggett was an Irish comedian and joint manager of the Drury Lane Theatre? There are various stories about why he founded this race for Watermen in their first year of freedom. Suffice it to say that since 1715, or some say 1716, six first year freemen have taken part in this rowing race (from The Old Swan tavern at London Bridge to The New Swan tavern at Chelsea) . Originally held on the 1st day of August (as laid down by Doggett, to commemorate the accession of George 1, the race is nowadays actually held towards the end of July each year. It is the oldest annual sporting event in Britain if not in the world.

The prize was a scarlet coat and a silver badge, and the winner became a Royal Waterman, required to carry out various ceremonial duties.

If you are interested in the Doggett's Coat and Badge race then this CD might interest you:





My Ancestors Rowed for Doggett's Coat & Badge Race 1715-2009. 

This NEW volume has proof of the race starting in 1715, together with the names of previously unknown winners and competitors, including the name of the FIRST WINNER in 1st August 1715. The evidence has been agreed by Watermen's Hall, Fishmongers' Hall and Guildhall Library.It also explores the history of the race, the life of Thomas Doggett and is lavishly illustrated throughout. Compiled from primary sources, this is the most comprehensive work on the man and his race available.
A complete List of every known competitor, INCLUDING those who failed in heats and drawing of lots.

To buy this CD please click here: Race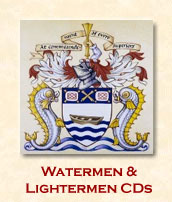 To browse our entire collection of Watermen CDs, including our apprenticeship records, please click here: Watermen


Watermen Books


 Under Oars: Reminiscences of a Thames Lighterman, 1894-1909, by Harry Harris.

An incredibly rare book, one of the only ones written by a Thames Lighterman, about the arduous job of working on the river. Now with £20 off!




Tales of a Thames Lighterman, by Ernest G Murray.



This book is incredibly rare and this is probably one of the only copies on the market!



Thomas Doggett Pictur'd by Walter Leon. 

This is a rare first edition 
CATHOLIC RECORDS
Catholic records

Click on the above to discover all of the titles in our catholic records collection!




EAST OF LONDON FAMILY HISTORY SOCIETY RECORDS
East of London Family History Society




Census 1891 Hackney Part 1.RG12/0179 - 0194.
Covering: Stoke Newington, Stamfod Hill, West Hackney and Hackney

Tower Hamlets Marriages & Banns (Vol 1)-Disc3  Holy Trinity Minories 1676 - 1754
Christ Church Spitalfields Banns 1833 - 1861 


Merchant Taylors   Merchant Taylors' Company Membership Index 1530 - 1928 All 36000 entries on one CD!



We have all the Merchant Taylors records on one CD which lists the apprentices in the following format:
(The dates in this List are given in the original entries, namely in the Old Style, the year beginning on March 25th, until after the year 1751.")
The original Index of Freemen consists of 4 volumes in alphabetical order:-
1.  A-D
2.  E-J
3.  K-R
4.  S-Z
The index, and the searchable database, gives the name, date of freedom, method of admission (apprenticeship, patrimony or redemption), name of master if by apprenticeship, date of election to livery, and 'Remarks'.
The Index 1530-1928 does not standardise the spelling of surnames, but rather gives each one in its original spelling. This means that the same surname can appear in many different forms, and therefore in different places in the alphabetical sequence, depending on the variation in each case. A search for a particular person on the CD therefore involves a certain amount of scrolling up and down the page, looking for variant spellings and possible likely entries in places other than one's starting point. In some instances, such as, for example, Bloggs/Blogges, the variants would appear pretty close to each other; in others, such as Smith/Smyth, they may be some way apart.
To buy a CD containing the complete database click here: 
Merchant Taylors' Company Membership Index 1530 - 1928
To search the index click here: MT Index
BAPTISMS, MARRIAGES AND BURIALS IN NUMEROUS THAMES AND MEDWAY PARISHES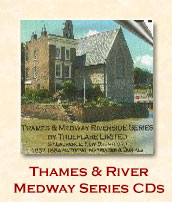 To search the entire collection of the single or the compendium CDs please click below:
Trueflare Thames and River Medway single CDs

Trueflare Thames and River Medway compendium CDs

Map Department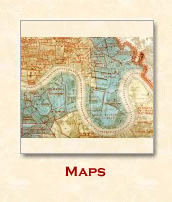 To browse all of our maps including the Alan Godfrey collection (still at the old priice) plaese click here: MAPS
PARISH REGISTER BOOKS
We have loads of interesting and rare books for you. To see all of our collection, click here: Books
Here is a selection of our best selling titles:

Around Lewisham and Deptford in Old Photographs by John Coulter 

Lewisham and Deptford have been a single borough since 1965, but they have very different histories. Deptford became an important shipbuilding centre after Henry VIII established a royal dockyard there; this attracted other heavy industry. Lewisham and its surrounding villages were primarily rural, until 19th century improvements in transport encouraged so many new residents that by the 1920s only a small agricultural area remained, to the south of the borough.
Renowned local historian John Coulter's new book describes and illustrates the changing scene in these two contrasting areas. Most of the more than two hundred photographs have never been published in book form before, and will surprise and fascinate anyone who knows this part of south-east London.

Bethnal Green (Archive Photographs: Images of London ) by Gary Haines.

This fascinating collection of over 200 archive photographs looks at the changes that have taken place in Bethnal Green from the late nineteenth century to the present day. 

The images chronicle eras of hardship and extremity like that of the Second World War, and times of peace and prosperity. Altogether they combine to create a very special record of an area that has experienced a great change over the years, yet has always retained its famous character.
East End: Four Centuries of London Life
 by Alan Palmer

This book is becoming harder and harder to find, so if you want one then snap it up now!
Around Poplar and Limehouse
, by Gavin Stirling.
East Enders' Postcards (Archive Photographs: Images of London
)by Brian Girling

This fascinating collection of over 250 archive postcards explores the communities of Stepney, Poplar and Bethnal Green in the East End of London, before they were amalgamated in 1965 to form the London Borough of Tower Hamlets.
Here are  three  excellent second hand (good condition) books:
A History of Warfare by John Keegan 
(paperback) £4 plus £2.70 p&p (uk)
Military Blunders (The how and why of military failure)
 by Saul David (paperback) £4 plus £2.70 p&p (uk)
Maritime Power and the Struggle for Freedom 1788-1851 
by Peter Padfield (paperback) £4 plus p&p (uk)
(If you are from outside the UK ask Yvonne about postage charges)
If you would like either of these on a first come first served basis then please email Yvonne (
jameslegon@gmail.com
)
Thames Books:
Liquid History:To Commemorate Fifty Years of the Port of London Authority 1909-1959, by Arthur Bryant. 

London from the Thames by Angelo Hornak

The Port of London by John Herbert.

Thames Shipping by Laurence Dunn

Thames: Sacred River (Hardcover)
by Peter Ackroyd.

Research Services: If you've come to a dead end, email Esme research@parishregister.com.
Ramblings from the Estate
Last month I had a tale of woe and pain to tell, this month, believe it or not, I suffered more pain! This time, however, you'll have even less sympathy for me, as it was entirely self inflicted! Early in September I did a half marathon (13.1 miles) around Hackney Marshes (six times round in fact). Her Indoors came to watch, so she had the privilege of watching me trudge passed her on six occasions, looking more and more knackered each time. However, I am pleased to say, I got round in a touch over 1 hour 35 minutes. This epic personal best encouraged me to enter a 10K (6.2 miles in old money) a couple of weeks later in the hope of reducing my 10k P.B from 44.01. All was well until 2 days before the event, when I went for my last 3 mile run, which is normally a stroll in the park (usually literally, in Victoria park). This time, I don't know what possessed me, but I chucked in a few sprints, and paid the price, I tweaked my hamstring. Now, the sensible athlete would have heeded this warning and pulled out of the race, but no, not me, I'm Superman! So, two days later, I was on the start line in the shadow of Tower Bridge, ready for the off. I was right at the front of some 1300 runners, why I don't know! Once the hooter went, we were off, and crazily I went with the leaders, but after a mile I let them go, as my watch was telling me I was sprinting along at 6 minutes a mile, and keeping that pace up for another 5.2 miles was just not going to happen. I then settled down as we meandered along the north side of the Thames from the Tower of London down towards Lambeth bridge. Now, Her Indoors was going to watch me go passed at Southwark bridge, where it meets Upper Thames Street, but just as we approached that point I realised we were running under it, out of her sight!!!! I couldn't do anything about it, so on I struggled, and by half way and now running towards the London Eye all I could do was focus on trying not to slow down and keep breathing! Just trying to keep putting one foot in front of the other made me forget all about my hamstring, and a glance at my watch showed there was less than a mile to go as I passed the Globe..... and Her Indoors, who had sussed out what was going on and had crossed the river! I gave her the thumbs up sign and tried to surge on to the finish line, well on course for a time of around 41 minutes! Then, you guessed it, with 0.18 of a mile to go, having reached 6.02 miles in 40 minutes, and in sight of the finish line....PING, my hamstring let go!! This bought me to an instant stop, and I then limped the remaining final stretch in another 7 minutes as fellow runners came streaming passed me! Oh well, it was a gamble that nearly paid off, so now I'm swimming and cycling for the foreseeable future until I can start my marathon training in earnest! Yes, you heard me correctly! I've got my place in next year's London Marathon and I'm running for the same charity as last year, 
Kith and Kids
 They do fantastic work supporting children with autism and other physical disabilities, and struggle to raise money in these tough economic times and in the face of other better known charities. If you'd like to kick start my fund raising efforts just click 
here
, any (and I mean any), contribution at all would be most welcome! Last year, with many of you contributing, I managed to raise over £2200, that's £700 over my target!
So, what goodies have I been scoffing this month? Well, this....we've been making large amounts of it and freezing it, delicious!
Asian style Beef casserole
Here's a useless fact from Her Indoors: you can pick up radio signals through the fillings in your mouth!
Let's end with a giggle, shall we? What lies on the ground 100 feet in the air?
A centipede on its back!
What kind of waiter never accepts tips?
A dumbwaiter
How do you make a poisonous snake cry?
Take away his rattle
When life gives you a hundred reasons to cry, show life that you have a thousand reasons to smile
Jno and the gang!