Dear Subscriber
Hello and welcome to the September ParishRegister.com newsletter.

Online Searchable Databases
Newly completed and uploaded transcriptions:

Christchurch, Spitalfields 1819-1842
This parish borders St Mary Whitechapel and you'll find lots of weavers/tailors in it, reflecting it's Hugenot past.

Coming next will be:
St Dunstan Stepney 1734-1745. This transcription, by John & Beryl, is well underway and shouldn't be too much longer. 1826 to 1835 awaits these guys next!

St Mary Whitechapel 1823-1832. This film is on its merry way to Jim over in Canada, and I'm sure if Jim can leave his garden alone for a few weeks, then no doubt our redoutable transcriber will soon have this easy transcription finished. This is the 'missing' link in our St Mary's coverage.

St George in the East 1794-1809 will follow after that. I can hear Jim saying now, have you ordered the film yet James? Remind me in a month Jimbo.

Transcription has slowed down a bit at the moment as our accountants have just presented us with a mouth watering invoice, the proceeds of which will no doubt keep their kids at public school for the next couple of years, or will at least buy a new handbag.




Cockney Ancestor CD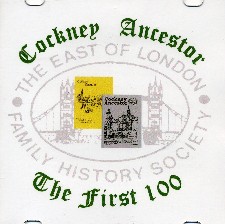 One of the really positive aspects of running this website/company over the last few years is the excellent rapport we have with our local family history society, the East of London FHS. This has been of tremendous benefit to us, to you our customers and to the members. For example, did you know that if you are a member of the EoL you can get our CDs at a 10% discount? That's right, they sell them for less than we do!
The chairman, Ian Whalley, is a regular visitor to The Shed and I have to say that the members are very lucky indeed to have a chairman who is so dedicated, knowledgeable and enthusiastic.
One of the benefits of Ian dropping round is that he brings me goodies to look at from time to time. The latest is this CD, which contains scanned copies in PDF format, of the first 100 editions of Cockney Ancestor (C.A.), from the first in 1978, up until Autumn 2003.

C.A. is the journal of the society, and let me tell you, it's a jolly useful thing! I obviously get my quarterly copy as a member (8174), but I've found that over the years, when I want to find out about some obscure subject, I end up paying for a back issue of C.A. For example, each of our CDs contains a brief history of the parish, much of which is derived from past editions of C.A.

One of the most useful features about this CD is the ability to search across each edition.
Book Review: Sylvia Pankhurst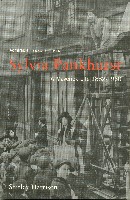 I am indebted to Ian Whaley, chairman of my local FHS, for dropping round a copy of Sylvia Pankhurst: A Maverick Life, by Shirley Harrison. A book about a radical feminist wouldn't normally be at the top of my reading list, I must admit. But one's literary horizons, along with one's waistline, do seem to be expanding.
I'd obviously heard of the name Pankhurst, and always of course in the context of Suffragette. But that's where my knowledge stopped. It turns out that there were not one of them but three of them, who collectively comprise the Pankhurst women. The story of their struggle to obtain the vote for women is but one aspect of this book, which focuses on the life of the 2nd daughter, Sylvia.
Having just read biographies of Lloyd George and the incomparable F.E.Smith, both by the excellent John Campbell ( a friend of Esme's incidentally, which is handy as he has dropped all his many works around ), the cast of characters and the lay of the landscape of early 20th century Britain was already fresh in my mind.
One of the many surprises in the book was the fact that Sylvia lived just down the road from us, in Charteris Road, Woodford and took walks in Knighton Woods. It sent a shiver down my spine to look up and out of the window onto those very same Knighton Woods !
I was very surprised to learn too of Sylvia's involvement with, of all places, Ethiopia, which is indeed where she is buried following her death in 1960, after spending her retirement years as an honoured guest of the Ethiopian Government, and indeed received a full state funeral !
Of course for me it is Sylvia's connection with the East End that I also found most interesting in this book.
In a remarkably 'busy' period of British history, Sylvia Pankhurst fully merits recognition as a leading figure in the cause of justice and democracy in the 20th century.

The book was privately published, meaning you can't actually get hold of it via mainstream outlets such as Amazon. The RRP is £8.99, but Ian has got me a few copies cheaper, so I can sell it at £6.00
BMDs online: project update
I saw this article, by Fran Yeoman, in the Times, 28th August 2007, and thought it might be of interest.

"It was supposed to be the project that would drag one of the nation's favourite hobbies into the 21st century. More than 250 million records of births, marriages and deaths - a family history of Britain since 1837 - should have been freely available to search online by next May.

However, the multimillion-pound scheme has suffered the same curse as many Government IT projects. It is now running over a year late, according to the Office for National Statistics (ONS), and "mid to late 2009" is the new best guess for when the online index will be available.

Meanwhile, the traditional method of finding the information is about to get harder as the longstanding paper versions are removed from public view - a move that has infuriated historians, genealogists and amateur sleuths trying to trace their family trees. This normally mild-mannered band, swollen in recent times by the many people inspired to trace their ancestors by Who Do You Think You Are?, the BBC TV programme, are unhappy.

"It is grossly inadequate," said Maggie Loughran, administrator of the Federation of Family History Societies. "The whole thing is an absolute shambles. Like so many government IT projects, it has been badly managed."

In October the Family Records Centre in London will begin boxing up the huge bound volumes of indexes that for many years have been the starting point for thousands of historical hunts.
They will be sent to storage in Dorset and from then until the new Digitisation of Vital Events (Dove) online scheme takes flight, researchers who need to conduct a national search for a "vital event" before 1984 will have to rely on examining a microfiche on the upper floor of the centre. There will be even more disruption in March when the facilities are moved from their home in Islington, North London, to the National Archives in Kew, West London.

The closure of the Centre's office in Islington has been brought forward from March 2008 to November in part because the ONS, which must vacate its present site in Pimlico, needs a new building.
It is also, according to a spokesman, because of a "fall in visitor numbers" to the Islington site.

"We have done absolutely everything we reasonably can to minimise disruption during the transitional period," the spokesman said, adding that more microfiche copies and microfiche-readers would be made available at Kew.

He added that some local libraries around the country hold their own microfiche copies and that researchers could pay for online access to the index through commercial sites.

However, because of the delays with Dove and the centre's closure, the transitional phase - when there will be no free access to the national index other than on microfiche - will last at least 18 months rather than the two months originally planned. Ms Loughran said: "I am an experienced researcher and I have trouble reading the microfiches.

"People are not going to be allowed to see the original paper source of the index, but will have to rely on a secondary source, which is incomplete, as the microfiches have not been updated with corrections and additions since they were made in the 1990s, and which are not easy to read."

The Society of Genealogists described the looming situation as "wholly unsatisfactory", and accused the ONS of breaching its statutory obligation to provide a publicly accessible index to to births, marriages and deaths.

Michael Tringham, chairman of Hoopers, the probate genealogy company that traces unknown beneficiaries of wills, said: "The closure of the FRC, which has been a public facility for over 150 years, and the lack of an adequate replacement is a scandal.

"Since 1837 the indexes have been available by statute to view for free. Microfiche are wholly inadequate, and are not going to be any use to members of the public. They are not user-friendly."

"Furthermore, from November 2007, the records themselves will have to be bought online and sent to people by post as the FRC collection service will close. This will mean delays and unreliability for everyone from us to passport applicants. "

What's in a picture?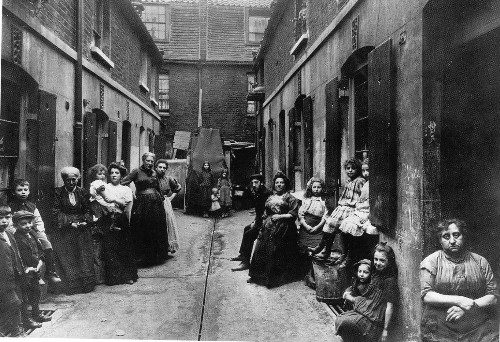 The image to the left is of Providence Place, Southwark. It comes from the collection at the LMA ( negative no 92/00032). Okay James, what's it doing here I hear you ask, especially as it's from abroad, ( ie south of the river )? I saw it when I was at the LMA recently doing some research for a client, on a postcard. It caught my eye because of it's similarity to a scene I'd seen previously of some women in Ratcliff.
What does this image say to you? At first glance, perhaps you might think poor people living in slums? Ok, you might not, but I did! But look closer: There's only one bloke in the picture, ( bit shifty looking too!), implying that the men folk are in employment, so not destitute then. Note too that where we can see feet, they're all wearing shoes. Look at the clothing: Hardly rags, probably what would be deemed 'respectable' in fact. The item on the clothes line in the background looks like it might be carpet, again indicating that we're not looking at the poorest of the poor here.
The people all look pretty well fed too , ( Especially the chubby cheeked kid, 3rd on the left, who looks better fed than I was at the same age! ).
Anyway, I love looking at these old photos, especially ones where I can see the streets where my ancestors lived. The LMA have a great collection, freely available, so next time you go to the Archives, why not take a look, and who knows, perhaps you might even find a picture of your ancestor/
Wapping - Shadwell Guided Walk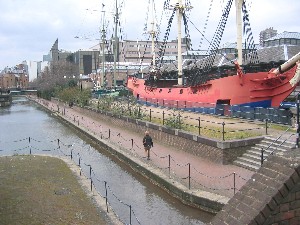 Some of you may recall the Waterman Guided Tour we did last year.
We've now put together some walks through an area that is at the heart of my interest in family history : The area to the east of the Tower. It is no exageration to say that my family have been walking these streets for centuries. My earliest ancestor in this area was to be found living at the Red Lion pub in Wapping Wall in 1702. I'm pleased to say that I've maintained a healthy interest in the pubs of the area, although the days of 36 pubs on the Wall have long since gone.

Here's the route details:

1. Ivory House
2. Dockmasters House and Swing Bridge
3. The Dickens Inn
4. Telford's Footbridge
5. Wapping Pierhead Houses
6. The Town of Ramsgate Pub
7. Wapping Old Stairs
8. St John's Church
9. Captain Kidd Pub
10. King Henry's Wharf
11. Gun Wharves
12. Towerside and St Hildas Wharf
13. New Crane Wharf
14. The Prospect of Whitby
15. London Hydraulic Pumping Station
16. St Paul's Church
17. Tobacco Dock
18. St George in the East

Ok, so it's not quite a 10 minute stroll, but more like 3 hours. The time we take to do it is entirely up to the you though. We don't have to stop in every single pub!

Date: Wednesday 17th October.
Time: 11.00 am
Meeting point: Tower Hill Tube station
Distance: 5 miles approx.
Cost: £10.00 per person

The next walk will be an 8 mile hike from Greenwich to the London Eye in November. More details on this next month.

Another Waterman Tour, taking in a Thames river cruise, museum visit etc is also at the planning stage.

I've been doing a lot of walking lately actually, both with the West Essex Ramblers and up north with www.will4adventure.com. Last weekend was spent in the Peak District honing my map & navigation skills on a Hill Skills course, which involved two days of trekking up such 1500' peaks as Mam Tor & Lose Hill. My legs are still aching now.( Have a look at some photos of this if you like, link below). I'm going for a stroll this Sunday actually, along the towpath of the river Lea this weekend. Nothing too strenous, just 20 odd miles from Broxbourne down to Walthamstow, ( a doddle as it's all on the level ). Anyone who cares to join me would be most welcome.

The family history market place
It was with sadness that I learnt about the impending retirement of Rod Neep, the proprietor of Archive CD Books, and the demise of his company. I'm happy of course for Rod, I hope he enjoys his well deserved retirement. Personally, I think the bloke deserves an MBE or something. For those that don't know about ACDB, what Rod did was to scan old books and put them on a CD. But it was more than just that. The books, many of them hundreds of years old, rare or out of print, were cared for by being re-bound etc. His philosophy was preservation, for the future, and dissemination, to make records available that quite frankly, if he didn't exist, the likes of you and I would not have been able to access.
It sickens me to say it, but genealogy is becoming a cut throat business. In such a market, Rod Neep's values and philosophy will be much missed.
Some of us were surprised that Rod is closing ACDB, as opposed to selling it on to someone else. I guess he's got his reasons. As part of this process he's having a 50% closing down sale. Use the link below and give Rod's retirement fund a boost! For London researchers I completely recommend 'London Maps through the ages', ( on the London>Topography section).
There's been a lot of consolidation going on lately. Genfair has gone to Find My Past. British Genealogy to my chum Pam Drake, ( Parish Chest), and
Kind regards,
James and the ParishRegister team