Dear Subscriber
Hello and welcome to the September ParishRegister.com newsletter.

Online Searchable Databases
This is the progress of our transcriptions:

Completed
St Mary Whitechapel 1842-1865
St Anne Limehouse 1813-1821


Transcriptions underway
St Dunstan Stepney 1798-1816 - 70% completed & uploaded
St Paul Shadwell 1712-1743 - approx 80% complete & uploaded
St Anne Limehouse 1783-1812 (delayed)
St George in the East 1837-1848

Coming next:

St Dunstan Stepney 1826-1835
St Mary Whitechapel 1832-1842
Christchurch Spitalfields 1819-1842
St Mary Magdalen Bermondsey 1813-1822
St Mary Newington 1837-1842
St Paul Shadwell 1744-1775

Approx. 20,000 entries have been added this month. I've completely lost track of what the total is now, but it's at least a quarter of a million.


New Docklands Ancestors Series CDs

The latest titles published are:

Vol 28 St Anne Limehouse 1821-1832. Baptisms. 2400 entries
Vol 29 St George in the East 1826-1835. Baptisms. 9641 entries.

Price: £6.95 P & P in UK: £1.50 P & P Overseas: £3.00



Special Offer: 3 for 2 Parish Register CDs
Or in other words, buy 2 of our Docklands Ancestors Series CDs of individual parishes and get 1 free. An excellent chance to catch up on some of our latest titles at a bargain price.
After payment, remember to email me to say which titles you want, ( cos there'll be at least one naughty boy or girl who wont and your email that says "Oi James where's my CDs" I promise to post here in full next month! )

Price: £13.90 P & P in UK: £2.90 P & P Overseas: £5.80



Featured book: Around Poplar & Limehouse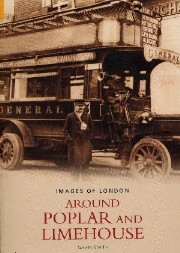 This is another 'picture book' from the excellent 'Images of London' series from Tempus Publishing. Here's the blurb on the back:

This absorbing pictorial history traces some of the changes and developments that have taken place in Poplar and Limehouse during the last century, and also looks at the histories of some of the surrounding communities, including Wapping, Millwall and Blackwall.

With over 170 illustrations this collection highlights the important events that have occurred in this part of East London during this time, from the opening of the Thames Tunnel in 1843 to George VI's Coronation celebrations in 1937. Aspects of everyday life are featured, from schools and churches, shops and businesses to shipbuilding at Limehouse and barges transporting wares to London Dock.

'Around Poplar and Limehouse' captures the essence of the area's maritime heritage and its shipping industry, and offers a unique glimpse of East London's past.

I thoroughly enjoyed this one. I've read just about every book that has pictures from this area and I reckon I'm more familiar with 19th century Wapping than where I live now!

The title is slightly misleading, as the actual area covered is from London Dock to Blackwall. I was delighted to find a picture of the church of St John Wapping, as they're few and far between, and the church didn't survive the attentions of Adolf and Herman. Delighted too to see a 1732 schedule of streets from the area. Mentioned in this is a little nugget that there were 1600 houses in the parish, ( and yup you guessed it, several were occupied by my folks ). The street names I just love too. They tell you so much about what actually happened in them. For example, Salt Peter Bank, Lower Gun Alley, Upper Well Alley and the incomparable Labour in Vain Street ( which I reckon was the dwelling place of early Legon transcribers!).

It's a good book for transport pictures too. Trams, trolley buses, the early underground trains, horse and carts all vied for space on the roads, highlighting what a time of change it was. Of course no book on this area would be complete without it's chapter on the Thames and it's huge variety of craft. The pictures of the tunnels under the Thames make them look positively swanky and the pride of the achievements of the Victorian engineers is plain to see.

The wine gauger on page 92 looks exactly like my grandfather, ( who you can see in our Picture Gallery on the site). They all seemed to dress as though there was but the one clothes shop in the area!

Price: £12.99 P & P in UK: £3.00 P & P Overseas: £5.00




Useful link
A lot of you seemed to enjoy the surname profiler thingy last month, and the street index too. Here's another jolly useful street index site.


Flotsam and Jetsam
# Project update. We're still waiting for the Company of Merchant Taylor's to get their act together and dot the I's ( and seemingly the rest of the alphabet ) on our agreement to transcribe their apprenticeship records 1528-1928. How it can take so long is beyond me. ( Patience James, patience). Groan.

# Another jolly project, involving the Cornish parish registers transcribed by my chum, Pam Drake of Cornish Forefathers, is certainly not taking anything like as long to get going. In fact, these half a million records look like they'll be up on the site on 1st December. I've spent about a week converting these from Excel to Access database format, (such fun). We're lobbing an obscene sum of money at our website programmers to introduce a cart facility on the search page (hooray!) and to convert the site to run on the much more robust MySQL ( please, don't ask!).

This project is also going to allow us to host transcriptions of many different types ( such as occupational databases ) ,from many of the other leading sources of transcriptions. We've had several enquiries from Family History Societies about this, ( cat amongst the pigeons anyone? tee hee ).


Genealogy Jokes
Yes, apparently we have a sense of humour! Some of these I found to be mildly more amusing tham proof reading databases. On second thoughts, anything is more amusing than that..


A review of our CDs

" Over the years, I have seen and reviewed a great many parish transcriptions and census CDs – the quality and format of some, not to mention the price, leaving a lot to be desired. After paying out my hard earned cash, I have no wish to strain my eyes trying to peer at and decipher almost unintelligible scribble, so it was with some trepidation that I agreed to review one of the Docklands Ancestors series of parish transcriptions.

What an absolute treat these CDs are. The packaging is excellent, very artistic and professional, and clearly states what is available on the CD. The cost of the CDs is extremely reasonable, the autorun menu feature worked perfectly, and most important, the format of the transcriptions is very clear, easy to read and understand.

I can say without any shadow of doubt, that I believe the transcriptions done by Docklands Ancestors, are the best I have ever seen. If your ancestors hailed from London, then you are extremely lucky in having someone like James Legon whose passion for family history and pride in his work helps him to produce the excellent Docklands Ancestors CDs."

Pam Drake, Cornish Forefathers
Best wishes & good luck with your researches!

James and the ParishRegister team

Best wishes & good luck with your researches,

James and the ParishRegister team