Last Month
Vol 8 St Dunstan, Stepney Marriages 1644-1672
Now In Transcription
Baptisms: 
St Mary Whitechapel 1665 onward
St Luke Limehouse 1846-1875

St Jude 1846-1875

Interesting/Useful Sites

Watermen and Lightermen Section
The Amalgamated Society of Watermen, Lightermen and Bargemen was established in 1872 as the Amalgamated Society of Watermen and Lightermen of the River Thames. In 1901 it absorbed the Society of Watchmen of the Port of London and changed its name to the Amalgamated Society of Watermen, Lightermen and Watchmen of the River Thames. This union absorbed the Medway Sailing Bargemen's Union in 1910.

In 1912 the union changed its name again to the Amalgamated Society of Watermen, Lightermen and Bargemen. It initially joined together in 1922 with thirteen other unions to form the Transport and General Workers' Union. However, a large number of the Society's members broke away to form the National Amalgamated Society of Stevedores, Lightermen, Watermen and Dockers together with the Amalgamated Stevedores' Labour Protection League.

The T&G was formed on 1 January1922, with 350,000 members from 14 unions, including dockers, stevedores, lightermen, factory workers, transport workers and clerks. The union's first general secretary - and the architect of the amalgamation - was Ernest Bevin.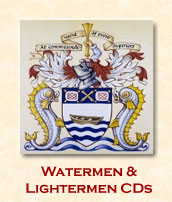 To browse our entire collection of Watermen CDs please click here: Watermen


Watermen Books


 Under Oars: Reminiscences of a Thames Lighterman, 1894-1909, by Harry Harris.

An incredibly rare book, one of the only ones written by a Thames Lighterman, about the arduous job of working on the river. Now with £20 off!




Tales of a Thames Lighterman, by Ernest G Murray.



This book is incredibly rare and this is probably one of the only copies on the market!



Thomas Doggett Pictur'd by Walter Leon. 

This is a rare first edition 
CATHOLIC RECORDS
Catholic records

Click on the above to discover all of the titles in our catholic records collection!




EAST OF LONDON FAMILY HISTORY SOCIETY RECORDS
East of London Family History Society




Census 1891 Hackney Part 1.RG12/0179 - 0194.
Covering: Stoke Newington, Stamfod Hill, West Hackney and Hackney

Tower Hamlets Marriages & Banns (Vol 1)-Disc3  Holy Trinity Minories 1676 - 1754
Christ Church Spitalfields Banns 1833 - 1861 


Merchant Taylors   Merchant Taylors' Company Membership Index 1530 - 1928 All 36000 entries on one CD!



The Merchant Taylors' Company, or to give it the full name by which it is described in its royal charter of 1503, the Guild of Merchant Taylors of the Fraternity of St. John Baptist in the City of London, is one of the twelve "Great" City livery companies surviving from mediaeval times.
The Guild was originally a religious and social fraternity founded before the beginning of the 14th century by an association of citizens who were tailors and linen- armourers. Linen-armourers made the padded tunics or gambesons worn under suits of armour. By virtue of various royal charters, commencing with that of Edward III in 1327, the functions and privileges of the guild were extended, and by c.1500 it controlled the trade. However, as many of its members ceased to be actual working tailors, and became instead general merchants trading with other parts of the world, so the position of the Company gradually changed too, so that by the end of the 17th century its connection with the tailoring trade had virtually ceased. It had become what it is today - an association of philanthropic and social character, devoting its energies to educational and charitable activities.
The history of the Merchant Taylors' Company is an integral part of the history of the City of London; it was upon fraternities of this kind - based on religion, the skills of their crafts, the initiative of their merchants and the humanity of their members - that the enterprise and the integrity for which the City has long been renowned were established.
To search the index click here: MT Index
BAPTISMS, MARRIAGES AND BURIALS IN NUMEROUS THAMES AND MEDWAY PARISHES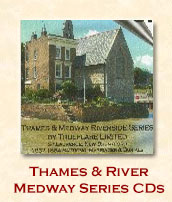 To search the entire collection of the single or the compendiums please click below:
Trueflare Thames and River Medway single CDs

Trueflare Thames and River Medway compendium CDs

Map Department


Ecclestiastical  Map - County of London 1903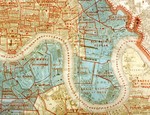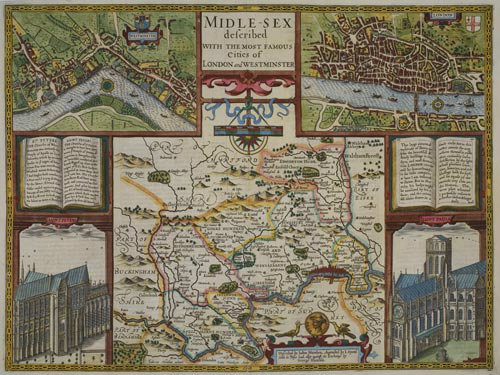 Middlesex 1611 by John Norden and John Speed


Devastated London Map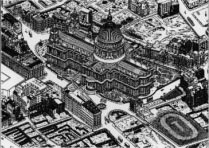 Rocque's 1745 Survey of London


PARISH REGISTER BOOKS
We have loads of interesting and rare books for you. To see all of our collection, click here: Books
East End: Four Centuries of London Life
 by Alan Palmer

The East End is on the seaward side of London and its history is inextricably linked with the most complex docklands of any industrial society, serving what used to be a great trading nation and an Imperial power. As well as goods entering the port, generations of immigrants have flowed in - Protestant Huguenots from France, Irish labourers fleeing the potato blight, Jews escaping Russian pogroms, and Indians and Pakistanis. This study examines the evolution of the Tower Hamlets - Bethnal Green, Poplar, Hackney and Stepney - and sifts through the facts relating to an area notorious for its violent crime, political unrest and poverty. He argues that the area is a microcosm of the tensions apparent in British society as a whole, derived from the impact of the Industrial Revolution, the age of the railway, the two World Wars and the current invasion of the young rich.
This book is becoming harder and harder to find, so if you want one then snap it up now!
Around Poplar and Limehouse
, by Gavin Stirling.
This absorbing pictorial history traces some of the changes and developments that have taken place in Poplar and Limehouse during the last century, and also looks at the histories of some of the surrounding communities, including Wapping, Millwall and Blackwall.
With over 170 illustrations this collection highlights the important events that have occurred in this part of East London during this time, from the opening of the Thames Tunnel in 1843 to George VI's Coronation celebrations in 1937. Aspects of everyday life are featured, from schools and churches, shops and businesses to shipbuilding at Limehouse and barges transporting wares to London Dock.
'Around Poplar and Limehouse' captures the essence of the area's maritime heritage and its shipping industry, and offers a unique glimpse of East London's past.
East Enders' Postcards (Archive Photographs: Images of London
)by Brian Girling

This fascinating collection of over 250 archive postcards explores the communities of Stepney, Poplar and Bethnal Green in the East End of London, before they were amalgamated in 1965 to form the London Borough of Tower Hamlets.
Here are  three  excellent second hand (good condition) books:
A History of Warfare by John Keegan 
(paperback) £4 plus £2.70 p&p (uk)
Military Blunders (The how and why of military failure)
 by Saul David (paperback) £4 plus £2.70 p&p (uk)
Maritime Power and the Struggle for Freedom 1788-1851 
by Peter Padfield (paperback) £4 plus p&p (uk)
(If you are from outside the UK ask Yvonne about postage charges)
If you would like either of these on a first come first served basis then please email Yvonne (
jameslegon@gmail.com
)
Thames Books:
Liquid History:To Commemorate Fifty Years of the Port of London Authority 1909-1959, by Arthur Bryant. 

London from the Thames by Angelo Hornak

The Port of London by John Herbert.

Thames Shipping by Laurence Dunn

Thames: Sacred River (Hardcover)
by Peter Ackroyd.

Research Services: If you've come to a dead end, email Esme research@parishregister.com.
Ramblings from the Estate
This month I've got a rather painful tale to tell, although you'll probably have a little giggle at my expense! A friend of mine and her family spend quite a lot of time away and when they are, I'm quite happy to tend to their very large garden for them; keeps me out of trouble for an hour or two and out in the sunshine, and it beats our balcony which faces Kingsland Road! Also, an added bonus is that they have a pool!!!! Anyway, the other week I was working my way around the edge with an electric hedge-cutter lopping off any branch or weed that has the cheek to extend out over the lawn. I got to one point and all of a sudden I was stung on the leg by something, then again on the arm. I quickly dispensed with the hedge-cutter and legged it! I headed for the van and fortunately there was a tube of something or other that said it was good for stings. I rubbed loads of it on my two wounds and after a while got back to 'work'. Fast forward a week, I'm back. Off I go around the garden, trusty hedge-cutter in hand, which has a battery pack attached to it, which clips around my belt. Believe it or not,  I had forgotten about the previous week's episode, foolish boy! I got to the same point as last week, and guess what happened! Yup, you guessed it! Something buzzing stung me on my calf (the same one as the previous week), then another, then another! I looked down and saw loads of the things on my leg! I swiped them off but then they stung my hand! I then tried to fling my hedge-cutter down, and started hopping madly across the lawn like a demented jester! Unfortunately the hedge-cutter was still attached to me and it followed me across the lawn! The buzzing things were still following me, so there was only one thing for it, the pool! I managed to discard the annoyingly loyal hedge-cutter just before I jumped into water and safety. I stayed under the water for as long as I could, and once I emerged fortunately my adversaries had lost interest in me! Then it was back to the van and I finished off the tube of sting reliever! I've been back again since, but there's no way I'm going anywhere near that bit of the garden again!
This week I've been scoffing a lovely banana and strawberry cake! This one is one of the best cakes I've eaten, probably because I love strawberries and I love bananas! If you fancy having a bash at one click here: 
allrecipes.com
Why do female black widow spiders kill the males after mating?
To stop the snoring before it starts!
Teacher : whoever answers my next question, can go home. One boy throws his bag out the window Teacher : who just threw that?! Boy : Me! I'm going home now. Smart Kid!
Right, I better start packing!
Jno and the gang!