Welcome to the parishregister August newsletter (if you click on the link to our home page you'll see I've tinkered with it a wee bit-let me know what you think eh). I hope you've all had a stupendous summer which seems to have morphed into autumn already! Before I start I'd just like to thank all those of you who e-mail me to say how much you enjoy my newsletter and how much you look forward to receiving it, it certainly makes the effort worthwhile! My five and a half (not six) week holiday is almost over and I'm eagerly looking forward to getting back to school. O.K that's the small talk out of the way, let's get down to business. This month we've got another new St John Wapping 1618-1665 CD in our Parish Register series and another new database on-line with over 12000 entries. Also look out for special offers on our great value compendium CDs.
Searchable Databases
This month: St Matthew Bethnal Green 1799-1819 A whopping database expertly transcribed by Beryl. The film was a challenge as it wasn't in the best condition, but Beryl pulled out all the stops to transcribe almost every single entry on this film of over 12000 baptisms. I found some items of interest and amusement whilst looking through this database, like the surnames Sowerbutts, Shufflebotham and Christmas which all brought a silly smirk to my face; and there were also quite a few French names, the reason for which is explained in the article below.
Last month: St Dunstan Stepney 1629-1641
Next month: St Dunstan Stepney 1641-1652
To search the site click here: search
More about St Matthews:
As early as 1690 negotiations were commenced for the creation of a separate parish of Bethnal Green. Nicholas Hawksmoor drew up plans for a large, basilica-type church, which was to be built by the "Fifty Church Commissioners". There was opposition to this, however, from both the local population, who feared the increase in costs to themselves in maintaining a church building and its Rector, and from the Rector of Stepney, whose income from tithes in the area would be lost if it became a separate parish.Negotiations were drawn out and it was not until 13 October 1725 that a portion of Hare Fields (its last remnants seen in the 15 metres of Hare Marsh remaining off Cheshire St) was purchased for the church at the cost of £200,. The reason that the site for the new church was to be so detached from the old village green was that there had grown up, with the Huguenot weavers' community, a sizeable new commercial hub in west Bethnal Green around Hare St (now known as Cheshire St). But by now the Commissioners scheme was in financial difficulties and the plans for the church building were abandoned.In 1742 the parish of Bethnal Green was finally authorised and George Dance was commissioned to design a smaller and more reasonable church than that Hawksmoor had done. No detailed description of Dance's designs survives but his drawings in the Soane Museum show simple and spacious ideas. In 1743 the foundation stone was laid by Ebenezer Mussell but St Matthew's troubles were not over. The following year work on the half-built church was halted as, once again, funds were insufficient.A petition was made to Parliament and in 1745 an Act was passed to pay all debts and complete the work. The Act began,
'The want of a place for public worship of Almighty God hath been a great cause of increase of dissoluteness of morals and a disregard for religion, too apparent in the younger and poorer sort.'

The church was finally completed and dedicated on 15 July 1746.In 1859 the interior of the church was destroyed by fire. The night of the fire was so cold that the firemen were covered in sheets of ice as they struggled with the flames. The registers and robes having been saved, a rate was then levied on the Parish to rebuild the church but the work was delayed by builders' strikes and rows between the architect, T.E. Knightley, and the local committee. Finally the church was reopened on 13 December 1861. To read the remainder of this article please click here: St Matthew's-Bethnal Green
New CD
Last month:
Volume 72 St Mary, Stratford Bow 1813-1831
To buy this CD please click here: St M
This month: Volume 73 St John Wapping 1618-1665
To buy this CD please click here: St J
To browse our other single CDs please click here: single CDs
Why buy the CD? Well, I've had two people explain just this to me in the last few days. The first was Beryl, who had just finished transcribing St Matthew 1799-1819. Whilst I was looking through the database I queried the spelling of a name as it looked very similar to others, but she e-mailed back saying that she checked it and it was definitely correct. However the mother and father were the same as the other ones spelt similarly; so, in a nutshell we transcribe what is on the film, even if we know for sure that the recorder has spelt a name wrong. Therefore, if you use our search facility, you may well find some relatives but there could also be the odd one that could slip through the net. The second was Bruce, a subscriber to this newsletter who bought a CD recently and then e-mailed me saying we had transcribed an entry incorrectly. I e-mailed Jim and asked him to check the entry again. He said the entry still looked as he had transcribed it but conceded it must be the surname Bruce said it should be because all the other details once again matched others entries with a similar surname (although to be honest it wasn't that similar!) So, if Bruce hadn't bought the CD he wouldn't have found that relative.
At this point I think I'll slip in a special offer-£10 off compendiums 1-5, and also our new St Dunstan compendium, so if you fancy any or all of them click on this link to the compendium department where you can see what's on each one.
If you think you may have a relative who was a merchant Taylor then don't forget to search our 36000 entry database (you've nothing to lose!)
Now In Transcription
St Mary Stratford Bow 1831-1843
St George in the East 1877-1893
St Anthony Globe Road 1879-1899
St Dunstan Stepney 1629-1637 Other selected products
East of London Family History Society
Tower Hamlets Rate Books (Vol 1)- Disc 1
Miscellaneous Rate Index covering various Areas between 1725-1875
Previous Society publication in fiche or book form now converted into CD.
To buy this product please click here: Ratevol1
Tower Hamlets Marriages & Banns (Vol 1)-Disc 3
Holy Trinity Minories 1676 - 1754
Christ Church Spitalfields Banns 1833 - 1861
To buy this product please click here: THM&B
Tower Hamlets Burials & MI's (Vol 1) Disc 5
All Saints Poplar Burial Dues 1824-38
Holy Trinity Mile End Old Town MI'S
Poplar Mortuary books 1911-1940
St Katherine by the Tower MI's
Burials & List of occupiers affected by demolition.
Stepney Meeting House Burials 1790-1853
To buy this CD please click here: THB

St Andrews
Burials & M.I. St. Andrews Church, Hornchurch. 1576-2000
Surname index of Monumental Inscriptions and Burials, of 17,195 names for the years of 1576 - 2000.
This month there's £2 off this product. To buy it please click here: St Andrew
Cockney Ancestor. The first 100.
Now £10, to buy this click here: Cockney
The Frogley Index and Manuscript (History of Barking)
Please click here if you'd like to buy it: Frog
Other products in this series include:
Crow Lane Burial index 1871-1953 listing 20,000 entries.
Census 1851 West Ham.HO107/1768.
Census 1891 Hackney Part 1.RG12/0179 - 0194.
Census 1891 West Ham Part 1 RG12/1310 - 1325
Census 1891 West Ham Part 2 RG12/1326 - 1342
You can browse all of the Watermen and Lightermen products by clicking here: W&L but here's my selected CD of interest in this department:
My Ancestor Worked on the Thames
The CD covers both sides of the Thames and gives details of nearly every
wharf, creek, river buoys, watermens' stairs, riverside taverns etc., plus
history and interesting facts.
A snip at £9.95; so if you would like to snap up the snip, click here: snip
Catholic Registers
SS. Mary and Joseph, Poplar Roman Catholic Chapel.

Marriages and Baptisms 1818 - 1856


To buy this CD please click here: SSMary
Misc Catholic London District Baptism, Marriages and Burials Vol 1
27 indexed transcriptions of Catholic Parish Registers from churches, chapels and missions in the county of Middlesex
To buy this CD please click here: Catholic 2
The Registers of the Sardinian Embassy Chapel, London, 1772 - 1841(Church of SS Anselm and Cecilia in Holborn). This comprises indexed transcriptions of over 22000 baptisms hitherto unpublished, a work which has taken them about 10 years to produce!!In total there are 60000 odd entries on this CD, a bargain at £7.95!
To buy this CD please click here: Catholic 3
Misc Catholic London District Transcriptions, Baptisms, Marriages,Confirmations Vol 2
· French Chapel Royal: Baptisms 1842-1911 and Marriages 1846-1910
· Kentish Town, St Alexis: Baptisms 1849-1854
· Blessed Virgin Mary of Czestochowa and St Stanislaus Kostka Chapels, Central London: Baptisms 1863-1877
· Soho St Patrick: Baptisms 1779-1851, Index to Baptisms 1793-1937, Confirmations 1818-1854 and Marriages 1809-1856
· Southwark St George's Fields Chapel: Baptisms 1788-1823 and Marriages 1823-1837
· St James, Spanish Place, Westminster: Baptisms 1732-1848 and Marriages 1732-1845
· Standon, Old Hall Green, Herts.: Baptisms 1811-1831, Confirmations 1814-1849 and Marriages 1812-1848
· Virginia Street Chapel, Wapping: Baptisms 1832-1840
If you would like this CD please click here: Catholic 4
Merchant Taylors
The Merchant Taylors 1520-1929 (36000 entries-Exclusive to Docklands Ancestors!) The index gives the name, date of freedom, method of admission (apprenticeship, patrimony, or redemption), name of master if by apprenticeship, date of election to livery, and 'Remarks'.
To purchase this CD please click here: Merchant Taylors
SPECIAL OFFER Compendium CDs 1-5
This is a very special offer price for customers who wish to buy our first five Compendium CDs.
Price if bought separately: 60 x £7.95 = £477
Price of individual Compendium CDs: £49.99 + £39.99 + £39.99 + £39.99 + £49.99 = £219.95
Special Offer price: £149.99
To take advantage of this special discount please click here: 1-5
Docklands Ancestors Parish Register CDs - Compendiums' Department
Docklands Ancestors Parish Register CD Department
East of London FHS Publications Department
'Thames & River Medway Series - Compilation CDs'
'Thames & River Medway Series - Single Parish CDs' Rob's now transcribed 85 of these!
Map Department
Ecclesiastical Map-County of London 1903
A Map of the Ecclesiastical Divisions within the County of London 1903.
To buy this really useful map (if you're not sure which parish is next to which and wish to search for neighbouring parishes) then click here: Parishmap (a bargain at £5)
Map of Middlesex 1611 by by John Norden and John Speed
The print shown is a copy of the original and so is in colour, the print we offer you is in black and white. The print measures 46cms x 58cms.
To buy this map for £4.95 plus p&p please click here: Middlesex
A Balloon View of London 1851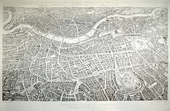 To buy one for £6.95 (that's £1.55 off!) click here: Balloon
Devastated London - The Bombed City As Seen From A Barrage Balloon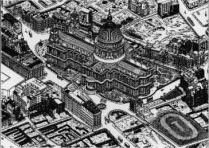 To buy this (folded) map for the bargain price of £4.50 click here: Devastated London
London and Its Environs 1813

Price: £3.95! To buy this map and for more information please click here
Rocque's 1745 Survey of London

Price: £7.95 To buy this map and for more information please click here
To view our comprehensive Alan Godfrey maps collection please click here
Waterman & Parish Register Special Offer Price: £129.93