Welcome to the parishregister August newsletter. I'm almost at the end of my six weeks summer holidays, it's just not enough really, another couple of weeks would have been perfect! I'm only joking, I'm always getting stick from people who say us teachers get far too much holiday. Anyway, I've been away a couple of times this month (see my ramble at the end), but apart from that I've had time to relax and obviously get this newsletter out before September.
Searchable Databases
Christchurch Spitalfields 1763-1795 9747 entries
Merchant Taylors 1530-1928 - to search this database please click here Merchant Taylors
New CDs
The Catholic Family History Society has released its next CD, "The Registers of the Sardinian Embassy Chapel, London, 1772 - 1841" (Church of SS Anselm and Cecilia in Holborn). This comprises indexed transcriptions of over 22,000 baptisms hitherto unpublished, a work which has taken them about 10 years to produce!! In total there are 60000 odd entries on this CD, a bargain at £7.95!
To buy this CD please click here: CFHS

The Merchant Taylors 1520-1929 (Exclusive to Docklands Ancestors!)
This is a transcription of the original 36000 index consisting of all 4 volumes in alphabetical order.
The index gives the name, date of freedom, method of admission (apprenticeship, patrimony or redemption), name of master if by apprenticeship, date of election to livery, and 'Remarks'.
To purchase this CD please click here: Merchant Taylors
Coming next: Volume 64 Christ Church Spitalfields 1729-1763
After that: Volume 65 Christchurch Spitalfields 1763-1795
In transcription
St George in the East 1848-1861
St George in the East 1861-1877
St John Wapping 1665-1707
St Dunstan Stepney 1837-1848
Other selected products
East of London FHS Publications
Selected product:
Census 1891 Hackney Part 1
Covering: Stoke Newington, Stamford Hill, West Hackney and Hackney
To purchase this product please click here: EoLFHS
Catholic Marriages and Baptisms
SS. Mary and Joseph, Poplar Roman Catholic Chapel.

Marriages and Baptisms 1818 - 1856

Marriages:- Bride, Groom and may include parents and witnesses.
Baptisms:- Name of baptised, and may include Mother, Father and sponsors
To buy this CD please click here: Catholic1
Misc Catholic London District Baptism, Marriages and Burials Vol 1
27 indexed transcriptions of Catholic Parish registers from churches, chapels and missions in the county of Middlesex
Bavarian Embassy Baptisms 1748-1838
Bavarian Embassy Marriages 1747-1840
St Aloysius Baptisms 1802-1839 and Confirmations 1808-1820
St Boniface Baptisms 1812-1862
St Mary Moorfields Baptisms 1763-1839
St Moorfield Marriages 1777-1821
St Mary Moorfields Burials 1819-1853
Virginia Street Chapel, Wapping, Baptisms 1789-1800
Westminster St Mary Baptisms 1809-1838
To buy this CD please click here: Catholic 2
Selected product: Thames Waterman Collection
This special offer comprises ALL of the published CDs relating to Watermen & Lightermen. It is specifically aimed at those with Waterman & Lighterman ancestors starting out on their family history research.
Included are:
1. My Ancestor was a Thames Waterman: A Guide to Tracing your Thames Waterman & Lighterman Ancestors. This is a printed book, by James, published by the Society of Genealogists, now in its 2nd edition. This book is the starting point for research into the fascinating world of the Thames Watermen

2. Apprenticeship Bindings Indexes 1692-1908.65,000 entries. This CD is the starting point for your research. If you've a Company of Watermen ancestor, he's on this CD.

3. Apprenticeship Bindings Indexes 1909-1925. This is the follow up CD to Rob's early 1692-1908 CD.

4. Apprenticeship Bindings Indexes 1925-1949. This CD takes the apprenticeship bindings records up to the middle of the 20th century

5. Pensioners Admitted for Relief 1794-1837.

6. Watermen in the Navy c1803-1809

7. Admiralty Muster 1628. The earliest list of watermen, comprising some 2,200 men, with ages.

8. My Ancestors Worked on the River Thames, an e-book by Rob Cottrell. The essential guide to where your ancestor was working.

9. Royal Asylum at Penge 1899: Subscribers & Inmates. Scanned book.

10. Reassigned Apprentices 1688-1908. The follow up to the Bindings Indexes, with details of over 12,000 reassigned boys.

11. 1648 Petition of Watermen for the King. This transcription bridges the gap between the earlier 1628 Admiralty Muster and the beginnings of the Company's archives in 1692.

12. Waterman & Lighterman Archives at the Guildhall Library. The essential listing of all of the publicly accessible archives at the Guildhall Library.

13. My Ancestors Rowed for Doggett's Coat & Badge Race 1715-2007. This CD lists not only the winners, but the other competitors too. It also explores the history of the race, the life of Thomas Doggett and is lavishly illustrated throughout. Compiled from primary sources, this is the most comprehensive work on the man and his race available.

The transcriptions on these CDs were done by Rob Cottrell and James Legon. The original documents come from the Company of Watermen, the National Archives, the Guildhall Library and the House of Lords Record Office. They were painstakingly transcribed over many years.

The usual price if bought separately of these 13 items is £117.90. The Special Offer is priced at £84.95, a saving of £32.95, plus a saving on postage too.

Take it from us folks, if you're starting out in family history and you've discovered you've a Waterman ancestor, don't waste your money buying all the CDs separately, buy this because you will end up buying them anyway!
To buy the collection please click here: Thames Waterman Collection
Devastated London - The Bombed City As Seen From A Barrage Balloon
Drawn by Cecil Brown with notes by Ralph Hyde, published by The London Topographical Society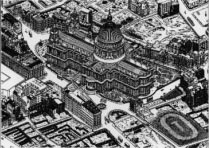 To buy this (folded) map click here: Devastated London
Ecclesiastical Map-County of London 1903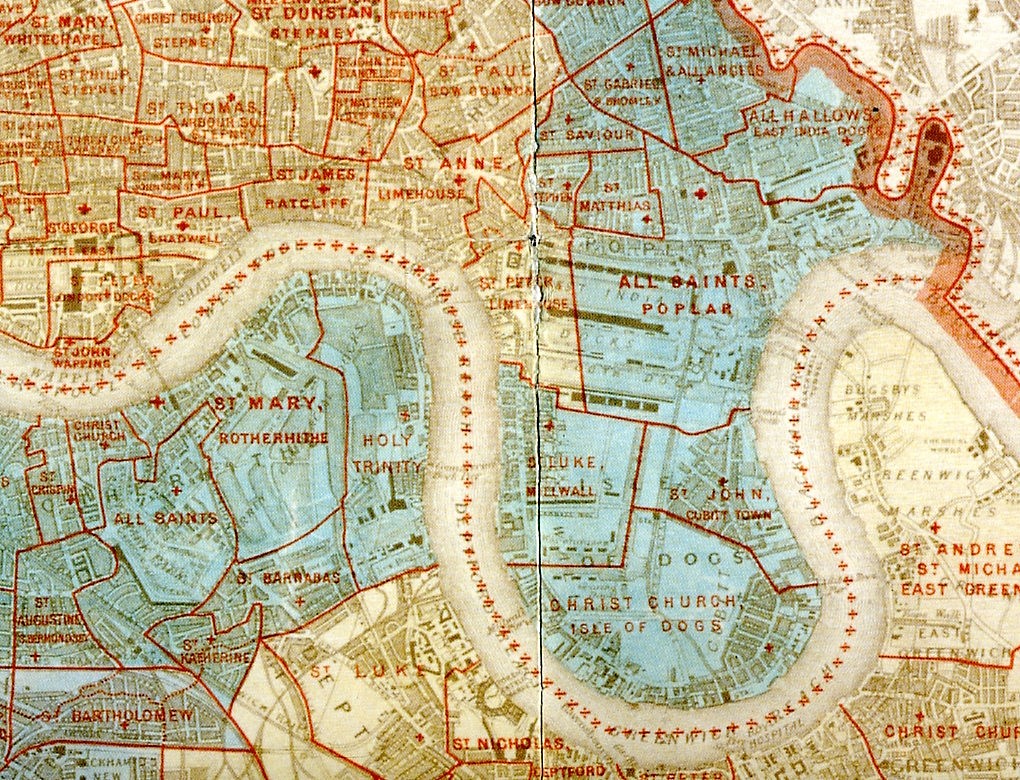 Price: £5.00 To buy this map please click here
London and It's Environs 1813

Price: £3.95 To buy this map please click here
Rocque's 1745 Survey of London

Price: £7.95 To buy this map please click here
To view our comprehensive Alan Godfrey maps collection please click here
Docklands Ancestors Parish Register CDs (64 CDs now to choose from)
Docklands Ancestors Parish Register CDs - Compendiums
Special offer! Compendium 5, normal price £49.95 (this was obviously a bargain already as the ten separate CDs would cost around £80) now only £29.95, a saving of £20 or £50 which ever way you want to look at it!!
Volume 51 St Mary, Whitechapel Baptism Registers 1832-1842
Volume 52 St George in the East Baptism Registers 1795-1808
Volume 53 St Mary Magdalen, Bermondsey Baptism Registers 1813-1822
Volume 54 St Mary Newington, Southwark Baptism Registers 1837-1842
Volume 55 St Anne, Limehouse Baptism Registers 1783-1812
Volume 56 St Dunstan, Stepney Baptism Registers 1826-1835
Volume 57 St Mary, Whitechapel Baptism Registers 1758-1774
Volume 58 St Dunstan, Stepney Baptism Registers 1770-1798
Volume 59 Christ Church, Stepney Baptism Registers 1842-1860
Volume 60 All Saints, Mile End Baptism Registers 1840-1880
If you'd like to take advantage of this amazing, once in a lifetime offer, please click here special offer
Other compendiums:
St George in the East Parish Registers Part I 1729-1826
Research Services: Our particular areas of expertise include the Company of Watermen and Lightermen Archives and Parish Records for both the City of London and the East End. However, we undertake all aspects of research including Census Data, Electoral Rolls, Wills, Newspaper Searches etc.
If you think we might be able to help you then do contact us. Email Esme at research@parishregister.com.