Dear Subscriber
Hello and welcome to the August ParishRegister.com newsletter.

Too hot to do much really, but we have transcribed one or two more entries...



Online Searchable Databases
This is the progress of our transcriptions:

Completed
St Anne Limehouse 1821-1832
St George in the East 1826-1835
Holy Trinity Mile End 1841-1884
St Mary Whitechapel 1823-1832

Approx. 37,000 entries have been added to our databases this month. Gosh, I remember when that took 3 years to do!

Transcriptions underway
St Dunstan Stepney 1798-1816 - 50% completed & uploaded
St Paul Shadwell 1712-1743 - approx 70% complete & uploaded
St Anne Limehouse 1783-1812
St Mary Whitechapel 1842-1865
St Anne Limehouse 1813-1821

Coming next:

St Dunstan Stepney 1826-1835
St Mary Whitechapel 1832-1842
Christchurch Spitalfields 1819-1842
St George in the East 1837-1848
St Mary Magdalen Bermondsey 1813-1822
St Mary Newington 1837-1842
St Paul Shadwell 1744-1775


Featured Title: London 1833 Royal Blue Book
This is a book scan from Archive CD Books, concerning the upper crust of London society, ( so obviously none of my ancestors in it ). It is divided into four sections:

1. His Majesty's ( William IV ) Ministers and Household, Foreign Ministers and Consuls, and a useful street index.
2. The Local Arrangement. Divided into nine sections, such as Portman Square Division, it lists who lives at each address in the locality. Joseph Jekyll for instance is to be found at number 23 New Street, Spring Gardens. ( His neighbour isn't Mr Hyde! ).
3. Fashionable Directory. This part of the directory lists alphabetically the names and addresses of about 12,000 of 'fashionable society', beginning naturally (?) with ' His Most Gracious Majesty William IV. Sovereign of the Orders of the Garter, Bath, Thistle and St Patrick's….Windsor Castle'.
4. 1831 Street Map. The map, 'A Plan of London and It's Environs', is taken from the 1831 Lewis' Topographical Dictionary of England. The map covers an area of London bounded by Islington to the north, Kennington to the south, Hyde Park to the west and Mile End to the East. I spent a bit of time mucking about with this map, as when I opened it I realized that we've got a paper version of almost the exact same map , ( which measures about 3 ' x 2' – there's a link to it at the bottom of the Newsletter it's called London and Its Environs 1813). Exploring the differences between the two was much more fun than concentrating on writing this review in the wretched heat. Detail is legible up to a magnification of 1200% ( usual good quality from Archive CD Books ).
Anyway, an interesting CD, especially so I imagine if you've got ancestors from the area.

Price: £14.25 P & P in UK: £1.50 P & P Overseas: £3.00


Click here for the Royal Blue Book
New Docklands Ancestors Series CDs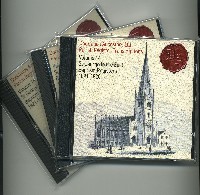 The latest titles are:

Vol 25 St Mary Magdalen, Bermondsey 1822-1829. Baptisms. 4,783 entries
Vol 26 St Dunstan, Stepney 1798-1808. Baptisms. 6,119 entries.
Vol 27 St Paul, Shadwell 1712-1734. Baptisms. 7,227 entries.

Price: £6.95 P & P in UK: £1.50 P & P Overseas: £3.00

Old and New London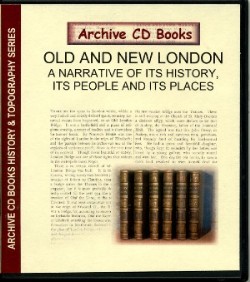 Or to give you the whole title, Old and New London; A narrative of its history,it's people and its places.



This CD comprises 6 volumes, with about 30 chapters in each volume. Which means there's a lot on it! This scanned book was written by Walter Thornbury and first published in 1897. It it is lavishly illustrated, with many hundreds of illustrations from old engravings throughout the ages, illustrating buildings, events and general scenes of interest.

What it actually is, is a history of London, broken down into locations, such as Blackfriars, Whitefriars, Tottenham etc, as well as by events such as the Great Exhibition. We learn, for example "Blackfriars Bridge was very well received by the public, though the design is really a wonder of depravity". If only Mr Thornbury could see what passes for design along the riverbank these days.

What interested me about it, ( and I only really read the Wapping section ), is that it gave me the feel of an area and what had happened in it. I related to it because he describes times, places and events in an area that my family were living in, which helps me to imagine what life was like for my forebears.

It's a massive read. I certainly wouldn't want to sit at a computer long enough to read it all, (ok, I know I sit here all the time anyway), because it would take months. But it's pretty good if you've a specific place in mind.

Price: £25.50 P & P in UK: £1.00 P & P Overseas: £2.00


Special Offer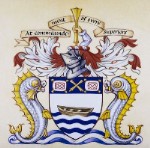 The Thames Waterman Collection + Parish Registers Compendium 1

This offer is aimed at those with Waterman ancestors starting out on their family history. It comprises Parish Registers Compendium 1 , ( which is vols 1-20 ) and all the published sources of Waterman material, as follows:

1. My Ancestors were Watermen: A Guide to Tracing your Waterman Ancestors-book by James Legon. Read this before looking at any other CD!
2. Apprenticeship Bindings Indexes 1692-1908.65,000 entries. This CD is the starting point for your research. If you've a Company of Watermen ancestor, he's on this CD.
3. Pensioners Admitted for Relief 1794-1837.
4. Watermen in the Navy c1803-1809
5. Admiralty Muster 1628. The earliest list of watermen, comprising some 2,200 men, with ages.
6. My Ancestors Worked on the River Thames-ebook by Rob Cottrell.The essential guide to where your ancestor was working.
7. Royal Asylum at Penge 1899: Subscribers & Inmates. Scanned book.
8. Reassigned Apprentices 1688-1908. The follow up to the Bindings Indexes, with details of over 12,000 reassigned boys.
9. 1648 Petition of Watermen for the King. This transcription bridges the gap between the earlier 1628 Admiralty Muster and the beginnings of the Company's archives in 1692.

The seperate price of all these items is £235.55. The Special Offer price is £99.94, a saving of over £130.
Valid until the 30th September 2006.
Featured book: Newham Dockland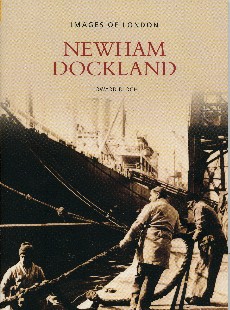 Newham Dockland (Images of England S.) by Howard Bloch.

Until less than twenty years ago Newham Dockland was focused around the Royal Group of Docks and included Beckton Gasworks, both of which were among the largest in the world. Behind the imposing dock walls and fences was a seperate bustling world, where thousands serviced the ships which brought cargoes, seamen and travellers from many lands.
Along the riverside were some of London's major industries, whose products were in every home. But much of the employment before the Second World War was casual labour and poverty was common, creating many bitter struggles. People lived in streets between the docks, factories, warehouses and the river, and were seperated from one another by a maze of railways and dock bridges.
The closure of the Royal Docks and core industries, and the demolition of buildings has radically changed the face of the area and lives of it residents. Through a fascinating collection of 200 images this book reveals a vanished world,which few people knew.
Chapters included are Royal Docks, Victoria Dock Road & custom House, Beckton, Silvertown, North Woolwich, On the River.

Price: £12.99 P & P in UK: £3.00 P & P Overseas: £5.00

Featured book - Southwark Remembered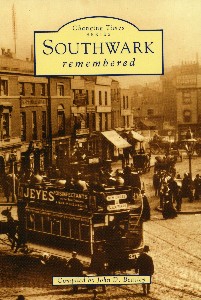 Southwark Remembered is a compilation of pictorial articles which have been contributed to the Friday edition of the South London Press since 1997 and are held at the Southwark Local Studies Library. This collection highlights the wealth of fascinating history which can be found in the borough.
The current London Borough of Southwark was established in 1965, and consists of many ancient civil parishes, evidence for which stretches as far back as the iron age. This area houses the famous Dulwich Picture Gallery, Guy's Hospital, the Imperial War Museum, Tate Modern and the spectacular Tower Bridge which all bear testimony to the development of the borough over recent centuries.
Charles Dickens' father was imprisoned in Marshalsea for debt and the famous author was himself a resident in this neighbourhood. Other local notables include the scientist Michael Faraday, the GP and MP Dr Alfred Salter and Lord Soper.
Illustrated with over 130 old photographs Southwark Remembered documents the changing face of the area over the past 150 years and will appeal to those who know or who have lived in the area. The variety of life to be found in this area is contained within this volume and recaptures the changes that have taken place in this most historic of London boroughs.

Chapter headings are as follows: Commerce, Education & Libraries, Health, Housing, Parks & Open Spaces, People, Places of Worship, Public Services, Recreation, River Crossings, Transport.

Price: £12.99 P & P in UK: £3.00 P & P Overseas: £5.00


Useful link
This site is quite useful. It's a surname profiler. In their own words 'A recent research project based at University College London (UCL) has investigated the distribution of surnames in Great Britain, both current and historic, in order to understand patterns of regional economic development, population movement and cultural identity. This website allows users to search the databases that we have created, and to trace the geography and history of their family names.'


Recommended Online Genealogy store: Parish Chest

And the reason I recommend them is that they are quite simply the most efficient firm in their field. The Parish Chest is the nearest thing you're going to get to a 'one stop shop' for family history products. The standard of customer service can't be beaten. Pam is also a leading transcriber of Cornish parish registers. Don't know about you, but I prefer doing my family history business with a fellow family historian.


Flotsam and jetsam

# You may have heard of the latest jolly jape from the Royal Mail, Pricing in Proportion. This is basically a device to send mad anybody who is involved in posting things. The idea is that things are priced by size as well as by weight. So, we've had to assess the weight and size of each item we sell. Such fun in this heat. Anyway, stuff is either letter, large letter or small packet in the new postal Jerusalem. Basically, a standard jewel case CD, in a bubble wrap envelope is in the small packet category, which, surprise surprise, is much more expensive. The end results are that our costs have risen by 65p for an average item. We're absorbing 15p of that, the rest we pass on to you. So, CD order goes up from £1.00 to £1.50. Your Post Office, don't ya just love it.

# This has bugged me for ages and defied all attempts to solve it: What is a Chain Lighterman?

# Seasoned Parish Reg watchers will be well aware of my tendency to change my mind on a regular basis. We've recently had the debate about what we're going to transcribe next. Well, the goal now is to transcribe all of Tower Hamlets baptism registers ( 25% of you did vote for that ), and as far back in time as is economically possible. Out of about 70 parishes, we've got about 50 to go...

# Here's some interesting stats! Did you know that about 20 of you will not be getting the newsletter next month? Because the email bounces, due to the email address having changed. So, remember to tell us when you change email address, we don't want you to be dissappointed!
About 80% of you have broadband, proving that as this is way above the national average, family historians are at the forefront of the internet age. This doesn't surprise me, as I reckoned right back at the beginning that family history was particularly suited to the medium.

# You may have noticed that one or two of our webpages have gone, likewise a few products. This is because we had a bit of a re-think about what we do and what we sell. The aim of this was to focus our website on parish registers, London, and Watermen, and also to only sell products which we stock ( apart from Archive CD Books stuff, whose dispatch times match ours). One of the activities we don't do anymore is manual database searches, as they're just too time consuming. Research services is also something that we don't do anymore, but if you email Esme ( ekr@ntlworld.com), she can be prevailed upon! ( She really does enjoy doing research work!)

# The next change to the website is going to involve chucking silly amounts of money at website programmers. Basically, we want to introduce a 'cart' facility to the search page, so that you don't have to keep form filling when you want to pay for more than one search. Also, we want the facility to host different types of searchable databases, such as the Waterman Apprenticeship Bindings, the Merchant Taylors Bindings and family history society transcriptions. ( A little bird tells me that when they do this elsewhere they don't get a very good deal ). This is going to take a while to arrange and finance, so don't hold your breathe!
Useful street index site
I've found myself using the street index on the Proceedings of the Old Bailey website more and more. It's compiled from all of the addresses mentioned in cases and is quite extensive, but obviously not complete ( guess there were one or two streets of law abiding people ).
Best wishes & good luck with your researches!

James and the ParishRegister team