This Month
Vol 8 St Dunstan, Stepney Marriages 1644-1672
Now In Transcription
Baptisms: 
St Mary Whitechapel 1665 onward
St Luke Limehouse 1846-1875

St Jude 1846-1875

Interesting/Useful Sites
This month I've found these sites interesting!
The Londonist
  Take a tour of London's Derelict Sites
Noseygenealogist
  Non-Conformist Family History and Bunhill Fields
Thames.me.uk
  Doggett's Coat and Badge

Watermen and Lightermen Section
WATERMAN'S HALL 

The first hall of the Company was reputed to be Coldharbour Mansion, just upstream of London Bridge. In History and Progress of the Company of Watermen & Lightermen, Henry Humpherus certainly believed this to be the case. I however am persuaded by Christopher O'Riordan in The Thames Watermen in the Century of Revolution that this was not the case.
The first hall was in fact situated at Three Cranes Wharf, south of the Guildhall, in Broad Lane. It was leased from the Merchants Taylors' Company in 1565, for an annual lease of £66 and a rent of £8, the lease being renewable at 21 year intervals.

This hall was burnt down in the Great Fire of 1666 and a new hall built on the site of Coldharbour Mansion. This second hall continued in use until it was rebuilt on the same site in 1721
The present, 4th hall, was built in 1780 and can be seen today situated in St Mary At Hill, close by the Thames. It was designed by William Blackburn, who is also noted as being the leading designer of prisons of his time. Built in the classical style, with Croade stone decoration, the hall remains the only original Georgian Hall left in the City of London.
The hall was damaged by bombing in the War and repairs were not completed until 1951. It was extended in 1983 to include bigger dining and meeting facilities, with the acquisition of two adjacent buildings, including the former Fellowship Porters Hall. An anteroom on the ground floor is panelled with timber from demolished riverside warehouses
All Watermen and Lightermen have passed through the hallowed doors to be examined by the Court at the time of their Binding and Freedom admission.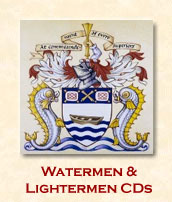 To browse our entire collection of Watermen CDs please click here: Watermen


Watermen Books


 Under Oars: Reminiscences of a Thames Lighterman, 1894-1909, by Harry Harris.

An incredibly rare book, one of the only ones written by a Thames Lighterman, about the arduous job of working on the river. Now with £20 off!




Tales of a Thames Lighterman, by Ernest G Murray.



This book is incredibly rare and this is probably one of the only copies on the market!



Thomas Doggett Pictur'd by Walter Leon. 

This is a rare first edition 
CATHOLIC RECORDS
Catholic records

Click on the above to discover all of the titles in our catholic records collection!




EAST OF LONDON FAMILY HISTORY SOCIETY RECORDS
East of London Family History Society




Census 1891 Hackney Part 1.RG12/0179 - 0194.
Covering: Stoke Newington, Stamfod Hill, West Hackney and Hackney

Tower Hamlets Marriages & Banns (Vol 1)-Disc3  Holy Trinity Minories 1676 - 1754
Christ Church Spitalfields Banns 1833 - 1861 


Merchant Taylors   Merchant Taylors' Company Membership Index 1530 - 1928 All 36000 entries on one CD!



In 1515, the Court of Aldermen of the City of London settled the order of precedence for the forty-eight livery companies then in existence. This was based on the companies' economic or political power. The first twelve companies became known as the Great Twelve, and included the Merchant Taylors. However, the Merchant Taylors and the Skinners have always disputed their exact precedence, so once a year (at Easter) they exchange sixth and seventh place. This is one possible origin of the phrase 'at sixes and sevens', although the phrase may well have been used earlier.
The "Great Twelve", in order of precedence
The Worshipful Company of Mercers (general merchants)
The Worshipful Company of Grocers
The Worshipful Company of Drapers (wool and cloth merchants)
The Worshipful Company of Fishmongers
The Worshipful Company of Goldsmiths
The Worshipful Company of Merchant Taylors (tailors) (alternates with the Skinners)
The Worshipful Company of Skinners (fur traders) (alternates with the Merchant Taylors)
The Worshipful Company of Haberdashers
The Worshipful Company of Salters
The Worshipful Company of Ironmongers
The Worshipful Company of Vintners (wine merchants)
The Worshipful Company of Clothworkers
BAPTISMS, MARRIAGES AND BURIALS IN NUMEROUS THAMES AND MEDWAY PARISHES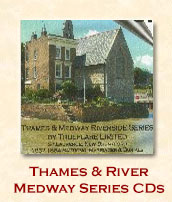 To search the entire collection of the single or the compendiums please click below:
Trueflare Thames and River Medway single CDs

Trueflare Thames and River Medway compendium CDs

Map Department


Ecclestiastical  Map - County of London 1903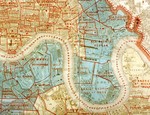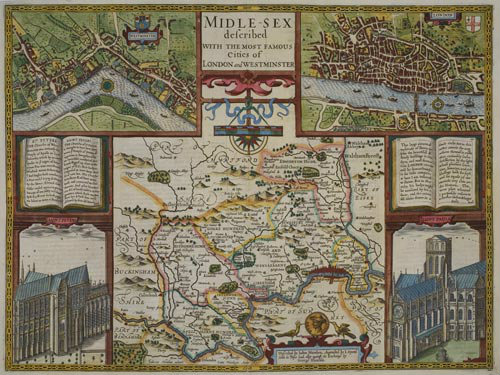 Middlesex 1611 by John Norden and John Speed


Devastated London Map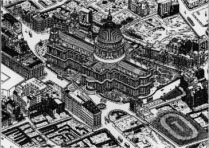 Rocque's 1745 Survey of London


PARISH REGISTER BOOKS
East End Murders:From Jack the Ripper to Ronnie Kray By Neil Storey. 
True Crime History

Newham Dockland (Images of England S.) by Howard Bloch

East End: Four Centuries of London Life by Alan Palmer

East Enders' Postcards (Archive Photographs: Images of London) by Brian Girling.

Hackney Memories

Spitalfields People Talk About The Evacuation
Around Poplar and Limehouse
, by Gavin Stirling.
Bethnal Green (Archive Photographs: Images of London) 
by Gary Haines.
Here are  three  excellent second hand (good condition) books:
A History of Warfare by John Keegan 
(paperback) £4 plus £2.70 p&p (uk)
Military Blunders (The how and why of military failure)
 by Saul David (paperback) £4 plus £2.70 p&p (uk)
Maritime Power and the Struggle for Freedom 1788-1851 
by Peter Padfield (paperback) £4 plus p&p (uk)
(If you are from outside the UK ask Yvonne about postage charges)
If you would like either of these on a first come first served basis then please email Yvonne (
jameslegon@gmail.com
)
Thames Books:
Liquid History:To Commemorate Fifty Years of the Port of London Authority 1909-1959, by Arthur Bryant. 

London from the Thames by Angelo Hornak

The Port of London by John Herbert.

Thames Shipping by Laurence Dunn

Thames: Sacred River (Hardcover)
by Peter Ackroyd.

Research Services: If you've come to a dead end, email Esme research@parishregister.com.
Ramblings from the Estate
Not a lot has happened this month to be honest. Last week was the start of my summer holidays, marking the end of my eighteenth year as a teacher; doesn't time fly. I've got a week's holiday booked at the end of August; Her Indoors and I are spending a week in a cottage in Norfolk with mother dear and her hubby. Apart from that I think I'll run, run and er....run (just got back from one in fact, and it was particularly satisfying because as I bent down to stretch my hamstring in Victoria park I found myself staring at a £2 coin!) I've got two 'races' in September; a half marathon and then a 10k (6.2 miles in old money) a few weeks after that. 
There's one amusing little incident I think I'll share with you as nothing else has happened, so here goes. I was sitting in an empty underground carriage on the Central line the other week, when a chap came striding through the doors at South Woodford rather hastily and plonked himself down four seats along from me. He was, even while walking, engrossed in the Metro (a free local rag which I had already read) and seemed unable to take his eyes off it. He chucked a rucksack on the chair next to him, and still looking at his paper, fumbled around trying to find a pocket on the rucksack. Eventually he located the pocket and undid the buckle without looking at it. He then fumbled around inside it, still reading the rag, which I could have sworn had nothing of interest in it. After more fumbling out came an apple which went straight to his mouth and without looking at it he took a bite. At this point I noticed it had a sticker on it, and I wondered whether he would notice the sticker, and whether he would end up eating it! He turned the apple round a bit and took another bite, still not looking at it! My excitement grew with every bite he took, the sticker getting closer and closer to being consumed! Should I alert him to the imminent danger, I pondered, but then again I didn't think it would kill him. Then the moment of truth came......still engrossed in the rag he took another bite and the sticker was gone! Obviously I was then curious whether or not he would taste the sticker. He chomped away but not a flicker, with one last swallow the sticker made it's way down towards his stomach, and with that a wicked little smile appeared on my face. The episode ended with him not eating the core (as I always do) but he placed it back into the pocket of his rucksack, and he turned the page of the Metro.
I'm sure I've given you a recipe for lemon drizzle cake before, but how about a 
Lemon Layer Cake
 from the BBC. Her Indoors made one the other day and I took it to school as it was the end of term; needless to say it was gone in no time at all!
"Always borrow money from a pessimist. He won't expect it back." (Oscar Wilde)
"A bargain is something you don't need at a price you can't resist." (Franklin Jones)
I bet this will make you smile! 
Cutest bear attack ever!
Jno and the gang!