You are most welcome to the July newsletter of parishregister This month we have another two St Dunstan Stepney databases for you, 1712-1719 and 1719-1725, that's another 20000 odd entries for you to search. Also we have another new CD, volume 83 St Dunstan 1656-1668 , plus another from Rob, Volume 88 St.Alphege Greenwich 1825-1837 baptisms, marriages and burials .

To search all baptism records please click here: Good luck!

I'll be giving advanced warning of new products on our facebook page parishregister There's also a link to it at the top of our welcome page.

New CD

This month

St Dunstan Stepney 1656-1668 another 10k entries!

To buy this CD click here: vol 83

St Alphege Greenwich 1825-1837 baptisms, marriages and burials . It also includes the death
records of over 1200 seaman both uk and foreign who died aboard the hospital ships GRAMPUS and DREADNOUGHT which were moored offstream at Greenwich.

To buy this CD click here: vol 88

As you can see there are 87 other




Last month


Volume 82 St Mary Stratford, Bow Baptism Registers 1831-1843

To buy this click here: St Mary S

To browse our single CDs click here: single CDs


If you think you may have a relative who was a merchant Taylor then don't forget to search our database,click here: M.T Or you can purchase the CD by clicking here: MTCD
Now In Transcription
St George in the East 1877-1893
St Matthews 1790-1799
St Dunstan 1725-1731

St Luke Limehouse 1846-1875

Other selected products
Everything Watermen and Lightermen
You can browse all of the Watermen and Lightermen products which are your essential resources for tracing your watermen or lightermen ancestors by clicking here: W&L

Our most popular W&L products:

My Ancestors Rowed for Doggett's Coat & Badge Race 1715-2009.

This NEW volume has proof of the race starting in 1715, together with the names of previously unknown winners and competitors Dog

1628 Admiralty Muster of Watermen
James has transcribed this document from the National Archives in Kew. On the searchable CD-Rom, there are some 2,393 names of Watermen. Information recorded is forename, surname, age in 1628/9, number of voyages made, location and notes (such as trumpeter, gunner, etc)
The earliest Company record is dated 1692, so this is a wonderful resource for possibly pushing your history further back in time. 1628

Apprenticeship Bindings covering the years 1692-1959 APPBIND

Company of watermen compilation CD 1 - to buy this very popular resource click here: CompCD1

My Ancestor Worked On The River Thames by Rob Cottrell. A guide
to help you find where they worked. Packed with interesting facts! GuideEast of London Family History Society
Tower Hamlets Marriages & Banns (Vol 1)-Disc 3: THM&B
Tower Hamlets Burials & MI's (Vol 1) Disc 5: THB
Crow Lane Burial index 1871-1953 listing 20,000 entries.

Census 1851 West Ham.HO107/1768.
Census 1891 Hackney Part 1.RG12/0179 - 0194.

Census 1891 West Ham Part 1 RG12/1310 - 1325
Census 1891 West Ham Part 2 RG12/1326 - 1342

Catholic Registers
SS. Mary and Joseph, Poplar Roman Catholic Chapel.

Marriages and Baptisms 1818 - 1856: SSMary

Misc Catholic London District Baptism, Marriages and Burials Vol 1
27 transcriptions of Catholic Parish Registers in the county of Middlesex: Catholic 2

The Registers of the Sardinian Embassy Chapel, London, 1772 - 1841(Church of SS Anselm and Cecilia in Holborn), a bargain- £7.95! Catholic 3

Misc Catholic London District Transcriptions, Baptisms, Marriages,Confirmations Vol 2: Catholic 4
SPECIAL OFFER Compendium CDs 1-5 Save £70!

Compendiums' Department
'Thames & River Medway Series - Compilation CDs'
'Thames & River Medway Series - Single Parish CDs' Rob's CDs include records of marriages, baptisms, burials, cemetery records, and include parishes such as Greenwich, Lambeth, Charlton, East Ham, Deptford, and there are burial records for St Dunstan Stepney and many more

Research Srevices: If you've come to a dead end in your research then give Esme an email research@parishregister.com.
Map Department
Ecclesiastical Map-County of London 1903: Parishmap (a bargain at £5)

Map of Middlesex 1611 by by John Norden and John Speed: Middlesex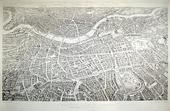 Devastated London - The Bombed City As Seen From A Barrage Balloon
London and Its Environs 1813

Rocque's 1745 Survey of London

To view our comprehensive Alan Godfrey maps collection please Alangodfrey (still only £2.25)