Welcome one and all to the parishregister July newsletter. Firstly, I must apologise for the July newsletter appearing in August; I've been a naughty boy and taken a holiday! Should have sent it before you went away, do I hear you say? Well I thought about it, but a book and a map, which I wanted to put in this month's addition, hadn't arrived, and it was touch and go whether the Merchant Taylors CD and searchable database would be ready. Also I hoped to be back by Friday and get it out then but unfortunately events conspired against me and I only got back at five o'clock this morning! As it happens, unfortunately the Merchant Taylors has hit a couple of snags, but the CD is going into production this week and the searchable database should appear on the site around the same time.
Searchable Databases
Christchurch Spitalfields 1763-1795 9700 odd entries yet again expertly transcribed by Jim Sheppard at his usual phenomenal rate. This was not an easy database to transcribe, the film was not in the best condition, but once again Jim has come up trumps, cheers Jim! This should be up-loaded within the next week or so, so keep an eye on the site if you're itching to search this one.
New CDs
The Merchant Taylors 1520-1929 (Exclusive to Docklands Ancestors!)
This is a transcription of the original 36000 index consisting of all 4 volumes in alphabetical order.
The index gives the name, date of freedom, method of admission (apprenticeship, patrimony or redemption), name of master if by apprenticeship, date of election to livery, and 'Remarks'.
To pre-order this CD, which will be available any day now,at the introductory price of £24.95, please click here: Merchant Taylors
In transcription
St George in the East 1848-1861
St George in the East 1861-1877
St Dunstan Stepney 1837-1848
St John Wapping 1665-1707
Other selected products
Devastated London - The Bombed City As Seen From A Barrage Balloon
Drawn by Cecil Brown with notes by Ralph Hyde, published by The London Topographical Society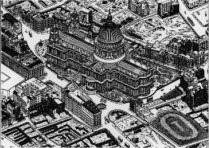 To buy this (folded) map click here: Devastated London
Ecclesiastical Map-County of London 1903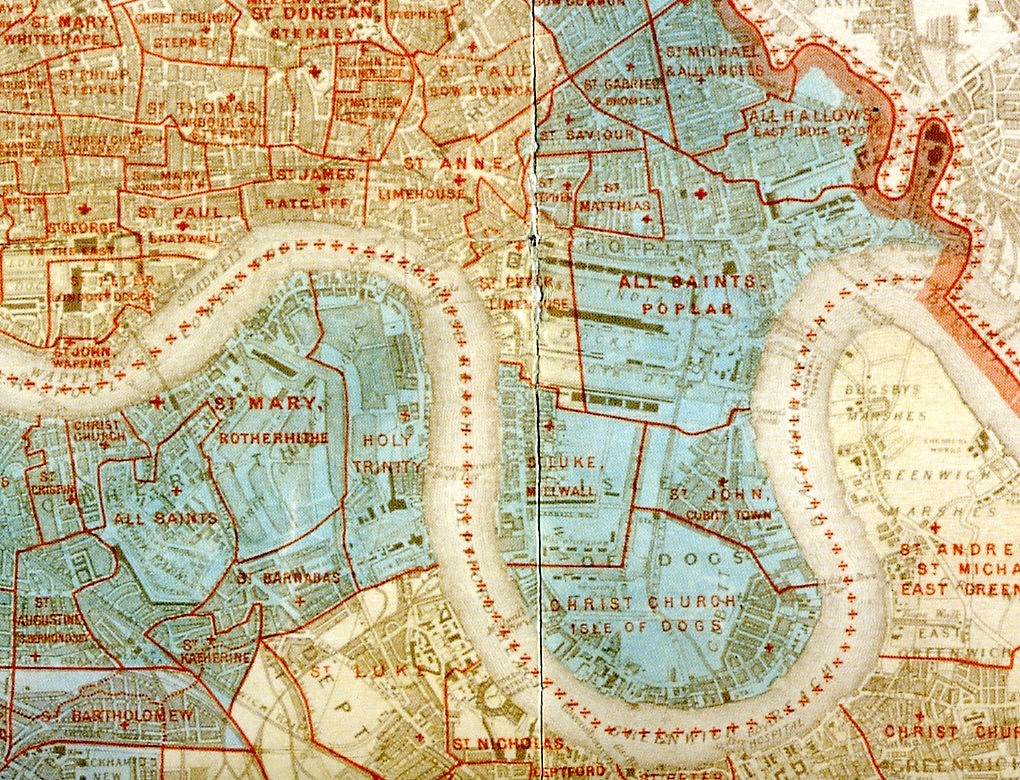 Price: £5.00 To buy this map please click here
London and It's Environs 1813

Price: £3.95 To buy this map please click here
Rocque's 1745 Survey of London

Price: £7.95 To buy this map please click here

To view our comprehensive Alan Godfrey maps collection please click here

Docklands Ancestors Parish Register CDs (64 CDs now to choose from)

East of London FHS Publications

Selected product:

Census 1891 West Ham Part 1 RG12/1310 - 1325

Including the areas of Stratford: Custom House also parts of Canning Town & Plaistow.

Docklands Ancestors Parish Register CDs - Compendiums

Special offer! Compendium 5, normal price £49.95 (this was obviously a bargain already as the ten separate CDs would cost around £80) now only £29.95, a saving of £20 or £50 which ever way you want to look at it!!

Volume 51 St Mary, Whitechapel Baptism Registers 1832-1842
Volume 52 St George in the East Baptism Registers 1795-1808
Volume 53 St Mary Magdalen, Bermondsey Baptism Registers 1813-1822
Volume 54 St Mary Newington, Southwark Baptism Registers 1837-1842
Volume 55 St Anne, Limehouse Baptism Registers 1783-1812
Volume 56 St Dunstan, Stepney Baptism Registers 1826-1835
Volume 57 St Mary, Whitechapel Baptism Registers 1758-1774
Volume 58 St Dunstan, Stepney Baptism Registers 1770-1798
Volume 59 Christ Church, Stepney Baptism Registers 1842-1860
Volume 60 All Saints, Mile End Baptism Registers 1840-1880

If you'd like to take advantage of this amazing, once in a lifetime offer, please click here special offer

St George in the East Parish Registers Part I 1729-1826

Selected product:

Company of Watermen Compilation CD 1

This CD comprises the following titles:

1.Company of Watermen & Lightermen Apprenticeship Bindings Indexes 1692-1949
2.Register of licences granted by Corportation of Trinity House to ex-mariners to ply their trade as watermen working on the River Thames 1829-1864
3. Thames Watermen & Lightermen (also wives and widows) pensioners admitted for relief 1794-1837
4. Watermen & Lightermen reassigned to another master during their apprenticeship period 1688-1908

Price if bought seperately: £57.80
Saving: £17.85

Price £39.95 (To buy this CD please click on the title)

If nothing has tickled your fancy but still would like to look around our shop please click here

Other Bits and Bobs

I recently received an e-mail from Rosemary about her great grandfather which included a very interesting newspaper article from the 1930s which she thought might be of interest, and once you've read it I'm sure you'll agree it definitely is. She also sent me a photograph with William Fishlock seated on the grass furthest left of photo. He was born 1858 ,and lived in Chiswick. She was wondering if anyone might recognise the place or even some of the others in the picture. If you can help then please e-mail me!

" William Fishlock ( William E Fishlock my gt grandfather), his father before him (William J); and a fine well set-up man, his son, make three generations of licensed lightermen of the City of London. As a boy of 6, William often went trips on the barge 'Edith' of which his father was a skipper and he keenly remembers one voyage from Brentford to Sea Reach (nr Southend) for sand or gravel. They got down alright and when the tide had ebbed away and left them high and dry on the Bligh sand they loaded up, which has to be done by hand and shovel and is pretty hard work. As sometimes happens, when the tide turned and the flood began to make, the wind freshened up, until by the time she was again afloat , it was blowing hard westerly and before long there was a whole gale meeting them. The skipper had his wife , daughter and young son on board and for safety sent them all below, afterwards battening everything down and locking them in. Those who have used the river know what such a gale and a strong flood tide means, and how nasty a sea can get up under those conditions, especially when a sand laden barge has to beat up to windward through it, which, however, this one did and in the end brought up off Gravesend, where there was a little shelter. It can be guessed how the poor women folk below felt about it ,and as to the boy William Fishlock says that was the last time in his life he ever kept below deck in bad weather, preffering to take his chance on deck whatever happened. In time and as he grew up, he kept on the river and later found himself mate and then skipper of different barges the "Lydia", "New John" and "Oliver" all about 70 tons and smaller then than now and all under sail. In those days barges were never towed; they sailed everywhere, and he recalls how it was a common sight to see a fleet of 20 or 30 of them outside Brentford and if the wind was (....erly?) or otherwise ahead, have to (.....?) practically the whole way to (...?) a distance of 50 miles at the least. One experience that has possibly never happened to any other man. It occured later on, about middle life when it chanced that a barge he was master of, with another man as mate, was towing down the river. It was at the time when Cannon street railway bridge was building, and the craft he was on was a tank to hold liquids, having a cargo from brentford gas works and being three quarters full, everything was strongly battened down.As they were passing through an archway of the bridge, a sudden set of tide threw her up against one of the piers, this impact caused her to heel over, which in turn made her liquid cargo surge heavily and started a roll which made her turn turtle completely and come up on the other side. Strangely the rolling motion once started, continued and again she turned turtle, again coming up on the other side. The mate, who had been forward, had jumped overboard and swum clear, but W Fishlock who was aft, had clung to a rope fixed to the craft's sidee, which steadied the tiller,and he of course went round and under water with the ship. Finally she again floated on an even keel and he was rescued as quickly as possible though at the "far end" , and into an ambulance and hurried off to hospital where he had to spend a month before getting right again after his narrow squeak. When Thorneycrofts were busy building T.B.D. there was at launching times a great deal of traffic on the river, and there were always many Admiralty people about on their 'lawful occasions', it fell to W.Fishlock's lot to especially attend to these and to take them about in his small rowing boat wherever they wished to go. On such occasions a good deal of paint and varnish would be expended to smarten up his boat. A lighterman's life is not an easy matter as far as working hours go and that it is a dangerous calling goes without saying. In the end that was the undoing of W.Fishlock , as in February last he tripped over the coaming of the hold and seriously damaged his knee, which at the age of 72 has but little chance of gettin well. "