Dear Subscriber
Hello and welcome to the July ParishRegister.com newsletter. Or the one that nearly wasn't. Yes indeedy, James is alive and back in his Shed and there's a full medical bulletin below.
Meanwhile, back at the ranch, our transcription efforts have proceeded apace and the show goes on.
But before that, I'd like to say a big thank you to the many hundreds of you who sent me messages of support. It is impossible for me to reply to them all, but rest assured that each and every one of them was most gratefully received and appreciated.
I'd also like to say a public thank you to Yvonne, Simon and Esme for keeping things going whilst I put my feet up.
Online Searchable Databases
Completed and uploaded is:

St Dunstan, Stepney 1770-1798 11,100 entries. This is the missing piece in our coverage of this, the original East End parish. We have now completed from 1734 to 1835.

In transcription now is:
Christ Church, Watney Street, Stepney 1842-1863. Nearing completion
St Mary, Whitechapel 1758-1774. Nearing completion.
St George in the East 1848-1861
All Saints, Mile End 1840-1880. Nearing completion.

After that will be:
St Matthew, Bethnal Green 1799-1819 (film delayed at LMA)
St Anne, Limehouse 1854-1877
St George in the East 1861-1877
St Mary, Whitechapel 1774-1792
Christ Church, Spitalfields 1729-1799


New Docklands Ancestors CD

Volume 52, St George in the East 1795-1808, baptism registers. There are 8,326 entries on the CD, all in easily searchable Adobe Acrobat format. Most, but not all, entries have a date of birth shown and the address is stated in a street format.
We're expecting this to be delivered early next week.
Call the Midwife: A True Story of the East End in the 1950s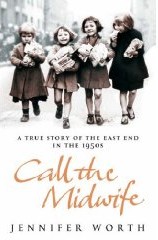 I'd previously read Jennifer Worth's other book, Shadows of the Workhouse, when a kind soul brought this book for me to read during my sojourn at the London Chest Hospital. An appropriate setting really, as Bethnal Green is featured in the book.
The only tears I shed during my sojourn were from reading this book. The sheer harshness of life, particularly for those in the workhouse, cannot help but touch the hardest of hearts. This book is not just about delivering babies, but is a social history of London after the War. For an accurate, balanced account of the East End in the 1950s I thoroughly recommend this book. Here's a bit of blurb about it:

Call The Midwife: A True Story of the East End in the 1950s by Jennifer Worth

Life in London's docklands in the 1950s was tough. The brothels of Cable Street, the Kray brothers and gang warfare, the meths drinkers in the bombsites-this was the world Jennifer Worth entered when she became a midwife at the age of twenty-two. Babies were born in slum conditions, often with no running water.

Jennifer Worth describes the romance and beauty of the great port of London, the bug-infested tenements, the spectre of disease, the sense of community and the incredible resilience of women who bore more than ten children. Funny, disturbing and moving, Call the Midwife brings to life a world that has now changed beyond measure.

The book is teeming with unforgettable characters: Conchita and Len who produced twenty-five babies between them, the last one born prematurely in a London smog; Brenda who had rickets; Lilly who had syphilis; Molly, beaten up and on the game a fortnight after delivery; a breach delivery on Christmas day; Margaret, who died of eclampsia; Mary, a fourteen year-old Irish girl dragged into the seamy brothels of Cable Street (I am told that the strip show in a brothel is amongst my most powerful writing!); Fred, the boiler man at the Convent; and Mrs. Jenkins, who had spent eighteen years in the workhouse. And how does a white man deal with his wife (also white) after the birth of a half-black baby? How would any man react today? There are three such stories in Call the Midwife. We are not talking about an IVF error. This is not racism. This is adultery. I have mentioned a convent. I worked with an order of nuns, heroic nuns who had been nursing in the slums of London since the 1870s, when no-one would go into those areas, except the police. The nuns are central to the book. They are saintly and wise, worldly and witty, sometimes infuriating, often eccentric. Sister Monica Joan's verbal battles with Sister Evangelina are among the funniest things in the book, I am told.
The book is social history in story form. It is not a dull chronicle of events. It is about the living, breathing, suffering, laughing people whose lives were shaped by the docklands in which they lived fifty years ago.
As we grow older the days of our youth are illuminated by a golden glow that seems to grow ever brighter as the years pass. My memories of midwifery in Poplar approach high romance: the great cargo boats coming and going ceaselessly, with thousands of men entering the dock gates, loading and unloading; the pilots guiding a great white vessel as big as an iceberg through a narrow canal to her resting wharf; the constant deep-throated growls of the ships' funnels and the shrill of the sirens. I recall the open-hearted friendliness of the people who lived cheerfully in grim conditions, who never locked their doors and who kept open house to just about everyone. I remember cycling home in the grey light of dawn when the docks were beginning to stir, my body tired after eighteen hours work, but my mind alight with the thrill of having achieved the safe delivery of a beautiful baby to a joyous mother.

A bargain at £6.99 too!
East End Trolleys
Nope, this isn't about that classic feature of the urban landscape, the shopping trolley as water feature in the Limehouse Cut.
This YouTube clip features the trolley buses of the 1950/1960s ( a bit like Routemasters running on power from overhead cables for the under 50s amongst you! ), on such classic routes as the 689 Stratford Broadway to Plaistow Station.....

It's in colour, with a typical post War upbeat soundtrack, that typically changes half way through. The roads are virtually deserted and the eagle eyed amongst you will spot the various churches whose registers we've transcribed.

The only thing that doesn't seem to have ever changed is the ubiquitous London taxi. I reckon these things exist in a time warp. Just think where we'd be today if Julius Caesar hadn't taken umbrage at the London taxi driver saying 'Londinium Town guv'nor, that'll be 25 denarii'. Part of some European super state no doubt.....
Admin
One of the issues that comes up in my inbox frequently is this:
'I didn't get my Newsletter last month, have you deleted me?'
Apart from the odd spammer, I don't delete anybody. So, there's two main reasons why you didn't get the Newsletter. By far the most common is that your email address has changed and you didn't tell me. Naughty. So, all you need to do ( and lots of people do actually do this, and they are lovely people ), is drop me a line stating your old and new addresses and I'll amend your details.

The 2nd reason is that your Internet Service Provider doesn't like me. What's more, it has also decided that you, yes you, are an imbecile.

To elaborate, your ISP thinks the Newsletter is spam and blocks it. This happened to 28 AOL subscribers last month. Now, believe you me, I'm no friend of spam. I get about 60 a day. But, you signed up for a newsletter, so it aint spam! Also, it doesn't matter what settings you put on your computer, AOL overides these and makes the decision for you. Hello? Don't you think that you should choose whether something is spam or not? How do you know what else your ISP is preventing from coming to you? So, it doesn't matter how you fiddle about with your computer, there's nothing you can do to tell it to accept the Newsletter. Can you imagine if the postman did the same thing? Can you see him standing at your door, going through your post, going, yeah they can have that one, nah, they don't want that one, bin, yeah, ok, maybe this one?

Thirdly, some ISPs send the Newsletter, but deposit the newsletter in your spam folder. Fair enough, at least they are giving you the decision whether it's spam or not, and whether you wish to receive it or not. Most email programs give you the option at this point about whether you want to class it as spam or not. So, check your spam folder if you don't receive the Newsletter! ( It's always a good idea to just glance over your spam folder regularly anyway. Then delete what you don't want.

Ok, I guess me having a heart attack and not producing one counts as well, but I wrote this before I had one.
New Waterman CD

The ever prolific Rob Cottrell has been beavering away again in the bowels of Waterman's Hall and transcribed the Apprenticeship Bindings Indexes 1925-1949. This is an invaluable extension to his earlier work, and takes the coverage from 1692-1949. Quite some achievement.
This CD will be of obvious interest to those of you with Waterman ancestry, and of none at all for those with, well, anything else!
Nick of Time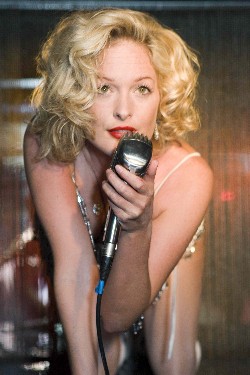 Just before my abortive attempt to go meet my ancestors, I went to the birthday party of a good friend who had booked a singer and pianist for the entertainment, as a birthday present for his girlfriend.
( I won't say who the friend is, as he's been the subject of a lot of unwanted and unfounded media assassination and I don't want one of his nutcase litigants suing me for saying he's a good friend ).

Gosh, what a treat! Not only is Kitty La Roar extremely easy on the eye, but she has a voice to die for. Nick and Kitty cover the Great American Song Book, with such passion, ingenuity and sheer good singing it takes your breathe away.
Have a listen to Pure Imagination, the 3rd of the songs featured on her website, then have a browse of the rest of the website. Hide yer crystal though as the high notes she reaches will shatter the sherry decanter. And speaking of booze, I was indebted to Kitty for donating her bottle of red wine to a very deserving cause. Me.

You can see Nick of Time live at the Cellar Door in Aldwych, 9pm on Thursdays.
I had plans to see them perform myself, but sadly it wasn't to be.
Don't tell him Pike
As usual I've got sidetracked whilst compiling this, perusing YouTube in search of a chuckle. And this one had me in stitches, ( till I remembered not to set my defibrillator off anyway ). You can't beat the War for a bit of a giggle, and the undoubted leaders of sending it up ( notwithstanding Basil Fawlty's 'Don't mention the War' ) are Dads Army. I know we're all supposed to be getting over it now, and not automatically supporting Spain in the World Cup, but this is classix stuff and I hope you enjoy it as much as I do.
Compendium CD5
Compendium CD5, comprising volumes 51-60 of our parish register transcriptions, is due out shortly. On the CD will be:

Volume 51 St Mary, Whitechapel Baptism Registers 1832-1842
Volume 52 St George in the East Baptism Registers 1795-1808
Volume 53 St Mary Magdalen, Bermondsey Baptism Registers 1813-1822
Volume 54 St Mary Newington, Southwark Baptism Registers 1837-1842
Volume 55 St Anne, Limehouse Baptism Registers 1783-1812
Volume 56 St Dunstan, Stepney Baptism Registers 1826-1835
Volume 57 St Dunstan, Stepney Baptism Registers 1770-1798
Volume 58 St Mary, Whitechapel Baptism Registers 1758-1774
Volume 59 All Saints, Mile End Baptism Registers 1840-1880
Volume 60 Christ Church, Stepney Baptism Registers 1842-1863

The normal price will be £49.99. It is available to you at the pre-release price of £44.99, until the end of July, for individual customers ( ie not to trade or FHSs ). Please note that this is a 'buy now, delivered later' option.

This project has been slightly delayed, with the final transcriptions expected to be completed shortly. Delivery is expected around the end of July, beginning of August.

What's hot in the world of family history
I'm sorry, I haven't a clue. Perhaps someone will enlighten me?
I know, I know, I really have to make an effort and get to grips with this sort of thing. I shall be a good boy and find out. Next month. Honest.
Family History Quests

Ramblings from The Shed
Or more accurately, Medical Bulletin No 1.

Golly, I had a heart attack. There I was, minding my own business, sitting right here one Tuesday morning when I came over all queer. Hard to describe the feeling, but normal it wasn't. I knew I'd best go indoors and have a nice cup of tea and wait for it to pass, but that didn't work. So instead of doing the sensible thing and calling an ambulance I stretched out on the sofa and checked out the news headlines. Before deciding that a trip upstairs would be a great idea. I got there too. Before collapsing, more or less unable to breathe.
Yvonne called the ambulance, and two turned up. Before long we trundled off to Whipps Cross hospital, where they did something or other. I wasn't that bothered by then, as morphine is lovely stuff.
They started loading me back into the ambulance and I thought great, off home already, my coffee might still be hot. But then for some strange reason we collected a police escort and went off for a mystery tour of the East End and ended up at another hospital. I didn't know it was a hospital as all I saw were the bins.
I was carted into what looked like a video arcade, there were that many screens, but I didn't have any change on me. Welcome to the world of the modern operating theatre.
After a lot of kerfuffle, 4 hours later they finished mucking about and wheeled me off to this room where a whole lot of seriously ill people were connected up to the National Grid. I was feeling fine so I reckoned they must have been short of beds elsewhere. I'd not been to hospital before, so it was all a bit new. Bit of a rum do really.
I thought a cup of tea would be nice before I went home, only thing was I was told I had to have it through a straw as I musn't move at all. Next thing I know I'm vomiting blood all over their nice clean floor. Gallons of it. Blimey I thought, is that what NHS tea does to you?
Next up, two doctors come along. Of course what I know now that I didn't know then is that two doctors is a sign of trouble. One, yer pretty safe, but bad news travels in company. They explained that I'd had a bit of a heart attack, with one artery permanently blocked, another they'd opened up, leaving a stent in and my heart had suffered a lot of damage, leaving me with very low blood pressure ( 60/30 for the medically minded amongst you ). So I won't be going home today then? Not for a little while old boy.
By then, a horde of hangers on had gathered in the waiting room, and these cheery chaps went for a chat. I guess it really dawned on me that I was in fact at death's door when the hangers on were let loose. They all looked like they'd seen a ghost! I checked to make sure that these were indeed my hangers on, and it turned out that they were all related, and to me.
I didn't feel too bad really. Even at its worse I thought back pain was worse! My only regret if I had died was a profound sense of regret that I'd not be able to say goodbye to my nearest and dearest.
In fact it was to be some weeks before I was given the full story of how close I'd come to meeting my ancestors, and of the damage I'd suffered.
I didn't sleep and couldn't move for the next 4 days and then they took out the balloon pump from my artery. I got out of bed, and found that just putting one foot in front of the other was utterly exhausting, as I just couldn't breathe.
After a week I got moved out of intensive care onto a small ward and that's when I got told that 70% of my heart was destroyed and that its electrical system was faulty. It began to hit home then that it wouldn't be a good idea to sneak out for a fag and a stella from the local offie.
Gradually it became clear that I was going to be a guest of the NHS for weeks, possibly months. They were trying to improve things with drugs, but my blood pressure was ( and still is) too low to do anything much. That's when words like pacemaker, defibrillator and heart transplant started being bandied about.
After 6 weeks I got moved to Barts and a week later some jolly nice chaps cut me open and fitted an ICD ( Implantable Cardioverter Defibrillator to you!). With a CRT lead ( Google this if you want to ). The Rolls Royce of such things I'm assured.
Basically, what this does is that if my heart gets overexcited it'll stop my heart, give it a massive shock and everything will be fine. Gosh, how exciting. The CRT bit attempts to syncronise the beating of the heart, as mine sort of does its own thing. Only problem is they've sited it too close to my diaphram and the wretched thing keeps going off. So I'll have to go back at some stage to have it moved. Still, at least I'll get some more NHS rice pudding, which I took a bit of a fancy too. ( To be honest, putting your feet up and getting fed 3 times a day without having to do shopping, cooking and washing up has always had a certain appeal).
Anyway, eventually they kicked me out and here I am again. Life's a bit limited now. I can't drive for 6 months, can hardly walk further than the fridge to get a beer, and when I do venture outside I get overtaken by little old ladies pushing trolleys.

Finally, a word on the NHS. I try never to let politics or religion get into this newsletter. This is here purely as a reflection on my experience as a patient. You read a lot about the waste and a mountain of money poured into the thing. I was really surprised I even qualified for a defibrillator. I also expected to catch lots of hospital acquired infections. The reality was that an ambulance reached me in minutes, I was taken to a specialist hospital immediately and given cutting edge treatment. This saved my life, and I'm tremendously grateful.
Once installed, I saw only dedicated staff doing their utmost to deliver a first class, professional and dignified service. Above all, the sheer humanity that I was shown is something I'll not forget for the rest of my days. I counted the days till I was getting out, but when the time came to go I didn't want to leave the friends I'd made amongst the patients, nurses, doctors and support staff.
The treatment I received must have cost over £100k and nowhere else in the world would I have received this, for the price of paying my taxes. I am profoundly grateful for the NHS and to the people who work in it.

Kind Regards
James and the ParishRegister.com team

And on a cheery note..

'Ask not for whom the bell tolls, lest it tolls for thee...'