Dear Subscriber
Hello and welcome to the July ParishRegister.com newsletter.

We've been focusing on our transcription project this month ( ok I admit it, I was focusing on the World Cup). Lots of new entries uploaded and 3 new CDs published.

A new recruit to the firm this month in the form of my mother, who has taken over reviewing books. ( Mum, the deal was you've gotta send em back to me!). Shadows of the Workhouse is our featured book this month. Be warned, it's a tear jerker...

I must confess that I personally have been bogged down with 2 issues: Proof reading databases and the quality control procedures ( more about that next month).
Online Searchable Databases
This is the progress of our transcriptions:

Completed

St Peter & St Paul Dagenham 1800-1842 1,922 entries
A lot of Hornchurch and Beacontree entries, but sadly no dates of birth. A Rob Cottrell transcription.
St Paul, Shadwell 1775-1812, 9,323 entries. Some LEGON entries in this one that I didnít know about. It beats searching at the LMA ( Ah thatís why I started this business!)
St Mary Magdalen, Bermondsey 1782-1812, 13,363 entries. A surprising number of ship Captains and navy personnel in this register.
All Saints Poplar 1858-1872, 9,700 entries. This takes our Poplar coverage from 1813 to 1872
St Mary Magdalen, Bermondsey 1822-1829, 4,783 entries.

Approx. 25,000 entries have been added to our databases this month.

Transcriptions underway

Holy Trinity Mile End 1841-1884
St Anne Limehouse 1783-1812 and 1821-1832
St Mary Whitechapel 1823-1832
St George in the East 1826-1835


Coming next:

St Anne Limehouse 1813-1821
St George in the East 1826-1835
St Dunstan Stepney 1826-1835
St Mary Whitechapel 1832-1842
St Mary Whitechapel 1842-1865
Christchurch Spitalfields 1819-1842
St George in the East 1837-1848
St Mary Magdalen Bermondsey 1813-1822
St Mary Newington 1837-1842

After this lot it looks like Bethnal Green is on the menu. And no, you canít have lobster with it.


New Docklands Ancestors Series CDs

Volumes 22,23 and 24 are now available, details as follows:

Volume 22 All Saints Poplar 1858-1872
Volume 23 St Mary Magdalen, Bermondsey 1782-1812
Volume 24 St Paul, Shadwell 1772-1812

All priced at £6.95 plus £1.00 UK and £2.00 overseas postage.
We're expecting volumes 25-27 will be out next month.


Book Review - Shadows of the Workhouse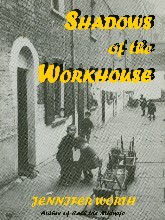 It was as a district nurse and midwife in Poplar, East London in the 1950ís that Jennifer Worth came into contact with people who as children, lacked what we would call ďthe bare necessities of lifeĒ. If parents died, the children were put into a workhouse, brothers separated from sisters, of course. If a man lost his livelihood-well, tough. Conditions were pretty basic in their lodgings, and where was Nanny State in allthis? You could argue that the workhouse provided for the orphansí needs: They were fed, sheltered, and trained to earn their living. What they lacked was love and individual attention; if you think your grandparents, who were brought up in the tough Docklands environment, seem a bit unsympathetic about your alleged problems, you spoilt brats, this story will surely enlighten you.

Now itís not one long wallow in misery! Jennifer Worth has interwoven various life histories of the people she interacted with during her work into an intensely interesting novel. She was attached to a religious nursing order, founded in Poplar in 1870, and these excellent women pioneered nursing as a respectable profession. The story of Sister Monica Joan, and the subsequent denouement, gives us a view of convent life not normally exposed to the public. And Iím not talking about naughty goings-on, if you know what I mean.

We are told the stories of the children who were put into the workhouse, and their lives in the outside world as adults. I found a fascinating detail about Costers-those men who rose early in the mornings, attended the wholesale markets, then spent all day selling their wares-well, they never had homes of their own. As soon as they had money in their pockets, it was spent on food, drink (plenty of that), girls, and a bed in a rooming-house. No possessions, apart from some flamboyant clothes to swagger about in in the pubs.

There is also an insight into the differences in perception. Jenny visits an old man she has befriended during the time she visited him to dress his leg ulcers. He lives in a dirty little flat in Poplar, all alone, and seemingly deprived of all comforts, in her eyes. On her first visit, she refuses a cup of tea when she sees the state of the cups, and realises she has hurt his feelings, so against all rules she accepts a small glass of sherry. Joseph though considers himself really well off. He has his pension, plenty of coal for a good fire and he can afford to buy sherry and chocolates to offer Jenny when she visits him. She was his only human contact. The flat harboured many other inhabitants however. The walls of these tenements heaved with bugs-something my mother would relish telling us about when we made to faint on spotting the odd spider in the bath. So, she saw filth and discomfort, but he saw cosy comfort and felt well off. Until the inevitable demolitionsÖ..

This has been a very satisfying read and I look forward to reading her previous book ď Call the MidwifeĒ. My own grandmother was a midwife in East London and I often wonder how many of your ancestors were helped into the world by her skilful hands. She was very intolerant of modern moaners after all she had seen. Do you think our descendents will find unsavoury things about our lives to write about? I hope they do so with the same insight and research skills shown by Jennifer Worth.

More new books

East End Neighbourhoods went down well last month. Easily our bestselling title. In the same vein, 3 more books I can recommend are:

Around Poplar & Limehouse by Gavin Stirling. 170 illustrations
Bethnal Green (Archive Photographs: Images of London ) by Gary Haines, with 200 illustrations
London: Life in the Post-war Years - The Photographs of Douglas Whitworth. 140 illustrations

All in stock, brand new and jolly good reads.

Featured Title:London Vanished and Vanishing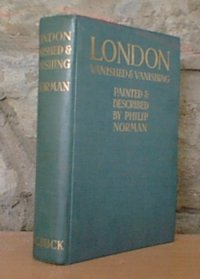 London Vanished and Vanishing, reviewed by Annemarie Shuttle

I am not generally a person who likes to read books on cdís but this one is the exception.

The quality is outstanding and unlike a book it doesnít matter if you are eating a bar of chocolate at the same time!

You can print any page you require which includes a lot of very nice images within the book.

You have the facility to rotate and enlarge, print (ideal for some of us who are visually challenged!).

Unfortunately (there is always one) you cannot mark the page you last read unlike a book (if you can please tell me how, which would make the cd perfect!) which means writing down the page number or if you are lucky enough remembering your last page.

The information contained within each section tells details of London of that time. If you have history in London then this cd would be of great interest, if you donít have families it would still be a very good read for all.

Great value for money at £17.75 I imagine the cost of the actual book much more and you would need a large bookcase to keep it unlike the small cd case.


Flotsam and jetsam

# The World Cup promotion seemed to go down well- unlike the England football team. :(

# Many of our subscribers I know live in India. I'd like to take this opportunity to express our condolences regarding the recent terrorist bombings in Mumbai. We in London are all too familiar with what you are going through and stand shoulder to shoulder with you in your hours of grief. I've heard from a close contact in Mumbai this morning and Suresh tells me that the attitude is "business as usual-we won't be cowed"
Best wishes & good luck with your researches!

James and the ParishRegister team