Welcome to the parishregister June newsletter. Once again I've got a few new goodies to tempt you this month, including volume 71 in our Parish Register series, a new compendium CD, a new apprenticeship binding CDfrom Rob Cottrell and I've produced a database (St Peter's Limehouse) in street name order instead of date order.
Searchable Databases
Last month: St Dunstan Stepney 1608-1628
Next month will be the next in the St Dunstan series, 1629-1641
New CD
Last Month:
Volume 70 St John Wapping 1734-1780
To buy this CD please click here: Vol 70
This month:
Volume 71 St Mary Stratford 1771-1813
To buy this CD please click here: vol 71
Now, here's a first!
Vol 1 St Peter's Limehouse 1866-1903 Address database
I mentioned quite some time ago that I was thinking of ordering a database in street name alphabetical order, well in between boring world cup games I've done my first one! I have rearranged the St Peter's Limehouse 1866-1903 database so that you can now see, at a glance who lived in a house in those years. Obviously it does not cover every house in a street as only those households who registered a baptism in those years will appear on the database. However this CD will interest historians and anyone who would like to know who lived in a particular house or if anyone lived with their family in the same house.
If you would like to buy this at an introductory price of £6.95 please click here: address
Also, here's another in our compendium series:
St Dunstan, Stepney Parish Register 1730-1848
This CD consists of our single CDs
vol 50 1730-1745
vol 39 1746-1757
vol 45 1757-1770
vol 58 1770-1798
vol 26 1798-1808
vol 37 1808-1816
vol 17 1816-1822
vol 19 1822-1826
vol 56 1826-1835
vol 62 1835-1837
vol 67 1837-1848
If you bought these separately that would be 11 lots of £7.95, what's that, nearly £88, but we're offering you this compendium at a bargain price of £39.95, £10 less than it will be in two weeks time!
To buy this CD please click here: St Dunstan
AND, here's the latest in the apprenticeship series of CDs from Rob Cottrell
Apprenticeship Bindings 1950-1959
Indexed from the original register at Waterman's Hall, these records take the total coverage of the apprenticeship bindings.

A typical entry reads as follows:

3504. YOUNG, WILLIAM GEORGE 1935 MAR 19 STANLEY, WILLIAM SMITH 1940 SEP 10
with the first name being the apprentice and the latter his master. The first date is the binding date, the second the freedom date
To buy this CD please click here: AB
Merchant Taylors 1530-1928 - to search click here Merchant Taylors
Find out more about the Merchant Taylors click here: Merchanttaylors.net
In transcription
St Matthew Bethnal Green 1799-1819
St George in the East 1877-1893
St Anthony Globe Road 1879-1899
St Dunstan Stepney 1628-1637
Other selected products
East of London Family History Society
New!
Tower Hamlets Rate Books (Vol 1)- Disc1
Miscellaneous Rate Index covering various Areas between 1725-1875
Previous Society publication in fiche or book form now converted into CD.

Bethnal Green Church Rates 1743. Bethnal Green Rate 1850 -1.
Bow Poor Rate 1837. Bow Rate April 1851.
Bromley Church Rate June 1861. Bromley Land Tax 1750. Old Artillery Ground Drainage Rate 1861. Poplar Church Rate June 1851.
Shadwell Poor Rate 1725. St George in the East Land Tax 1801. Wapping Watch Rate 1800. Wapping Church Rate 1875.
Whitechapel Watch Rate 1800 & 1805
To buy this product please click here: Ratevol1
St Andrews
Burials & M.I. St. Andrews Church, Hornchurch. 1576-2000
Surname index of Monumental Inscriptions and Burials, of 17,195 names for the years of 1576 - 2000.
This month there's £2 off this product. To buy it please click here: St Andrew
Cockney Ancestor. The first 100.

NOW available a CD containing the first 100 editions of Cockney Ancestor.
There's also £2.50 off this product, so if you want it, click here: Cockney
The Frogley Index and Manuscript (History of Barking)
There's also £2.50 off this little gem, so once again, click here if you'd like to buy it: Frog
Other products in this series include:
Crow Lane Burial index 1871-1953 listing 20,000 entries.
Census 1851 West Ham.HO107/1768.
Census 1891 Hackney Part 1.RG12/0179 - 0194.
Census 1891 West Ham Part 1 RG12/1310 - 1325
Census 1891 West Ham Part 2 RG12/1326 - 1342
Apprenticeships Bindings Index 1692-1908 (Vols 1-9)
You can browse all of the other Watermen and Lightermen products by clicking here: W&L
Catholic Registers
SS. Mary and Joseph, Poplar Roman Catholic Chapel.

Marriages and Baptisms 1818 - 1856


To buy this CD please click here: SSMary
Misc Catholic London District Baptism, Marriages and Burials Vol 1
27 indexed transcriptions of Catholic Parish Registers from churches, chapels and missions in the county of Middlesex
To buy this CD please click here: Catholic 2
The Registers of the Sardinian Embassy Chapel, London, 1772 - 1841(Church of SS Anselm and Cecilia in Holborn). This comprises indexed transcriptions of over 22000 baptisms hitherto unpublished, a work which has taken them about 10 years to produce!!In total there are 60000 odd entries on this CD, a bargain at £7.95!
To buy this CD please click here: Catholic 3
Misc Catholic London District Transcriptions, Baptisms, Marriages,Confirmations Vol 2
· French Chapel Royal: Baptisms 1842-1911 and Marriages 1846-1910
· Kentish Town, St Alexis: Baptisms 1849-1854
· Blessed Virgin Mary of Czestochowa and St Stanislaus Kostka Chapels, Central London: Baptisms 1863-1877
· Soho St Patrick: Baptisms 1779-1851, Index to Baptisms 1793-1937, Confirmations 1818-1854 and Marriages 1809-1856
· Southwark St George's Fields Chapel: Baptisms 1788-1823 and Marriages 1823-1837
· St James, Spanish Place, Westminster: Baptisms 1732-1848 and Marriages 1732-1845
· Standon, Old Hall Green, Herts.: Baptisms 1811-1831, Confirmations 1814-1849 and Marriages 1812-1848
· Virginia Street Chapel, Wapping: Baptisms 1832-1840
If you would like this CD please click here: Catholic 4
Merchant Taylors
The Merchant Taylors 1520-1929 (36000 entries-Exclusive to Docklands Ancestors!)The index gives the name, date of freedom, method of admission (apprenticeship, patrimony, or redemption), name of master if by apprenticeship, date of election to livery, and 'Remarks'.
To purchase this CD please click here: Merchant Taylors
Thames and River Medway Series
If you'd like to browse the 84 CDs which contain a selection of marriages, banns, burials and baptisms available from Rob Cottrell please click here: T&RMS
SPECIAL OFFER Compendium CDs 1-5
This is a very special offer price for customers who wish to buy our first five Compendium CDs.
Price if bought separately: 60 x £7.95 = £477
Price of individual Compendium CDs: £49.99 + £39.99 + £39.99 + £39.99 + £49.99 = £219.95
Special Offer price: £149.99
To take advantage of this special discount please click here: 1-5
Docklands Ancestors Parish Register CDs - Compendiums' Department
Docklands Ancestors Parish Register CD Department
East of London FHS Publications Department
Map Department
Ecclesiastical Map-County of London 1903
A Map of the Ecclesiastical Divisions within the County of London 1903.
To buy this really useful map (if you're not sure which parish is next to which and wish to search for neighbouring parishes) then click here: Parishmap (a bargain at £5)
Map of Middlesex 1611 by by John Norden and John Speed
The print shown is a copy of the original and so is in colour, the print we offer you is in black and white. The print measures 46cms x 58cms.
To buy this map for £4.95 plus p&p please click here: Middlesex
A Balloon View of London 1851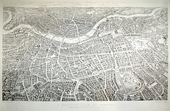 To buy one for £8.50 click here: Balloon
Devastated London - The Bombed City As Seen From A Barrage Balloon
To buy this (folded) map for the bargain price of £4.50 click here: Devastated London
London and Its Environs 1813

Price: £3.95! To buy this map and for more information please click here
Rocque's 1745 Survey of London

Price: £7.95 To buy this map and for more information please click here
To view our comprehensive Alan Godfrey maps collection please click here
Waterman & Parish Register Special Offer Price: £129.93