Welcome one and all to the parishregister June newsletter. Wow, what a response to the London Gazette link I put in last month's newsletter! Over seven hundred of you had a look at the site; I hope it was worth it and you uncovered some useful information.
Searchable Databases
Uploaded and ready to search: Christchurch Spitalfields 1729-1763 9700 odd entries expertly transcribed by Jim Sheppard at his usual phenomenal rate, cheers Jim!
New CDs
The Merchant Taylors 1520-1929 (36000 entries searchable database and CD). This is a transcription of the original Index consisting of all 4 volumes in alphabetical order:
1. A-D
2. E-J
3. K-R
4. S-Z
The index gives the name, date of freedom, method of admission (apprenticeship, patrimony or redemption), name of master if by apprenticeship, date of election to livery, and 'Remarks'.The CD is due to be produced within the next couple of weeks, all I need to do now is design the CD cover. It's taken a while to reach this point but now we have the web-pageon the site and the searchable database will also be up and running by mid July. If you would like to pre-order the CD at the introductory price of £24.95 then please click here.
Now in transcription are:
Christchurch Spitalfields 1763-1795 (almost complete)
St George in the East 1848-1861 (two thirds complete)
St George in the East 1861-1877 (almost complete)
St Dunstan Stepney 1837-1848 (two thirds complete)
Other selected products
Ecclesiastical Map-County of London 1903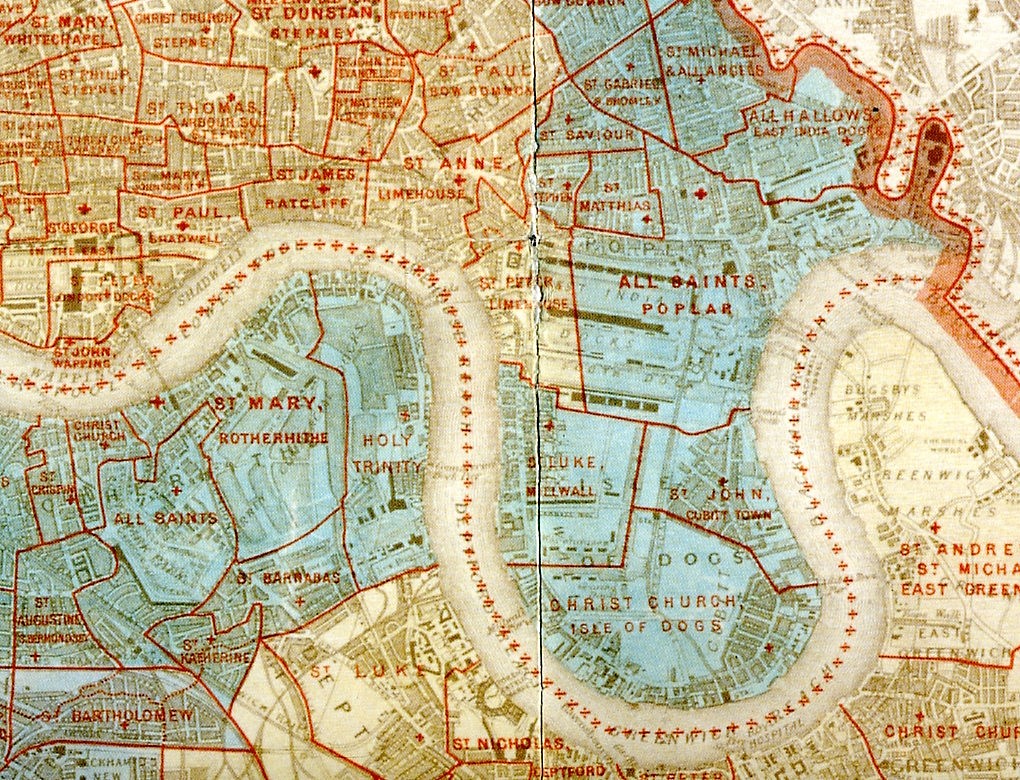 Price: £5.00 To buy this map please click here
London and It's Environs 1813

Price: £3.95 To buy this map please click here
Rocque's 1745 Survey of London

Price: £7.95 To buy this map please click here
To view the Alan Godfrey maps please click here
Docklands Ancestors Parish Register CDs (63 CDs now to choose from)
East of London FHS Publications
Docklands Ancestors Parish Register CDs - Compendiums
Special offer! Compendium 5, normal price £49.95 now only £29.95, a saving of £20! If you'd like to take advantage of this amazing, once in a lifetime offer please click here special offer
Vol 21 St Mary Newington, Southwark 1829-1837
Vol 54 St Mary Newington, Southwark 1837-1842
vol 2 St Mary Newington, Southwark 1902-1922
vol 23 St Mary, Magdalen, Bermondsey 1782-1812
vol 53 St Mary, Magdalen, Bermondsey 1813-1822
vol 25 St Mary, magdalen, Bermondsey 1822-1829
St George in the East Parish Registers Part I 1729-1826
Vol 36 St George 1729-1749
Vol 38 St George 1750-1770
Vol 48 St George 1770-1794
Vol 52 St George 1795-1808
Vol 49 St George 1809-1815
Vol 13 St George 1815-1820
Vol 14 St George 1821-1826
Vol 8 St Luke Millwall 1866-1887
Vol 9 Christ Church, Cubbitt Town 1876-1904
Vol 10 All Saints Poplar 1835-1857
Vol 11 St John Cubbitt Town 1887-1902
Vol 15 All Saints Poplar 1813-1835
Vol 3 St Paul Shadwell 1852-1881
Vol 4 St James Ratcliff 1841-1913
Vol 6 St Anne Limehouse 1833-1854
Vol 7 St Peter Limehouse 1866-1903
Vol 12 St Dunstan Stepney 1839-1844
Vol 16 St Thomas Stepney 1840-1876
Vol 17 St Dunstan Stepney 1816-1822
Vol 18 St Mary Whitechapel 1812-1823
Vol 19 St Dunstan Stepney 1822-1826
Vol 1 St Peter, London Docks 1878-1933
Vol 5 St John Wapping 1813-1847
Vol 13 St George in the East 1815-1820
Vol 14 St George in the East 1821-1826
More about:
Christ Church Spitalfields (1714–1729)
Christ Church was built under the Act of Parliament of 1711 which required the building of fifty new churches to serve the new populations on the fringes of London. The Act established a Commission that was to determine the brief for the new buildings; its members included Wren, Vanbrugh and Archer. Hawksmoor and Dickinson were appointed as Surveyors to carry out the programme. In 1710 the roof of St Alfege, Greenwich had collapsed, and its parishioners petitioned the Commission to provide money for rebuilding the church; it became the first of the series that Hawksmoor designed. Of the intended fifty churches, when the programme expired in 1731 only twelve had been built, of which six were designed by Hawksmoor. (from http://www.christchurchspitalfields.org/v2/history/history.shtml)
If nothing has tickled your fancy but still would like to look around our shop please click here