Welcome to the parishregister May Newsletter. Once again thank you to all of you who sent in positive feedback on my April newsletter; I must say it's most encouraging to know I'm hitting the right spot, as it were! Let's hope you enjoy this one!

Search Tips

I've been mulling over an idea recently about gathering information on streets in particular parishes, listing who lived in each house over a period of time which I thought might appeal to historians. In due course I think I'll produce a CD and see if anyone shows an interest; if they do I could then make more. At the moment, not being an expert on databases (unlike James), I'm encountering technical problems, although I'm sure they are overcomable (I bet that's not a word). Anyway, in doing so I've noticed that many of you might be missing out on possible ancestors because the person recording the baptism has miss-pelt the child's surname. I've noticed quite a few common occurrences. One is that 'y' can be replaced by an 'e' or vice versa. So for Legon it might be recorded as Lygon (which has happened). Another is that a 'y' can be replaced with an 'i'. Other common occurrences are letters in the middle of names being doubled, or one left out (Legon becomes Leggon); letters being missed off the end of a name, and in many cases a random letter being inserted or left out. I suppose, if you are feeling flush, the best thing to do, I suppose, is to buy the CD as it only cost a smidgen more than the cost of two searches.

New CDs

Miscallaneous Catholic London District Baptism, Marriages and Burials Vol 1

27 indexed transcriptions of Catholic Parish registers from churches, chapels and missions in the county of Middlesex
Bavarian Embassy Baptisms 1748-1838
Bavarian Embassy Marriages 1747-1840
St Aloysius Baptisms 1802-1839 and Confirmations 1808-1820
St Boniface Baptisms 1812-1862
St Mary Moorfields Baptisms 1763-1839
St Moorfield Marriages 1777-1821
St Mary Moorfields Burials 1819-1853
Virginia Street Chapel, Wapping, Baptisms 1789-1800
Westminster St Mary Baptisms 1809-1838

This CD contains approximately 50000 entries and is excellent value at £7.95

To buy this CD please click here

St Dunstan Stepney 1835-1837 CD 3288 entries

To buy this CD please click here

St Mary Whitechapel 1775-1792 CD 17493 entries

To buy this CD please click here

More about: St Mary Moorfields

The roots of the parish of St Mary Moorfields go back to several chapels that sprang up in the area in the seventeenth and eighteenth centuries.

The chapels were known locally as 'Penny Hotels', as people had to pay a penny to a man behind a grill in the door before they were allowed in.

These were hard times for Catholics. In 1736, for example, the Gordon Rioters attacked the chapel in Ropemakers Alley, ripping out its altar, fittings and crucifixes. Following the Catholic Relief Act of 1791, Catholics were permitted to worship in public. And in 1820 the first church of St Mary Moorfields opened in Finsbury Circus. As the permanent seat of the Vicar Apostolic, it served as Cardinal Wiseman's pro-cathedral from 1850 to 1869.

The church was pulled down in 1899 and replaced by the present church in Eldon Street, which was opened on 25th March 1903. The architect was George Sherrin, who also designed the dome of the London Oratory as well as several Underground stations.

Coming soon

The Merchant Taylors 1520 to 1929 and a new page on the website all about the Merchant Taylors The database has been completed and we are now in the process of devising a way in which the results will give variations on the surname you are looking for, thus getting round the problems I've just discussed. It will include information on; surname and forename, how admitted, forename and surname of the master or father, date of freedom and date of livery. The CD is now near production and the searchable database should be ready shortly.

Now in transcription are:

Different transcribers work at different speeds according to their level of experience and the time they have available. Some of you have been enquiring about when new databases are coming on-line, so I'll try and indicate this below. (Please note however, these are not binding, just a rough guide!)

Christ Church Spitalfields 1729-1763 (should be on-line and searchable in June)

Christ Church Spitalfields 1763-1795 (should be on-line and searchable in June/July)

St George in the East 1848-1861 (should be on-line and searchable around August)

St George in the East 1861-1877 (should be on-line and searchable around August)

St Dunstan Stepney 1837-1848 (tbc)

Other selected products

East of London FHS Publications

CDs which include records of marriages, burials and census information dating back as far as the 1500s. They also have for sale a CD containing the first 100 editions of Cockney Ancestors and another, the Frogley Index and Manuscript, which has approximately three thousand names and nearly 1400 place names and should be of great interest to those researching the history of Barking.

Docklands Ancestors Parish Register CDs
Docklands Ancestors Parish Register CDs - Compendiums
Thames & River Medway Series - Single Parish CDs
There are now 80 CDs in this series!
This section includes amongst others; Apprenticeships Bindings Index 1692-1908 (Vols 1-9) over 65,000 names from 1692 to 1908; 1628 Admiralty Muster of Watermen The earliest Company record is dated 1692, so this is a wonderful resource for possibly pushing your history further back in time; 1648 Petition of Watermen for the King This document records the names of 2,026 watermen from the last year of the reign of Charles I. The Petition is the vital link between the earlier 1628 Admiralty Muster and the beginnings of the Company's records in 1692. Also included on the CD are an index to the names, commentary & analysis by James and image samples of the original 350 year old scroll together with a 1673 list of Watermen in the Tower of London.

Alan Godfrey maps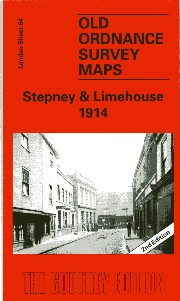 Ecclesiastical Map-County of London 1903
A Map of the Ecclesiastical Divisions within the County of London 1903. The map shows all Church of England parish boundaries in the London County Council area.
Rocque's 1745 Survey of London

This poster map shows London in 1745 in extraordinary detail.
To buy this map click here
London and its Environs 1813

London and its Environs 1813. Reproduction map from an engraving by Henry Cooper, published by Sherwood, Neely and Jones. To buy this map click here
Research Services
Our particular areas of expertise include the Company of Watermen and Lightermen Archives and Parish Records for both the City of London and the East End. However, we undertake all aspects of research including Census Data, Electoral Rolls, Wills, Newspaper Searches etc.
If you think we might be able to help you then do contact us. Email Esme at research@parishregister.com We will discuss your requirements and advise on options. If you want us to undertake research on your behalf, we will agree a proposal and a price. Typically, you will receive a written report, setting out the objectives, itemising in detail the sources and documents searched and discussing the results (both positive and negative). Photocopies of relevant entries will be included.
Our hourly rate is £15.00 plus expenses. For UK Clients we prefer payment by UK cheque, made out to E K Richardson. For overseas Clients, we can arrange for payment to be made by credit card through the Worldpay facility on this web site.
If nothing has tickled your fancy but still would like to look around our shop, click on this picture: