Dear Subscriber
Hello and welcome to the May ParishRegister.com newsletter.


Online Searchable Databases
This is the progress of our transcriptions:

Uploaded
Camden Church, Camberwell 1845-1885, approx. 8000 entries, 10% complete
St Paul, Shadwell 1712-1812, approx. 10,000 entries, 30% complete
St Mary Magdalen, Bermondsey 1782-1812, approx. 11,300 entries, 18% complete
St Dunstan Stepney 1798-1816, approx 13,000 entries, 10% complete
Approx. 7000 entries have just been added to our databases.

Underway
All Saints Poplar 1858-1872
All Saints West Ham 1813-1835

Coming soon:
St George in the East 1826-1835
St Mary Newington 1837-1842
St Dunstan Stepney 1826-1835
St Anne Limehouse 1826-1835
Holy Trinity Mile End 1841-1884
St Dunstan Stepney 1730-1746
St Dunstan Stepney 1746-1770
St Mary Whitechapel 1832-1842

The logjam caused by the delay in the LMA sending out films was broken, temporarily at least, by the arrival of a box of four films last month.

Book Reviews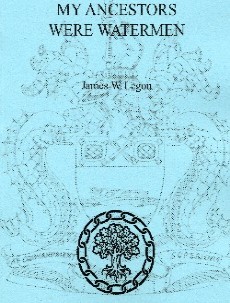 My Ancestors were Watermen: A Guide to Tracing your Thames Watermen & Lightermen Ancestors by James Legon.

Yes, I have to admit to writing this one, so my views are hardly objective. Written as part of the Society of Genealogists 'My Ancestors' series, this guide book hopes to explain to the beginner how to go about researching watermen & lightermen ancestors. It was based entirely on my own experience, from the discovery that I had watermen ancestors, to discovering the various sources of information and then to my involvement with transcribing some of the original material.

There is also a short chapter on the history of the Company, Doggetts Coat & Badge Race, the working life of a lighterman and a bibliography that includes a complete listing of all the surviving accounts written by lightermen.

The appendices include a listing of all relevant websites & useful addresses, Doggett's winners, masters of the company and a timeline of significant events on the Thames.

It is illustrated throughout with examples of the records to be found and with items that belonged to my grandfather, the last of 8 generations of Legon watermen & lightermen.

The 2nd edition will include a listing of the the 300 lighterage firms that were in existence in 1927. If you know of any, please let me know ( jameslegon@gmail.com).

Published by: Society of Genealogists Enterprises Ltd, April 2006
Format: Paperback, 64 pages
Price : £5.95 UK postage £1.50, overseas £3.00
Picture Gallery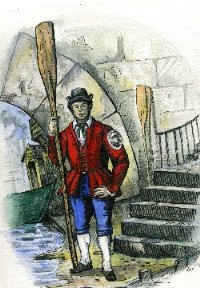 We've added a new section to the Picture Gallery, called Views from the Thames. Included this month are pictures of a Thames lighter, Olivers Wharf and Execution Dock.

Be sure to have a look too at our picture of a waterman in 1831 at London Bridge. This was a painting specially commissioned by us from our resident artist, Grant Osman. I've got the original on my wall, but it's available to you as an A4 size glossy colour print.

It is part of a series that will include a lone lighterman at dusk, a Royal Bargemaster, Royal Watermen and Waterman's Hall.
Early parish registers and checking sources
As most of you know, we've decided to prioritise transcribing pre 1837 registers, having listened to your views. I'm pretty certain that most people who subscribe to this newsletter are experienced family history historians, for the most part. People who have twigged that parish registers are the best source of info pre 1837. What has to be appreciated however is that the earlier you go back in time, usually, the less information was recorded. The legibility too of the earlier registers is nowhere near that of the 19th century registers.

What I can say though is I have every confidence in the ability and experience of our transcribers. Between them they have an unrivalled depth of knowledge, both in transcribing and of the places they transcribe registers for.

So I must admit to being a tad miffed when I received emails castigating us for the reduced amount of info in these registers. We can't transcribe what just aint there!

Having said that, I would empthasise that any transcription, index etc, is merely a finding aid. There is no substitute for a printout of the original evidence.

The reason why I mention this, particularly since the internet age began, is that the quality of some so called research carried out and presented as family history fact these days is, to my mind, absolute twaddle!

There seems to be this need to locate a button on the computor thats says " Click here to download instantly your free and no effort family history "

What amazes me, apart from the sheer disbelief that people can be so gullible, is the weight given to information whose only source is the internet. "It's on the screen-it must be true".

For example. A chap got in touch with me, related in some way or other. I gave him all my personal family hisory research, of which most was solid fact, backed up by printouts, some was conjecture, some wishful thinking and some just thinking out loud. Next thing I know, I'm notified by an email from a certain very well known national website ( who I can't name in case they sue me, but who leave me still un-REUNITED with my ancestors), that someone has news for me about my earliest ancestor. So I paid my money, and was presented with my very own "research".

In other words, my data has been presented as fact, when it isn't and some people will accept it as fact and not check the evidence.

The points I would empthasise are that you can't beat the original evidence and that nothing should be considered to be a fact until it can be proven so.

Call me old fashioned :)




The Authentic Map Directory of London and Suburbs c1924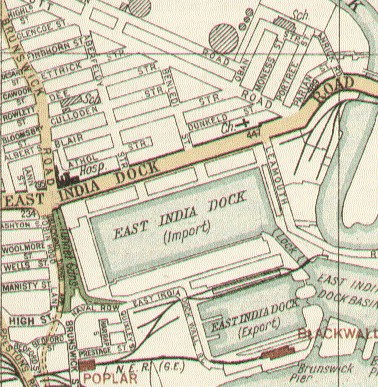 The CD contents consist of: a two page key to the main map pages; 129 pages of detailed, coloured, street maps covering London & Suburbs; a 3 page larger scale plan of The City of London; Plans of The Temple, Gray's Inn and Lincoln's Inn; a single page Underground Railway Map; a two page Railway Map of London & Environs; a two page Bus & Tram Route Map of London & Environs; a two page map showing Parliamentary Divisions; a two page map showing Administrative Areas; a two page map showing Metropolitan Police Divisions & Courts; a two page map showing County Court Divisions; a two page map showing Petty Sessional Divisions; a two page map showing London Postal Districts & Sub-districts; a two page map showing Telephone Exchanges of London & Suburbs; a thirty-eight page General Trade Section/Classified Trade Index; a fifty-four page Index to the Streets etc covered; 23 contemporary advertisements.

The original pages from which the maps are scanned are approximately 13 inches by 9.5 inches (33cm by 24cm), the street maps being printed at a scale of 4.5 inches to the mile.

I found the trades index useful, as it yielded an additional couple of lighterage firms.

The clarity and detail of what you see are excellent. The time period covered is quite useful too, being about 10 years after the Alan Godfrey Maps.

Published by Jigrah Resources. £15.00, plus £1.00 p+p.


New Lighterman Book Extract: Under Oars
I'd been trying to get a copy of this delightful book for years, so was delighted when the great grandson of the author, Harry Harris, got in touch with me. To cut a long story short, his father, Robert, has loaned me a copy and given us permission to publish an extract.

Under Oars; Reminiscences of a Thames Lighterman covers Harry's years on the river between 1894-1909. The extract describes the process of driving a lighter upriver ;under oars'.
Delightful !
The London Directory of 1677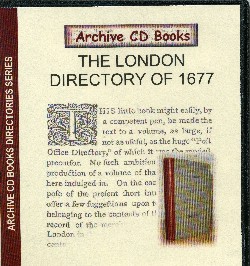 The London Directory of 1677 is the oldest printed list of the Merchants & Bankers of London. Re-printed in 1878, and arranged alphabetically by surname.


A charming description of the contents appears before the preface;


"A collection of the names of the merchants living in and about the City of London; Very useful and necessary. Carefully collected for the benefit of all Dealers that shall have occasion with any of them; Directing them to at the first sight of their name, to the place of their abode."


Also contains a separate list of all of London's Goldsmiths in 1677.


A book first published just a few years after the Great Fire of 1666. An absolute gem for historians and family history researchers.

Released on CD July 2005 - Fully searchable using Acrobat Reader
£9.99 £1.00 UK p+p, £2.00 overseas
Flotsam and jetsam
# It was nice to have met some more of you at the Society of Genealogists fair last week. In particular those at my book signing session. The first person turned out to be related to me, from generations ago.

# We had our Waterman Tour on Saturday, which went off well, at least until the rain started. If you haven't been to the Museum in Docklands yet, it's well worth a visit. There's so much there though that you need to allow at least a whole day to take it in. What I can recommend though is the restaurant next door, 1802. Good food, a nice atmosphere, if a tad pricey.

# Rob Cottrell is working on another hush hush waterman project. Guess I'll have to do one too to keep up. Any suggestions?

# One project of ours reaches completion this week: The re-design of our Parish Register CDs. As mentioned previously, they're in a sturdier case, cellophane wrapped and have an ISBN and barcode on them. Inside, the main change is the incorporation of an autorun menu, which will present you with various buttons to click on to access the content. We're hoping that this will increase the user friendliness of the product.




Best wishes & good luck with your researches!

James and the ParishRegister team