Welcome to the parishregister April newsletter. First of all I'd like to say a big thank you for the scores of you who provided advice about Ladybirds! I'm now an expert on the little creatures and can confirm after close examination of one that it is a common native ladybird, and after careful dissection......no, only joking! I notice that each month another 50 or so newbies (have I spelt that right? Is it a word?) sign up for the newsletter. I hope you find it useful and interesting, and please don't hesitate to get in touch if you have any comments, positive or constructive. This month we've got two new CDs, two popular maps on offer (Rocque's Survey of London and London and its Environs) and I've included a collectable books section.
Searchable Databases
New CDs
Parish Register Series
St Dunstan Stepney 1835-1837 CD 3288 entries
To buy this CD please click here
St Mary Whitechapel 1775-1792 CD 17493 entries
To buy this CD please click here
Coming soon
The Merchant Taylors 1520 to 1929 (36000 entries searchable database and CD) and a new page on the website all about the Merchant Taylors
Now in transcription are:
St George in the East 1848-1861
St George in the East 1861-1877
St Dunstan Stepney 1837-1848
Other selected products
East of London FHS Publications

Docklands Ancestors Parish Register CDs

Docklands Ancestors Parish Register CDs - Compendiums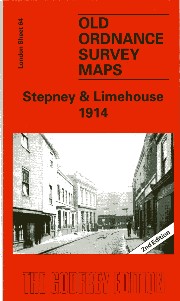 Rocque's 1745 Survey of London

This poster map shows London in 1745 in extraordinary detail. Jean Rocque was one of the first cartographers to accurately represent the City , both in scale and in detail.
London in 1745 is shown as stretching from Buckingham House in the west to the Tower in the east. At this time Stepney can be seen as a far off hamlet in the countryside to the east of London! Northwards, Hoxton is out of town and southwards only the riverside is inhabited.
This map will be of much interest to family historians, as well as to those who simply appreciate fine drawing. To buy this map click here
London and its Environs 1813

London and its Environs 1813.Reproduction map from an engraving by Henry Cooper, published by Sherwood, Neely and Jones.
This massive map, measuring 800mm x 480mm, shows London in 1813, from Hyde Park in the West to West Ham in the east, Finsbury Fields in the north to Kennington in the south.
It is impossible to do justice to this wonderful map with a tiny picture.
Ideal for framing and excellent value for money. To buy this map click here
More about:
St Mary Whitechapel and Whitechapel
Although the church of St. Mary, Whitechapel, was at first only a chapel of ease to Stepney, it is of great antiquity, since there is record of Hugh de Fulbourne being rector there in the year 1329. As early as the 21st of Richard II., according to Stow, the parish was called Villa beatæ Mariæ de Matfellon, a name the strangeness of which has given rise to many Whitechapel legends. According to Stow, the name of Matfellon was given it about the year 1428 (6th Henry VI.), from the following circumstance:—A devout widow of the parish had long time cherished and brought up of alms a certain Frenchman or Breton born, who most "unkindly and cruelly," by night, murdered the said widow as she slept in her bed, and afterwards flew with such jewels and other stuff of hers as he might carry; but was so freshly pursued, that for fear he took sanctuary in the church of St. George, Southwark, and challenging the privileges there, abjured the king's land. Then the constables in charge of him brought him into London to convey him, eastward, but as soon as he was come into Whitechapel, the wives there cast upon him so many missiles and so much filth, that notwithstanding all the resistance of the constables, they slew him out of hand; and for this feat, it was said, the parish purchased the name of St. Mary Matfellon.
From: 'Whitechapel', Old and New London. This is a fascinating article, more about the area than the church but well worth the read, so if you want more click here
St Dunstan Stepney
As a parish Stepney did not come into being until the twelfth century, but long before then a chapel had been built on the track that led from the Bishop's Hall, and crossed what is now Old Ford Road on the way down to the river. In every place the oldest road is that which leads to the river, and this track may he taken to have followed the line of Globe Road, White Horse Lane, round to White Horse Street to Ratcliff. Curiously enough, a part of White Horse Street is still referred to as the Old Road. A mile south of the Bishop's Hall a little chapel was built for the spiritual welfare of the dwellers by the waterside. To provide a suitable place for their Christian burial a spot was necessary that was beyond the belt of marshland, and this fact accounts for the distance it stood away from the habitations. This chapel is said to have been dedicated originally to All Saints and subsequently to St. Dunstan after his canonisation, which was one accepted by the Anglo-Saxon Church by popular acclamation. To read the rest of this article click here http://www.mernick.org.uk/thhol/stdunstan01.html
If nothing has tickled your fancy but still would like to look around our shop, click on this picture: