Dear Subscriber
Hello and welcome to the April ParishRegister.com newsletter.

Online Searchable Databases
Completed and uploaded is:
St Dunstan, Stepney 1826-1835 9,595 entries. In common with all the other St Dunstan registers the successive parish clerks didn't take it upon themselves to record dates of birth.

In transcription now is:
Christ Church, Watney Street, Stepney 1842-1863
St Dunstan, Stepney 1770-1798
St George in the East 1848-1861
St Matthew, Bethnal Green 1799-1819

After that will be:
All Saints, Mile End 1840-1875
St Anne, Limehouse 1854-1877
St George in the East 1861-1877
St Mary, Whitechapel 1774-1792

As you can see, things are moving a little faster now, with 4 transcriptions on the go.

New Docklands Ancestors CD

Volume 51, St Mary Whitechapel, baptism registers, 1832-1842 is out now. Volumes 52-55 are awaiting finance before going off to the production company.

By the way, customers in Australia and New Zealand will find it cheaper to order our CDs from Gould Genealogy, as you will not have to pay postage rates from the UK.
Actually, a good tip this one, UK customers should buy our CDs from the East of London FHS, as we have an agreement with them that makes it 10% cheaper to buy our stuff from them than us.
Book Review: The Streets of East London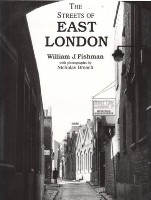 The home of successive waves of immigrants, from the Huguenots in the seventeenth century to the Jews in the nineteenth and the Bangladeshis today, London's East End has been the scene of its worst poverty and exploitation, and has inspired its greatest philanthropists, reformers and radicals. The East End is, and always has been, a place where conditions are tough, crime violent and work hard, but in which Cockney optimism and love of life are proverbial.
In this classic text, the area's turbulent past and continuing traditions are accurately explored in text and pictures. If East End life has a character that transcends period and generation, it is vividly captured and delineated here, in a book which will delight and intrigue alike the citizen, the historian, the general reader and the visitor.
William J. Fishman is Visiting Professor of Political Studies at Queen Mary and Westfield College, London, and the author of a number of books and articles, including the highly praised East End Jewish Radicals 1875-1914 .
Born in Stepney, the son of an immigrant tailor, Bill Fishman spent his formative years in the East End.

Chapters include The Streets of East london; Poverty; Philanthropy; Immigrants; Crime; Radicals and there's a useful Walking Tours section at the end too.

What really caught my eye about this book, first published in 1979, was the photographs. The cover photograph, where a sign advertises the Gravel Lane Warehouse Ltd, was of immediate interest as my ancestors lived in both Old and New Gravel Lanes. (Gravel Lane was one of the first paths across the marshes of Wapping). Most of the photographs are early 20th century and portray a vivid picture of the streets and people of the East End. Porters at Smithfield Market, drinkers at the Jack the Ripper pub, locals at Cheshire Street market, the queue outside the Whitechapel workhouse in 1903, matchbox makers in Bethnal Green, kids waiting outside the Salvation Army in Hanbury Street in 1880 and orphans at the Bethnal Green orphanage all portray life as was in the East End.

Long out of print, I've managed to get hold of six copies of this book, so it's very much first come, first served. If you've got East End Neighbourhoods and London's East end Life & Traditions, this book will appeal to you too. By the same author, look out for London 1888 which would also be of interest. So, first come, first served..
New book! My Ancestors were Thames Watermen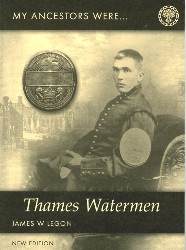 Or to give it it's proper title, My Ancestors were Thames Watermen : A Guide to Tracing your Thames Watermen & Lightermen Ancestors, by JAMES LEGON.

Ah, I can't tell you how satisfying that is. Ok, maybe I can. Very. Very satisfying indeed. When you set out to write a book it starts off as an exciting project. Then there's the tedium of actually doing it. Having to check everything to establish whether it's a fact, or hearsay. Constantly revising the text because you've thought of something else. The constant battle to remember what exactly you've finished with and what's a work in progress. Then making sure that you've got permission to include all the pictures. And then comes the proof copy from the publisher, and the awful realisation that people are going to be reading this and oh my god, it's rubbish!
A whole, door-stopping, shelf- filling 64 pages! And they want me to turn up and sign the wretched thing? ( I hasten to add that this was in the middle of a Chelsea match too, which I was watching in a west London boozer, so talk about service above and beyond....).
And then, much to my surprise, it sold. It sold out 500 copies in a matter of months, and was it okay if they printed some more? Gosh I said, if you think it's worth the paper, go ahead. And then, golly, a 2nd edition? I knew it, I knew it, the first one couldn't have been any good. Now, I imagine re-writing the same book is a bit like giving birth to the same child again. Territory best avoided. But after much wailing and gnashing of teeth, ( and a rise in the GDP of Belgium, brewers of premium lagers since 1366 - apparently ), the deed was done.
And it's 3 times as big. So big you'll be able to make out the title on the spine when it graces your bookshelves. :) Gosh, James I hear you say, how did you manage that? Well, it's got lots of pictures in it ! Lots of names too. And okay, I confess, lots more wordy things too.
The 17 appendices now comprise: Masters of the Company; Doggett's Winners; Plying Places; Legon family tree; Useful addresses; Thames Timeline; Lighterage companies; Clerks of the Company; Watermen in the Navy; Waterman archives at the Guildhall Library; 1671 table of fares; Number of Apprentices by year; 1809 list of members; London'd docks; Subscriptions of the Court for the 1st Asylum; 1628 Admiralty Muster and a publications list.


Clearing out the cobwebs
We've had a bit of a re-think about what products we want to sell on our site. We've tried a lot of things over the years, in our quest to finance the transcription and publication of the parish registers.
There are now plenty of sites out there that claim to be 'one stop genealogy shops', and we have no wish to compete with them.
So what we've decided is that we're only going to stock products that pertain to our area, our interests and that enhance what we offer on our website.
So the main categories now are Books, Maps, East of London FHS CDs, our own CDs, Waterman & Lighterman products (both ours and Rob Cottrell's), Rob's Thames Riverside Series of parish registers, Pictures & Postcards and some trade directories & similar.
Nearly all of these are 'in stock' items, and it's made the shop pages much easier to navigate.
New Waterman CD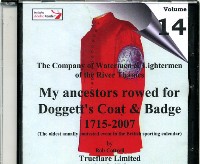 My Ancestors Rowed for Doggett's Coat & Badge Race 1715-2007.

This CD lists not only the winners, but the other competitors too. It also explores the history of the race, the life of Thomas Doggett and is lavishly illustrated throughout. Compiled from primary sources, this is the most comprehensive work on the man and his race available.

Written by Rob Cottrell, the intention originally was to transcribe, from original material held at Waterman's Hall, the names of the competitors, of the race, which is the oldest annual sporting event in the world. But the project rapidly grew.

There have always been many unanswered questions about Doggett. What was the source of his wealth? What year did the race actually begin? Is the Sherbourne portrait really Doggett? Why is there a plaque on his grave that says he died a pauper? What did his Will actually specify? What prompted him to inaugarate the race in the first place?

Never before has anyone attempted to address all these questions in one comprehensive work. Neither have they done so in the context of providing information for family historians. If I had case of Stella for each email I get that says 'my ancestor was a Doggett's winner', Kev the Offie wouldn't be going to Kenya this year. Now, for the first time, we have a comprehensive list of not just the winners, but the competitors and those who took part in heats. I expect many of those who family legend has connected with the race will find there ancestors amongst this list.

Racing on the Thames was in its day more popular than horse racing. Rob explores the many other races and regattas that were held on the Thames. I believe that many of the people who won these became, over time, confused with actual Doggetts winners.

The CD is a treasure trove of illustrations. From contemporary handbills to newspaper cuttings, paintings and portraits and photographs from within the Hall, each page has something to delay the reader's progress through the text.

I've urged Rob to get this published in book form, as I've no doubt that the work is of historic significance and will be consulted as the standard reference work on the subject for many years to come.

But that means it will be one all in the published books stakes, and the grass doesn't grow under Rob's feet, so I'll have to write another one to fend off the challenge!
Whistle while you work
Keeping me company this month, playing almost non stop ( and at Shed vibrating volume whilst the local population is safely locked up at work ), has been Bach's Toccata and Fugue in D Minor. I've now got 3 versions of this, the link below is to a version on YouTube, and it's quite good, but, how can I put this? A bigger organ is better! Ahem. This clip does have a scrolling score on it though, which after 6 stellas and the light off, I find most amusing.
If you like this sort of thing, and have speakers that can handle it, get yourself over to iTunes, or wherever you get your music from, and get the version by Stefan Johannes Bleicher. This has far more oomph in it, and the thunderous bass notes equate to about 6.5 on the Richter scale in here. Truly awe inspiring stuff.
Click here for Toccata & Fugue
Upstairs, Downstairs...
.... is the title of a 1970s series that chronicled the lives of the inhabitants of 165 Eaton Place. Set in Edwardian times, the servants, lead by the redoutable Hudson downstairs, looked after the MP Richard Bellamy and his wife Lady Marjorie, the daughter of an earl.
I recently borrowed the whole of the 5 series on video from my local library. When I saw the series the first time round in the 70s, it was the characters that were of most interest. Now, with the passage of time and a different perspective, it is the social history aspect of the series that I find of most interest. The lives of the rich and famous are well chronicled. The lives of lower class people less so. Having discovered through family history that I come from a background of 'respectable poor' I find the series really helpful in understanding what life would have been like for my ancestors in London. Obviously they didn't live and work in a big house in the West End, but the working lives of the servants , the food they eat, the social lives they led, their attitudes to their 'betters' and to the 'non-respectable' poor, set against a backdrop of empire, industrialisation and changing social conditions makes for fascinating viewing.
I've got a clip for you, but you should know by now that with me it's never that straightforward ! This is Stanley Baxter's take on it, and had me in stitches. Enjoy
Family History Quests

Hello, Clare from Family History Quests here!

Things are extremely busy at the moment with site under going a massive revamp with even more suppliers coming onboard with me to give you an even bigger choice of history products. The new look site will be launched on the 9th April so I do hope you will come and visit to let me know what you think.

If that wasn't enough I'm busily planning for WDYTYA Live 2008 which takes place at Olympia in London from 2nd – 4th May. I will be there on stand 326 where you will find a wide range of products to aid you on your family history quest. I will have Docklands Ancestors Parish CDs (including the Compendiums) and the Thames Waterman & Lightermen CD's. If you are intending on coming to WDYTYA please pop by and say hello and see if I can help you on your quest!

I am going to extend the competition win a pair of tickets (2 sets to give away) to WDYTYA Live 2008 in May. To enter answer the three easy questions below and send to info@familyhistoryquests.co.uk the closing date is 14th April with winners being informed via email.

What do the letters BMD for in family history terms?

Volume 33 Docklands Ancestors CD is baptism registers for which parish and for what dates?

What stand number will you find FHQ on?


Ramblings from The Shed
I reckon this global warming thing is a reality. I bring the ultimate climatological precision instrument to bear on the subject. I'm not sure the Treasury have heard of this method, used not only for measuring climate change, but also for measuring the whole state of the British economy. This hitherto unknown precision tool is more widely known as the skip factor. This is not related to the Dept of Education's latest initiative in combating infant obesity. Nor indeed, in a nod to our many chums down under, a reference to any particular kangaroo.
What it is, is, if, ( if, indeed I were to put it that way, which I do, because you really do have to read that twice, or three times as I have, so why not? ), it's only March and we've got 6 skips booked up so far this year. Much earlier than normal, hence global warming. And if the economy was really heading down the tubes, well, nobody would be employing Loughton Gardens would they?
And let me tell you, we are busy. We've already got all our regulars sorted and the communal gardens we maintain are, well, well maintained.
This week has seen the turfing job from hell. What started out, with a fair wind, as a 1 day job for 3 of us, has just gone on and on.
We got it cleared, rotavated and got the materials and skip in short order. Only problem, the ground was like mud soup. I quickly realized that there was no way this would rake level, and that the two tonnes of topsoil we'd got was not going to be what we needed.
We needed two tonnes of sand, to level the surface up, and counteract the heavily clayed surface, which by then, as it was raining, was forming small lakes.
So we called it a day, pending sand delivery in the morning. By which time we'd have to substitute Legon minor, who was supposed to be filling in for a headmaster in a school in Hackney, for young Dave who'd just lost his job at a building company ( weeks before the completion of his City & Guilds in bricklaying at college).
Rang the builders merchant after we got in from the pub, 'be there by 1.00 guv'. 'No worries, I'll be on site at half ten then'.
Turn up 9.30 next day, the boys at 10.30. Waiting in van for sand to arrive. Ring builders merchant at 11.30. 'Been and gone mate, nobody there. Shall I send it again?'
Find note in door: came at 9.20.
Sit in van and wait. Did crossword ( conclusion, Sun readers smarter than us ). Played I - Spy. No sand.
2.30 go home, leaving customer to take delivery.
Come back 8.00 next day. Guess what? No sand. Ring another supplier. Can't do it till Saturday mate.
Of course Saturday and Sunday it snowed. So we turn up Monday and finally get the thing finished. Only a week late. Does look nice though!

Kind Regards
James and the ParishRegister.com team

Why waste your money looking up your family tree?
Just go into politics and your opponents will do it for you.
Mark Twain