Dear Subscriber
Hello and welcome to the April ParishRegister.com newsletter.

Busy, busy! 20,000 entries have been added to the online searchable databases this month, from 3 parishes, our biggest ever upload. All are from pre-civil registration times so they should help a lot of people to find their ancestors.

The long awaited Compendium CD1 ( Vols 1-20) is now finished and we've knocked a tenner off the price for this month. If you've bought any compendium CD that doesn't cover Volumes 1-20, please send it back and we will replace it with this one, free of charge.

The Waterman Guided Tour details are finalised, more on this below. Lets hope it warms up enough soon to venture out onto the Thames.

Thanks to everyone who voted in the poll last month. Was it James or Esme who end up with egg on face? Read on for the results!
Online Searchable Databases
This is the progress of our transcriptions:

Uploaded:
St Mary Whitechapel, baptisms, 1792-1812, approx 13,348 entries . 100% complete. This is our biggest database, reflecting the density of the population in Whitechapel at the beginning of the 19th century. With the previous transcription covering 1813-1823 we now have 20,000 entries from this parish. This mammoth transcription task was completed by Jim Sheppard in around 6 months, to a standard of quality that is a testament to his skill as a trancriber and to his passion for family history. Take a bow Jim and thank you.

St Mary Newington, Southwark,1829-1837, baptisms 7,018 entries. 100% complete. Another quality piece of work by Annemarie Shuttle, whose tremendous family history knowledge enhances the quality of her transcription work.

St Mary, Rotherhithe, Southwark, baptisms, 1834-1870, 10,500 entries. 100% complete. This is a Rob Cottrell transcription, converted to our searchable database format. As many of you know, Rob is amongst the most prolific of transcribers, ever. This parish borders St Mary Newington so it will be quite useful for those who found ancestors in St Mary's.

Underway
Camden Church, Camberwell 1845-1885
St Paul, Shadwell 1712-1812
All Saints Poplar 1858-1872
All Saints West Ham 1813-1835

Coming soon:
St George in the East 1826-1835
St Mary Newington 1837-1842
St Dunstan Stepney 1826-1835
St Anne Limehouse 1826-1835
St Mary Magdalen, Bermondsey 1782-1812

To be honest, things have been a bit held up lately due to the seemingly endless wait for films to be despatched by the LMA. We're waiting for 6 to arrive at the moment. And waiting, and waiting........
Special Offer: Compendium CD 1
All 20 volumes of the Docklands Ancestors Series parish register transcriptions on 1 Compendium CD.

The parishes covered are:
St Peter's, London Docks, Wapping, 1878-1933; St Mary Newington,Southwark, 1902-1922; St Paul,Shadwell, 1852-1881; St James,Ratcliff, 1841-1913*; St John,Wapping, 1813-1847; St Anne,Limehouse, 1833-1854; St Peter,Limehouse, 1866-1903; St Luke Millwall, 1866-1887; Christ Church,Isle of Dogs, 1876-1904; All Saints Poplar, 1813-1838 & 1835-1857; St John Cubbitt Town,Isle of Dogs, 1887-1902; St Dunstan Stepney, 1839-1844 (burials); St Dunstan Stepney, 1816-1822 & 1822-1826; St Thomas Stepney, 1840-1876; St Mary Whitechapel, 1792-1812 & 1813-1823; St George in the East, 1815-1820 & 1821-1826
All Baptism Registers unless stated otherwise.
*Excluding 1884-1897

It has taken us five years to transcribe the approx. 100,000 entries on this CD. We are proud of the quality of our transcriptions, believing that transcriptions by fellow family historians with a knowledge of the area and a passion for family history, produce a product that is superior to anything else available.

A typical entry shows the entry number, date of baptism, date of birth (if stated),the surname, forenames, names of father & mother, occupation of father, address, source reference number and also any notes from the margin.

Normal price:20x£5.95=£119.00.Save £89.01 on the normal RRP.

Special Introductory
Offer £39.99, throughout March
Spend the extra £10 saving on a good book!

CD, fully indexed, in easily searchable Adobe Acrobat format (supplied). Published by Docklands Ancestors Ltd.
Price: £39.99 P & P in UK: £1.00 P & P Overseas: £2.00

New Docklands Ancestors Series CDs
2 new CDs are published this month:

Volume 20. St Mary, Whitechapel. Baptism Registers. 1792-1812. 13,348 entries.

These are transcribed entries, not scanned images. You can generally expect to find:
Entry No, Birth Date, Baptism Date,
Firstnames, Father, Mother, Surname, Address, Occupation of the Father, Source Ref and any notes in the margin.

Easily searchable CD-ROM in Adobe Acrobat format (supplied). Transcribed by Jim Sheppard. Published by Docklands Ancestors Ltd.

Price: £5.95 P & P in UK: £1.00 P & P Overseas: £2.00

Volume 21. St Mary, Newington, Southwark. Baptism Registers. 1829-1837. 7,018 entries.

Easily searchable CD-ROM in easy to use Adobe Acrobat format,(supplied).
Many entries from the neighbouring parishes of Bermondsey, St George, and Rotherhithe.

Transcribed by Annemarie Shuttle. Published by Docklands Ancestors Ltd.

Price: £5.95 P & P in UK: £1.00 P & P Overseas: £2.00

Docklands Ancestors Series CD Relaunch

Please note that the price of the Docklands Ancestors Series is going up by £1 from 1st May. This is because we've now outsourced production ( ie the wife thinks her kitchen is for cooking). The covers have been re-designed, the packaging is now a standard jewel case and comes cellophane wrapped. You'll also notice we have ISBN numbers and barcodes.

The data on the CD has been re-checked and printed to PDF without adverts. The CD itself is even easier to use with the addition of what my technical geezer says is an 'autorun, user friendly, content menu interface' ( gee I knew you'd be impressed with that!). That means every file on the CD is represented by a button which you click. We've also added a new file to each CD, an 'About St ..' feature with a bit of the history of the parish, and some have images too.
So hopefully we've got an even better quality product that represents even better value for money, whilst keeping it as easy to search and easier to use.
Click here for new Docklands Ancestors CDs
Reviewed Title: London Marriage Licences 1521-1869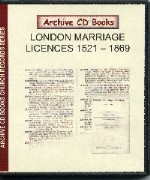 I was delighted to receive this CD from Archive CD Books to review because I thought there was an excellent chance that my elusive Gleghorne ancestor might be in it ( he wasn't!). I was impressed as usual with the clean, sturdy packaging of the CD, although I have to say that when I opened it the CD fell out onto the floor (, no, I was sober).

Loading it was a doddle and I was able to start searching in seconds. The book, of which this is a scan, is divided into a letter by letter alphabetical index of males, over about 800 pages, followed by 1 alphabetical list of females. I'd estimate that there are about 32,000 entries in total.

One gripe I do have is that you can't search it using Adobe's search function. Not a massive problem I suppose when things are indexed alphabetically, but there you go. Also, as I've just found out when attempting to copy an entry to show you a typical one, the text select function tool is disabled to. ( I guess that's a copyright issue ). So here's one I've had to peck out on the keyboard:

Acherley, Roger, of the Inner Temple,esq., bachelor, 29, and Elizabeth Vernon, of St Mary, Savoy, Middlesex, spinster, about 25, at her own disposal - at St Lawrence Jewry, London on 6 Feb 1691/2. (It actually says sixteen ninety and a half! And 'at her own disposal', priceless!)

I lifted this from the Archive CD website about it:

'Note that these contain lists of licences granted in a particular diocese, but they include details of marriage licences relating to people all over the country, and are very valuable sources of family history information, as they also often include parents' names, villages & towns of residence, etc. Not just for those with London ancestors! '

The verdict? A good resource if you've hit a brick wall, or are happy with paying £11.50 for 30,000 entries to search. 7/10, as I do like a search function and text select function, so come on Archive CD Books! ( Gosh, probably won't get any more free CDs now!)

Price: £11.50 P & P in UK: £1.00 P & P Overseas: £1.50
More Archive CD Books New Releases

The History of London from its Foundation to Present Time, by William Maitland, 1746.
Original copies of this world famous book are extremely scarce, often cost several thousand pounds to buy and most are to be found without the illustrative plates. This appears to be a complete copy and is one history book that no serious London researcher should be without.

From the title page;
'Containing the political history of London. With an accurate survey of the several wards, liberties, precincts &c. An account of the several parishes and churches; its civil, military, and ecclesiastical government, companies and commerce, antiquities, offices, societies, state of learning, and monuments of charity and piety: Including the several parishes in Westminster, Middlesex and Surry, within the Bill of Mortality.

'The Whole illustrated with One Hundred and Twenty one copper plates, exhibiting the plans of the wards in London, of the city of Westminster, and parishes adjacent; and views of the City at different times, and of all the churches, palaces, bridges, halls, hospitals, &c. and a map of the country ten miles around this great City.'
Phillimore's Parish Registers-Marriages, London Vols 1-4

The title of this CD is slightly misleading, implying as it does that there are 4 vols covering London. In fact, there are 4 volumes of St James Duke Place, covering the years 1664-1683

Price: £17.63 P & P in UK: £1.00 P & P Overseas: £2.00



Click here for Phillimore's Parish Registers-Marriages, London Vols 1-4
Kelly's London Suburban Directory Northern Districts 1902

A fabulous and *incredibly* rare directory. Most larger suburbs contain a street by street directory which lists virtually every head of household by name, along with their trade. There are even people listed with an occupation such as 'clerk', 'householder' or 'jobbing gardener' so these are ordinary people in their homes, not just tradesmen at their place of work. Smaller suburbs have no street directory but instead include a list of private residents, which often runs to several pages, plus a Commercial Directory of tradesmen.

Price: £17.75 P & P in UK: £1.00 P & P Overseas: £2.00


Results of the Poll

Last month we asked you to express a view on which time period you would like us to concentrate our parish register transcribing project on. Esme is convinced that pre-civil registration is of more use. My theory was that 1837-1881 was better. So, without further ado, here are the results:

Pre civil registration in 1837 71%
1837 to 1881 6%
After 1881 2%
James, just do them all! 21%

Well, the results seemingly speak for themselves, so refer to picture on the right! I'm putting my foot down and refusing to publish a smug looking Esme picture. ( Sigh, she does have this habit of being right ).
The people have spoken, so it shall be thus. But ( well there had to be one!), the views expressed represent the views of experienced family historians, for whom I well understand the unique usefulness of pre 1837 registers. However, if I can characterise this group ( you) as the top of the pyramid of researchers, then the rest of the pyramid is made up by people who are new to family history. This group are starting out and most are grateful to find a grand parent. I'm mindful that these people need a hand at the beginning in order to help them get as far back as 1837.
To those who voted that we should do them all, this is indeed our aim. Not for the first time in history, Tower Hamlets has had a raw deal in terms of the records available. The NBI was a let down, FreeREG likewise, the IGI, the databases at GenFair, I could go on. Ok, I will then! The complete eradication of the docks, the Luftwaffe bombing the place to bits, the LDDC completing what the Luftwaffe didn't finish, 1960s tower blocks etc.
So, as resources permit, we're going to complete all of Tower Hamlets, prioritising pre-civil registration periods.

Book Reviews

Dockland Apprentice by David Carpenter
With 192 pages and 45 illustrations, Dockland Apprentice provides a fascinating insight into what life was like for an apprentice marine engineer within the London Docks during the 1950's. It was an area considered by most Londoners as mysterious and inaccessible, some parts enclosed and hidden from view by enormous walls and others bordered by marshland. The nearest that most people came was the sight of the ship's funnels and cranes that dominated the skyline as they travelled to work on the train.

The Docks were full of colourful and eccentric characters. Working conditions at the time were very different to today and the author describes both from an intimate knowledge.

He was an indentured apprentice and learned the skills necessary for a long and exciting career that involved repair work in one of the foremost shipyards, ( the London Graving Dock Company) and on many of the magnificent ships that docked in one of the world's busiest ports.

This is one of the best books I've read about working life in the docks.

Silvertown by Melanie McGrath

Silvertown teems with stories of life in the docks and pubs and dog tracks of the old East End where Melanie McGrath's grandparents, Jenny and Len Page, scraped a living. Here are the bustling alleys where, in 1914, eleven year old Jenny watches the men go off to fight; Jenny having her teeth pulled out on her seventeenth birthday; the Cosy Corner Cafe, opened full of hope by Jenny and Len; and an East End Landscape altered forever by the closure of the docks.

After reading this book it makes you want to jump in your van and hoof it down to Silvertown - which is just what I did. The silent, brooding, desolate Royal Docks brings home how much life has changed in the East End over the last 50 years. And a tear to the eye I might add :)
One of the things that really made an impression on me was the poverty of people. No work, no food, starve. The other was the description by Jenny of the working class, divided into 'respectable' and 'common'. Nowadays we're all supposed to be middle class and the notion of the respectable working class has all but dissapeared. A good thing? Reading this book, you might well think so.

I know a book is good when I have to stay up all night to finish it. I did with this one.


Kelly's Trade Directories
Pictured above are 4 titles from the Jigrah Resources range of trade directories:
Ilford, Seven Kings & Goodmayes 1926
Camden & Kentish Town 1926-27
Acton 1934
West Kensington, Hammersmith, Shepherd's Bush & Fulham 1898-99
These are scans of the original books. Directories are an excellent source of information based on a specific, local, geographical area. They're great for the proverbial 'fleshing out' of the family history.
Click here for Kelly's Directories
The Watermen Tour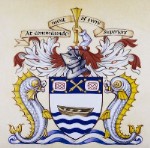 All the details have been sorted out and it's booked for Saturday 6th May. The route is Westminster Pier to Greenwich Pier by boat, Docklands Light Railway (DLR) from Greenwich to West India Quay, where we'll be lunching at the Docklands Museum, followed by a couple of hours in the Museum. After that it's back onto the DLR for a trip over the Royal Docks down to King George V and then back the same way to Tower Hill. After a walk around St Katherines Dock we'll finish up outside Waterman's Hall.

We've had numerous expressions of interest so we're going to be limiting the group size to 20. Not to worry if you can't make this one as we'll be doing another a month later. Strictly first come, first served!

Please check the full details on the website before making a booking. Once you've booked your place expect an email with the full details in a couple of weeks time.

Look forward to seeing you on the day, lets hope it doesn't rain!
Picture Gallery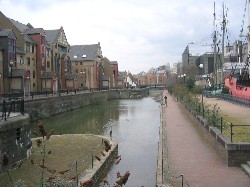 We've uploaded some of the pictures I took on my jaunt down to the docks after reading Silvertown. There are 6 pictures of St Peter London Docks, 6 of St George in the East and 3 of the Royal Docks.
I do have some more and if anybody wants me to email them, feel free to ask ( although it might take a while if yoor ISP has a small download limit)

Pictured on the right is Tobacco Dock in Wapping, with replica pirate ship to the right.


Using the website HOT TIPS!

Right-clicking on your mouse will refresh a website page, ensuring that you're viewing the latest version of the page.
The Society of Genealogists fair is on 29th April. You'll probably find me lurking around the EoL FHS stand. (We didnt take a stand in protest at the £50 charge for insurance).

Anyway, thanks for reading, best wishes & good luck with your researches!

James and the ParishRegister team

The closing quote: Seek, and ye shall find*

*unless you're seeking Gleghorne ancestors, in which case pottery looks like a good hobby