Welcome to the parishregister March newsletter. Well, this month we've got a new CD, volume 68, a few more of those balloon view maps available (be quick or you'll miss 'em) and I've knocked £5 off a compendium CD for this month only.
Searchable Databases
Recently up-loaded:
St John Wapping 1618-1665
St John Wapping 1707-1734
To search the site click here
New CD
Volume 68 St George in the East Baptism Registers 1848-1861
9464 entries
To buy this CD please click here Vol 68
Merchant Taylors 1530-1928 - to search click here Merchant Taylors
Find out more about the Merchant Taylors click here: Merchanttaylors.net
In transcription
St Matthew Bethnal Green 1799-1819
St George in the East 1877-1893
St Dunstan Stepney 1568-1608
St Anthony Globe Road 1879-1899
Other selected products
Volume 11
St.Botolph Northfleet 1837-1871 baptisms, marriages and burials; St.Peter, St.Paul, Swanscombe 1861-1883 baptisms, marriages and burials;St.Margaret's, Ifield (near Northfleet) 1813-1900 baptisms, marriages and burials; All Saints, Perry Street, Northfleet 1871-1900 baptisms and marriages; St.Nicholas, Deptford 1813-1847 baptisms only.
If you fancy this CD please click here: St Botolph
Catholic Registers
Misc Catholic London District Baptism, Marriages and Burials Vol 1
27 indexed transcriptions of Catholic Parish Registers from churches, chapels and missions in the county of Middlesex
To buy this CD please click here: Catholic 2
The Registers of the Sardinian Embassy Chapel, London, 1772 - 1841(Church of SS Anselm and Cecilia in Holborn). This comprises indexed transcriptions of over 22000 baptisms hitherto unpublished, a work which has taken them about 10 years to produce!!In total there are 60000 odd entries on this CD, a bargain at £7.95!
To buy this CD please click here: Catholic 3
Oh yes, watch this space for another Catholic CD also in the pipeline and coming soon, it will consist of:
· French Chapel Royal: Baptisms 1842-1911 and Marriages 1846-1910
· Kentish Town, St Alexis: Baptisms 1849-1854
· Blessed Virgin Mary of Czestochowa and St Stanislaus Kostka Chapels, Central London: Baptisms 1863-1877
· Soho St Patrick: Baptisms 1779-1851, Index to Baptisms 1793-1937, Confirmations 1818-1854 and Marriages 1809-1856
· Southwark St George's Fields Chapel: Baptisms 1788-1823 and Marriages 1823-1837
· St James, Spanish Place, Westminster: Baptisms 1732-1848 and Marriages 1732-1845
· Standon, Old Hall Green, Herts.: Baptisms 1811-1831, Confirmations 1814-1849 and Marriages 1812-1848
· Virginia Street Chapel, Wapping: Baptisms 1832-1840
It should be available by about next week, so keep an eye the site.
Merchant Taylors
The Merchant Taylors 1520-1929 (36000 entries-Exclusive to Docklands Ancestors!)The index gives the name, date of freedom, method of admission (apprenticeship, patrimony, or redemption), name of master if by apprenticeship, date of election to livery, and 'Remarks'.
To purchase this CD please click here: Merchant Taylors
My Ancestors rowed for Doggett's Coats & 1715-2009 NEW 2nd Edition

Written by Rob Cottrell. Published by Trueflare Ltd. CD in Adobe Acrobat format.
To buy this CD please click here Doggett's
Waterman & Parish Register Combination Special Offer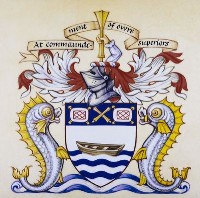 This special offer comprises the Thames Waterman Collection (£84.95) and the Docklands Ancestors Series Parish Register Compendiums 1 (£49.99)and 2 (£39.99)

Save an additional £45 by buying these products together

This offer is ideal for those who have just discovered that they have waterman ancestry and East End roots, so if that's you click here: Collection
Docklands Ancestors Parish Register CDs - Compendiums' Department
Here's this month's offer, £5 off an already cheap compendium 3

This CD comprises volumes 31-40 of the Docklands Ancestors Series of parish register transcriptions.

The parishes included are:
Volume 31 St Paul, Shadwell Baptism Registers 1734-1754
Volume 32 Holy Trinity, Mile End Registers 1841-1884
Volume 33 St Mary Whitechapel Baptism Registers 1842-1865
Volume 34 St Anne,Limehouse Baptism Registers 1813-1821
Volume 35 St Paul Shadwell Baptism Registers 1755-1774
Volume 36 St George in the East Baptism Registers 1729-1749
Volume 37 St Dunstan, Stepney Baptism Registers 1808-1816
Volume 38 St George in the East Baptism Registers 1750-1770
Volume 39 St John Wapping Baptism Registers 1781-1812
Volume 40 St Dunstan, Stepney Baptism Registers 1746-1757

There are approx. 70,000 transcribed entries on the CD, all of which are easily searchable and indexed alphabetically too.

Price if bought separately:
10 x £6.95 = £69.50
Price this month only, £34.99, so click here if you want to take advantage: comp 3
Docklands Ancestors Parish Register CD Department
East of London FHS Publications Department
Map Department
Map of Middlesex 1611 by by John Norden and John Speed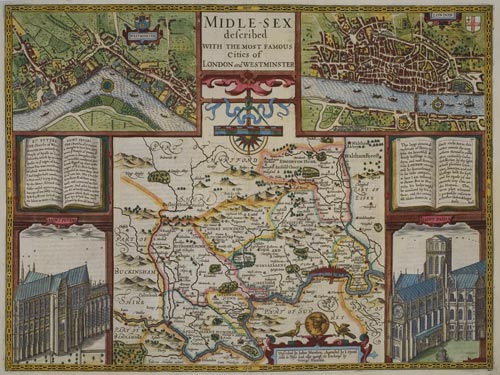 This beautiful and highly illustrated map of Middlesex has 2 town plans. One of Westminster and the other of London being separate towns at that time. In the lower 2 corners of this map are drawings of Saint Peters or Westminster Abbey and St Paul's Cathedral with a set of notes on each. St Paul's is shown with the loss of its spire in 1561 before it was restored in the 1630s by Inigo Jones. The print shown is a copy of the original and so is in colour, the print we offer you is in black and white. The print measures 46cms x 58cms.
To buy this map for £4.95 plus p&p please click here: Middlesex
A Balloon View of London 1851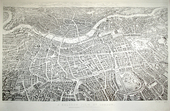 One of several maps and panoramas of London to come out in 1851, the year of the Great Exhibition. This is an aerial panorama, naming streets and showing many individual buildings. The view is looking southwards and therefore appears "upside-down" compared to most maps. The enormous glass building built in Hyde Park for the Great Exhibition is shown - Cockneys dubbed it the "Crystal Palace" and it's even named as such on the panorama.

The black and white map is an exhilarating view of London looking south over the River Thames, as if taken from a balloon over Hampstead. This plan/view's extent (St John's Wood - Battersea Park - De Beauvoir Town - Greenwich) and large size makes for a superbly detailed image with innumerable streets, buildings and landmarks identifiable. First published on the opening day of the Great Exhibition, the plan proved immensely popular with re-issues appearing into the late 1870s. This is an early Stanford edition with the aquatint detail fresh and distinct, and presents a wonderful picture of London prior to the great Victorian expansion.
Size:101x66 cm
The two I had last month were snapped up really quickly but I'm pleased to say I've got hold of three more! So, as last month, if you want one, don't hang around!
To buy one click here: Balloon
Devastated London - The Bombed City As Seen From A Barrage Balloon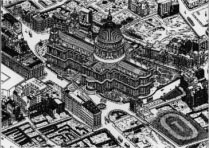 To buy this (folded) map click here: Devastated London
Ecclesiastical Map-County of London 1903
A Map of the Ecclesiastical Divisions within the County of London 1903. The map shows all Church of England parish boundaries in the London County Council area on a scale of 2 miles to the inch. Facsimile, printed in colour and folded in a case with brief introduction by Simon Morris. Approximate extent: Highgate to Streatham; Hammersmith to Isle of Dogs. Publication no 155 (1999).
Price: £5.00 To buy this map please click here
London and Its Environs 1813

Price: £3.95 To buy this map and for more information please click here
Rocque's 1745 Survey of London

Price: £7.95 To buy this map and for more information please click here
To view our comprehensive Alan Godfrey maps collection please click here
Docklands Ancestors Parish Register CDs (68 CDs now to choose from)
Compendiums (including our latest, compendium 6)
Waterman & Parish Register Special Offer Price: £129.93