Parish Register Newsletter: March 2009


Welcome to the parishregister March newsletter. Following further feedback I've managed to make the newsletter wider, as suggested by one subscriber, so now there's less scrolling down to do. Also, I hope the yellow on red is more appealing to the eye than blue on red, as suggested by another of you! You will also notice I've managed to put a pictures in as well, although I think if I put too many in it means I can't get as much type in, so just like life, it's a balancing act! Have a good read, hope it's interesting and a bit useful and keep the feedback coming!
Searchable Databases
New CDs
Parish Register Series
Volume 61 St Anne Limehouse, baptism records (12002 entries) 1854-1877
To buy this CD please click here
Thames & River Medway Series
Volume 79. St.Pauls Deptford 1895-1910 baptisms and marriages at £7.95
To buy this CD please click here

Volume 80. St.James, Gravesend 1852-1900 marriages at £4.95
To buy this CD please click here

Volume 81. St.Nicholas Deptford 1813-1847 marriages at £4.95 (with a dedication to James, thanks Rob, much appreciated!).
To buy this CD please click here

Volume 82. St.Andrews Waterside Mission, Gravesend 1865-1970 baptisms at £4.95
This CD holds hundreds of baptisms for families leaving the UK emigrating to Australia and New Zealand etc, as well as the baptism information, Rob has included the vessel they sailed on.
To buy this CD please click here
Coming soon
St Dunstan Stepney 1835-1837 CD
St Mary Whitechapel 1775-1792 CD
The Merchant Taylors 1520 to 1929 (36000 entries searchable database and CD) and a new page on the website all about the Merchant Taylors
Now in transcription are:
St George in the East 1848-1861
St George in the East 1861-1877
St Dunstan Stepney 1837-1848
Other selected products
Ecclesiastical Map-County of London 1903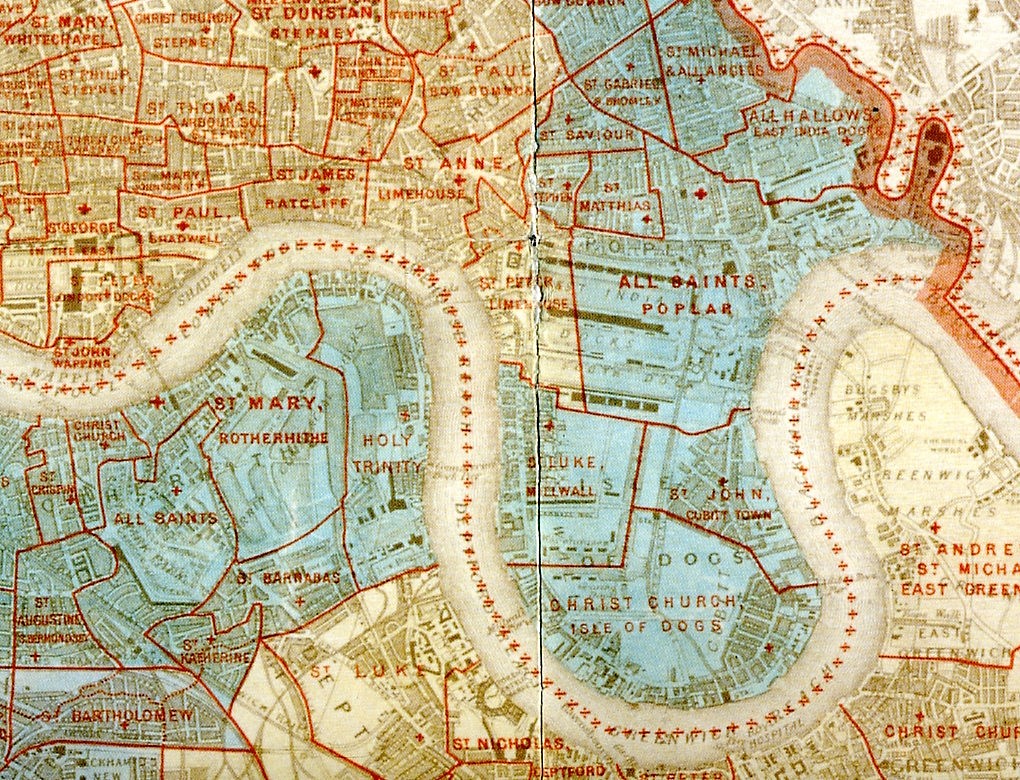 A Map of the Ecclesiastical Divisions within the County of London 1903. The map shows all Church of England parish boundaries in the London County Council area on a scale of 2 miles to the inch. Facsimile, printed in colour and folded in a case with brief introduction by Simon Morris. Approximate extent: Highgate to Streatham; Hammersmith to Isle of Dogs. Publication no 155 (1999).
[This was one of James's most used research tools-JL]
Price: £5.00 To buy this map please click here
To view our selection of maps including a vast selection of Alan Godfrey maps please click here
My Ancestor Worked On The Thames
My Ancestor Worked On The River Thames by Rob Cottrell. A guide
to help you find where they worked.

The CD covers both sides of the Thames and gives details of nearly every
wharf, creek, river buoys, watermens stairs, riverside taverns etc, plus
history and interesting facts.

Published by Trueflare Ltd.
Price: £9.95 To buy this CD please click here
East of London FHS Publications
Docklands Ancestors Parish Register CDs - Compendiums
More about:
St Anne's, Limehouse
Commercial Road, Limehouse, London E14
St Anne's, Limehouse is one of several East End of churches created by Nicholas Hawksmoor, who was Sir Christopher Wren's most talented pupil. The splendid Baroque church, probably Hawksmoor's most dramatic creation, was built between 1714 - 1725 in what were then open fields. The immense size of the church is a reflection on the importance of Limehouse. Its great tower soon became a landmark for ships using the East End docks. The clock tower is the second highest in Britain after Big Ben and was built by the same makers. In 1850 the church was seriously damaged by fire. Whilst the building was being restored the interior was 'Victorianized' by the architect Philip Hardwick. The finest and least altered Victoria organ built for the church by Grey and Davison won the organ medal in the Great Exhibition of 1851. St. Anne's suffered little during World War II although the surrounding area was enormously affected.Through the 80s and 90s the church benefited from exterior renovation and landscaping. The interior phase of the restoration programme has begun and visitors can compare a Victorian restoration with a present day restoration along the lines of Hawksmoor's original design.
From: http://www.touruk.co.uk/london_churches/stannes_church1.htm
If nothing has tickled your fancy but still would like to look around our shop please click here
Book Reviews

Romford Photographic Memories

Romford Photographic Memories

Lavishly illustrated with fine quality photographs from the world-famous Francis Frith Collection. Rich in detail this is a fascinating portrait of life and times long since changed.

Price: £12.99

To buy this book please click here

"Where's Your Horns?" Spitalfields People Talk About The Evacuation

"When people found out we were Jews, we were looked at in amzement by some of them. I remember one kid saying, "Where's your horns?" Six people describe here honestly and with humour, their different experinces, as London people , of being evacuated during the war. The reception they received were varied; some experinced prejudice – either anti-Semitic, or just plain "anti-Londoner". Others made lasting friemdships. Whether they had happy times or sad times, they tell you their stories directly and vividly. Their memories evoke some of the flavouur of the period: readers old enough to have experienced the war will discover much that touches them, while younger readers will be fascinated and moved by the descriptions of childhood overturned by the events of a world in confusion.

Spitalfeilds Books began in 1976, when Babara Powis, a worker at the Montefiore Community Education Centre was asked by residents of Spitafields to help them produce their reminiscencces of the evacuation. Barbara tape-recorded and transcribed the recollections of a group of Spitafields people, and together with photographer Tom Learmonth, has produced this first book in a series of publications by local people.
Price: £9.99

To buy this book please click here

Bow & Bromley by Bow by Gary Haines

Illustrated with engravings, drawings and photographs from the collection held at Tower Hamlets Local History Library & Archive, Bow and Bromley-by-Bow is the first book to focus on the history of this part of the city, and will be welcomed by anyone whose roots are in the East End.
Bow and Bromley-by-Bow, at the heart of London's East End, grew up around crossings over the river Lea. The area saw rapid changes from a seventeenth-century rural retreat to densely populated terraced streets, as mills were built along the river and a variety of industries developed – such as gunpowder, silk, matches and bone china. In his new book, Gary Haines brings to life the hidden history of Bow and Bromley-by-Bow, the stories behind the pubs and streets, churches and schools, as well extraordinary survivals from the past – despite massive redevelopment over the last few decades. He also describes the achievements of the Suffragettes and the Bryant & May matchgirls, who forced their bosses, through strike action, to address the problems of appalling working conditions and endemic ill-health caused by their work.

Price: £12.99

To buy this book please click here

Canning Town Voices (Chalford Oral History S.) by Howard Bloch

Price: £12.99

Other selected titles

My Ancestors were Thames Watermen: A Guide to Tracing your Thames Waterman and Lighterman (by James Legon)

Newham Dockland (Images of England S.)

Under Oars: Reminiscences of a Thames Lighterman, 1894-1909

The Coat:The Origin and Times of Doggett's Famous Wager

Walthamstow ( Images of London )

Barking and Dagenham (Archive Photographs S.)

Family and Kinship in East London

London Life in the 19th Century: A Human Awful Wonder of God

Dockland: Illustrated Historical Survey of Life and Work in East London

Francis Frith's Down the Thames

Useful Sites
This is the first time I've looked at this site and I've found it fascinating reading, and it's taken up far too much of my morning (no gardening today as it's raining, and the grass is still refusing to grow!) Anyway, there's loads of interesting stories and recounts and one I've just finished reading was about schools I walk passed in the this area (Bethnal Green) and I found out about a man called Ralph Davenant who set up a school round here which eventually moved to Essex. This is particularly interesting because we used to pass Davenant school on the way to our own school some 30 odd years ago, packed like sardines in my mum's mini estate (remember them?). More recently I used to run passed said school while training for my half marathon attempt a couple of years ago (oops I'm rambling, should do that in the last section). Anyway this article can be found here
'The East End was at its best - and worst - during the 19th century. Life was never quite the same after bombing destroyed much of this part of London during the Second World War.
Here, we retread the streets of the Old East End over three centuries through maps, images and sounds from Collect Britain.'
A fascinating site recommended by Jim Sheppard, one of our transcribers, with a section on the docks, the demon drink, homes, and fascinating facts (In Middle English, 'cocken-ey' meant a small misshapen egg. Although the word was originally used as an insult, during the 17th century it was proudly adopted as a nickname for Londoners) cheers Jim!
It incorporates the 'The Labour History Archive and Study Centre (LHASC)' and is the only specialist repository for the political wing of the Labour movement. It holds records for working class political organisations from the Chartists to New Labour. LHASC holds the archives of the Labour Party and the Communist Party of Great Britain. The collections have been used for a variety of research purposes providing an insight into the social, political and economic life of the last two centuries.
Besides housing papers of political organisations the LHASC collects the personal papers of radical politicians, writers and left wing organisations. The archive collection compliments the objects, photographs and banners found in the museum' s collections and researchers may well find material of interest in both. Other resources include journals and periodicals, 15,000 political pamphlets and extensive press cuttings on key labour movement figures' and a wonderful collection of union banners.
Closure of LHASC
To allow us to prepare for and undertake the move to the new People's History Museum, the Labour History Archive and Study Centre will temporarily close to researchers at Easter 2009. The last day of opening will be Thursday 9 April 2009. The archive will re-open towards the end of 2009 at the new museum. The new building will provide a controlled environment for storing and caring for our archive, pamphlet, newspaper and photograph collections and there will be a purpose-designed reading room for researchers.
Ramblings from the Council Estate
I thought I'd start with an update on the AOL saga as I bet you've been having sleepless night the last month wondering how it all ended. If you remember, they said NO COMPENSATION! Well after my last letter they've had a change of heart, still insisting they did nothing wrong, and that they can't trace one offending phone call, but despite this they now want to talk compensation, well I never! So, I counted up all the hours I've spent writing letters, making phone calls, visiting the bank, writing this newsletter (part of my therapy), multiplied it by a number I plucked out of my head and aded on £50 for my visit to the psychiatrist and asked for £178. So now you'll have to wait for the next installment to see how much the counter offer will be!
I don't know how many of you watch television, wasn't James's cup of tea, but I think one of the best programmes is Creature Comforts which is a short ten minute offering featuring animals (not real ones) talking about everyday events and observations on life. It's one of the only programmes that genuinely makes me chuckle! If you haven't seen it before have a look here Did you have a look? Has it cheered you up a bit? I bet it has!
As you will have guessed I live on an estate which is situated on one of the main routes out of the city, just up from Liverpool street. Now, obviously this road has to be kept clear to allow the commuters who can afford the congestion charge an easy escape route at the end of the day. So, any roadworks that need doing get done once they've all made their getaway to the leafy suburbs, like Loughton, normally about the same time as I settle down to watch Shameless, Heroes or Skins. At least we've had new windows put it in and we have our kind neighbour who does her best to drown out the sound of drilling with her garage music, whatever it is. Anyway, as if that isn't bad enough they've adopted a new tactic recently. What's that you ask, what could be worse? Well, they wait until you're tucked up in bed, they let you drop off for a couple of hours, then they turn up, get their pneumatics out and DRILL AWAY for ten minutes or so, then pack up and go away again! What's that all about eh???? Psychological warfare I call it!
Nearly finished rambling! Before I go I've got a poser for you. Why do we keep getting a solitary ladybird in our bedroom throughout the winter? Every few weeks I'm propped up in bed, half watching the news or something, almost in lala land ,when her in doors/my better half yells out 'get it out of here!' referring to one of these evil creatures. I then have to drag myself out of bed, gently scoop it up and pop it out of the window. But I don't understand it; do they hibernate in our bedroom, despite constant vacuuming ordo they fly in from out Siberian winter winds? Anyway, if you have any answers to this please let me know! (I blame it on global warming, not sure why though)
Oh yes, I was looking through The National Archives site a few days ago, in the wills section, when I discovered a William Legon, born 1609! I paid for a copy, hang the expense, I thought, and waited for it to download, hoping against hope it wouldn't be in Latin. I did do Latin at school, but that was over 30 years ago, and I cheated a lot! Anyway, only a part of it was in Latin, the rest in English, unfortunately though it is still very hard to decipher. I'll let you know what I found out another time.
As usual I'll finish with a joke, one for the ladies:
One day my housework-challenged husband decided to wash his Sweat-
Shirt. Seconds after he stepped into the laundry room, he shouted to me, 'What setting do I use on the washing machine?'
'It depends,' I replied. 'What does it say on your shirt?'
He yelled back, ' Liverpool '
And they say blondes are dumb...
All the best
Jonathan and the team