Dear Subscriber
Hello and welcome to the March ParishRegister.com newsletter.
As ever, a warm welcome to our new subscribers, and a big hello to our many old friends.
I'd like to say at the start that all the comments you send in about this newsletter are much appreciated. It seems that you, like me, regard the usual rubbish that masquerades as news from certain other companies as so much inbox spam. Although, the odd bit of critical comment would be well received too.
Ok, on with the show. In this edition there's an important bit of info about the online databases, we've another of our CDs out, an excellent musical item, (which I'd click on straightaway!), answers to last month's quiz,and, erm, more stuff. Thought I'd be a bit different this month and have nothing to sell, although one or two items did creep in, so no need to hide your handbag behind the settee. Enjoy, and as ever, thanks for reading.
Online Searchable Databases
Completed and uploaded is:
St Anne , Limehouse 1783-1812, 5,551 entries.
This takes our St Anne's coverage from 1783 to 1854, so a good chance of picking up many generations of your family.

In transcription now is:
St Dunstan, Stepney 1826-1835
Christ Church, Watney Street, Stepney 1842-1863
St Dunstan, Stepney 1770-1798

After that will be:

All Saints, Mile End 1840-1875
St George in the East 1848-1861
St Matthew, Bethnal Green 1799-1819
St Anne, Limehouse 1854-1877
St George in the East 1861-1877

All the above, as decided upon by you, our readers.

I'll put another poll on here in a few months time, with the ones that didn't make it to the top of the list last time included. Do feel free to email us your preferences in the interim. Just bear in mind that we are 100% focused on completing the baptism registers of Tower Hamlets, so no suggestions outside of these criteria please.

There's good news and there's bad news..

The charge for a database search has gone up to £3.25. This is the first permanent price increase since we started in 2001. Had the price gone up by inflation each year it would be £3.50 by now.

The good news is this will finance the transcription of an additional 20,000 entries per year. I'm sure all of you are just as keen as all of us that we complete the transcription of Tower Hamlet's parish registers as soon as possible. Accordingly, I'd like to introduce you to Jacqui Price, our new transcribing recruit. Jacqui has previous experience with transcribing parish registers for the Gloucestershire Record office, so is a welcome recruit to our merry band.

I might have some even better news next month that will enable us to increase our transcription rate significantly. As ever, you'll be the first to hear...

I think that takes us up to about 370,000 entries on the site now. Probably about another million to go. No worries :)

STOP PRESS. I had a call today from the London Metropolitan Archives, where we get the microfilms of the registers from, saying that they'd lost the film of All Saints Mile End, so it was going to take them a while to get it filmed again. Gosh I thought. Anyway, what this means is that obviously they'll be a delay in this transcription, so all the others will get bumped up one place.
New Docklands Ancestors CD

Volume 50, St Dunstan, Stepney, 1730-1745 is out now. As I'm sure you know, St Dunstan's is the original parish outside of the City walls in Stepney, and as such is the 'mother ' parish to all the rest of the parishes.

The recording clerk was a big believer in abbreviation. Accordingly, we have transcribed as recorded, as it aint our job to interpret the information, but any help you need, we'll do our best to help.

Compendium CD5 is taking shape now, with the last transcription about to start soon. As usual previous Compendium buyers will get an opportunity to buy at a pre-publication price, so start saving your farthings and groats now.
Book Review: Family History on the Move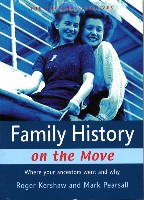 Family History on the Move, by Roger Kershaw and Mark Pearsall
A National Archives publication, £6.99

This is a handy little book. Little as in small, not in contents. At 4" by 6" , in old money, it's small enough to fit in your handbag ladies, ( ok, along with the contents of the British Library probably! ), so pretty good for reading on the move. And amazingly enough it's called 'Family History on the Move'. Fit for purpose then.
At one time or other we've all got ancestors who moved somewhere, either into the country, out of the country or around the country. As many of us have found out it's a damned nuisance when you've come across a rich seam of evidence in say a parish register and then the trail goes cold. I know, cos that's what's happened to me, with nearly 3 centuries around Wapping & Shadwell going back to 1688 it was easy to find my ancestors. And then I can't find John Gleghorne's baptism, because in all likelihood he was born elsewhere in the country.
I'm now going to quote from the first page of the book, as Roger and Mark's words elaborate on the subject better than I can.

' In 2005 the number of immigrants arriving in the UK outstripped those emigrating by a larger margin than at any time previously. Britain has often been described as a nation of immigrants: the Flemish in the 1500s, Huguenots in the late 1600s, the Irish in the 1700s and 1800s, a Jewish influx in the late 1800s, and migrants from the colonies and Poland after the War, as well as more recently migrants from the EU*. However, during the same period, probably 17 million people left the British Isles.
The outward and inward flux of people across the centuries remains a subject of wide fascination, as witnessed by the 2nd series of the television programme Who Do You Think You are?, in which five of the six episodes examined ancestors who were, at some point, on the move'

* And let's not forget the Normans, Vikings, Angles, Saxons, Jutes, Romans and Celts.

The book has 250 pages and is divided into 11 chapters as follows: Records of arrival, Settling into the community, Becoming British, Refugees in Britain, Aliens in wartime, Beyond the seas, Crossing the pond, Down under, Further afield, Child migration, Matters of life and death. There then follows 5 pages of useful addresses and websites.

It's a pretty useful book, handy really for reading on the move. But if I had 10 minutes to buy a book between tea time and popping up the offie, that would always have to be Mark Herber's
Ancestral Trails, which as far as I'm concerned is the best reference work out there.
Birth, Marriage & Death Certificate Exchange
I expect that like me you've probably got a small hoard of BMD certificates that you've bought that turned out to be not for your ancestors? A waste to throw them away, as they must be for someone's ancestors. Equally, someone somewhere might have an unwanted certificate that could well be of interest to you.
Well here's a great site: the BMD Certificate Exchange Site.
What a great idea, and free to use. I do hope you'll participate.
Play the Medieval Game of Life
If you have nothing better to do, this online game on the website of the Museum of London is amusing and educational.
Events & Happenings
I realise that this section wasn't very helpful last time around, ( unless of course you were looking for a dessert recipe which I hoped you enjoyed! Do please let me know ). I'll remove my sackcloth and ashes and make amends forthwith with this comprehensive listing of things that are going on in March.

March 3 SoG, LND Scared of the Mouse?
March 5 ONLINE The Poor the Parish and the Workhouse: Records in the 1800s
March 5 SoG, LND Society of Genealogists Document and Special Collections
March 6 SoG, LND Suicide in your family?
March 6 SoG, LND Beginners Skills Course 3 - Births, Marriages & Deaths
March 8 York, NRY Family History Fair
March 8-9 Alston, CMA Finding Families (London Lead Co. 1745-1880)
March 9 Port Sunlight, CHS The Merseyside & Cheshire Family History Fair
March 9 Poole, DOR Dorset FHS Open Day
March 12 SoG, LND Cardinal Points: Cracking the Code of the GRO Marriage Index March 13 SoG, LND British Library Newspapers at Colindale (visit)
March 13 SoG, LND Beginners Skills Course 4 - Civil Registration, Contd
March 13 Cranleigh, SRY Free drop-in family history advice session at Cranleigh Library
March 15 Sherborne, DOR Workshop: Trades
March 15 Northampton, NTH Family & Local History Fair
March 19 SoG, LND Research Before Parish Registers
March 20 SoG, LND Beginners Skills Course 5 Victorian Census Returns & Finding Aids
March 25 SoG, LND Powerpoint for Family Historians
March 26 SoG, LND Get to Grips with The National Archives Online Resources
March 27 SoG, LND MyAncestor was a Royal Marine
March 27 SoG, LND Beginners Skills Course 6 Pedigrees - Development, Layout and Conventions
March 29 Plymouth, DEV Devon and Cornwall FHSs' Family History Fair, also FFHS AGM & GM
March 29 SoG, LND Apprenticeship Records for Family Historians
March 29 SoG, LND The Master Genealogist Software - Intermediate-Advanced
March 29 Preston, LAN Study Day: On the parish. The Poor Law and its records pre-1834

Use the link below to find out more on any of these events. It will take you to GENEVA, the excellent GenUKI website, which is an online calendar of GENealogical EVents and Activities.



Sixties fashion, Carnaby Street
This amusing YouTube clip features fashion in the 60s. Unfortunately in black and white, and with an ITN logo across the middle, it is nonetheless a fascinating glimpse of life, gosh, nearly 50 years ago. Now, I won't say I remember it well, cos I was in nappies or short trousers at the time. I do recall my father though wearing a bowler hat, like the chap in the clip. Legon minor and I used it as a helmet, which together with a dustbin lid and bamboo stick constituted full fighting kit in the street wars where we grew up. ( Inspired of course by Just William and the Outlaws ). I can still hear my mother's " You wait till your father gets home...." when it came back from the wars more flat cap than barrister's attire.
And for the gents amongst you, they sure showed a lot of leg in the 60s eh?!
Family Tree Forum
One of the newsletters I receive that I actually look forward to receiving is the online magazine from Family Tree Forum. It's produced by Russ & Pippa, and their team of family historians and is a right good read. I'm impressed by both the quantity and depth of well researched articles. The February 2008 magazine for example has a distinctly criminal flavour (!), with articles on the Metropolitan Police, Police ancestors, convicts, Wormwood Scrubs and the like.
The website has a lot more to offer too, and is put together in a clear, user friendly fashion, with a minimum of advertising. As the site name indicates, it also hosts a large and thriving genealogy message forum too.
I'm not often impressed by newsletters and I'm picky about family history websites that I'd recommend, but this one goes straight into my Top 10.
Incidentally, as a user of their Forum myself, I had cause recently to contact them, having completely lost my login details. I further complicated things by supplying an out of date email address. Elaine, an administrator of the site, was most patient and professional in sorting it all out. You can tell a lot about a website from how quickly and professionally they sort out things like this. I can report they achieved the highest possible standard of customer service. Better by far than I've had from other outfits I've paid a lot of money to.

Nutcracker Suite
No, it's not where I live. There's lots more words to come, so I thought a bit of musical accompaniment would be nice.
Actually, the very first LP, (remember them?) I was ever given had Tchaikovsky's Nutcracker Suite on one side and Mendelsohn's Midsummer Nights Dream on the other. I can still remember putting it on my Mum's record player at about 4 in the morning on Christmas day. I'd never used it before, what with it being top end technology, and being in the lounge, where Legon minor and I were not allowed to go when father was in the house. ( Bit old school our dad, children should be neither seen or heard ). There were 4 knobs to play with, so obviously I fiddled with all of them and then this symphony orchestra started blasting out at full volume, followed inevitably by entrance stage right stroppy parent pulling the plug out.
Not much has changed really. My son, The Beast, does the plug pulling now.

Click here for Nutcracker Suite
First World War Service Records
The records of 5.5 million troops awarded medals between 1914 and 1922 - the most comprehensive Great War collection in existence - have been released by our chums at Ancestry.
The online files are based mainly on index cards recording each serviceman's medals, reason for decoration and corps, unit and regiment.
This is a different set of records from the service records, most of which got destroyed in an air raid in 1941. ( Fortunately for me, Adolf didn't burn my grandfather's records. It is still a mystery why he ended up in the elite Scots Guards, instead of the more probably London Rifles, with the rest of his siblings and relatives)
Joiner Marriage Index
I must be the last person to have heard about this site, as he's been transcribing away for the last 30 years apparently.
I was scratching my itch the other day, ( my search for the elusive John Gleghorne, who was inconsiderate enough not to have been baptised in Shadwell where he should be ) and turned my attention northwards to Durham. And to my pleasurable surprise I found a Gleghorne on Paul Joiner's site. Not THE Gleghorne, but hey, after eight years of looking for the chappie, I'm not that fussy.
This site, run by Paul Joiner, has the details of over a million marriage records from Durham, Northumberland and much more of the north of England, and Hertfordshire too. And best of all, they're all pre-1837 entries.
Pretty easy site to use too, well laid out and easy to navigate. It'll cost you £2.50 to view detailed results, which leaves your bank account in a very quick and easy transaction. You get up to 10 entries for this price, which seems pretty reasonable to me.
Another useful feature is the ability to login and view the results again.
Impressive site, I recommend it.
Mind you, I hear they still water the beer north of Watford though :)
New page: London's Docks
Golly, I almost forgot this one. We've added a new page to the website, about London's Docks. Bit of an indulgence on my part I freely admit, as it's got nothing to do with parish registers, but my ancestors worked in the docks, and we are called Docklands Ancestors, so that's my excuse.
There's 2 maps on it, one is hand scrawled, the other is high tech. Simon did one and I did the other. No prizes for guessing which is which. Actually, seeing it on the site now, it does look a bit Mickey Mouse ( I can see Esme holding her face in her hands, with that sucking on a lemon look!), so if anybody can replace it with something more professional, copyright free, my colleagues would be grateful.
Like the waterman page I intend this page to grow ( like Topsy I expect, Esme says ), into a useful and interesting resource base for those with an interest in the subject, so do please feel free to contribute.
Of Wives & Squaws
Here's an interesting piece from Jim, one of our transcribers, from over the pond in Canada:

A Frontier Waterman
Transcribing parish registers can sometimes lead to unexpected discoveries. Such was the case recently while transcribing St. Anne Limehouse when I came to November 26, 1793 and "William son of Robert Longmoor and his wife Sweet Grass". Sweet Grass, a name rather out of place amongst the Elizabeth's, Catherine's and Sarah's of the parish to say the least. When I read the next bit "resident of Hudson's Bay" I was stunned. I had met our Robert just days before while researching background material on Scottish employees of the Hudson's Bay Company for another website.
Robert Longmoor was born in Edinburgh and joined the Hudson's Bay Company in 1771. If Canadian readers of this newsletter were paying attention during their history lessons they will surely remember Samuel Hearne who led an expedition into what is now Alberta and Saskatchewan. Robert who was later described as the "best canoeman in the company's service" was part of that expedition..

A report from 1774 mentions that Longmoor is known to have taken an Indian woman as wife. Official policy discouraged liaisons with women of the local tribes, although, as one outspoken Governor wrote. "Connubial alliances are the best security we can have of the good will of the natives."

Although a very successful trader Longmoor didn't always agree with the polices of the Company and following a dispute regarding an expedition to find an overland route to the Pacific he returned to England in 1792, but was re-engaged in 1793.

Longmoor took his family responsibilities seriously. He sent six guineas each year to his father living in Edinburgh and paid the room and board of a son Robert living in England.

In May 1810 Robert Longmoor was "determined to the leave the River and Country instantly and retire to enjoy the fruits of his labours." He returned to Britain for a brief period. As fate would have it in the register for 1811 we find the baptism of "Andrew son of Robert and Sarah Longmoor of White Horse Street. Andrew was born in 1794 at York Factory on Hudson Bay where Longmoor had been superintendent and later shipping officer.

By February 1812 Longmoor was back in Canada and had purchased a farm near Montreal where he died in 1813.

It makes a refreshing break from transcribing the begats to be able to stop for a moment and put flesh onto the bones and breathe some life into a parish register entry. Gravesend may have Pocahontas but Limehouse had Sweet Grass!


Some more useful websites
I'm indebted to my chum, Heather Martin, who has been a regular reader for, gosh, it seems like a century at least, for showing me these interesting sites:

http://www.ormond.i8.com/ Free Genealogical databases

http://www.ww1photos.com/ World War 1 photos

http://www.smallandspecial.org/ Admissions of children to Great Ormond Street hospital 1852-1914

Heather also sent me a link to this very useful piece of kit, which is a timely reminder that to keep your computer working properly it's important to keep the inside of it clean. If like me you're a bit wary of opening the box up, apart from pushing the button for the drink holder, this tool is very useful indeed. I've tried it a few times now and I found it works best if you put your nose close to the screen, ( I think it's to do with electro-magnetism, or static electricity, which makes dust cling to the screen ). It's free to use the first 5 times as well, so give it a whirl !


The Ides of March Quiz - Answers

1. What is the name of the Act brought in to regularise the recording of baptisms? Rose's Act 1812
2. Where is Speakers Corner? Hyde Park
3. When did civil registration begin? 1837
4. What did a cordwainer do? Made shoes, originally of cordovan leather
5. Who designed the church of St Anne Limehouse? Nicholas Hawksmoor
6. What commemorates the Fire of London? The Monument
7. What is a feathered Freeman? A swan
8. Where was Anne Boleyn executed? Tower of London
9. What, in a watery context, does KGV stand for? King George V
10. Who designed the wobbly bridge? Arup, Foster and Partners and Sir Anthony Caro.
11. Who built the first Palace of Westminster? Edward the Confessor
12. Where was Caesar reputed to have crossed the Thames? At Westminster
13. Which WWII ship is moored near Tower Bridge? HMS Belfast
14. Who was the Water Poet? John Taylor
15. Who was Wapping reputedly named after? Waeppa
16. What is the popular name of the Yeomen of the Tower? Beefeater
17. Where was Jack the Hat shot? Blonde Carol's basement flat in Evering Road
18. At whose funeral did the cranes dip? Sir Winston Churchill's
19. What pub is named after a Tyne collier? Prospect of Whitby, in Wapping
20. When was the last Frost Fair? 1814
21. Which football team was founded at the Thames Ironworks? Thames Ironworks Football Club in 1895, who reformed in 1900 as West Ham United FC
22. Which ship did Brunel build in 1858? The 'great Eastern'
23. Which children's nursery rhyme is linked to the Great Plague? Ring a Ring o Roses
24. Which river was the Thames once a tributary of? The Rhine
25. Which station used to be at the eastern end of the Central Line? Ongar
26. What date did the Blitz begin? 7th September 1940
27. What colours were the pole of the Barber-Surgeons? Red and White
28. Which King enjoyed the Water Music so much he had it played three times? George I
29. Where is Nelson buried? St Paul's Cathedral
30. What was the name of the first underground electric railway? The City & South London, 1890, ( now known as the Northern Line, or Misery Line to those that use it! )
31. Who is barracked at Hyde Park Barracks? Household Cavalry Mounted Regiment
32. Famous West London rag and bone men? Steptoe & Son
33. Inhabitant of Dock Green? Dixon
34. Pub in E20 named after a monarch? Queen Victoria ( a fictional pub in the soap Eastenders )
35. What is the Roman name of the A5? Watling Street
36. What would you be doing if you were dancing the Tyburn jig? Hanging by your neck
37. Which race began in 1715 or 1716? Doggett's Coat & Badge
38. Who is not allowed to enter the House of Commons? The reigning monarch, at the moment Queen Elizabeth II
39. Buckingham Palace was built on the site of what? A brothel
40. What have I got in my right pocket? A hole!

Rate your score:

40 You should be on Mastermind
39 You probably thought I had a ring in my pocket, didn't you Gollum?
35-40 You know more than me ( ok, that's not saying much we didn't know )
25-35 A good effort. have an apple, ( sorry, no link )
15-25 I didn't say it would be easy
5-15 Oh dear, back to school for you
0-5 Did you go to school at all????
Family History Quests

Whatever your needs, we have a full range of family, local and social history products from the leading suppliers, all on one easy to use website.

We stock a diverse range of census records, parish records, directories, maps, books and much more besides.

We also stock material on military and industrial history.

Visit today, and bring your family history to life!
Ramblings from The Shed
I've been a very naughty boy. Oh yes indeed. Not the first time either.
And at this point I know that several of you will be thinking that this has something to do with either blondes, Stella, ( or a combination of the two ), Her Majesties Constabulary or a slaughtering of the first born.
But no, it's worse than that. Worse than when I left the van parked at a 45 degree angle in the front hedge. Worse than when I terrorised a kidies party with my drunken rendition of 10 green bottles. Worse even than the Christmas do when I came out of the loo with the toilet seat round my neck. Worse than when, ah, perhaps not! This is a family orientated ( well family history has got family in it ) newsletter.
The thing is you see that Mrs Shed disappears at the weekend. Some story about working all weekend. Whatever. Anyway, last week, left to my own devices, with The Beast also awol, I had a rather nice spot of supper, got the washing up done, and all was going swimmingly on the domestic front. Sigh. So I thought I'd have a bath. Quite innocent like. A bath for one I hasten to add! Before turning in for the night, with Noel Mostert's excellent Line Upon a Wind [note to self, include link for this excellent academic Nelsonian tome below]. So far so good. So I turn the tap on, and pop out to The Shed to quickly clear my inbox.........................
................................................... 2 hours later...............................
Noah's flood doesn't accurately describe the scene when I went back indoors. Groan. This is too painful to continue with.

My winter hibernation is now coming to an end. I've barely left the Shed in the last 4 months, so it's been good to get back to my day job, tending the gardens of Loughton. Paula, our postie, has got me re-turfing her garden, and next door but one ( home to the infamous yapping doggie that disturbs my peace ), also want their garden turfed, although they don't realise that included in their quote is a grave for their dog! He he.
One of these days I'll have to write a bit about the do's and dont's of hiring a gardener, or other such domestic servants. I'm laughing as I remember some of the things that have gone on..


Anyway, good luck with your family history. And remember, it's supposed to be fun. If it aint, pottery is very therapeutic...

Thanks for reading, see you next month.

Kind Regards
James and the ParishRegister.com team