Dear Subscriber
Hello and welcome to the March ParishRegister.com newsletter. All sorts of goodies in this edition, from competitions to polls, podcasts to quizzes, and a tasty treat too, as well as the usual news of our transcriptions and CDs.

Online Searchable Databases
Completed and uploaded is:
St Mary Newington, Southwark 1837-1842 3,255 entries
This follows on from the earlier 1829-1837 transcription and will be the last of our south London ventures until Tower Hamlets is completed.

In transcription now is:
St Dunstan, Stepney 1826-1835
St Anne , Limehouse 1783-1812
Christ Church, Watney Street, Stepney 1842-1863

Next up, with the films all in stock, will be:
St Dunstan, Stepney 1770-1798
All Saints, Mile End 1840-1875
St George in the East 1848-1861

That will take us to the completion of Compendium CD 5, volumes 51-60.

What follows after that is pretty much up to you! See below for further details. Gosh, sounds very exciting!


New Docklands Ancestors CD

Volume 49, St George in the East 1809-1815 is our latest CD released.

Ever wondered how a CD gets produced? Wonder no longer.

Once the transcription has been finalised, the table of data in the Access database gets turned into an Access report. This involves copying a previous report template, then editing it to update the title, formatting it so that the data gets sorted by surname, forename, father and mother, and then printing it to PDF format. The next stage is to compile a folder that houses the 'ingredients' that go on the CD. These include the Readme file, updated to include the ISBN number and any special info about the data, the license file, the 'About the Parish' file, our logo, a membership form for our chums at the East of London FHS, and a few other technical bits and bobs. This then gets integrated into the auto-run software, which is the software that automatically opens the files on your PC. Once that's done and I've checked it all works, a master version is then burnt onto a CD. This then goes off to our production company, Little Bazaar, over at Wembley, who burn the CDs, print the labels and packaging, and turn the ISBN number into a barcode, and compile the whole thing. About two weeks later a lorry pulls up with the end result, which as I can't hear the doorbell from the Shed, usually ends up at young, (84) Elsie's over the road, where it remains until she spots me on my way up to the off licence. ( She used to bring them over and leave them on the kitchen table, but it's a tad difficult now due to her Zimmer frame ). If ever there was an unsung ParishReg hero, it's young Elsie. So there you go!
Women's Royal Air Force
I get the newsletter from the National Archives, which often has one or two useful nuggets of information. The records of the Women's Royal Air Force caught my eye this month. I must admit that it was news to me that around 30,000 women were involved during the First World War. None of my lot unfortunately. Perhaps you'll be more fortunate?
This seems to be part of a growing trend for more different types of info coming online. Now that BMD and census info is pretty much sorted, all sorts of weird and wonderful stuff is being provided.
It's my belief that parish registers remain the Crown Jewels of the primary sources to be made widely available, particularly those from London, both because it has always been the largest city and because so many people moved to it. Any researcher looking for ancestors in say, St Mary the Virgin, Heacham in Norfolk, discovering that the trail runs out, will profit by turning their attention to the capital. ( The Segons were prominent in this parish in the early 1500s, and then three brothers moved to London ). Granted that there are other national sets of data, such as Electoral Rolls, but none that cover such a large span of time.

Whilst we're talking military stuff, an excellent (free) site is the
Commonwealth War Graves Commission ( www.cwgc.org ). I found it of great help with my family history research.

Another good site for military stuff is David Ford's site at http://youroldbooksandmaps.co.uk/
London Books 25% off
London The Biography by Peter Ackroyd RRP £14.99 Our Price £9.89
London A Social History by Roy Porter RRP £11.99 Our Price £7.91
London in the 19th Century by Jerry White RRP £10.99 Our Price £7.25
Underground London by Stephen Smith RRP £9.99 Our Price £6.99





From the registers
There's usually something funny that the parish clerk included in the parish register. These two comments caught my eye this month:

"Pleaded poverty and went to the public house", not much changed there then.

"The curate was artfully imposed to baptisze this child not born nor were parents of this parish", artful indeed if the child wasn't born!

It always puts a smile on my face when you can detect a sense of wry humour echoing down the years amongst an otherwise dry recording of day to day events.
Events & Happenings
Er, nope, can't think of any, sorry.

Okay, I've got to fill this space with something. So how about this tasty dessert recipe I knocked up the other day?

Slice up some juicy oranges. Bung a good handful of brown sugar into a hot frying pan. When it's bubbling nicely chuck in the sliced oranges, toss it about until the oranges are nicely coated. Add a good measure of brandy and allow to catch fire ( note, no liability accepted if you burn the house down ). Once the fire goes out, serve up, with some crushed Ameretti biscuits, a sprinkling of dark, grated chocolate and a dressing of natural youghurt with a twist of fresh lime. Delicious.

Well, I don't think you'll get that with an Ancestry subscription!
London's East End: Life & Traditions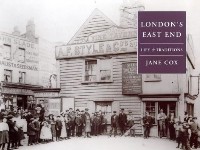 I came across this book about 6 weeks ago. Long out of print, and slightly dated now. I've been ploughing through it, whilst at the same time buying up every copy I can find. The reason is, it's just about the most well researched book on the East End I've ever come across. From the most minute detail, and drawing upon the widest sources, it has so impressed me for the breadth and depth of its sources. The bibliography alone runs to nearly as many pages as the entireity of my own modest authoring efforts. Amongst the many great biographers of London, such as John Stow, Samuel Pepys, Roy Porter and Peter Ackroyd, Jane Cox can rightly claim a place. Add too the sheer number of pictures, maps, engravings, etchings and photographs with which this book is adorned and you can't help but conclude that this is an author who truly knows her stuff.
I know a thing or two about Wapping & Shadwell, all of which I was happy to see covered, knowledge which it has taken me a decade to acquire, but then it goes on to cover all the other East End areas in just as much detail.

The East End embraces many distinct areas. From the riverside and docks where pirates were hanged and Captain Cook married a barmaid, to Shoreditch where Romeo and Juliet was first performed, this book introduces readers to the "lost villages" of the East End of London, once dotted with windmills and a "transit camp" since the time of Henry VIII. A tapestry of history forms the backdrop to life and tradition here as we discover the "sewer rats" who lived by salvaging coins, the fairs and food, factories and gaols, beggars and kings, hop-picking excursions and many fascinating stories that have emerged from this notorious quarter.

Chapters include:
1. The Early Days, Celtic twilight to the Middle Ages
2. Stepney, The church & village at the heart of it all
3. Along the Road to the West, Aldgate & Whitechapel
4. East of the Tower, St Katherines & East Smithfield
5. Shoreditch, in company with Shakespeare
6. Wapping, Shadwell, Ratcliff & Limehouse, the riverside hamlets
7. Mile End, Bow & Bromley, the commuter belt
8. Poplar & the Isle of Dogs, from cattle pasture to Canary Wharf
9. The Transit Camp, a world of strangers
10. Slums & Deprivation
11. More Friendly Than it is Now, the East End remembered

You'll find a part of the Wapping section reproduced below in the Reading Room, I hope you enjoy.
It's also a bargain, as it's £30 and more on Amazon!
Living in the shadow of the workhouse.

Never let it be said that ParishReg isn't at the forefront of technological innovation! Okay, I might have to amend that slightly and say it's the National Archives actually. The link below will take you to a National Archives podcast ( which always makes me think of a character from the Borrowers, gone fishing ). Basically, it's a recording of a talk about 19th century workhouses and poverty, and very good listening.

If you are looking for further reading on this subject I can recommend Jennifer Worth's book, Shadows of the Workhouse, although it can be difficult to get hold of.
FHQ competition
Not often we get guests trespassing in this newsletter, but here's an exception:

Hello I'm Clare and I began FHQ (Family History Quests) www.familyhistoryquests.co.uk as a hobby almost a year ago but since then it has become a business and a big part of my life. I try very hard to include more than just family history products on the site, branching out into local, social, military and recently industrial history. Currently the site is going a revamp with even more suppliers coming onboard with me to give you an even bigger choice of history products. I also attend many family history fairs which I often take along the Dockland Parish Registers for sale.

On the 2nd – 4th May I will be at WDYTYA Live 2008 which promises to be even bigger than last year with many more exhibitors, theatres and lectures for you to enjoy. On stand 326 I will have a wide range of products including the Docklands Ancestors Parish CDS, Waterman & Lighterman CD's and the River Thames & Medway Series as well as products from other people off the website.

On Saturday 3rd May I will be holding a London Ancestors Day on the stand where I will have special offers and giveaways all to do with you guessed it London Ancestors! I also hope to have some "special guests" during the event. I hope if you are able to come to WDYTYA you will come and say hi.

I am lucky to have 2 pairs of tickets for WDYTYA Live 2008 at May to give away. To enter answer the three easy questions below and send to info@familyhistoryquests.co.uk the closing date is the 1st April with winners being informed via email.

What do the letters BMD for in family history terms?

Volume 33 Docklands Ancestors CD is baptism registers for which parish and for what dates?

What stand number will you find FHQ on?

[Editor's note. I was tempted to edit the grammar here, but then I thought, Clare, that's your look out! ]
What shall we transcribe next?
Above you will see what we're already committed to transcribing. After that, it really is up to you! Take your pick from the following:



Top 5 east London websites
Somebody asked me the other day what I think are the 'top' 5 websites if you have ancestors from east London. On the face of it, a simple enough question I suppose. But it depends really where you're coming from. If you said to me, James, I've got half an hour before the Vogons arrive to demolish the planet to make way for a hyper space bypass, where can I find the most London ancestors? I'd say, firstly, have you any dolphins in your ancestry? If you didn't then say, so long and thanks for all the fish, I'd have to say he who has the most records has the most east London records, that being the nature of the beast. But let's say you've never heard of Douglas Adams, Vogons, or are in the dark ( still ) about the coming demolition of the planet, ( despite that notice on the lamp post thats been there before there was a lamp post ), or indeed of the hyperspace bypass, Earth section, or indeed hyperspace bypasses at all, then where do you go?
So, in no particular order, as nobody has paid me enough, here's the ones I'd go for:

1. Tower Hamlets BMD ( www.thbmd.co.uk )
2. Tower Hamlets Online ( www.mernick.co.uk/thhol/ )
3. East of London FHS ( www.eolfhs.org.uk/ )
4. ParishRegister.com ( www.ParishRegister.com )
5. East London History ( www.eastlondonhistory.com )
Click here for East London History
Old Ford, Bow
This is a great little video clip on YouTube, featuring a trip round Old Ford, Bow ( not Hackney as misleadingly entitled ).

'One of the most ancient gateways to the capital is from Essex and the current Bow Flyover is just the latest in a long line of crossings over the River Lea, dating back to the times of Julius Caesar.
The original Roman road from London to Essex crossed the Lea at Old Ford - the only remnant now is Old Ford Road at the north end of Bow.
Farmers and their wagons would struggle through the tidal river across the flooded marshes of Leyton and Strat-ford, and on to the haymarkets that ran along what is now the Bow and Mile End Road.
But so treacherous was the crossing that Maud, the Queen of England, almost lost her life in the attempt, in 1118.
It was another 58 years before the bridge was started, but that still came 60 years before the first bridge was built over the Thames. And Bow Bridge had another claim to fame: it was the first in Britain with a stone arch. Unlike earlier wooden constructions, this was built to last.
And last it did, through long arguments about who was responsible for its upkeep and its repairs.
In the 16th century it lay within the jurisdiction of the old Langthorne Abbey at Stratford, remembered now in the Abbey Mills area to the east of the Lea.
When Henry VIII dissolved the monasteries in 1535, he may have swelled the royal coffers, but he left Bow Bridge parentless.
The row rumbled on, astonishingly, for 300 years. In 1834, the Abbey landowners finally agreed to share the cost with the Middlesex and Essex Turnpike Trust. Stratford lay in Essex and Bow in Middlesex and the trust's engineer, James Walker, proposed a new stone bridge of one arch, its span of 70 feet and width of 41 feet more worthy of forming the principal connection between the counties of Middlesex and Essex .
In Walker's words lay the real problem of the Bow Bridge: as the principal connection between the city and the farms that supplied it, it became a notorious traffic blackspot, with horses and carts taking hours to cross the Lea. The biggest corn merchant, Goulds, actually had its premises at Bow Bridge wharf.
So, in 1898, the London County Council proposed another new bridge, less than 70 years after the previous replacement had been built.
The new bridge was a plainer, metal affair and the cost was split between the LCC, West Ham Council and the River Lea Conservancy Board.
The result, Thomas D'Akers Bridge, stands to this day, although hidden under the roundabout beneath the flyover. It replaced the old Bow Bridge and a couple more to the north, the St Michael's and Peg's Hole Bridges, whose foundations were dug up and incorporated in the fabric of the new crossing.
But by the 1960s the crossing faced a new kind of congestion – cars. More than 1,000 an hour crawled over the bridge during the rush hour, and plans were laid for a flyover. In 1963 work started, at a cost of £1,784,500.
Today the bridge carries commuters out to Essex and East Anglia; hundreds of years ago it was used by arable farmers, but Bow's proud history remains – as the first river bridge into London'.

I have quoted this from the excellent eastlondonhistory.com website I mentioned above.
Bit nostalgic for me as my my Nan and her sisters lived around here, all Kelly's from Ireland, who moved here in the 1880s. There's a plaque on the wall in St Mary's, Bow, which is stranded on an island in the middle of the road, just before the flyover, that commemorates them.
Thames Books
The Thames England's River by Jonathan Schneer RRP £8.99 Our Price £6.99
The Thames Sacred River by Peter Ackroyd RRP £25.00 Our Price £11.70
Liquid History The Thames Through Time by Stephen Croad RRP £15.99 Our Price £10.39
Essex-Thames Side by Chris Thurman RRP £14.99 Our Price £9.89

New datasets available from Find My Past
The National Burial Index has been updated on Find My Past with the addition of records from the East of London FHS, ( and from Dorset too actually ). I remember buying version 1 of the CD, only to be severely narked that there were no entries from east London.

I also noticed that 300,000 records of shareholders in the Great Western Railway company, from 1835-1910 are available. The project to complete outgoing passengers from the UK is nearing completion, with records from 1890-1949 now available.
The Reading Room
This is an extract from London's East End, by Jane Cox, from the Wapping and Shadwell chapter.

A 'whoppa', meaning something large of its kind, derives, some say, from the word Wapping – such was the frequency of bodies, swollen and bloated with sewery water, murder victims and suicides, being dragged out of the river and the docks. 'Mr Baker's Trap' was the name given by Dickens in The Mystery of Edwin Drood to a dock bridge in Old Gravel Lane, a common suicide spot. Today, between the giant warehouses turned apartments and blocks of flats built in imitation of warehouses that line the Wapping waterside, are occasional glimpses of the beaches where once 'whoppers' were stranded. The approaches to the river are down steep stairs which originally led down from the top of the embankment walls to protect low-lying Wapping in the Wose from incursion by the tidal river.
In Tudor times Wappingers called upon to give their address would say they lived at such and such a wall. 'Wapping Wall', the street which leads to Shadwell, has retained its old name, and, further west, you can still go down Wapping Old Stairs. Their slimy descent to a patch of beach is approached along a dark passage by the The Town of Ramsgate, standing near the Pier Head, once the entrance to the London Docks. Like many riverside inns, the pub is named after the coastal vessel which used to dock here, bringing in grain, dairy produce, fish and other commodities vital to the capital's survival. The Ramsgate, sidling on to the High Street, with its narrow bar and rickety balcony hanging over the river, is one of the rare relics of Wapping's seafaring days.
This stretch of riverside is the show-piece of the new East End, with old and new blended and ornamented- a strange emptiness, cobbles, lamps and neatness lend it an air of a stage set. Pier-head houses stand solid in their Regency elegance around a lawn and trees. Next is The Town of Ramsgate and opposite, the remains of the church and a fine school building. Go there on an April day when the spring sunshine makes St John's gold dome glow above a sea of white cherry blossom along by the old dock walls. Tourist guides announce, 'Just here Nelson bought his first naval uniform'. Not so long ago this pretty historical set piece was a dark rough land of docks and dockers. Before that it was London's 'sailortown' and once was just a watery waste.
When Waeppa, the Anglo-Saxon tribesman who gave his name to the area, first arrived with his band of refugees they probably settled on the only firm ground around, the gravel ridge on the eastern side of Wapping. The small settlement of fishermen's houses and farm workers' cottages probably lay between Garnet Street and Wapping Lane, once called New Gravel lane and Old Gravel Lane. In the early thirteenth century there were two mills by the riverside in Wapping leased by one Terricus de Alegate from the Dean and Chapter of St Paul's. all the corn for the common bakehouse at St Paul's was ground there then.
Various attempts made at reclamation of the marshland began with a Bishop of London and Lord of the Manor who drained a hundred acres in 'ancient time'. Flooding was a continual problem; just after Christmas 1323 a 'might flood', proceeding from the tempestuousness of the sea' breached the river wall, probably where Wapping Wall is now.
The medieval hamlet of Wapping was a cluster of houses on its eastern side, round the mills and the beer house, looking out on to a patchwork of ditches, dykes and pasture. When the tides were angry it was just a sheet of marsh, dotted with islands, like Prusoms Island which survived as a street until modern times. There must have been a patch of dry ground just to the east of Crassh Mills, where the hermitage stood.



The Ides of March Quiz
Ok, so that's the answer, what's the question?

If only it were that simple folks! But I'm sure you know by now that we don't do the usual thing. This month we have a quiz for you, knocked up when James wasn't doing anything productive. The difference is, it isn't easy, there's no freebie promotional giveaways, we don't want your answers, but there is a great prize! If you get all the answers right, you get to send me a can of Stella Artois ! Beat that Ancestry!
The quiz does of course have a distinctly London flavour. We've also teamed up with BigBrotherSoftwareInc.com and have developed a piece of software that detects whether you've used Google to find the answers, ( this should auto run on most modern PCs, but doubtless there'll be some of you who email in saying that it doesn't appear to be running on your PC, even though it worked last week ). So, eyes down, here we go..

1. What is the name of the Act brought in to regularise the recording of baptisms?
2. Where is Speakers Corner?
3. When did civil registration begin?
4. What did a cordwainer do?
5. Who designed the church of St Anne Limehouse?
6. What commemorates the Fire of London?
7. What is a feathered Freeman?
8. Where was Anne Boleyn executed?
9. What, in a watery context, does KGV stand for?
10. Who designed the wobbly bridge?
11. Who built the first Palace of Westminster?
12. Where was Caesar reputed to have crossed the Thames?
13. Which WWII ship is moored near Tower Bridge?
14. Who was the Water Poet?
15. Who was Wapping reputedly named after?
16. What is the popular name of the Yeomen of the Tower?
17. Where was Jack the Hat shot?
18. At whose funeral did the cranes dip?
19. What pub is named after a Tyne collier?
20. When was the last Frost Fair?
21. Which football team was founded at the Thames Ironworks?
22. Which ship did Brunel build in 1858?
23. Which children's nursery rhyme is linked to the Great Plague?
24. Which river was the Thames once a tributary of?
25. Which station used to be at the eastern end of the Central Line?
26. What date did the Blitz begin?
27. What colours were the pole of the Barber-Surgeons?
28. Which King enjoyed the Water Music so much he had it played three times?
29. Where is Nelson buried?
30. What was the name of the first underground electric railway?
31. Who is barracked at Hyde Park Barracks?
32. Famous West London rag and bone men?
33. Inhabitant of Dock Green?
34. Pub in E20 named after a monarch?
35. What is the Roman name of the A5?
36. What would you be doing if you were dancing the Tyburn jig?
37. Which race began in 1715 or 1716?
38. Who is not allowed to enter the House of Commons?
39. Buckingham Palace was built on the site of what?
40. What have I got in my right pocket?

Answers next month, have fun!

Ramblings from The Shed
The view from my shed has much improved lately due to the early arrival of spring. As I write the sun is shining and the sky is blue. The birds are singing, the water gurgles happily in the pond and the dog from next door but one is mercifully silent ( nope, I didn't shoot it ). There are no police helicopters buzzing overhead, Mick the DIY enthusiast is giving his jackhammer a rest, the wife and Beast are at work, and all is well in the world. I'll have a coffee in a minute and sit by the pond and thank my lucky stars that I don't have to drive to work or take a bus or train. You really can't beat working from home. It's not all beavering away in solitude however, as there's always somebody popping round, either work related, or a mate.
One such the other day was my young friend Jason. He's a character from the estate, who used to work for me as a gardener, a job he picked up at the age of 15 when he met me, in the off licence naturally. He had a big win on the lottery recently, and was happily disbursing his cash in all directions. On his way from the pub to his house, a lorry pulls up next to him, with a leather settee on the back, and a cheery Irish voice asks him, " Would you be wanting a new settee? Oi've gotta be selling it today, so it's a steal at £300, but it's worth over a grand, to be sure?"
Jason thinks, yeah, Mum'll love that and I've got the money, in my pocket! So he tells Paddy to bring it round to No 43. Paddy pulls up and says have you got the money, is there anyone to help unload it? Jason hands over the £300, goes to get his brother and Paddy calls out, I'll be turning the van round then!
And with a cheery wave, drives off, never to be seen again!
Kind Regards
James and the ParishRegister.com team