Dear Subscriber
Hello and welcome to the March ParishRegister.com newsletter.

Thanks for all the kind comments received about the last newsletter. I'm glad you're feeling informed, as well as entertained :)

In this edition we have news of lots of interesting websites, new products galore, reviews, special offers and more inane ramblings.
We're also taking a closer look at the subject of marriage licences, and later on we're going for a little stroll across the river......

As ever, a warm welcome to our new subscribers. If you thought you signed up for a standard product listing 'newsletter I'm afraid you'll be disappointed! And of course greetings to old friends.

For those of you reading this at work, I've put the long bits at the end, in case the boss comes in.
Online Searchable Databases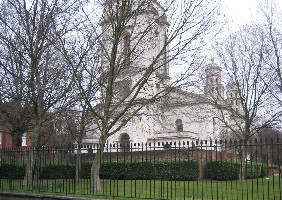 Completed
St John Wapping 1781-1812. 100% completed. 4286 entries
St John Wapping 1842-1855. 100% completed. 1529 entries

Uploaded
St Dunstan Stepney 1745-1770. 50% completed

Just started:
St George in the East 1835-1837. 42% uploaded.
Doing this one myself, ( cos there's nothing worth watching on the goggle box in the evening, apart from Shameless of course. Oh, and the football. But apart from that, it's all just adverts & trailers. I need to get back to the point here don't I? ).
What's already apparent is that people came from all over the place to get baptised at St George's: Ratcliff, Whitechapel, Shadwell, Wapping, Bethnal Green etc. There's also an awful lot of carpenters, and not just ship carpenters either. Seen one occupation that made me smile: Messenger of Bankrupts.
I can already see the emails I'm going to get saying, "why is it only 2 years?" The answer is, cos that's what's on the microfilm! However, I there's probably 2400 entries on it, meaning it was a very busy place. As much as a dozen baptisms in a day.
St George's is a favourite Hawksmoor church of mine. It's got that typical 'wedding cake' look about it. My lot were amongst the first through it's doors when it opened in 1729, so that's another reason why I have an affinity with it. Next time I'm up there, I must remember to take my chainsaw with me!
This transcription got to the top of the list following numerous requests. It will be completed during March.

Also just started is St George in the East 1837-1848, which Annemarie is doing. As you can see, the focus is still on filling in the gaps in existing parishes. Jim will be doing St Paul Shadwell 1812-1852 next, to complete our Shadwell coverage.

About 7,500 entries uploaded this month, bringing the overall total to over 300,000 entries on the website.
New Docklands Ancestors Series CDs

Just in from our production company ( taken in like all our deliveries by young Elsie over the road, cos I can't hear the doorbell from here. Mind you I had to go fetch this box on account of Elsie couldn't carry it and hang onto her Zimmer frame at the same time ).
Vol 36 St George in the East Baptism Registers 1729-1749
Vol 37 St Dunstan, Stepney Baptism Registers 1808-1816

Vol 38 St George in the East Baptism Registers 1750-1770 is done, I just have to get around to compiling the master CD and sending it off. So say, 3 weeks till it's on the shelves.
Useful link: Historical Directories
Heather Martin put me onto this site as part of my quest for compiling a list of lighterage companies. You're going to love it. It's a site put together by the University of Leicester and its chock full of trade directories, post office directories and stuff like that. Once you get the hang of how to search it it is a dream to use. I've seen lots of Directory CDs where I've had to go through them a page at a time, but not here. Straight to the right page. And yes, it's free. To be honest, I've never really been a fan of directories, but I've certainly come to appreciate them now, as a prime source of info that is often not available elsewhere. Be sure to bookmark this site.
Compendium CD 3 now on pre-release promotion
This offer is closing on 31st March, so last orders please........

Docklands Ancestors Series Compendium CD3 Vols 31-40 is due for release around mid April. Customers who order and pay in advance can buy this CD at a £10 discount to the RRP. This is an exclusive offer to newsletter subscribers and previous Compendium purchasers. Trancriptions on the approx. 80,000 entry CD are as follows:

Volume 31 St Paul, Shadwell Baptism Registers 1734-1754
Volume 32 Holy Trinity, Mile End Registers 1841-1884
Volume 33 St Mary, Whitechapel Baptism Registers 1842-1865
Volume 34 St Anne,Limehouse Baptism Registers 1813-1821
Volume 35 St Paul, Shadwell Baptism Registers 1755-1774
Volume 36 St George in the East Baptism Registers 1729-1749
Volume 37 St Dunstan, Stepney Baptism Registers 1808-1816
Volume 38 St George in the East Baptism Registers 1750-1770
Volume 39 St John, Wapping Baptism Registers 1781-1812
Volume 40 St Dunstan, Stepney Baptism Registers 1746-1757

Usual price £39.99 Newsletter price £29.99 £1.50 UK p+p £3.00 overseas

Please note the pay now, receive in April part of this offer. Anybody emailing me saying 'oi James where's my CD?' will be sent to the naughty corner.

[ Naughty corner update: Nobody is in it...........................yet. Although Richard did have a peek to see if there was room for him, but most graciously though better of it]

Publication date is ahead of schedule, with the last transcription just received. I'll be compiling the master disk today (Thursday), then it will be off to the production company. It's usually 3 weeks before we get the CDs back.
New book titles: More East End Books
We've listed about a 100 new books this month, nearly all ones with pictures in, so I defy you to find an area of London that's not covered, ( or to put it another way, if we aint got it, they don't print it, so fingers away from that reply button! ). I've got agreements in place with Tempus, Sutton and Phillimore who are the publishers that produce most of these photograph books. Anyway, here's a random selection, but do have a look around the sub categories in the books category...

Ilford: A Second Selection (Archive Photographs) by Ian Dowling, Nick Harris

Ilford today is a very different place to the one I grew up in. True, South Park remains pretty much what it was back in the 1960s, when I grew up in the adjacent Mortlake Drive . I can still see the spot where my aunt and nan were having a picnic, with me in my pram. Unfortunately they'd forgotten to put the brake on and very nearly managed to drown me as I trundled off down the slope to a watery grave. They lived with my grandfather, another James William, in the next street, South Park Drive. All sadly now dead and buried. The book firm I work at is in nearby Green Lanes ( not much green about it these days though ), so in the summer I often eat my sarnies in the park and think back to those days, seemingly a life time ago. I remember too when they drained the lake, looking for a dead 'un. But my most vivid Ilford memory is the big fire in the nearby wood yard. It was a grand site for a 4 year old and I can still recall the heat of it today.

Anyway, if you've lived in Ilford, this is the book for you. If you live in Gateshead, it probably isn't.


Hackney Memories by Alan Wilson.

The 1930s were a troubled era, and England at this time was a land of contrasts. In Hackney Memories Alan Wilson gives us a vivid impression of growing up in a working-class family in the East End at this time. Trapped by poverty, his family lived in a world that seems very alien to us now: here it is vividly recalled, set against a backdrop of rapidly developing national events. Alan Wilson's informative text, together with a selection of well-chosen photographs, will make fascinating reading for anyone who remembers the interwar years, and anyone interested in London's social history.
Amazingly enough, I've lived in Hackney too. My brother Jon, ( the runt of the litter ) is a headmaster there as well. Despite what you hear about the place, we never had any bother at all. Just couldn't afford the rent!

Tottenham and Wood Green Past and Present by Chris Protz , Deborah Hedgecock.

Today we are accustomed to streets and houses crowding our landscape, broken by the occasional scenery of parks and open spaces. These green spaces are all that is left of the landscape that characterized the Tottenham and Wood Green area until the 19th century. Since then there has been a relentless building of streets and houses, shops and offices, factories and workshops, many of which have changed again and again over the course of the 20th century. The photographs in this book trace some of that change, contrasting the places we see today with corresponding views from the 19th and 20th centuries.

Now, I bet you think I'm going to say, gee wizz, guess what folks I lived there too? I didn't, but I did work in Safeways at Wood Green, ( and spent half the time chasing shoplifters. Ah the good old days. Such punch ups we used to have....)

Forgotten Thames (Britain in Old Photographs S.) (Britain in Old Photographs) by Brian Eade.

The River Thames is constantly changing, from cool, calm waters in the summer to raging torrents in the winter. Man has intervened over the years to shape and alter the course of this great river, often to turn the wheels of mills and sometimes to protect property. Each change has gradually shaped the Thames into the river we see today. But what great structures are now missing? With evocative names like Hart's and Medley, these long-vanished locks and weirs have been forgotten like a swirl in the water. Keen Edge, Spade Oak and My Lady were grand names for some of the numerous ferries that once plied their trade across the river, essential links to riverside communities, now broken. Containing many unusual photographs, Brian Eade's Forgotten Thames illustrates the changing face of Britain's favourite river, delighting visitors and historians alike.

Swans live on the Thames. I didn't. But did you know it's part of the work of the Company of Watermen to count the swans each year? Swan Upping it's called. And they all belong to the Queen. The watermen called them 'feathered freemen'.

Click here for books, glorious books! ( North of the Thames)
Genealogy Software - Part 1
I put this section in here thanks to Susan Beringer, who is one of a few people now who have asked me to recommend a software program for family history. Now, there's two good reasons why I won't do that. Firstly, the answer is going to depend on what you want it to do, and your own level of expertise in learning how to use. We're all different and one person's 'dead easy' program is bound to lead someone else to the point of chucking the computor out of the window and contemplating the merits of syncronised origami in a weightless environment.
The second reason I won't recommend one is, and here is when my ears will be burning when I hear your howls of derision, I haven't got one. Yes, I'm an old fuddy duddy who still uses spreadsheets, with a Tree spread over 12 sheets of A4 stuck together with sellotape. Sigh. Why haven't I got a decent program? Well, I guess for the same reason as many of you haven't: I'm scared of buying the 'wrong' one and having to spend 3 lifetimes learning how to use it ( cos I'm bound to get the Japanese version ).
So, that's not a lot of use, is it? Tut tut. Fortunately, what I do know is how to find good stuff on the internet, so hey presto the result is this site ( the link below ). I wanted to find impartial advice, from someone who knows what they're talking about and hasn't been paid by the company that produces the program to say nice things about it.
Genealogy Software - Part 2
Fancy that, what a coincidence, I sell these things :)

Ok, let's get this straight. I listed these after I found the FRC review site, not the other way round. That's my story and I'm sticking to it.
( Note to self, when in hole, stop digging )

Click here for Genealogy Software
2nd hand fiche reader
I've got a couple of used microfiche readers for sale. Work fine, if not exactly silently. Have been using them myself this week to transcribe St George in the East 1835-1837. Can be used for microfilm too. Can ship by courier to UK mainland addresses only.
Any questions on these, let me know.
Reviewed Map CD from Jigrah Resources: Maps of 19th century London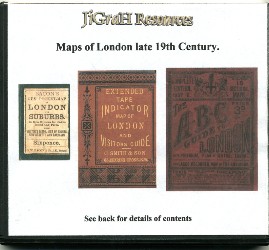 Young Graham at Jigrah sent me a copy of this CD the other day, so the least I could do was have a look at it. After that I even stuck it into the computor ( making sure to take the Stella out of the handy Stella can holder first of course ) to see what was on it. He's right, there's maps on it, as it says on the label, ( which is more than can be said for our Vol 5 CD, which turned out to be Vol 8, the whole batch of 50. Paul at the Little Bazaar, our production company people, said oops, sorry).
First things first: The CD comes in a sturdy plastic case, with an accurate description on the back. I decided to be a bit devious when reviewing this CD, ( I know Graham's got a good sense of humour ), so I started up my old computor, 1994 vintage, running Windows 98, with a tiny 4MBs of RAM. Much to my amazement, the autorun CD loaded up immediately. Nice one Graham.

There are 3 main sections on the CD: An 1883 map, an 1894 map and an 1897 map. These are displayed using Windows Explorer. Looking at the first two didn't detain me long. I have a standard test these days to assess the functionality. I see how long it takes me to find Old Gravel Lane in Wapping. No problem, found it in seconds on both maps.
The 3rd section proved to be of far more interest to me. This is the 1897 ABC Guide to London, which turned out to be full of interesting snippets, which I must have spent at least half an hour looking at. There is a section of 20 illustrations, depicting such things as Tower Bridge, the Crystal Palace and Rotten Row. Then we have 32 pages of general adverts, advertising such things as Eno salts. The most interesting bit was the 32 pages of adverts for Chas. Baker & Co, who were outfitters. The pictures of men and boys in their outfits had me in stitches. It seems that a moustache was de rigeur in those days.
Finally, there are 61 pages of information pertaining to life in the capital. A surprising feature is the section on population statistics, which makes use of the ( then ) recent 1891 census. The section on cab fares made me chuckle: 1 shilling and 6 pence between Liverpool Street and Waterloo, which cross referencing with the adverts section turns up the fact that a hotel room in Earls Court cost the same amount! Can you imagine getting a hotel room for the price of a cab fare now? Especially if it was the excellent Bull Hotel in Peterborough..
All in all a useful, informative CD, for a modest £6.


Workhouses
Sooner or later most of us find that our ancestors have ended up at the workhouse. But what exactly was a workhouse?
The Workhouse often evokes the grim world of Oliver Twist, but its story is also a fascinating mix of social history, politics, economics and architecture.
This site, www.workhouses.org.uk, is dedicated to the workhouse — its buildings, inmates, staff and administrators, even its poets... ( click the link to read more )

I have to congratulate Peter Higginbotham for putting together such an excellent site. It is comprehensive, easy to navigate, has no hidden catches and reflects Peter's passion for the subject.

Click here for Workhouses
Reviewed CD: London Marriage Licences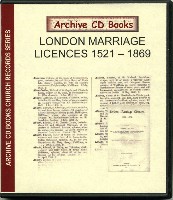 Postie brought me some freebies in the post the other day, ( but not till gone 3 pm, which is a rant for another day). Archive CD Books people must have read what I said last month about them being nice people, ( hi Kim ). London Marriage Licences. Now, as I'm sure most of you already know, in the olden days ( ie before CDs were invented ), to get married you had to have the banns read in church three times. Not always convenient. The alternative was to get a licence. Marriage by licence was often preferred because it was quicker, more convenient and/or more discreet, or because it was thought to confer social prestige.

So, what use are these things then? For myself, I know that Sarah Gleghorne, a widow, who was I believe John Gleghorne's mother, ( my oldest known ancestor and bane of my life), got married in 1688 at St Katherine by the Tower. The crucial bit is, by licence. What I'm hoping to discover when I find the licence is where on earth she came from. That one crucial bit of info has the capacity to demolish my brick wall.

A typical entry might show the following information:

Calthorpe, Reynolds, of the Middle Temple, esq., bachelor, about 26, and Dame Priscilla Knight, of Chawton, Southampton, widow, about 28, at St Margaret, Westminster, or St Paul, Covent Garden 10th April 1861


The following authorities are known to have issued licences for marriages in the City of London and former county of Middlesex, ( I'm quoting here from a Guildhall library source ):

1. The Archbishop of Canterbury
Jurisdiction:
The whole of England and Wales. (Note: the majority of the marriage licences granted by the archbishops of Canterbury were common licences for residents of the province of Canterbury (England south of the Humber, and W ales). From 1753, the Faculty Office alone was responsible for the issue of the archbishop's special licence throughout England and Wales.)
Records:
1543-date (some gaps) including the records of the Faculty Office and the Vicar General of the Archbishop of Canterbury at Lambeth Palace Library, London SE1 7JU (Note: new readers wishing to consult these records have to supply proof of address – driving licence, utility bill or similar – together with two passport photographs for a reader's ticket). Film of the Vicar General's allegations 1694-1850 and Faculty Office allegations 1701-1850 may be consulted at the Society of Genealogists, 14 Charterhouse Buildings, London, EC1M 7BA and at Family History Centers of the Church of Jesus Christ and Latter Day Saints worldwide.

For a description of the records of marriage of the Archbishop of Canterbury at Lambeth Palace Library see the article by Melanie Barber in The Genealogists' Magazine Vol.20 December 1980.

Lambeth Palace Library has 22 volumes of unpublished calendars and indexes to the Faculty Office marriage allegations 1623-1913. Those for 1543-1869 have been selectively abstracted and indexed in G J Armytage (ed.) and J L Chester (extractor) Allegations for marriage licences issued from the Faculty Office of the archbishop of Canterbury, 1543-1869 (Harleian Society, vol.24, 1886). This can be supplemented by G E Cokayne and E A Fry (eds.) Calender of marriage licences issued by the Faculty Office, 1632-1714 (Index Library, vol.33, 1905). The Society of Genealogists has produced surname indexes to the Vicar General's records for 1694-1850 (available in book form, on microfilm and online at http://www.britishorigins.com/) and to the Faculty Office records for 1701-1850 (available online only as above).
Some original licences, chiefly 18th century and 19th century, for marriages at City of London churches, are held at Guildhall Library. Indexed - to 1838 inclusive.

2. The Bishop of London
Jurisdiction:
The Diocese of London (i.e. the City of London and Middlesex; also, until 1845 Essex and parts of Buckinghamshire and Hertfordshire; between 1845 and 1867, parts of Essex, Kent and Surrey; between 1867 and 1877, parts of Surrey).
Records:
1521-1685 at the London Metropolitan Archives, 40 Northampton Road, London EC1R 0HB; 1597-9 and 1601-1982 at Guildhall Library.

3. The Archdeacon of London
Jurisdiction:
Most parishes in the City of London; Clerkenwell, Islington and Shoreditch in Middlesex.
Records:
1666-91 at Guildhall Library. Not known if licences were issued after 1691 (no later records survive).

4. The Dean and Chapter of St Paul's Cathedral
Jurisdiction:
4 parishes in the City of London (St Faith under St Paul, St Giles Cripplegate, St Gregory by St Paul, St Helen Bishopgate), 8 parishes and precincts in Middlesex, 6 in Essex and 3 in Hertfordshire.
Records:
1670-1841 at Guildhall Library. No licences issued after 1841.

5. Royal Peculiar of St Katharine by the Tower
Jurisdiction:
The precinct of St Katharine, a small area adjoining the Tower of London.
Records:
1686-1802 (some gaps) at Guildhall Library. No licences issued after 1802.

6. The Archdeacon of Middlesex
Jurisdiction:
many parishes in Middlesex.
Records:
1668-9 at the London Metropolitan Archives, 40 Northampton Road, London EC1. Not known if licences were issued after 1669 (no later records survive).

7. The Dean and Chapter of Westminster
Jurisdiction:
Much of Westminster and a few other parishes and precincts in London, Middlesex and Essex.
Records:
1558-1699 (a few references only, fully abstracted in Harleian Society Publications, vol.23; these are not licence allegations, only a record of names and sometimes parishes plus bonds), 1772-1804 at City of Westminster Archives Centre, 10 St Ann's Street, London SW1P 2XR. Records for other dates are lost.

8. The Deanery of the Arches
Jurisdiction:
13 parishes in the City of London.
Records:
1684-1707 at Lambeth Palace Library, London SE1 7JU (see note above). Not known if licences were issued after 1707 (no later records survive).

9. The Deanery of Croydon
Jurisdiction:
The parishes of Harrow, Hayes, Norwood and Pinner in Middlesex, and 12 parishes in Surrey.
Records:
1689-1804 and 1812-18 at Lambeth Palace Library, London SE1 7JU (see note above).
Not known if licences were issued after 1818 (no later records survive)

So, turning our attention to this particular CD, we can see that it contains records from the 1st, 2nd and the 7th of these sources.

I have to say I found it a pain navigating this CD. It's not searchable, meaning you have to scroll through it, albeit aided by shortcuts to each letter of the alphabet. I could not discover a means to go back either to a previous section, meaning I had to close it down and start again.

Some more useful sources for these online can be found at:

http://www.achievements.co.uk/services/londonmarriage/index.php
http://www.sog.org.uk/vg/index.html
http://www.genuki.org.uk/big/eng/YKS/Misc/Transcriptions/YKS/PaversIndex.html
http://www.origins.net/help/aboutbo-mla2.htm

Odds & Sods, stray thoughts, gossip
# I am indebted to Peter Hamersley for this entry discovered in the parish registers of Kencot, Oxfordshire:

1714 July 8 TURNER, Elizabeth, ye son (mistaken by ye midwife for a daughter) of Philip and Christian."

# A big thank you to all those who sent in info on lighterage firms. I think I've got about 120 of these now, from many sources, so it should comprise the largest listing to be found these days. The book itself is nearing the final draft, with one bit on Watermen & the Monarchy still to do.

# I had an email from Jenny the other day, who has Windows Vista installed on her new PC. Our website won't fully load on her PC now. Has anyone else using Vista had this this problem? Indeed, has anyone accessed the site who is using Vista?

# Thank you to Anthea Howells who draws my attention to the Canaletto exhibition at the Dulwich Fine Art Gallery. I will no doubt be popping along to this, as paintings of the Thames and London are something of a fetish of mine.

# I'm off round the east end again soon with my trusty camera to continue photographing the churches of Tower Hamlets. I like to include pictures of the church on the CD with the parish registers, as I think it's nice to see the place where the ancestors were on the baptismal day. All Saints Poplar, Christ Church Isle of Dogs, St Anne Limehouse, ( another Hawksmoor classic ) and Christ Church Spitalfields are my targets. The pictures will probably be up on the site next month.

# ParishRegister.com has always been a collaborative affair between us and you. Much of the content is user generated and many people work hard behind the scenes in keeping it all going, often for little or no reward, ( not just me! ). Our transcribers in particular are a very special bunch of people. The dedication, the knowledge and the care they take in their work are a constant source of inspiration to me. So thank you to John & Beryl Powell, Jim Sheppard, Christine Noon and Annemarie Shuttle for your significant contribution to ParishRegister.com and to family history.

# I guess this is a good spot to slip in a public apology to Austen Hamilton, whose order of the 2nd February I totally overlooked, in what is probably our worst ever lapse in standards. Sorry again Austen. I hope the wait was worth it.

# Did you know that Ancestry is owned by the Mormons? I didn't know that. I get a letter from them nearly every month asking me to donate all our transcriptions to them. Yeah, right, course I will ! I thought it was cos they're hard up, now of course I know better.
I see they've done another deal recently to make available the surviving service records of those who were in the army during the Great War. This link is to the National Archives press release on what's available:

Book review : Bloody Foreigners, by Robert Winder.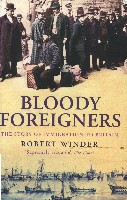 Yet again I've copped out of writing a review as I've found one that does it much better than I can. It's a big book, with over 500 pages, meticulously researched and certainly a timely contribution to an issue that is constantly topical. I certainly consider myself much more informed on the subject of immigration, nationality and identity after having read this book. As a family historian and a London buff in particular I found the book to be of immense interest. Anyway, here's what Ralph Blumeneau says about it:

most impressive book, and beautifully written. Winder traces the story of immigrants into Britain - he deals mainly with England - from pre-Celtic times to the present. As the sources become more plentiful, so the book gathers momentum, and by the time he reaches the time of the Huguenot immigrants in the 17th century, it really begins to sparkle. As he moves from one wave of immigrants to the next, the story - until very recent times - is always the same: initially there is some popular resentment, but, often sooner rather than later, they have been accepted, do well and contribute enormously to the economy and quality of life in these islands. Many people will be aware of the variety of immigrants who have come to these shores; but this is a thorough and systematic account, based on a formidable amount of reading. It could have been a dry catalogue, but the story is captivatingly told: each time Winder explains the circumstances which caused a particular group to arrive, and innumerable stories of individuals are given with great verve and vividness: Huguenots from France; Dutchmen who came with William III; Germans who came with the Hanoverians and who continued to come in the 19th century; black people who originally came as servants and slaves; Italians who left a repressive and over-populated homeland; Irishmen who escaped the famine to work in the factories and on the canals and railways during the Industrial Revolution; Jews who fled from anti-Semitism in Russia and Germany; the Lascars from Asia who manned so many British ships; Greek and Turkish Cypriots who came in large numbers from their war-torn island; men from all over the Empire who had fought for Britain in the First World War; Poles during the Second World War; the Chinese from Hong Kong before the gates were shut to them by the Act of 1997 just before the territory was given up to China; Kenya and Uganda Asians whom Kenyatta and Idi Amin were throwing out. And there were of course the West Indians who came in large numbers during the time when all imperial subjects were given the right of free entry into Britain by the 1948 Nationality Act. That is where the trouble started: the numbers were now such that governments became alarmed, and much of the last third of the book catalogues the desperate but unavailing attempts of governments to stem the flow: from the Commonwealth Immigration Act of 1962 through to the chicaneries, incompetence and bureaucratic insensitivities of what Winder calls "the Asylum madness" from 1996 onwards. Winder leaves it an open question whether the government led or followed public opinion, though he leaves no doubt about the way a hostile public opinion was fanned by the press. It is in any case a disgraceful story, mitigated only by the fact that it was occasionally restrained by impulses of decency, which were also to be found in sections of public opinion. The huge increase in the number of people wanting to come to Britain undoubtedly created genuine problems, but, to give just a few of many examples, few people were aware that the immigrant population was contributing more in tax than it was receiving in benefit; that certain groups like the Indians were producing in proportion more professionals and successful businessmen than did the white population; and that a largely young group of immigrants for whose education Britain had not had to pay would contribute towards supporting the increasing number of pensioners. Winder's indignation about the sour attitudes towards the immigrants - not to mention the many race riots and racially motivated murders - is in no doubt; but he recognizes countervailing sentiments both inside and outside government. The fact remains that Britain remained a magnet for immigration even though the migrants knew what difficulties they would have to face. There are great many shrewd psychological and sociological comments throughout the book, and it ends with a superb and thoughtful chapter of reflections on what a multi-ethnic Britain could and should be like and what indeed in many ways is taking shape already: a Britain in which the question of "ethnic identity" dissolves and the people of Britain can "cohere around a lucid set of individual rights, so that the group to which any man, woman or child belongs is incidental rather than decisive."


Firefox Browser
I've recently changed my browser from AOL ( America Off Line ) to Firefox. It appears to be faster, more secure and there's some really useful addons to customize it with, like having a Google search box in your toolbar. A good example of how it's quicker is that you can easily have it set so that sites you visit that you have to enter a username and password the details are already entered in the right boxes, leaving you with just 1 click to enter.
(In the interests of transparency, if you download this free browser, I'll get 50p.)




Jack Gaster - Thames Lighterman
A last minute inclusion in this month's newsletter is courtesy of one of ParishRegister.com's most longstanding contributors, Rose Reynolds. Rose sent me a link to an article on the BBC website written by a Thames lighterman, Jack Gaster. It's an excellent read, taking us on a journey from his earliest days in the east end, through his apprenticeship and onwards. Copyright laws forbid me from reproducing it here, but just follow the link below.
We'd dearly love to contact Jack, does anybody know him? Are you reading this Jack? Can anybody contact him?
The best read I've had since Dick Fagan's Men of the Tideway and Dave Carpenter's Dockland Apprentice.
Will4Adventure-Challenge4Charity 2007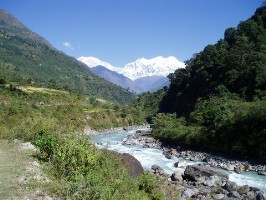 Young Will, the youngest Legon sibling, runs an adventure travel business. The boy has this fetish for throwing himself off mountains, trekking parts of the world last seen by Gengis Khan and climbing things, because, well, they happen to be there. Anyway, every year he puts on this insane event that involves walking 50 miles, in a circle apparently, all day and night. In the Peak District, around Sheffield. And there you were thinking I was the mad one in the family...
It's all in aid of the British Heart Foundation. Have a peek at his most excellent website, ( designed and maintained by Simon Burley, our resident webmaster ), which is full of other jolly exciting adventure stuff too. He's looking for marshalls and helpers, as well as other mad people to actually take part in it. Apparently I agreed to drive a mini bus, although exactly when I agreed somewhat escapes me.....
The picture is from one of his trips to Nepal, on the Annapurna Circuit
The Parish Chest
The Parish Chest is the website of our friends Pam & Frank Drake, who live out in the wilds of Cornwall, with 4 cows. Quite simply, practically anything that's to do with family history in the UK is listed on this site. 24,000 items I believe. We're not paid to include this link, we're just happy to recommend them.
Click here for Parish Chest
The Reading Room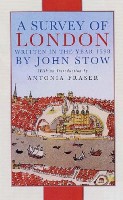 Okay, before we start, you put the kettle on and I'll pop up the off licence. Anything I can get you?

Now, are we sitting comfortably? Then I'll begin.......

Actually, I feel like a bit of a walk and some fresh air. In fact, I'm finding this modern world a bit wearisome. So how about we nip back to 1598 and take a walk along the south bank of the Thames?
Coming with me? Great! I'll just get my stick.........

HAVING treated of Wardes in London, on the North side the Thames am now to crosse ouer the said Riuer into the Borough of Southwark, which is also a Warde of London, without the walles, on the South side thereof, as is Portsoken on the East, and Faringdon extra on the West.

This Borough, being in the County of Surrey, consisteth of diuers streetes, wayes, and winding lanes, all full of buildings, inhabited: and first to begin at the West part thereof, ouer against the west Suburbe of the Citie.

On the banke of the Riuer Thames there is now a continuall building of tenements, about halfe a mile in length to the bridge. Then from the Bridge straight towardes the South a continuall streete, called long Southwarke, builded on both sides with diuers lanes and alleyes vp to S. Georges church, and beyond it through Blackman streete towardes New Town (or Newington) the liberties of which Borough extend almost to the parrish Church of New town aforesaid, distant one mile from London Bridge, and also southwest a continuall building, almost to Lambith, more then one mile from the said bridge.

Then from the bridge along by the Thames Eastwarde, is saint Olaues street hauing continuall building on both the sides, with lanes and alleyes vp to Battle bridge, to Horsedowne, and towardes Rother hith: also some good halfe mile in length from London bridge.
So that I account the whole continual buildings on the banke of the said riuer, from the west towardes the east, to be more then a large mile in length.

Then haue ye from the entering towards the said Horsedown one other continuall streete called Bermondes eye streete, which stretcheth south, likewise furnished with buildinges on both sides, almost halfe a mile in length, vp to the late dissolued Monasterie of S. Sauiour called Bermondsey. And from thence is one long lane (so called of the length) turning west to saint Georges church afore named. Out of the which lane mentioned, Long lane, breaketh one other streete towardes the south and by east, and this is called Kentish streete for that it is the way leading into that countrie: and so haue you the bounds of this Borough.

The antiquities most notable in this Borough are these:
First, for ecclesiasticall, there was Bermondsey, an Abbey of Blacke Monkes, S. Mary Oueries, a Priorie of Canons Regular, saint Thomas a colledge or Hospitall for the poore, & the Loke a Lazar house in Kent street. Parish churches, there haue been 6. wherof 5. do remaine, vz. S. Mary Magdalen in the priory of saint Mary Ouery, now the same S. Marie Ouery is the parrish Church for the said Mary Magdalen, and for S. Margaret on the hill, and is called S. Sauiour.
S. Margaret on the hill being put downe, is now a Court for Iustice. S. Thomas in the Hospitall serueth for a parrish church as afore. S. George a parrish church as before it did, so doth saint Olaue, and saint Mary Magdalen by the Abbey of Bermondsey.
Now to returne to the West banke, there be two Beare gardens, the olde and new places, wherein be kept Beares, Buls and other beastes to be bayted. As also Mastiues in seuerall kenels, nourished to baite them. These Beares and other Beasts are there bayted in plottes of ground, scaffolded about for the Beholders to stand safe.
Next on this banke was sometime the Bordello or stewes, a place so called, of certaine stew houses priuiledged there, for the repaire of incontinent men to the like women, of the which priuiledge I haue read thus.

In a Parliament holden at Westminster the 8. of Henry the second, it was ordayned by the commons and confirmed by the king and Lords, that diuers constitutions for euer should bee kept within that Lordship or franchise, according to the olde customes that had been there vsed time out of mind. Amongest the which these following were some, vz.:

That no stewholder or his wife should let or staye any single Woman to goe and come freely at all times when they listed.
No stewholder to keepe any woman to borde, but she to borde abroad at her pleasure.
To take no more for the womans chamber in the weeke then foureteene pence.
Not to keepe open his dores vpon the holydayes.
Not to keepe any single woman in his house on the holy dayes, but the Bayliffe to see them voyded out of the Lordship.
No single woman to be kept against her will that would leaue her sinne.
No stewholder to receiue any Woman of religion, or any mans wife.
No single woman to take money to lie with any man, but shee lie with him all night till the morrow.
No man to be drawn or inticed into any stewhouse.
The Constables, Balife, and others euery weeke to search euery stewhouse.
No stewholder to keepe any woman that hath the perilous infirmitie of burning, nor to sell bread, ale, flesh, fish, wood, coale, or any victuals, &c.

These and many more orders were to be obserued vpon
great payne and punishment: I haue also seene diuers Patentes of confirmation, namely one dated 1345. the nineteenth of Edwarde the third. Also I find that in the fourth of Richarde the second, these stew houses, belonging to William Walworth then Mayor of London, were farmed by Froes of Flaunders, and spoyled by Walter Tighler, and other rebelles of Kent: notwithstanding I finde that ordinances for the same place and houses were againe confirmed in the raigne of Henry the sixt, to be continued as before. Also Robert Fabian writeth that in the yeare 1506. the 21. of Henry the seuenth, the saide stewe houses in Southwarke were for a season inhibited, and the dores closed vp, but it was not long saith he, ere the houses there were set open againe, so many as were permitted, for (as it was said) whereas before were eighteene houses, from thenceforth were [1603.409] appointed to bee vsed but twelue onely. These allowed stewhouses had signes on their frontes, towardes the Thames, not hanged out, but painted on the walles, as a Boares heade, the Crosse keyes, the Gunne, the Castle, the Crane, the Cardinals Hat, the Bel, the Swanne, &c. I haue heard ancient men of good credite report, that these single women were forbidden the rightes of the Church, so long as they continued that sinnefull life, and were excluded from christian buriall, if they were not reconciled before their death. And therefore there was a plot of ground, called the single womans churchyeard, appoynted for them, far from the parish church.

In the yeare of Christ, 1546. the 37. of Henry the eight, this row of stewes in Southwarke was put downe by the kings commandement, which was proclaymed by sounde of Trumpet, no more to be priuiledged, and vsed as a common Brothel, but the inhabitants of the same to keepe good and honest rule as in other places of this realme, &c.

The next is the Clinke, a Gayle or prison for the trespassers in those parts, Namely in olde time for such as should brabble, frey, or breake the Peace on the saide banke, or in the Brothell houses, they were by the inhabitantes there about apprehended, and committed to this Gayle, where they were straightly imprisoned.
Next is the Bishoppe of Winchesters house, or lodging when hee commeth to this Cittie: which house was first builded by William Gifford Bishoppe of Winchester, aboute the yeare 1107. the seuenth of Henry the first, vpon a plot of ground pertayning to the Prior of Bermondsey, as appeareth by a writ directed vnto the Barons of the Exchequer, in the yeare 1366. the 41. of Edward the 3. (the Bishops sea being voyde) for 8.1. due to the Monks of Bermondsey, for the Bishop of Winchesters lodging in Southwarke. This is a very fayre house wel repayred, and hath a large Wharfe, and landing place called the Bishop of Winchesters staires.

Adioyning to this on the south side thereof is the Bishoppe of Rochesters Inne or lodging, by whome first erected, I do not now remember me to haue read, but well I wot the same of long time hath not beene frequented by any Bishoppe, and lyeth ruinous for lacke of reparations. The Abbot of Wauerley had a House there.
East from the Bishop of Winchesters house directly ouer against it, standeth a fayre church called saint Mary ouer the Rie, or Ouerie, that is ouer the water. This Church or some other in place thereof was of old time long before the conquest an house of sisters founded by a mayden named Mary, vnto the which house and sisters she left (as was left to her by her parents) the ouersight and profites of a Crosse ferrie or trauerse ferrie ouer the Thames, there kept before that any bridge was builded. This house of sisters was after by Swithen, a noble Lady, conuerted vnto a colledge of Priests, who in place of the Ferrie builded a bridge of timber, and from time to time kept the same in good reparations, but lastlie the same bridge was builded of stone, and then in the yeare 1106. was this church againe founded for Channons Regular, by William Pont de le Arche and William Dauncy, Knights Normans.

William Gifford Bishop of Winchester, was a good benefactor also, for he as some haue noted, builded the body of that church, in the yeare 1106. the seuenth of Henry the first.
The Canons first entered the said church, then Algodus was the first Prior. King Henry the 1. by his Charter gaue them the Church of S. Margaret in Southwarke.
King Stephen confirmed the gift of king Henry, and also gaue the stone house, which was Williams de Ponte le Arche by Downegate.
This Priorie was burned about the yeare 1207. wherefore the Chanons did found an Hospital near vnto their Priory, where they celebrated vntill the Priory was repayred: which Hospitall was after by consent of Peter de la Roch Bishop of Winchester remoued into the land of Anicius Archdeacon of Surrey in the yeare 1228. a place where the water was more plentifull, and the ayre more holesome, and was dedicate to S. Thomas.

This Peter de Rupibus, or de la Roch, founded a large chapell of S. Mary Magdalen in the said church of S. Mary Ouerie, which Chappel was after appointed to be the parish church for the inhabitants neare adioyning. This church was againe newly builded in the raigne of Richard the second, and king H. the fourth.

This was of course an extract from John Stow's 1598 Survey of London. I love John Stow. Not only because of his accurate description of London before the Fire, but as he tramped around London ( I don't know whether he had a stick ), his observations are full of humour and a sharp, dry wit. His knowledge too of events in London of the preceeding 500 years are a glimpse of the past just not available these days , ( gosh, I have trouble remembering last week!).

Phew! I'm quite exhausted. What say we take a boat back? Tour of the Thames anyone?
River trip - where's the bar?
I came upon this whilst browsing the videos on Google.
More ramblings of an Urban Shed Dweller

Day up the Smoke
Ventured forth from the Shed at half term, Talisa and I. The plan was to take in the Old Bailey, ( cos T wants to be a lawyer, like my Dad ) and then move on to the Guildhall Library for the Hollar exhibition and to pick up some stock, and then go on to the Tate for the Hogarth exhibition. Only problem was my back went and I didn't take my stick, ( very handy for brandishing at buses, beggars and charity muggers, I can tell you ). I was reduced to a hunched over, shuffling gait, which no doubt made Quasimodo look positively athletic.
We met the Runt ( youngest brother), at the Bailey, ( T thought he was in the dock ), whereupon I had to negotiate about 10,000 steps up to the top floor. We sat through the morning session of a very interesting case, with m'learned friend the defence brief totally demolishing a witness, ( better than bear baiting and of course free of charge ). The only problem came when the clerk said "all rise", and of course, I couldn't. Frozen into immobility I was, attracting the attention of the security staff who gave me my very own "ALL rise". Of course, the Runt was trying to stop himself guffawing at the prospect of his crippled older brother being done for contempt of Court, thus drawing the judicial eye in his direction too.
Whilst we're on matters judicial, I've been summoned for Jury service in March. Quite looking forward to it actually. Regular hours, £60 a day plus expenses, pub next to the Court, sounds good to me. Of course I shall do my best to stay awake, give them a fair trial, then hang them 
Moving swiftly onwards, or in this case, at a snails pace, we went to the Guildhall, where I was most grateful to collapse against the Hollar exhibits. I thoroughly enjoyed looking at his 1647 Panorama of London. Such exquisite attention to detail make his works almost a photograph of London. I was particularly intrigued by the river front at Cole Harbour, reputed location of the first Waterman's Hall, which as I thought, wasn't there. Nearby Fishmonger's Hall was clearly labelled, so as far as I'm concerned, it wasn't there at all, as Chris O'Riordan agrees in his 'Thames Waterman Book'.
After that T tactfully suggested that in my condition we might not make it to the Tate before it closed, so we took the only sensible option and headed to the nearest pub. The Runt says " what are you having James?", I'll have a Nelson says I. 5 minutes later he comes back out and says "they haven't got any Nelsons James". Doh, hello? Nelson......... Nelson Mandela........Stella. T and I just fell about laughing. Essex boys!

Chuckle time
Two elderly women were out driving in a large car-both could barely see over the dashboard. As they were driving along they came to a junction. The traffic light was red but they just went on through. The woman in the passenger seat thought to herself "I must be losing it, I could have sworn we just went through a red light."

After a few more minutes they came to another junction and the light was red again and again they went right through. This time the woman in the passenger seat was almost sure that the light had been red but was really concerned that she was losing it. She was getting nervous and decided to pay very close attention to the road and the next junction to see what was going on.

At the next junction, sure enough, the light was definitely red and they went right through and she turned to the other woman and said, "Mildred! Did you know we just ran through three red lights in a row! You could have killed us!"

Mildred turned to her and said, "Oh, am I driving?"

Herrings ahoy!
An amusing interruption the other day concerns Mrs Shed and our pond. It's a lovely pond, raised, triangular, built by yours truly with some bricks we half inched when old Mr Spinks up the road left the gas on too long and blew his dinner up, along with the rest of the house. I like to sit there in the summer, listening to the sound of running water, and if I'm really lucky, the Beast ( aka eldest offspring, male flavour ), is out and I don't have to listen to his broken radiogram, ( he calls it rap music or something, when it's obvious to the hearing non-impaired amongst us that it's just crap music ). The pond is full of water. And goldfish, lots of them, most of whom have been rescued when garden customers have us fill their ponds in, ( that's me and my gardening chums at Loughton Gardens www.LoughtonGardens.com ) Some we have had for decades ( Hugh, Pugh, Barney McGrew for example. Cuthbert & Dibble got eaten – not by us I hasten to add ). Anyway, Mrs Shed, who after nearly 3 decades in this country has still not quite mastered all the English vocabulary, ( she's from Mongolia via Hong Kong by the way. I know she still pines for the ancient ancestral steppes of the Great Mongolian Plains, on account of she peels the spuds by squatting over the bin in the middle of the kitchen floor. I kid you not ), comes bursting in and says " A herring has eaten all the fish!". Now, I know I don't get out much, but I'm pretty sure that herring don't make it this far up the Thames, let alone catch a bus to Loughton for a seafood supper, so I said, " Really? What sort of herring dear?". "A flying herring of course!" she says, looking at me like I'm some sort of idiot for not knowing that herring come in a variety of guises these days. " Ok, how do you know it was a herring?" I ask, " Because I saw it fly over the lands and land bosh in the pond, and look, there's it's feathers!". Light dawns at last. We had been visited by a heron. A hungry fella at that, cos there's only 5 fish left now.


Click here for website
Kind regards, so long and...................... thanks for all the fish,
James and the ParishRegister team

The closing quote:

How do you pick up the threads of an old life? How do you go on, when in your heart you begin to understand there *is* no going back? There are some things time cannot mend. Some hurts that go too deep...and take hold.....
So who wrote that then?