Welcome, welcome, one and all to parishregister the home of Watermen and Lightermen, Docklands baptisms and the Merchant Taylors! As usual we've another CD for you and news of compendium 7 which you can pre-order at a discount. Read on!
Searchable Databases

Recently uploaded (in case you haven't been paying attention!)

St Dunstan Stepney 1629-1641

To search any (or all) of our baptism records please click here: Good luck!

New CD

This month:
Volume 79 St Anthony Globe Road, Stepney Baptism Registers 1879-1903 2886 entries

To buy this CD please click here: Volume 79
Last month:
Volume 78 St Dunstan, Stepney Baptism Registers 1629-1641 10006 entries


To buy this CD please click here: volume 78

To browse our other single CDs please click here: single CDs

COMPENDIUM 7

It's that time again, and the release of our latest compendium. This CD comprises volumes 71-80. Just click on the link below to see what these volumes are. As usual, we will give you the opportunity to buy the CD at a reduced price. Normal price will be £49.99 (which is already a saving of £30 plus) and it will be on sale on the site from the end of March. If you pre-order it before then you can have it for £44.99 and we'll send it to you at the end of March. To pre-order please click here: Comp 7
If you think you may have a relative who was a merchant Taylor then don't forget to search our 36000 entry database, just click here: M.T The index gives the name, date of freedom, method of admission (apprenticeship, patrimony, or redemption), name of master if by apprenticeship, date of election to livery, and 'Remarks' . Alternatively you can purchase the CD by clicking here: MTCD
Now In Transcription
St George in the East 1877-1893
Christchurch Spitalfields 1843-1875
St George in the East 1893-1904
St Dunstan Stepney 1680-1689

Other selected products
Everything Watermen and Lightermen
You can browse all of the Watermen and Lightermen products which are your essential resources for tracing your watermen or lightermen ancestors by clicking here: W&L but here's my selected CDs of interest in this department:

Thames Waterman Collection
This special offer comprises ALL of the published CDs relating to Watermen & Lightermen. It is specifically aimed at those with Waterman & Lighterman ancestors starting out on their family history research.
Included are:
1. My Ancestor was a Thames Waterman: A Guide to Tracing your Thames Waterman & Lighterman Ancestors.

2. Company of Waterman compilation CD 1
which contain:
a) Apprenticeship Bindings Indexes 1692-1908.65,000 entries.
b) Thames Watermen & Lightermen (also wives and widows) pensioners admitted for relief 1794-1837
c) Watermen & Lightermen reassigned to another master during their apprenticeship period 1688-1908.d)Register of licences granted by Corporation of Trinity House to ex-mariners to ply their trade as watermen working on the River Thames 1829-1864


3. Apprenticeship Bindings Indexes 1909-1925.

4. Apprenticeship Bindings Indexes 1925-1949.

5. Watermen in the Navy c1803-1809

6. Admiralty Muster 1628.

7. My Ancestors Worked on the River Thames-ebook by Rob Cottrell.

8. Royal Asylum at Penge 1899: Subscribers & Inmates. Scanned book.

9. 1648 Petition of Watermen for the King. This transcription bridges the gap between the earlier 1628 Admiralty Muster and the beginnings of the Company's archives in 1692.

10. Waterman & Lighterman Archives at the Guildhall Library. The essential listing of all of the publicly accessible archives at the Guildhall Library.

11. My Ancestors Rowed for Doggett's Coat & Badge Race 1715-2007. This CD lists not only the winners, but the other competitors too. It also explores the history of the race, the life of Thomas Doggett and is lavishly illustrated throughout.

The usual price if bought separately of these above items is £117.90. The Special Offer is priced at £84.95, a saving of £32.95, plus a saving on postage too.

Take it from us folks, if you're starting out in family history and you've discovered you've a Waterman ancestor, don't waste your money buying all the CDs separately, buy this!

To buy this click here: collection


Waterman & Parish Register Special Offer Price: £129.93
East of London Family History Society
Tower Hamlets Marriages & Banns (Vol 1)-Disc 3
To buy this product please click here: THM&B
Tower Hamlets Burials & MI's (Vol 1) Disc 5
To find out more about this CD or buy it please click here: THB
Crow Lane Burial index 1871-1953 listing 20,000 entries.

Census 1851 West Ham.HO107/1768.
Census 1891 Hackney Part 1.RG12/0179 - 0194.

Census 1891 West Ham Part 1 RG12/1310 - 1325
Census 1891 West Ham Part 2 RG12/1326 - 1342

Catholic Registers
SS. Mary and Joseph, Poplar Roman Catholic Chapel.

Marriages and Baptisms 1818 - 1856

To buy this CD please click here: SSMary
Misc Catholic London District Baptism, Marriages and Burials Vol 1
27 indexed transcriptions of Catholic Parish Registers in the county of Middlesex
To buy this CD please click here: Catholic 2
The Registers of the Sardinian Embassy Chapel, London, 1772 - 1841(Church of SS Anselm and Cecilia in Holborn). This comprises indexed transcriptions of over 22000 baptisms hitherto unpublished! In total there are 60000 odd entries on this CD, a bargain at £7.95!
To buy this CD please click here: Catholic 3
Misc Catholic London District Transcriptions, Baptisms, Marriages,Confirmations Vol 2
If you would like more details about this CD or you would like to buy it please click here: Catholic 4
SPECIAL OFFER Compendium CDs 1-5
Docklands Ancestors Parish Register CDs - Compendiums' Department
Docklands Ancestors Parish Register CD Department
East of London FHS Publications Department
'Thames & River Medway Series - Compilation CDs'
'Thames & River Medway Series - Single Parish CDs' Rob's now transcribed 85 of these!
Rob's CDs include records of marriages, baptisms, burials and cemetery records, and include parishes such as Greenwich, Gravesend, Dartford, Northfleet, Tilbury, Lambeth, Charlton, East Ham, Deptford, and there are some burial records for St Dunstan Stepney and many, many more....have a look!
Research Srevices: If you've come to a dead end in your research then give Esme an email at research@parishregister.com.
Map Department
Ecclesiastical Map-County of London 1903
A Map of the Ecclesiastical Divisions within the County of London 1903.
Parishmap (a bargain at £5)
Map of Middlesex 1611 by by John Norden and John Speed
Black and white print measures 46cms x 58cms.
£4.95 plus p&p please click here: Middlesex
A Balloon View of London 1851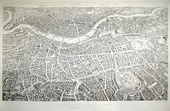 To buy one for £6.95 (that's £1.55 off!) click here: Balloon
Devastated London - The Bombed City As Seen From A Barrage Balloon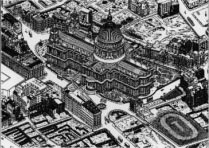 To buy this (folded) map for the bargain price of £4.50 click here: Devastated London
London and Its Environs 1813

Price: £3.95! To buy this map and for more information please London
Rocque's 1745 Survey of London

Price: £7.95 To buy this map and for more information please rocque
To view our comprehensive Alan Godfrey maps collection please Alangodfrey (still only £2.25)