Welcome to the parishregister February newsletter. Well, first of all, look out for my new acquisitions, a Map of Middlesex (1611) by John Norden and John Speed and a balloon view of London 1851. There's a picture and an explanation of them somewhere below this, so I won't dwell on them here. There's also the two new databases freshly uploaded and I've found an interesting site all about the East End and its history.
Searchable Databases
St John Wapping 1618-1665 3756 entries
St John Wapping 1707-1734 7125 entries
Jim has pulled out all the stops here, the first records in the first one are almost 400 years old! Just imagine if you find an ancestor there, what a result! The 1707-1734 also fills in an irritating gap, as we already have the ones before and after on the site. There are also some funny old entries in amongst them. In the 'first name' column there was a child's name recorded as 'a child'! And later on another was recorded as 'another child'! One poor child was also baptised 'Lettice'! In the address column there were also some classics like; 'upon ye wall', 'nere ye hermitage', 'in ye orchard', and 'found at Mrs Blisset's door'. As for occupations, do you know what a suckspeck did? Or how about a tidewaiter? Others include a Throwster, a Colourman and I wonder what a Hoop bender did?
Up-loaded last month:
St Mary Stratford 1771-1813
St Mary Stratford 1813-1831
All Saints Poplar 1789-1805 I must once again apologise for another debacle involving All Saints. It appears that once again a film purporting to be All Saints is in fact St Dunstans!! This is why those searching for the All Saints records on the site couldn't find it. As soon as a customer e-mailed saying the search results were the same as an earlier record they had obtained from the St Dunstan database I took the All Saints database off the site. This time Jim transcribed the film, so naturally I let him know what had happened. Eager to get to the bottom of this he set about solving this weird phenomenon! After a while he then e-mailed me his theory, which I must admit sounds very convincing. So here it is;
The St Dunstan Stepney 1770-1798 transcription contains the Poplar entries, but they are mixed with the 'true' St. Dunstan ones. There are minor differences between the entries in the two registers.
Digging deeper, Poplar All Saints was created out of St Dunstan Stepney in 1821-3 (http://en.wikipedia.org/wiki/All_Saints_Church,_Poplar). I suspect that the Poplar All Saints 1789-1805 register was copied from the original St Dunstan registers.
Based on my experience of Cornwall and Somerset, when the LDS go in to photograph registers they start at the top of the pile and work downwards, if it has writing on it, it gets photographed. No attempt is apparently made to sort out what belongs where or discard anything that might be a duplicate, which strictly speaking this isn't, merely a copy of a copy. So, the moral here? Don't judge a book by it's cover, or a film by it's label, or.....nope my brain has turned mushy!
More about St Dunstan
This is Stepney parish Church and dates back to the tenth century. Dunstan (c. 909 – 988), was made Bishop of Worcester then of London and finally Archbishop of Canterbury in 961. He is reputed to have pinched the devil's nose with iron tongs, hence the carving on the right hand side over the doorway into the church. The ship on the left is there because this was the sailor's church, and the red ensign, the flag of the merchant navy, can often be seen flying from its flagpole. In times past, a light used to be lit in its tower to help guide ships into the port of London. This article I found in
Merchant Taylors 1530-1928 - to search click here Merchant Taylors
Find out more about the Merchant Taylors click here: Merchanttaylors.net

New CDs

I'm afraid there are no new offerings this month, although I've got an eleven CD compendium of St Dunstan in the pipeline, starting in 1730 and going all the way through to 1848.

Last month:

Compendium 6!

Our latest compendium includes the following CDs, (including three not yet released on single CDs):

The parishes included are;
vol 61 St Anne Limehouse 1854-1877
vol 62 St Dunstan Stepney 1835-1837
vol 63 St Mary Whitechapel 1774-1792
vol 64 Christ Church, Spitalfield 1729-1763
vol 65 Christ Church Spitalfield 1763-1795
vol 66 St George in the East 1861-1877
vol 67 St Dunstan Stepney 1837-1848
vol 68 St George in the East 1848-1861
vol 69 St John Wapping 1665-1707

vol 70 St John Wapping 1734-1780 (sorry about the space that's still here; it's stubborn and refuses to be deleted!)

To buy the CD now please click here:comp 6

In transcription

St Matthew Bethnal Green 1799-1819

St George in the East 1877-1893

St Dunstan Stepney 1568-1608 Yes, you've read it correctly, 1568!

Other selected products

New Apprenticeship Bindings 1950-1959


Indexed from the original register at Waterman's Hall, these records take the total coverage of the apprenticeship bindings.

A typical entry reads as follows:

3504. YOUNG, WILLIAM GEORGE 1935 MAR 19 STANLEY, WILLIAM SMITH 1940 SEP 10
with the first name being the apprentice and the latter his master. The first date is the binding date, the second the freedom date.

CD in Adobe Acrobat format.
Transcribed by Rob Cottrell.

To buy this CD please click here 1950

Catholic Registers

SS. Mary and Joseph, Poplar Roman Catholic Chapel.

Marriages and Baptisms 1818 - 1856

To buy this CD please click here: Catholic1

Misc Catholic London District Baptism, Marriages and Burials Vol 1

27 indexed transcriptions of Catholic Parish Registers from churches, chapels and missions in the county of Middlesex

To buy this CD please click here: Catholic 2

The Registers of the Sardinian Embassy Chapel, London, 1772 - 1841(Church of SS Anselm and Cecilia in Holborn). This comprises indexed transcriptions of over 22000 baptisms hitherto unpublished, a work which has taken them about 10 years to produce!!In total there are 60000 odd entries on this CD, a bargain at £7.95!

To buy this CD please click here: Catholic 3

Oh yes, watch this space for another Catholic CD also in the pipeline

Merchant Taylors

The Merchant Taylors 1520-1929 (36000 entries-Exclusive to Docklands Ancestors!)The index gives the name, date of freedom, method of admission (apprenticeship, patrimony, or redemption), name of master if by apprenticeship, date of election to livery, and 'Remarks'.

To purchase this CD please click here: Merchant Taylors

My Ancestors rowed for Doggett's Coats & 1715-2009 NEW 2nd Edition
This NEW volume has proof of the race starting in 1715, together with the names of previously unknown winners and competitors, including the name of the FIRST WINNER in 1st August 1715. The evidence has been agreed by Watermen's Hall, Fishmongers' Hall and Guildhall Library. It also explores the history of the race, the life of Thomas Doggett and is lavishly illustrated throughout. Compiled from primary sources, this is the most comprehensive work on the man and his race available.
A complete List of every known competitor, INCLUDING those who failed in heats and drawing of lots.


Written by Rob Cottrell. Published by Trueflare Ltd. CD in Adobe Acrobate format.
To buy this CD please click here Doggett's

Affidavit Birth Proof Index 1898-1949 (Vol 09)

Vol 9 Affidavit birth Proof Index 1898-1949
Index of Binding Dates with Apprentice Date of Birth And Where Born Or Baptised
From the original register at Waterman's Hall

CD in Adobe Acrobat format
Transcribe By Rob Cottrell
Published by Trueflare Ltd

To buy this CD please click here: Affidavit

The Company of Watermen & Lightermen : Reassignment Index 1688-1908.

This CD lists some 12,000 apprentices that were reassigned from their original master to another. In some cases to more than one other master.

The entries were extracted from the Apprenticeship Bindings Indexes that cover the same time period.A typical entry reads as follows:
6687. LEGON GEORGE GAMBLES BOUND 1851 DEC 11 REASSIGNED 1858 JAN 14 TO JUDITH LEGON
(Whom I happen to know was his mother).

CD-ROM in Adobe Acrobat format.
Transcribed by Robert Cottrell.
Published by Trueflare Ltd.

To purchase this CD please click on this: Reassignment

Devastated London - The Bombed City As Seen From A Barrage Balloon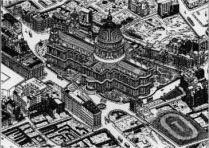 To buy this (folded) map click here: Devastated London
Ecclesiastical Map-County of London 1903
A Map of the Ecclesiastical Divisions within the County of London 1903. The map shows all Church of England parish boundaries in the London County Council area on a scale of 2 miles to the inch. Facsimile, printed in colour and folded in a case with brief introduction by Simon Morris. Approximate extent: Highgate to Streatham; Hammersmith to Isle of Dogs. Publication no 155 (1999).
Price: £5.00 To buy this map please click here
London and Its Environs 1813

Price: £3.95 To buy this map and for more information please click here
Rocque's 1745 Survey of London

Price: £7.95 To buy this map and for more information please click here
Map of Middlesex 1611 by by John Norden and John Speed.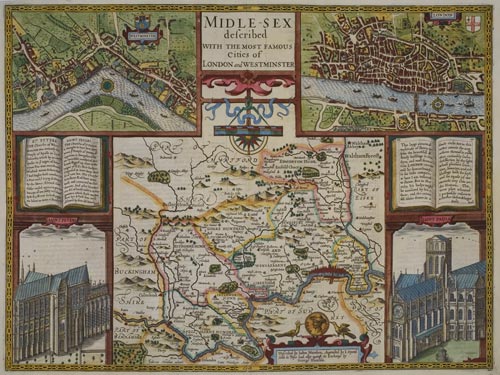 This beautiful and highly illustrated map of Middlesex has 2 town plans. One of Westminster and the other of London being separate towns at that time. In the lower 2 corners of this map are drawings of Saint Peters or Westminster Abbey and St Paul's Cathedral with a set of notes on each. St Paul's is shown with the loss of its spire in 1561 before it was restored in the 1630s by Inigo Jones. The print shown is a copy of the original and so is in colour, the print we offer you is in black and white. The print measures 46cms x 58cms.
To buy this map for £4.95 plus p&p please click here: Middlesex
A Balloon View of London 1851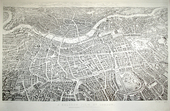 One of several maps and panoramas of London to come out in 1851, the year of the Great Exhibition. This is an aerial panorama, naming streets and showing many individual buildings. The view is looking southwards and therefore appears "upside-down" compared to most maps. The enormous glass building built in Hyde Park for the Great Exhibition is shown - Cockneys dubbed it the "Crystal Palace" and it's even named as such on the panorama.

The black and white map is an exhilarating view of London looking south over the River Thames, as if taken from a balloon over Hampstead. This plan/view's extent (St John's Wood - Battersea Park - De Beauvoir Town - Greenwich) and large size makes for a superbly detailed image with innumerable streets, buildings and landmarks identifiable. First published on the opening day of the Great Exhibition, the plan proved immensely popular with reissues appearing into the late 1870s. This is an early Stanford edition with the aquatint detail fresh and distinct, and presents a wonderful picture of London prior to the great Victorian expansion.
Size:101x66 cm
We only have two of these maps, so if you want one, don't hang around!
To buy one click here: Balloon
To view our comprehensive Alan Godfrey maps collection please click here
Docklands Ancestors Parish Register CDs (67 CDs now to choose from)
Waterman & Parish Register Special Offer Price: £129.93