Dear Subscriber
Hello and welcome to the FebruaryParishRegister.com newsletter. A big thank you as ever for all the supportive emails we get about what we do. It really is nice to know that our efforts are appreciated by so many people.
This issue has an update on our transcriptions, special offers on some lovely books, an article on wills and, er, other stuff.
If you're reading your first ParishRegister newsletter, welcome.
Online Searchable Databases
Completed and uploaded is:
St Mary Magdalen, Bermondsey, 1813-1822 4,791 entries
This fills in the gap between our earlier 1781-1812 and later 1822-1829 transcriptions. The predominant occupations here were leather dressing, tanning, lighterage and labouring. The poverty of the area is evidenced by the number of workhouse entries and illegitimate births. There are more blank spaces in the entries for father than I can ever remember seeing before. The transient nature of the population can be seen too in the number of strays, ( people from outside of the parish ). I find the social history aspect of parish registers fascinating. There's so much more interesting information than just a name and a date.
The entry for George Waterman, who was, wait for it.... a waterman, gave me a chuckle. As did the wry comment from the clerk noting in Sarah Wilks' entry "the parents are supposed to be dead".

In transcription now is:

St Dunstan, Stepney 1826-1835*
St Mary Newington, Southwark 1837-1842
St Anne , Limehouse 1783-1812.

Next up, with the films all in stock, will be:
St Dunstan, Stepney 1770-1798
Christ Church, Watney Street, Stepney 1842-1863

After that, and I won't swear that this isn't subject to change, will be:
St George in the East 1848-1861
All Saints, Mile End 1840-1875

After seven years of this task we now have approx. 355,000 entries on the website. Onwards!

* An astute customer has asked why we're doing this when Rob Cottrell has already done it. A very good question. Three good reasons actually. Firstly, he transcribed from the Bishop's Transcript, ours is from the parish register. Secondly his stops at 1832. Thirdly, St Dunstan is the oldest, most important parish in Tower Hamlets. We think it's important that our coverage for this parish is as complete as we can make it.
New Docklands Ancestors CD

Volume 48, St George in the East 1771-1794 is out now. Customers on our standing order list should already have had it, as will indeed purchasers of our Compendium CD4.
There's a lot of entries on this CD, over 12,000 in fact. This reflects the fact St George's was one of the most important parishes in the area.




Newham Dockland by Howard Bloch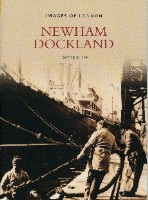 Of all the archive photograph books there are two I particularly like. The first is East End Neighbourhoods, because so many of the streets in which my ancestors lived are pictured. The second is Newham Dockland, because this is where they worked. One of my first inklings as to what a lighterman did was when I opened the cover of this book and on the 2nd page was a picture of a lighterman with his barge in the vast King George V dock. That immense expanse of water - the largest enclosed space of water the world has ever seen - that huge barge, powered by a single enormous oar, and the tiny figure of this flat capped lighterman, who I came to regard, as did their peers down the centuries, as the aristocrats of the Thames.
The book isn't just about the river and the docks, but Beckton, Silvertown, Woolwich and the Victoria Dock Road. It's not only about places, but the people too. The dockworkers and the PLA policemen, the horse drawn petrol tanker drivers, the pearly king and Queen, the ladies from the Crosse and Blackwell factory, the Tate & Lyle girls, ( who all seem to look like my aunt Pat ), the East Ham football players and the railway workers.
Transport in those days, around the docks, was so diverse. You've got your cars of course, which look like Dinky toys that you could probably park in the back of my van. And your boats, in all sorts of sizes, from the humble lighter to the Dominion Monarch. Motorcycles, from back in the days when we made more than ommlettes in this country, trains and those lovely lorries with their adverts for Liptons Teas, Knights Castile and the like.
The book covers nearly a century of docklands history up to the late 70s and the closing down of the docks.
Ah, nothing like wallowing in a bit o nostalgia eh?

RRP £12.99 Our Price £10.39 20% off
River Thames London Documentary 1960s
I unearthed this clip on YouTube. It's got a commentary by Richard Baker, who used to be a BBC newsreader a long time ago. As it's the 1960s the quality isn't that good, but it's worth watching nonetheless.
He speaks at a time when the Thames was still full of shipping, the port bustling, with no idea what lay just ahead.
It's interesting to spot what has changed between then and now. See how many things you can spot.
Archives open
To recap on what's open etc:

London Metropolitan Archives - Now open (albeit with ongoing refurbishment work)
National Archives, Kew - Now open, but with reduced capacity. Check website before visiting. Closed 21st-28th March
Family Records Center, Myddelton Street - Closing at the end of March
Events & Happenings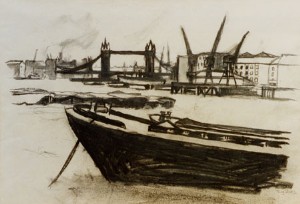 Here's an email I received recently from Delia Scales:

" I am writing to let you know of an upcoming exhibition by Thames painter, Terry Scales. Terry is featured as a link on your website and I thought your members may like to know about this exhibition which covers three decades of change on and around The Thames. Terry comes from an old Bermondsey family of Dockers and Lightermen and worked as a docker himself for a while in the 1950's, all the time recording what he saw.
The exhibition, entitled 'Living By The River – Three Decades of Thames Paintings' runs from 1st – 25th April and is at;
Duncan Cambell Fine Art
15 Thackeray Street
Kensington W8 5ET
Tel; 020 7937 8665
Open Mon – Fri. 11am – 6pm. Sat 10am – 5pm. Sunday 10am -3pm"

Happy to oblige Delia and I look forward to popping along, as this is right up my street, ( no, not the one I live in! )


Children of Bethnal Green, by Doris Bailey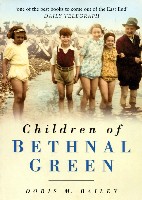 Most of the books currently in print that feature areas of the East End are of the archive photograph type. Exceptions to this are the ones by Gilda O'Neill, ( My East End, Our Street, Pull No More Bines etc), Jennifer Worth, ( Shadows of the Workhouse, Call The Midwife ), Jane Cox ( London's East End; Life & Traditions ) to name but a few. Doris Bailey fits into this category, with this 169 page contribution to recording life in Bethnal Green from the 1920s to VE Day. That's not to say that it doesn't have pictures though, as it is full of photographs from the authors own collection and from Tower Hamlets Local History Library. Although these are mostly of people, not of places.
The narrative begins with Doris and her three siblings living in Bow with her Mum and Dad, a French polisher. Her first recollection begins with the examination by a character that I'm sure many readers will remember, Nitty Norah. It then continues with a description of everyday life, taking in such things as the shops, Regents Canal, food, Victoria Park, trips to Southend, the muffin man and other street callers. We're then treated to an account of life in Bethnal Green during the War, before we end up with the celebrations of VE Day.
People who came from Bethnal Green, people who grew up at this time, and those who want to know what everyday life was like will all find, as I did, that this is an immensely enjoyable and readable book.

RRP £12.99 Our Price £10.39

Birth, Marriage & Death Certificates - again
Okey dokey, you'll recall that last month we had a short tutorial on how you lay your paws on a BMD certificate. You do recall don't you?
You might also recall I didn't site any sources of where one might obtain the all important GRO reference number. Well, I've changed my mind. Those of you who have been around this hobby for a week or more will probably have heard of the website FreeBMD? Their coverage was pretty sparse when I first saw it, back in, oh, seems like 1879. Things have moved on a bit since with this admirable project and I recommend you give it a try.
A mention also that for Tower Hamlets BMDs you should also visit , ( we always have a link to them lurking somewhere on this page, as it really is a jolly useful resource, which is free ).

New Trade Directory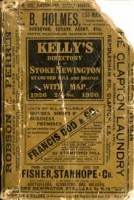 My chum Graham from Jigrah Resources has sent me details of a new Kelly's London Trade Directory, for Stoke Newington, Stamford Hill & Upper and Lower Clapton, 1926.

As with many of these directories, the map is missing. To compensate for the missing map, three pages (which cover the approximate area) have been included from the Authentic Map Directory of London & Suburbs ca 1924 (originally published by Geographia Ltd). The area covered is roughly from Harringay Park & South Tottenham on the north to Balls Pond Road & Hackney on the south and from Highbury & Finsbury Park on the west to the River Lea on the east. Other than the map, the directory is complete and comprises: Public officers & offices; Parochial information; Churches, chapel, institutions &c; Street directory; Private residents (alphabetical list of); Tradesmen and others (alphabetical list of); Professional and trades directory.

CD_ROM £11.00
Spot of Verdi anyone?
I listen to Radio 4 first thing when I get to work. Farming Today, Shipping Forecast followed by Today, then the Archers if I missed it the previous evening. After that it's music all day, until the news at 5. I tend to play the same thing over and over, until I'm sick of it or someone emails me to say the neighbours down the round have rung up ( the phone is often on divert to elsewhere), and could I turn it down a bit, or the police come round ( I kid you not ). Beats listening to that wretched yappy dog 2 doors down..
Anyway, this week I've been listening to Rebecca Evans and the Morriston Orpheus Male Voice Choir sing an aria from Verdi's "La Forza del Destino". The soaring female soprano over the male tenor background makes the hairs stand on the back of my neck.
The Choirs' rendition of Amazing Grace is truly awe inspiring too, accompanied by the organ, but I couldn't find it on YouTube, so had to shell out 79p on iTunes, (well worth it though, and I don't hold with illegal downloading )
Click here for a lovely bit of music
Compendium CDs 1-4 Special Offer

You can save a lot of money by buying all 4 of our Compendium CDs, which cover volumes 1-50 of our parish register transcriptions, in one go. These are particularly useful if you are searching for more than one person, doing a one name study or are looking for a name that has a lot of spelling variants that you are probably not going to find via an online searchable database.
The complete set is on offer this month for £139.99, a saving of about £30.
Family History Fairs
The East of London FHS fair at Barking was a good day out. It was nice to see so many of you, and good to put faces to names I've known online, sometimes for years.
We won't be doing any other fairs this year. Frankly, it makes no financial sense for us, as sales rarely cover the booking fees, hotel, parking, congestion and travel bills. We've decided that the money is better spent on progressing our transcriptions.
We certainly won't be doing the WhoDoYouThinkYouAre?Live "event" at Olympia again, as it's been priced to exclude the little publishers like us ( ie £500 odd, per table if you please ). Still, for those of you are thinking of going, make sure you pay your £18 entrance fee in advance, as some people who turned up on the day last year got turned away. It's on the 2nd-4th May, Friday -Sunday at Olympia.
My kids, both amply bribed to sacrifice the comfort of their warm beds to do a bit of work, were quite amazed about the number of people who came up and commented on our newsletter. They think I sit around all day watching YouTube, listening to music, drinking Stella and reading books. Okay, they might have a point!
I was quite amazed at the number of people who said something like, thank god you haven't sold out to [well known company]. There's been a fair amount of that recently, with Genfair, Stepping Stones, and others, all being taken over by bigger concerns.
I've been told other stuff, but it was in confidence, so I won't say anything. We've had a couple of offers. The most derisory was that in exchange for giving them all our records I'd get a free subscription to [well known big company.co.uk]. I said, gee I'm flattered, I'll have to think about it and get back to you. Right. The arrogance of big business never ceases to amaze me.


Gaylord ( Dad, I got it wrong again )
I've pretty much given up on TV. The wretched adverts drive me up the wall, and the programmes I want to watch are few and far between. Exceptions being MasterChef and Shameless. So, I tend amuse myself with clips on YouTube from back when there was something decent to watch on the box. This had me in stitches, the incomparable Dick Emery, ( oooo you are awful, but I like you ), which I'm sure is far to "non ( vomit) pc" to ever be broadcast again. Enjoy.
The Reading Room
This month we bring to you an extract from a delightful little book called Memories of Old Poplar. It was written back in the 70s, by a chap called John Blake, who worked on the railways for 50 years. It was published by the Stepney Trust in 1977, who had the foresight to publish many other such accounts from working people about their lives and work, ( Tales of a Thames Lighterman for example). Like most such publications it's long out of print, ( I think Amazon have one copy, for 18 odd quid ). I will include a link to our bookshop for it, as we do actually have 2 copies, but I'm not really trying to sell you this, just enjoy the words:

Memories of Old Poplar, by John Blake

East India Docks was a hive of industry, load after load of merchandise going in and out of the docks, forwarding to, and collecting from, all corners of the earth. Ships of many lines, such as Union Castle, and Elder & Fyffes, used the dock regularly, as did many others. Opposite, in east India Dock Road, was Poplar Hospital for Accidents, where sterling work was done throughout the years, dealing with accidents which happened throughout the area. Bernard Baron donated and built an annexe to the hospital. Some of the wards were named after benefactors, who had helped the upkeep of the hospital. One special night in my memory was the night of the Silvertown explosion, at a chemical works. There were many injured, and those unfortunate people were brought by any means available, to Poplar Hospital. Doctor Bray, who was the house surgeon at the time, was dealing with the patients out in the road, and detailing some inside, and others to London and various hospitals all round. He was a great lover of the Boxing Art, andused to be a regular visitor to the National Sporting Club. He afterwards continued his good work at St Andrews Hospital. He was originally a general practioner who worked from a surgery in Montague Place, off Bow Lane Poplar, and when he branched into other fields, he was followed by a Doctor Hayden Jones who used to ride around the Borough in plus fours, on a cycle, and he had a cheery smile for everyone he passed on his journeys, both old and young. Doctor Jones, it was said, was a Welsh Rugby player in his student days. Poplar also had the services of Doctor Dunlop, who came from Scotland, and called every woman who called on him 'lass'. The immaculately dressed Dr Spillane, whose surgery was in St Leonards Road, always looked the acme of fashion and as he strolled along he was attired in frock coat, striped trousers, with spats over his shoes, starched white collar and tie, and top hat, umbrella on his arm, and valise in hand. He never passed anyone without a nod. I recall Dr Jessiman and Dr Hendry, and, of course, there were many others that I never had occasion to meet. We all used to belong to the 'Hospital Savings Assn.', who provided funds, also the Hospital Saturday Fund, who gave great help.
In the early days of the century, when the air was laden with factory and locomotive smoke, which caused frequent fogs, the main street lighting was by gas light. A regular sight was to see the attendant walking through the thoroughfares, carrying a pole on his shoulder, long enough to reach the gas lamp, at the top of the lamp post. He Made his rounds at dusk, putting on the light, with the pole, and at dawn putting it out by the same method. The road traffic consisted of Hansom cabs, carriages, coaches, horse buses and trams, brakes, fire engines, water carts, delivery vans and all vehicles that were drawn by horse. Many used to cycle to get to and from work, and for pleasure jaunts. The policeman, who were proceeding to their beat on the streets, came from Poplar Police Station, in East India Dock Road. A sergeant in charge walked with them to each 'detail'. A familiar sight was the handcart, with two policeman in attendance, upon which was a drunk. The handcart was wheeled into the back entrance of the station. Many people, in bed at nights, got a comforting thought when they heard the sound of the policeman's boots as he walked on his rounds during the night. The road workers, repairing roads wore 'knee irons' as a form of protection against dirt or rodents. These were straps placed just below the knee. A night watchman had to take charge at the end of the day's work, and first job was to light all the red lamps and hang them round the guard ropes on the site. He would then light a big coke fire and sit in the hut provided, usually smoking a broken clay pipe. Other frequent sights were the chimney sweep with tubes and brushes slung over his back, the postman delivering and collecting the mail, wearing a frock coat type of brass buttoned uniform and a double peaked cap.



Kind regards
James and the ParishRegister.com people