Dear Subscriber
Hello and welcome to the February ParishRegister.com newsletter. And an especial welcome to those who are new to the Newsletter, ( I noticed someone else has signed up! ).
This month sees one transcription completed, another well on its way and a third just started. There are 3 new CDs out from Rob Cottrell, and a new supplier added.
We've a special offer on our CDs this month, making it the ideal chance to sample our wares ( and to keep the Stella fridge well stocked up ).

Online Searchable Databases
This is the progress of our transcriptions:

Completed
St George in the East 1750-1770 100% completed
St Dunstan Stepney 1745-1770. 3000 entries for the first 8 years have been uploaded. There are numerous entries from the surrounding Mile End, Bethnal Green, Poplar, Limehouse and Ratcliff areas. Also, the largest number of weavers I've ever seen in a parish. I'm in no doubt at all that this represents a strong Hugenot influence. Bear in mind too when searching this one that the Julian calendar applies!

Also just started is St John Wapping 1781-1812


New Thames Riverside Series CDs
The ever prolific Rob Cottrell has just sent me 3 new Thames Riverside CDs. I had a look at the St Dunstan one, as it contains some really nice photographs of the church. I know they're really nice as Rob had me go down there last Sunday to take them! I like St Dunstan's as it was the first church in Stepney, out of which all others grew. It's set in spacious grounds, ( not entirely full of young men in hoodies drinking and doing drugs ) and one cannot help but feel the history underneath your feet. I'll get the rest of the pictures up on the Picture Gallery pages soon. ( None from the west side, as that's where the hoodie people were and I didn't want to lose my camera ).
Anyway, there's about 8000 entries on this CD, Volume 69, indexed alphabetically, in the easy to use Acobat format with an autorun menu.
The other two CDs are Volume 69, St Laurence, New Brentford.1837-1864. Baptisms, Marriages & Burials and Volume 72, St Peter, Fulham. 1887-1896 Baptisms. All modestly priced at £4.95.
I'll be listing the other CDs in this series as soon as Rob has got them together and I can get down to Thurrock to pick them up.

Click here for new Thames Riverside Series CDs
Useful link: Ancestors Onboard
Pretty useful site this one to find out if you've got ancestors that emigrated. Run by the same people as 1837online-which means the same vouchers & payment system is used. Features outward bound Passenger Lists for long-distance voyages leaving the British Isles from 1960 right back to 1890. You can search for records of individuals or groups of people leaving for destinations including Australia, Canada, India, New Zealand, South Africa and USA featuring ports such as Boston, Philadelphia and New York. Passengers include not only immigrants and emigrants, but also businessmen, diplomats and tourists.
New book titles
Children of Bethnal Green

East Enders' Postcards
This is another in the excellent Tempus Publishing, Images of London series. Similar to the sadly out of print East End Neighbourhoods. Chapters include East of the City; the River Thames; Stepney, Wapping, Limehouse & Whitechapel; Poplar & the Isle of Dogs; Spitalfields, Eastern Shoreditch and Bethnal Green; Mile End, Bow and Old Ford; East Enders' Transport.
There's about 250 photos, accompanied by the usual informative and lively text. I expect this to be a bestselling item in 2007, so do please bear with me if I run out of stock, more is on the way!

Greenwich
Again, A Tempus Publishing, Images of London title, with 250 photographs from the period 1858 to 1970.

Remembering Romford

I'm reading a book called Bloody Foreigners at the moment, which explores the history of immigration in this country since the year dot. A very interesting read, and I'll talk more about this next month when I've finished it.
Click here for East End books
Fairs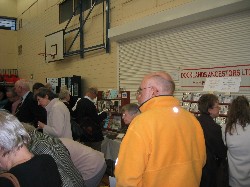 The EoL fair at Barking and the Bracknell fair were jolly good fun. It was good to meet some of the people known to me by email, and a pleasant surprise that just about everybody we spoke to had already been on the website. A good few of you reading this came up and said "I read your newsletter!", so hello to you again.

I was particularly pleased to meet Viv from the Newham Bookshop. I'd not heard of this shop before, but apparently it's quite famous and has an excellent reputation for its service and knowledgeable staff. It stocks all the books on east London, the docks and social history that I like and no doubt I'll be going there soon to have my wallet emptied. They dont have a website, they're the old fashioned sort of bookshop that has faded from our high streets, more's the pity.
The funniest moment at Barking was when I knocked Jason's tea over and it soaked his groin. You can imagine what it looked like. Fortunately Mrs Shed Dweller had a hair dryer in the van so Jason used this, sitting behind our stand to dry off. He went a lovely shade of beetroot when we heard a young girl ask her mother why that man was using a hair dryer and I piped up "couldn't get to the loo quick enough".
It was good too to meet up with our chums, Pam & Frank Drake of the Parish Chest, as we stayed overnight in the Holiday Inn at Reading. ( Awful place. No Stella. Grolsch, or well, just Grolsch actually!).

Spotted on one wags stall a sign saying:
After 30 days, unclaimed ancestors will be adopted

Tower Hamlets BMD indexes online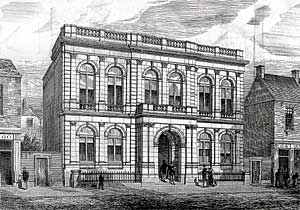 Now this really is a jolly useful site! Access the BMD indexes of Tower Hamlets online , for free. Get your reference numbers to order the BMD certs for £7. Bargain. What more can I say? Ok, I'll waffle on a bit longer then! It's an easy to use, well designed site that does 'exactly what it says on the tin'. Not all the entries have been uploaded yet, so be sure to bookmark the site and check back regularly.
Oh, and thanks Sylvia for the link to ParishReg in the Useful links page.

Strays

I've just listed Jenifer Edmonds 'They came from..' series of Strays CDs. They have been compiled from various census and militia lists. The following titles are available:
Stepney, Whitechapel, Kent, Ireland, Islington, Marylebone, Gloucester, Hackney, Berkshire, Lambeth and Bethnal Green
Who Do You Think You Are Live?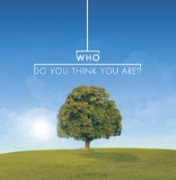 This WDYTYA? event promises to be the biggest family history event that the country has ever seen. The programme makers, in association with the SoG, have laid on a 3 day event over the bank holiday weekend at the beginning of May, at Olympia. Naturally, the mega corporation otherwise known as Docklands Ancestors, ( or even that bloke in the Shed in Loughton ), will be there,( despite the eye watering exhibitor charges ). Couldn't resist the chance to meet Bettany Hughes actually! Ok, David Starkey, Dan Snow and Saul David do have an appeal too.
Anyway, here's a link to the website with all the details.....
Special Offer
If you've ever wondered whether it's better to search our databases online or buy the CD, here's a great chance to give the CD version a whirl. We're knocking almost a third off the price of our individual parish CDs this month, down from £6.95 to £5.00.
The canny shopper uses the online search facility to determine whether entries of interest are to be found on the CD, then buys the CD..

Incidentally, if you would like to join our CD standing order list, drop me a line. The way it works is that whenever we publish a single parish CD we automatically send it to you, with an invoice. ( Which you then pay-or else!). Payment can be either by UK cheque or online by credit card.
Useful website: Great Britain historical GIS project
Stumbled upon this site quite by accident. It's a University of Portsmouth site and there's a lot of London stuff on it. For example, a map of the concentration of domestic servants in 1861, likewise for infant mortality and deaths from cholera. There's a whole lot of other interesting stuff too, which I've not yet digested, as I only found it about an hour before this newsletter got sent out.
Waterman things, random thoughts & gossip
# Some excellent photos from inside Waterman's Hall have been uploaded, including various regatta winners' coats. Thanks again to Rob Cottrell.

# My book, My Ancestors were Watermen, has now gone out of print. I managed to get another 10 copies from my chums in the EoL. I'm working on the 2nd edition at the moment, which will be about double the number of pages, ( so hopefully double the royalties! ). Any suggestions for stuff to include most welcome..

# Speaking of Waterman books, I've managed to get hold of a second copy of Men of the Tideway, which I'm prepared to let go for considerably less than the £250 it would take to prise the other copy out of my hands. It's in the Waterman sub-category section of the Books category.

# Interesting exhibition on at the Guildhall Library till May:
London before and after the Great Fire: Etchings by Wenceslaus Hollar 1607-1677. That's the Czech emigre fella, not the good king. ( Sorry, couldn't resist that one). Famed especially for his Panoramas of London, Hollar was a prolific artist of buildings and street scenes who also excelled at drawing maps, panoramas, portraits and costumes. There's going to be 40 of his works on show, and it's totally free.

# Rumour has it that a certain TV station has a £30m warchest to buy up parish registers. Great. Shame they want exclusive rights though, as I for one think a good transcription is of more use than a scanned image.

# Had a look at our website stats the other day. Over a quarter of a million visitors now, with 1.5 million page views. And my Mum said who'd want to look at that? ( Mind you, my Dad still thinks I work for Safeways, and that was 1994 when I departed the corporate world).

# Interesting article in Ancestors magazine this month: "A Peculiar Marriage" by Dr Stacey Gee about St Katharine by the Tower Marriage Licence Records. I have a marriage in 1688 in this parish, my oldest ancestor so far. The Legons lived here for 3 centuries, moving further east when St Katherine's got demolished to make way for the dock, ( which they promptly started drowning in, a tad drunk ).

They've got an article next month which I'm looking forward to, about business records for family historians


Kind regards
James and the ParishRegister team

The closing quote is back!
Posterity is as likely to be wrong as anyone else