Every single one of our single baptism CDs is now only £3.95, that's just about half price! To see the full range of the CDs please click here: baptisms

Also, our first ten marriage CDs are now only £4.95! To see which ones they are, please click here: Marriages



To search the marriage records click here: Marriages 
Now In Transcription
Baptisms: 
St Mary Whitechapel 1703 to 1758
St Luke Limehouse 1846-1875

St John Bethnal Green 1837-1891
Interesting/Useful Sites
Watermen and Lightermen Section: selected CDs
  ONLY £9.95 !!!

This CD lists some 12,000 apprentices that were reassigned from their original master to another. 

1628 Admiralty Muster of Watermen
On the searchable CD-Rom, there are some 2,393 names of Watermen. Information recorded is forename, surname, age in 1628/9, number of voyages made, location and notes (such as trumpeter, gunner, boatswain).
The earliest Company record is dated 1692, so this is a wonderful resource for possibly pushing your history further back in time.

ONLY £5.95
1648 Petition of Watermen for the King.

This document, from the House of Lords, records the names of 2,026 watermen from the last year of the reign of Charles I. 
The Petition is the vital link between the earlier 1628 Admiralty Muster and the beginnings of the Company's records in 1692.
Also included on the CD are an index to the names, commentary & analysis by James and image samples of the original 350 year old scroll together with a 1673 list of Watermen in the Tower of London.

ONLY £5.95

To browse our entire collection of Watermen CDs, including our apprenticeship records, please click here: Watermen
Watermen Books

My Ancestors were Thames Watermen: A Guide to Tracing your Thames Waterman and Lighterman Ancestors, by James Legon. Foreword by Rob Cottrell.


 Under Oars: Reminiscences of a Thames Lighterman, 1894-1909, by Harry Harris.

An incredibly rare book, about the arduous job of working on the river. I saw more than one on the internet the other day on sale for £120! NOW ONLY £65




Tales of a Thames Lighterman, by Ernest G Murray.



This book is incredibly rare and this is probably one of the only copies on the market, now with £25 off!



Thomas Doggett Pictur'd by Walter Leon. 
This is a rare first edition and an excellent waterman book to add to your collection! 
CATHOLIC RECORDS
EAST OF LONDON FAMILY HISTORY SOCIETY RECORDS
East of London Family History Society



Census 1891 Hackney Part 1.RG12/0179 - 0194.
Covering: Stoke Newington, Stamfod Hill, West Hackney and Hackney

Tower Hamlets Marriages & Banns (Vol 1)-Disc3  Holy Trinity Minories 1676 - 1754
Christ Church Spitalfields Banns 1833 - 1861 


Merchant Taylors   Merchant Taylors' Company Membership Index 1530 - 1928 


To buy the CD of the complete database (36000 records) click here: 
Merchant Taylors' Company Membership Index 1530 - 1928
To search the index click : MT Index


BAPTISMS, MARRIAGES AND BURIALS IN THAMES AND MEDWAY PARISHES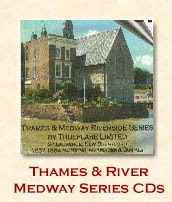 To search the entire collection click below:
Trueflare Thames and River Medway single CDs

Trueflare Thames and River Medway compendium CDs



To browse all of our maps including the Alan Godfrey collection (still at the old price of £2.25) click here: MAPS
The London County Council Bomb Damage Maps 1939–45.

Ann Saunders(editor) 


  NOW with £50 off!!!!

Atlas of over 100 detailed maps printed in colour, with a 22 page introduction by Dr Robin Woolven. The maps extends roughly from Hammersmith to Woolwich and from Highgate to Sydenham.


WE HAVE ONLY GOT  1 IN STOCK, it is extremely rare, and can only continue to go up in value!

PARISH REGISTER BOOK OFFERS AT ROCK BOTTOM PRICES
East End Murders:From Jack the Ripper to Ronnie Kray By Neil Storey. THIS BOOK IS NOW HALF PRICE AT LESS THAN £5!
True Crime History



Tales of London's Docklands by Henry Bradford ALSO ONLY £4.99!!!!

"Tales of London's Docklands" is an anthology of true stories



Voices of Stepney By DEE GORDON ALSO ONLY £4.99!!!!!

The book is the unique and fascinating result of many conversations with people who lived and worked in Stepney during 1950 and 1960. 


All of the following books are now LESS THAN £10 Once they're gone they're gone!

Canning Town Voices (Chalford Oral History S.)by Howard Bloch

Newham Dockland (Images of England) by Howard Bloch.
A fascinating collection of 200 images, this book reveals a vanished world,which few people knew.
Remembering Romford (In Old Photographs)by Brian Evans 

Spitalfields People Talk About The Evacuation
"Where's Your Horns?" Spitalfields People Talk About The Evacuation.
A Bethnal Green Memoir:Recollections of life in the 1930-1950
Memories of growing up in the East End between the wars by Derek Houghton
East Enders' Postcards (Archive Photographs: Images of London)by Brian Girling.

This fascinating collection of over 250 archive postcards explores the communities of Stepney, Poplar and Bethnal Green in the East End of London

Hackney Memories by Alan Wilson.

The 1930s were a troubled era, and England at this time was a land of contrasts. In Hackney Memories Alan Wilson gives us a vivid impression of growing up in a working-class family in the East End at this time
Here are  three  excellent second hand books:
A History of Warfare by John Keegan 
(paperback) £4 plus £2.70 p&p (uk)
Military Blunders (The how and why of military failure)
 by Saul David (paperback) £4 plus £2.70 p&p (uk)
Maritime Power and the Struggle for Freedom 1788-1851 
by Peter Padfield (paperback) £4 plus p&p (uk)
(If you are from outside the UK ask Yvonne about postage charges)
If you would like any of these then please email Yvonne (
jameslegon@gmail.com
)
Thames Books, all have recently been discounted!
Liquid History:To Commemorate Fifty Years of the Port of London Authority 1909-1959, by Arthur Bryant. 

London from the Thames 

The Port of London 

Thames Shipping 

Thames: Sacred River (Hardcover)

Research Services: email Esme research@parishregister.com 
Ramblings from the Estate
Normally this part of the newsletter is the most enjoyable part for me to write and very much light-hearted, but obviously with the passing of my dad it's not so easy to get in that frame of mind. He has been living in Sheffield for the past few years after living most of his life in and around Epping, Essex. At first it was a bit strange for him, especially getting used to their funny accents! But, the care home he was living in was great for him and living close by to my brother, William and his family, including three of his grandchildren, meant life was was pretty good for him. As it happens, Her Indoors and I were (and still are) going to go up and live in Sheffield too so he would have both of his sons up there with him. However, fate has intervened and our move has just come a little  too late!  I must admit it was such a contrast between going to the hospital each day and then coming 'home' to Will's and spending time with his three fantastic children aged 5, 3 (almost) and 1, oh and the dog, oh and the cat!
Down south, here in London, it hasn't yet snowed (possibly an odd snowflake here and there) but up in Sheffield it came down by the bucketful, and when we first arrived we couldn't even make it all the way, having to abandon the van half a mile from Will's! The snow quickly compacted and this made getting out and about very tricky indeed! Running was even more difficult! Anyone who knows Sheffield will be aware that you're either going up or down (there's not a lot of flat) and that running down hill in the snow and ice is a bit dodgy to say the least! Unlike at home where I always run alone, I had a running partner on all my runs; Monty, the dog! Generally he is extremely well behaved and doesn't generally need to be on his lead. However, the one time he lets himself down is when there's a labrador of either sex around, and I'm afraid he does something very embarrassing and attempts to....how can I say this.......erm, he tries to seduce them, if you get what I mean, and I have to drag him off the poor victim!
This week I've returned to school, as teaching the little ones takes my mind off recent events, and a degree of normality has been most welcome.
Her Indoors made a lovely spiced fruit  bread pudding with the invaluable help of 5 year old Jocelyn and (almost) 3 year old Patrick which I would highly recommend!

A beautiful memory, dearer than gold,
Of a father whose worth can never be told,
There's a place in my heart no one can fill,
I miss you, Dad, and always will.
Jno and the gang!