Good day happy campers, and happy belated new year from all at parishregister Would you believe it, that's a twelfth of the year gone already, but don't despair, hopefully I'll bring you something old, something new, and something blue in this first newsletter of 2011.....something blue??? Why yes, the links of course! What's new this month? You ask; well we have yet another CD for you, Vol 78. St Dunstan, Stepney 1629-1641 (another 10000 entries!) and we've uploaded yet another 10000 entries for St Dunnies for the years 1688-1679.
Searchable Databases
Last month:
St Anthony, Globe Road, Stepney 1879 to 1903 2886 entries
St James the Great, Bethnal Green 1844-1869 4736 entries
This month:
St Dunstan 1668-1679 10035 entries
To search these databases, or any other then click here: search
I don't normally do the salesman thingy, but I thought I'd point out why buying a CD when you're looking for a relative in any particular parish, especially if you are sure they should be there, but haven't found them, is a good idea. Take a look at these two entries recently transcribed by Jim; obviously the same family, but the surname is so very different! Need I say more! If you did a search on one of the names, which ever it should be, you wouldn't get the other, but purchase the CD and voila!
St Dunstan 1668-1679
ID
EntryNo
BirthDate
BaptismDate
Firstname
Father
Mother
Surname
Address
Occupation
Source Ref
Note
4253




12-Mar-1672
Katherine
John
Katherin
Legne
Ratcliff
Glassmaker
X0241-066


2403




1-Dec-1670
Margret
John
Katherin
Legonis
Ratcliff
Glassmaker
X0241-066


New CD

This month:
Volume 78 St Dunstan Stepney 1629-1641 10006 entries
To buy this CD please click here: Volume 78
Last month:
Volume 77 St Matthew Bethnal Green 1799-1819 12605 entries expertly and often painstakingly transcribed by Beryl
To buy this very popular CD please click here: Vol 77
To browse our other single CDs please click here: single CDs
Family historians might like to know that there's a petition currently running to save the Cleveland Street Workhouse (near the Telecom Tower) built in 1775, and still serving sick Londoners until 2006 when it was the Outpatients' Dept of the Middlesex Hospital. Over 500 people slept there every night, so loads of us must have had relatives there... plus it was a maternity hospital and children's hospital at various times in its long history. Developers with no regard to history want to smash the place down, and erect a huge block of posh housing, but locals say its a good sturdy building, it belongs where it is, and with a bit of imagination could be turned to other uses. Researching the street, I have just discovered that Dickens lived there, so the workhouse is likely to be the inspiration for Oliver Twist!! Please sign up, and/or email the planners! For details go to www.workhouse.org and follow the links! Thank you!
If you think you may have a relative who was a merchant Taylor then don't forget to search our 36000 entry database, just click here: M.T
Now In Transcription
St George in the East 1877-1893
Christchurch Spitalfields 1843-1875
St George in the East 1893-1904
St Dunstan Stepney 1679-onwards!
Other selected products
Everything Watermen and Lightermen
You can browse all of the Watermen and Lightermen products which are your essential resources for tracing your watermen or lightermen ancestors by clicking here: W&L but here's my selected CDs of interest in this department:
My Ancestor Worked On The RiverThames by Rob Cottrell.A guide
to help you find where they worked.


The CD covers both sides of the Thames and gives details of nearly every
wharf, creek, river buoys, waterman's stairs, riverside taverns etc., plus
history and interesting facts.
To buy this CD please click here: Ancestor
Company of Watermen Compilation CD 1



It's an invaluable resource for all things watermen and lightermen, click here to buy: CD1
Company of Watermen & Lightermen; Pensioners Admitted for Relief 1794-1837.
This is a transcription produced by Rob Cottrell from the archives of the Company of Watermen & Lightermen.
With over 1,100 entries in Adobe Acrobat format on CD-ROM, this index shows the surname and forenames of the individual; or in the case of a wife or widow who the husband was, the date of admission and finally where the individual was living at the time admission was recorded. A typical entry reads as follows;

589. LEGON JOHN ADMITTED 1829 JUN 30 FROM BERMONDSEY
To buy this CD please click here: Pensioners

The Company of Watermen & Lightermen : Reassignment Index 1688-1908.

This CD lists some 12,000 apprentices that were reassigned from their original master to another. In some cases to more than one other master.

The entries were extracted from the Apprenticeship Bindings Indexes that cover the same time period.A typical entry reads as follows:
6687. LEGON GEORGE GAMBLES BOUND 1851 DEC 11 REASSIGNED 1858 JAN 14 TO JUDITH LEGON
To buy this CD please click here: Reassignment

Apprenticeships Bindings Index 1692-1908 (Vols 1-9)

To buy this CD please click here: Bindings
All of the bindings can be found by clicking here: More bindings
1648 Petition for the King

To find out more about this CD and/or buy it please click here: Petition
1628 Admiralty Muster of Watermen

To buy this please click here: Muster
My Ancestors rowed for Doggett's Coats & 1715-2009 NEW 2nd Edition

To buy this product please click here: Dog
Waterman & Parish Register Special Offer Price: £129.93
East of London Family History Society
Tower Hamlets Marriages & Banns (Vol 1)-Disc 3

To buy this product please click here: THM&B
Tower Hamlets Burials & MI's (Vol 1) Disc 5
To find out more about this CD or buy it please click here: THB
St Andrews
Burials & M.I. St. Andrews Church, Hornchurch. 1576-2000
Monumental Inscriptions and Burials, of 17,195 names for the years of 1576 - 2000.
This month there's £2 off this product. To buy it please click here: St Andrew
Cockney Ancestor. The first 100.
Now £10, to buy this click here: Cockney
The Frogley Index and Manuscript (History of Barking)
Please click here if you'd like to buy it: Frog
Other products in this series include:
Crow Lane Burial index 1871-1953 listing 20,000 entries. Census 1851 West Ham.HO107/1768.
Census 1891 Hackney Part 1.RG12/0179 - 0194. Census 1891 West Ham Part 1 RG12/1310 - 1325
Census 1891 West Ham Part 2 RG12/1326 - 1342

Catholic Registers
SS. Mary and Joseph, Poplar Roman Catholic Chapel.

Marriages and Baptisms 1818 - 1856


To buy this CD please click here: SSMary
Misc Catholic London District Baptism, Marriages and Burials Vol 1
27 indexed transcriptions of Catholic Parish Registers from churches, chapels and missions in the county of Middlesex
To buy this CD please click here: Catholic 2
The Registers of the Sardinian Embassy Chapel, London, 1772 - 1841(Church of SS Anselm and Cecilia in Holborn). This comprises indexed transcriptions of over 22000 baptisms hitherto unpublished, a work which has taken them about 10 years to produce!!In total there are 60000 odd entries on this CD, a bargain at £7.95!
To buy this CD please click here: Catholic 3
Misc Catholic London District Transcriptions, Baptisms, Marriages,Confirmations Vol 2
If you would like more details about this CD or you would like to buy it please click here: Catholic 4
Merchant Taylors
The Merchant Taylors 1520-1929 (36000 entries-Exclusive to Docklands Ancestors!) The index gives the name, date of freedom, method of admission (apprenticeship, patrimony, or redemption), name of master if by apprenticeship, date of election to livery, and 'Remarks'.
To purchase this CD please click here: Merchant Taylors
SPECIAL OFFER Compendium CDs 1-5
Docklands Ancestors Parish Register CDs - Compendiums' Department
Docklands Ancestors Parish Register CD Department
East of London FHS Publications Department
'Thames & River Medway Series - Compilation CDs'
'Thames & River Medway Series - Single Parish CDs' Rob's now transcribed 85 of these!
Rob's CDs include records of marriages, baptisms, burials and cemetery records, and include parishes such as Greenwich, Gravesend, Dartford, Northfleet, Tilbury, Lambeth, Charlton, East Ham, Deptford, and there are some burial records for St Dunstan Stepney and man, many more....have a look!
Research Srevices: If you've come to a dead end in your research then you might want to give Esme an email at research@parishregister.com. She will discuss your requirements and advise on options. If you want her to undertake research on your behalf, she will agree a proposal and a price. Typically, you will receive a written report, setting out the objectives, itemising in detail the sources and documents searched and discussing the results (both positive and negative). Photocopies of relevant entries will be included.


Map Department
Ecclesiastical Map-County of London 1903
A Map of the Ecclesiastical Divisions within the County of London 1903.
To buy this really useful map (if you're not sure which parish is next to which and wish to search for neighbouring parishes) then click here: Parishmap (a bargain at £5)
Map of Middlesex 1611 by by John Norden and John Speed
Black and white print measures 46cms x 58cms.
£4.95 plus p&p please click here: Middlesex
A Balloon View of London 1851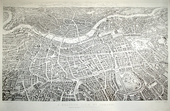 To buy one for £6.95 (that's £1.55 off!) click here: Balloon
Devastated London - The Bombed City As Seen From A Barrage Balloon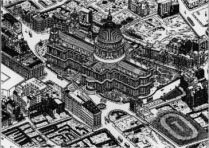 To buy this (folded) map for the bargain price of £4.50 click here: Devastated London
London and Its Environs 1813

Price: £3.95! To buy this map and for more information please London
Rocque's 1745 Survey of London

Price: £7.95 To buy this map and for more information please rocque
To view our comprehensive Alan Godfrey maps collection please Alangodfrey (still only £2.25)