Dear Subscriber
Hello and welcome to the January ParishRegister.com newsletter and a happy New Year to you all. Once again I'd like to say thank you for all the very kind comments I get about these newsletters, it really does make it worthwhile.
A very warm welcome to our new subscribers . Yes, we're trying to flog you things, but we also aim to inform, educate and hopefully put a smile on your face too.
In this bumper issue we've got some new CDs for you, special offers on books, some useful info on getting hold of birth certificates, and words. Lots of them! It waffles on a bit this one, as I've been stuck indoors. So, put the kettle on, crack open a bottle, or make sure the boss isn't around.
Online Searchable Databases
Completed and uploaded is:

St George in the East 1795-1808. 8,326 entries. A fair few of my lot in this one, eight in fact, back in the days when they were all still watermen. Abraham & Martha Legon were living in Old Gravel Lane in 1795. I mention this because Old Gravel Lane had Legon's living in it for all of the previous century, with virtually all the men working on the river. It's the perfect illustration of how life was in those days. A century later we were still to be found, in the same handful of streets, doing the same job.

An amusing entry in the note column, from January 1800:

'Two children. The friends ran away as soon as they were baptised and bilked the Rector of his Fees'

Not so amusing for the kids though, with no parents details recorded. A sadly not uncommon occurence, although the first time that I can recall two children being abandoned at once.

This takes our St George coverage from 1729 to 1848.

In transcription now is:
St Dunstan, Stepney 1826-1835 (4,000 out of about 8,000 done )
St Mary Magdalen, Bermondsey, 1813-1822
St Mary Newington, Southwark 1837-1842

Next up will be:
St Dunstan, Stepney 1770-1798
St Anne , Limehouse 1783-1812. We're still waiting for this film to arrive, despite it being ordered from the LMA 6 weeks ago. It's because of the wait for these films that we've changed the order slightly. Bit of a deviation too from Tower Hamlets, but both these Southwark transcriptions are follow ons from previously transcribed registers.

After that, in no particular order, St George in the East 1848-1861; Christ Church, Stepney 1842-1863; All Saints, Mile End 1840-1875

Once Stepney is finished it will be on to Bethnal Green.

I've had zero negative feedback regarding the new 'catchpa' ( the bit where you have to enter the letters in the box ). It's working too, as we had only 15 minutes of site downtime in December, ( compared with 39 hours in July!).
New Docklands Ancestors CD

Volume 47, Christ Church, Spitalfields, baptism registers, 1819-1842 is available now. There are 9,554 entries on it, making it a busy parish. Situated next to St Mary, Whitechapel, the same weaving/clothing/dyeing trades are well represented. The recording of dates of birth in this register is a bit sporadic unfortunately.

Volume 48, St George in the East 1771-1794 is at the production company right now, so this should be out very shortly.

Here's a typical entry from Volume 47, reflecting the diverse nature of employment in this area!

Entry No: 1533; Birth Date: [Blank]; Baptism Date: 15/12/1833; Firstname: Mary Ann; Father: Richard; Mother: Mary Ann; Surname: Druer; Address: White Row; Occupation: Maccaroon And Bimicelli Manufacturer; Source Ref: NX024/002; Note:

East End Books at 20% off- the Second Selection
The East End at War is another excellent title from Tempus Publishing, whose books of old photographs and informed text are really popular, not just with Local and family historians, but with anybody that grew up in these areas. It's just a pity that they are produced in such short print runs, that inevitably sell out in no time at all. I bought this book on a trip down to the excellent Newham Bookshop, down the Barking Road, just near West Ham's football ground. I was born just around the corner from here, although I won't say it was a trip down memory lane, as I was quite young when I was born!

The book is divided into chapters that cover not just the Second World War, but all of the conflicts in the 20th century that impacted on the East End.

There must be over 200 photographs in this book, mainly from Poplar,Bethnal Green, Whitechapel, Bow, the docks and of the people who lived there. Many show bomb damage to buildings that were later demolished.

You may recall an article in a previous

newsletter

about the Bethnal Green Underground station tragedy, when hundreds of people lost their lives when a panic gripped a crowd as the Victoria Park ack-ack gun opened up. There's a photo in this book of the staircase where so many people lost their lives. Very sad.

A bargain at the RRP of £9.99, even more of a bargain at £7.99 !


East End Neighbourhoods is our number one bestseller. We've got plenty in stock, so if you have ancestors from the East End, I thoroughly recommend you buy this.

A Century of the East End is a similar title, chock full of archive photographs and informed text.

Tales of London's Docklands is a favourite of mine. The author was a Registered Docker and this is his personal recollection of a life on the waterfront.


Click here for East End books at 20% off
Tower Hamlets church pictures
My brother has had a bit of time on his hands lately, ( but he doesn't even wear a watch ). He was the deputy head guard at an asylum for young delinquents. I think they call it a school or something, in the East End. He was sentenced to a ten stretch, but he fell out with his boss, who called him names or something, I don't know. Anyway I've tried to keep him busy as my apprentice horticultural environmental engineer ( ie garden labourer ), but he still had some time on his hands so I sent him on his moped , ( since stolen from his lock up by the Debden Posse, or Debden Pussies as the Hainault Mob call them, on account of their average age is about 11 ), down the East End with his new toy, a digital camera. Amazingly enough, for a teacher, he managed to switch it on and point it in the right direction. Without getting mugged too. The result is, we've now got pictures of every single church that we've got transcribed registers of. Well, apart from the ones that Adolf demolished that is.
The pick of the crop are the Nicholas Hawsmoor churches, ( St Anne Limehouse, St Paul Shadwell, St George in the East and Christ Church Spitalfields ). Young Nick was a pupil of Sir Christopher Wren and you can definetely see Wren's influence in all of these buildings.
They remind me of wedding cakes for some reason.
So, have a gander around our picture gallery and hopefully you'll see where your ancestors trod, way back when.
Foreign books at 20% off
Well now, yes indeed. We mustn't forget our chums from foreign parts when it comes to special offers on books. I did do French at school, but then I got a bit carried away, and mistook an ability to conjugate avoir with an ability to get on with the French. Looking back, it really was a silly idea to marry one. She thought so too, so at least we agreed on something. Anyway, south of the Thames is still abroad in my book, but I won't hold it against you, so have 20% of these titles....


Click here for foreign books at 20% off
Some diary dates
Saturday 19th January 2008. East of London Family History Society Fair, at Eastbury School, Hulse Avenue, Barking IG11 9UW. We're going to be at this one so please come and say hello!

There's a great exhibition on at the Museum of London about the Fire of London. It's running until Spring 2009, so you don't have to jump in a cab immediately. They've extended their opening hours to 9 pm on Thursdays now too.

The Museum in Docklands has an exhibition about London, Sugar & Slavery. Ha ha I hear you say, what have those things got in common, apart from 2 vowels in each word? Well, I do happen to know a tad about this subject, as it was a major feature of our maritime history, (which is probably what I know most about, along with turf care, for which yours truly is professionally qualified). Anyway, I digress as usual. Right, ships used to toddle off down to the West coast of Africa, with a cargo of tat, pick up a ( and this is the only word that does accurately describe it ) cargo of slaves, sail to the Carribean and return with a cargo of sugar. We cornered this market from the Spanish, who termed the trade the 'asiento'. So, there you go.

Whilst we're on matters maritime, the National Maritime Museum has got a free talk on the range of material available to researchers at NMM to help discover more about your maritime ancestors on 22nd January. You can have a good day out at Greenwich, especially if you take a boat from Westminster to get there. Kind of appropriate really !

At the end of the month, on the 27th, there's the Bracknell family history fair, which is probably the biggest one in the south of England.

On the 29th at the Family Records Center is another free talk 'Tracing Births, Marriages & Deaths
A guide to using the various sources for tracing records of births, marriages and deaths at the FRC and elsewhere. Ideal for beginners or those who want to refresh their knowledge of these crucial sources'.



Old House Books

Yup, I know it says 'Old House Books' and these are maps. But that's what the company that produces them is called. We've only just started dealing with them but they seem like jolly nice people. At least, they answer the phone without any of that 'press 1 to hang on', 'press 2 to hang on some more',' press 3 if you still have the will to live' etc.
The range includes the following:
Great Fire of London Map 1666; A Street Map of London 1843; London Street Maps 1863; London Railways Map 1897; Bacon's Street Map of London 1902;
Map of the River Thames 1893; Victorian Maps England and Wales 1897; The British Empire Map 1905


To the left is a section from the 1843 London Street map. Pretty detailed isn't it?
Below are some more of their very attractive titles.
London inhabitants within the city walls in 1695
Having had a bit of time on my hands over the festive period, I resumed the search for my elusive ancestor, John Gleghorne, who represents the proverbial brickwall which we all eventually end up banging our heads ( and wallets ) up against. I know exactly where he was and what he was doing in 1701, but I can find no trace yet of where he came from.
I'm pretty sure now that he wasn't in London before he turned up at the Red Lion on Wapping Wall. A search of this excellent free resource supports this. It's a listing of London inhabitants within the city walls in 1695, plus a further 17 parishes without the walls, on the British History Online site.
There's a lot more on this site than this, and it has a search facility that allows you to search across the whole collection. Some of the contents is regarded as premium content, which costs £20 for a year's access.
Thames & River Medway Series Volume 76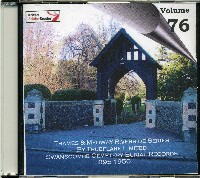 My pal Rob Cottrell has been busily transcribing again, with the completion of volume 76 of his Thames & River Medway series of parish register transcriptions. Latest offering is the burial registers of Swanscombe cemetery, 1895-1950. There are 5,321 entries. Here's an extract from it.


1. ABRAHAM JANE 1911 FEB 1 FROM MARSH COTTAGES AGED 82 YEARS
2. ABRAHAM LOUISA REBECCA 1936 OCT 14 FROM SWANSCOMBE STREET AGED 73 YEARS
3. ABRAM ISABEL RUTH ALICE 1912 MAR 20 FROM SUN ROAD AGED 19 YEARS
4. ABRAM JOHN BAPTIST V. 1905 JUL 29 FROM SWANSCOMBE STREET AGED 46 YEARS
5. ACCLETON EDMUND 1904 MAY 16 FROM SWANSCOMBE STREET AGED 66 YEARS

Many of you will know Rob for his work in transcribing Waterman records. He's now the official archivist to the Company, and as such has now got access to the material that wasn't deposited at the Guildhall Library. He's working on 2 projects from this material right now, the first of which will be available shortly. This is connected to Doggett's Coat & Badge Race. Until now, the winners have been quite well known, but of course the Race had 6 competitors didn't it? Having been rowed for since 1716, that's about 1,700 newly qualified freemen in total.
Incidentally, whilst helping Rob with his research into Thomas Doggett, I made use of the Oxford Dictionary of National Biography, which is an excellent resource. If you are a member of a library, it's free to use. Many public libraries have subscriptions to things like this. Essex Libraries has a subscription to the Times Digital Archive, which is well handy for not only news, but obituaries too.
How do I get a BMD certificate?
What a good question. First up, let's define exactly what we mean by a BMD certificate. From 1837 onwards a system called civil registration started, whereby the local authorities had to be notified when someone was Born, Married or Died. A certificate was then issued, called a Birth, Marriage or Death certificate.
Right, that's the easy bit out of the way. Onwards. The key thing about obtaining a certificate is knowing what the reference number is. This is usually called the 'GRO reference number'. ( GRO stands for General Record Office. Not 'Get Record Online'!). Once you have that, getting the certificate is child's play.
Once upon a time, you could trot off down to the Family Records Center and rifle through the paper indexes to births, marriages and deaths. Not anymore you can't, ( I won't digress here as to why ). If you want to get a certificate online, what you have to do now is to find an online source, and search that for the GRO reference number.
I'm not going to go into how each of these sites work, or recommend any, ( just go to Google and type in 'GRO reference number' and you'll see a number of options).
There are other sources, but not on a national level, online.
So, how are these indexes organised? Firstly, it's important to understand that the country is divided into civil registration districts. For example, when our first was born, we had to go to the Epping Registrars office. Knowing which district your ancestor was born in is of immense help in travking down his birth certificate.
For a list of the civil registration districts, this site is pretty good:
http://www.ukbmd.org.uk/genuki/reg/
You might also find that a civil registration districts map is a good idea.
Once you've decided which district to search in, you'll then have to decide what date range to search. If you know what year your ancestor was born in, great, easy peasy. If not, you'll have to try a range of dates.
When you've done that, you can search by name. Obviously, the more detail you enter here, the better. There could be several John Taylor's born in 1853 in Southwark, for example, but there might be only one John Spencer Taylor.
However, at some point you will be presented with the scenario of 'how do I know which John Taylor is my John Taylor?'. The answer here I'm afraid is that sometimes, there is no way of knowing. It's a matter of elimination, and considering all the evidence.
Once you've got your GRO number, the rest is downhill. Go to the GRO website and order it, link below.
A certificate, with reference number supplied, posted to you, costs from £7.00.
To recap:
1. Identify the Registration District
2. Obtain the GRO reference number
3. Order the certificate.

Many of you will know of numerous variations to this advice, but I think for beginners this is the simplest way of going about it.



Thames Ship Towage - Ceremonial Barges on the River Thames - Port of London Shipping - Thames Shipping , just some of the excellent books we have from the Thames & Docklands section.
Click here for Thames Boat Books
Some tips for using our website
This is old hat for those of you I've been bugging for years, but we do have to bear in mind our new chums. So here's a few tips that might be jolly useful, ( and when I say something is jolly useful it means for god's sake pay attention in the cheaper seats! There might be questions later )

1. Don't pay for a database search by including a forename. By all means use that facility to narrow your search down, but when you decide to part with your well earned £2.95, just put the surname in the box. That way you'll get all the people with that surname. Geddit?
2. When the site loads up, press F5. That brings up the newest version of the site
3. My email address is jameslegon@gmail.com
4. If you're searching for something in the Shop, use the search box and search 'Entire Shop'
5. If you don't get your search results straightaway, contact me immediately. The process is automatic, so you should get the results within minutes. Do not wait for 3 weeks, I don't bite ( much ).
6. The most cost effective way to access our registers is to buy the Compendium CDs
7. When reading this Newsletter don't let the boss catch you
8. Have a credit card handy at all times!
Well I didn't know that.......
You see some right funny occupations in parish registers. You don't get many surprises with names or addresses, ( Labour in Vain Street is my favourite address ), but you never know what might pop up in the occupation entries.
One occupation that really illustrates the changing nature of the capital is cow keeper. To us, it seems almost inconceivable that the east of London was a rural area. A cow down the Mile End Road now would be fit for hamburger, ( or more likely kebab!), within minutes today. But any map before about 1800 shows large areas of fields and orchards, just outside the old city walls. And there must have been plenty of cows, as there were plenty of cow keepers!
Bet you can't guess when the last cow keeper packed it in? The answer might surprise you. It was actually as recent as 1967, when a chap by the name of John Jorden, who kept a herd in Peckham, called it a day. ( Probably sold them to Del Boy & Rodders ).
London history books at 20% off
Our bookshop has been growing by leaps and bounds, with over 500 titles now listed, most of which are in stock. Our aim is to be the premier supplier of books about London, the Thames, the Docks and of course family history. As well as books currently in print, we also seek out those rare and out of print titles which are the devils own job to get hold of. We pride ourselves on having a detailed description of our books, as well as an image of the cover. Our contacts in the book trade, ( one of James' jobs is working for a book distributor for the last 10 years ), mean we are often able to source books that are not available to the general public. So if there's a book you want that we don't currently stock, let us know and we'll do our best to find it for you.

Bitish Pathe News - Watermen & Lightermen
I was having a nose around on YouTube the other morning and I came across this short video, entitled Watermen & Lightermen. It shows a very rare example of a barge being driven under oars by two lightermen. Plus, the chap in the small motor boat I'd lay money on is Harold Evans, the river postman.
Interesting choice of soundtrack that accompanies this clip! I don't see the connection myself, but if anyone can enlighten me? It's sung by a Spice Girl that can sing. Now there's a shock.
I don't know how long this clip will be up for, as it's copyright material from British Pathe News.
Google maps
Okay, pay attention, this is a good one! If you're anything like me, once you've discovered you've got ancestors ( ho ho ), and you've found out a bit of basic info about them, like when they lived & married etc, you want to know where they lived. In the past our choices were pretty much limited to things like the (excellent) Alan Godfrey Old Ordnance Survey Maps and archive photography books, such as East End Neighbourhoods. As ever, times have moved on and those rather clever chaps at Google have got something called Google Maps. Now, and this is the good bit, not only can you conjure up a pretty good map online, but once you've done so you can superimpose a satellite image over it. One which you can zoom in and out of, move along to the left, right and up and down. All for free I might add! Ho ho
This is pretty useful for family historians, in several ways. Firstly, you can see where your ancestors lived in relation to each other, ( provided you've done your research and got some addresses that is!), both at that time and over time ( ie the migration pattern ).
I'm going to illustrate what I mean by this, with reference to my family. If you click the link below, the gods of technology permitting, it should bring up a map of what is now roughly Wapping. I've stuck pins into where I know my ancestors were living. You can get a good overview into where they worked and what churches they went to, in relation to where they were living. As you can make it a public resource, researchers who are looking for the same family can add things, or you can build up a picture of who else was living in 'your' streets. The possibilities are endless.
I'd love to know if you find other interesting uses for this technology.
The Reading Room
I love reading about London, centuries ago. If you do too, put the kettle on, brew a nice cup of tea, and click here to download a couple of digestive biscuits.
Come on then. Confess. Who tried downloading a biscuit??

What follows is pilfered from 'Book 5, Ch. 3: Parishes east of the Tower', A New History of London: Including Westminster and Southwark (1773), pp. 769-772, by John Noorthouck, published in 1773.

CHAP. III.
Parishes in the county of Middlesex lying eastward from the Tower.
These parishes, which are chiefly inhabited by seafaring persons, and those whose business depends upon shipping in various capacities, are in general close and ill built: therefore afford very little worthy observation except the parish churches, which will be mentioned in their order.
St. Catharine's.
On the east side of St. Catharine's court just below the Tower, stands the parish church dedicated to St. Catharine; which originally belonged to an hospital founded by Matilda, consort to king Stephen, and was farther endowed by queen Eleanor, the relict of Henry III. queen Eleanor consort to Edward I. and king Henry VI. who not only confirmed all the former grants, and added several additional ones, but gave an ample charter to this hospital. It was exempt from the jurisdiction of the bishop of London, till its suppression by Henry VIII. soon after which king Edward VI. annexed it to the diocese of London. The church, which is a very antique building, is at present collegiate, and has a master and three brethren, who have 40l. each; three sisters who have 20l. and ten beadswomen who have 8l. per annum each: but the other profits arising from their estates, being only known to the master and brethren, are divided amongst them. To this precinct belong two courts; in one of which actions of debt for any sum are tried weekly on Thursdays: and in the other, which depends upon the civil law, are decided ecclesiastical matters.
St. John's Wapping.
On the north side of the street called Wapping, which extends along the river side, stands the parish church of St. John's Wapping; which was built in 1617 as a chapel of ease to St. Mary's Whitechapel. But by the great increase of buildings, the hamlet of Wapping was in 1694 constituted a distinct parish; and the advowson of the rectory remains in the principal and scholars of King's hall and Brazen-nose-college Oxford. This church, which was built at the expence of 1600l. is a very mean building, it consisting of a plain body, a tower which scarcely deserves the name, and a spire that might be taken for a lengthened chimney (fn. 1) .
Execution-dock.
This parish consists of very narrow ill built streets carried close to the river banks. At the place called Execution-dock, all pirates and others condemned for offences on the high seas, at the Admiralty sessions, are executed on a gibbet at low water mark.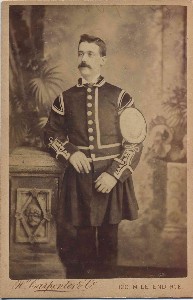 I was contacted recently by a lady from Australia who sent me a series of photographs, one of which is shown here. Clearly it's of somebody who has taken part in a Reggatta, probably on the Thames. Do you know who this man is?
He's not a Doggett's Coat & Badge man, but Doggett's was (is) but one of many races that were held on the Thames, particularly in the 18th & 19th centuries.
We'd also like to be able to put a date to it. A big clue is that the photo was developed by a firm called H. Carpenter & Co, 120 Mile End Road, London. So, all you people with access to trade directories, is this firm mentioned? They styled themselves 'artists & photographers'.
Ramblings from the Shed
This bit is optional. It rarely has anything to do with family history, ( at least, I don't remember it doing so!). Now that the gardening year has wound down I've had a bit more time on my hands. I'm slogging my way through transcribing the Merchant Taylors apprenticeship records.................slowly. I've been having fun knocking up some new stands for the East of London FHS fair, ( why is it that whenever you use a rechargeable screwdriver it's battery is flat? ), although going to our local Homebase is a total wind up, on account of its got parking for 3 cars and a disabled scooter. And of course, if you want 3 things 1 will always be out of stock, and 1 will not have a barcode on it, and no, I haven't got an Amber Nectar card,or whatever it is, I don't want double glazing and I'm perfectly capable of packing a packet of 3/4 inch woodscrews unaided, thank you very much!
I feel so much better now I've got that off my chest.
I've not been out much lately, apart from a trip to the IMAX at Waterloo to see Beowulf in 3D, which was quite amazing.
It's been too miserable out to do any walking, and I certainly wasn't going to go up to the Lake District on one of my younger brothers' expeditions. I'm too old now to regard a night in a tent on a hillside, soaking wet, as a laugh.

Having spent the obligatory amount of time spent slumped in front of the telly over the festive period, I've been subjected to adverts. So, adverts that wind me up:

1. Search Free! And then you find that results cost money. I deplore this practice. It should be banned unless, like FreeBMD, there really is no cost involved
2. Free Registration! I should hope so too. I think you should be paying me to give you my details, that you'll probably use to spam me anyway
3. Personal injury adverts. Especially that one that says blah blah, I got £x millions, and my company introduced new safety procedures. Yeah right, like that was your real motivation all along
4. Same as above, but starts off 'the forklift reversed into me without looking'. No it didn't, the forklift DRIVER reversed into you without looking. Doh.
5. Up to 8 meg broadband. Does this mean you get a refund if the actual speed is 1 meg??
6. Unlimited usage. Subject to 'fair usage' policy that limits usage. Complete load of tosh
7. Usually dispatched in 3-5 weeks. If we can actually find what you've bought and paid for, cos we sure as hell haven't got it now!
8. Computer adverts where Mum & Dad & 2 kids are all sitting around their new computer beaming with happiness. It's a computer for crying out loud, not the discovery of fire.
9. Garden center/supermarket adverts where numerous, enthusiastic staff are just waiting in each aisle to help you. You're more likely to find Glenn Miller lurking by your compost heap than staff just wandering around the shop floor with nothing better to do than help customers.
10. Adverts for expensive items like flat screen TVs that are described as 'just' or 'only' £995 or whatever. Just £995? What planet are they on if £995 is 'just'? Are the advert makers earning such great fortunes that a grand here or there is 'just'? " Did you tip the pizza driver Tarquin?", " Just £995 darling". Yeah, right.

I'll have to stop myself here because I'm talking myself into a depression, especially as I realize I could go on for hours, as just about any advert winds me up. Okay, to be honest, there is one exception. "Ronseal. Does exactly what is says on the tin".

The wife rang some company to order something or other. Being from Mongolia, via Hong Kong, her relationship with the English language can at best be described as somewhat semi-detached. So using the telephone usually induces a nervous breakdown. All went well however until she was asked for our postcode. After several false starts, the person at the other end asked her to spell it phonetically, Alpha Romeo style. Now, Wikipedia has the following about this: 'NATO phonetic alphabet, more formally the international radiotelephony spelling alphabet, is the most widely used spelling alphabet etc', ( well known on the Great Steppes I'm sure ).
So, the postcode is IG10 3PR, which translates as India Golf Ten, Three Papa Romeo. How hard can it be? Well, when English isn't your first language and the 'international radiotelephony spelling alphabet' didn't feature on the Chinese version of Jackanory and you're in a state of nervous panic….., it came out as…………….. Igloo Ten, Three Peter Rabbit 
Needless to say the mug of tea I was drinking got sprayed all over the carpet.

In a similar vein, I worked at the local Chinaman delivering food in the evenings, to finance my first van. Not unnaturally, it was staffed by Chinese people, including the girl who took the telephone orders. Now, what Mai speaks bears only a passing resemblance to the Queen's English, and is delivered in a staccato manner, that translates chicken chow mein with egg fried rice to 'chick chow mein, egg fly lice'. So, addresses written on the delivery note by her often caused confusion for us drivers. I picked up one batch, saw that that were all Chigwell addresses and off I went. After dropping the first one, I'm driving along Manor Road, looking for Guydor House, without success. Up one side, down the other, can't find it. Stop, venture up a few drives where I can't see the name from the road, still no joy. Check the A to Z. Nope. So, ring the shop and ask Mai if she's quite sure it's Guydor House? "Yes, yes, Guydor House, near pub". Ah, now we're getting somewhere. Back to the car, there's only one pub in the road, it has to be that building there. And oh look, there's the customer waiting in the car park, waving frantically. Sorted.
And the actual address? Guide Dog House.

( There may be a delay in product dispatch next week as Mrs Shed will probably be on strike when she reads this ).

You'll have been pretty blind not to have noticed the Google adverts on the site. The income from them nearly covers our webhosting costs. They have the saving grace at least of being relevant to family history. Clever people at Google. So it made me laugh the other day when I saw one for exhumation services. So, Google people, clever, but not that clever!
I went passed a shop in Theydon Bois the other day, that used to be a restaurant. I still shudder with embarrassment when I pass it. Way back when, when Legon minor and I were knee high to grasshoppers, we decided that we'd pay a visit to this new restaurant that had opened in the village, without of course the supervision of our parents. Needless to say those were the days when kids were out all day, with the instruction to be in before dark, without the risk of being confiscated by social services from the neglect of feckless parents.
So, with our best short trousers, and all of 1 shilling and six, we entered this posh establishment and requested a table for two. Maybe they were desperate for trade, maybe they were just game for a laugh, I don't know, but we were seated with all due pomp and ceremony, and handed menus, which were almost as big as we were.
We very quickly we realized that fine dining was not to be had in Theydon Bois for one and six. So, maintaining all due pomp and ceremony, we proceeded to order the following:
1 green salad .
1 glass of water.
Between us.

Still, it taught me a very valuable lesson. If you can't see the prices before you go in, you probably can't afford it.

Anyway, thanks for reading and as the late Dave Allen used to say, good luck and may your God go with with you.

Kind regards
James and the ParishRegister.com people