Dear Subscriber
Hello and welcome to the January ParishRegister.com newsletter, a happy New Year to you all.


Online Searchable Databases
This is the progress of our transcriptions:

Completed
St George in the East 1750-1770 100% completed
N.B. These will be uploaded towards the end of the month. Our website maestro is taking some time off right now, as he's just become a first time father.

Coming next:
St Dunstan Stepney 1826-1835
St Mary Whitechapel 1832-1842
Christchurch Spitalfields 1819-1842
St Mary Newington 1837-1842
St George in the East 1837-1848
St Mary Magdalen Bermondsey 1813-1822
St John, Wapping 1781-1812
St George in the East 1771-1794


New Docklands Ancestors CDs: Vol 32, 33, 34 and 35
Out this month are:
Volume 32, Holy Trinity, Mile End, 1841-1884, baptism registers, with approx. 7,200 entries
Volume 33 St Mary, Whitechapel 1842-1865 with approx 10,000 entries
Volume 34 St Anne, Limehouse 1813-1821 2,400 baptisms
Volume 35 St Paul, Shadwell 1755-1774, baptisms, approc 10,000 entries

You might notice in the shop pages that I've had a little tidy up, seperating single parish CDs from compilation CDs. Nothing like a little spring cleaning.
Click here for new Docklands Ancestors CDs
Useful link: Old Bailey Online
I was reminded of this site by Heather Martin, who kindly sent me details on yet another Legon ancestor had up for theft, ( light dawns on why my father was a defence barrister!).
The site contains details of over 100,000 trials between 1674 and 1834, making it ideal for finding pre-civil registration ancestors.
Make sure you search using a variety of name variations though. My chap came up under the name Lighorne.
You can search by keyword too: In this case watermen & lightermen came up trumps.
New book titles
As most of you know, my favourite family history topic is Thames watermen & lightermen. It is impossible to study this subject without soon running into the issue of naval impressment. Books specifically on the subject are thin on the ground, although a wealth of primary material survives. Principally, the House of Lords, the National Archives and the Company of Watermen archives. There are however many references in contemporary maritime history books. So that's what I've been reading the last few months, with the works of N.A.M. Rodger and Peter Padfield to the fore.
Applying this knowledge to family history, I now know the who, why, where and when my ancestors were impressed. It gives me a great deal of pleasure to know that in the winter of 1799/1800 Thomas Legon was on board HMS Achille as part of the Channel Fleet blockading Ushant & Brest, doing his bit to bring about the downfall of the dictator Buonaparte.
So, anyway, here's a selection of the best maritime history books which I've enjoyed.
Click here for Maritime Books
New Waterman CD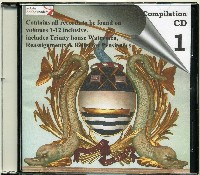 I recently met up with my waterman chum, Rob Cottrell. He's been a busy boy lately re-designing his CDs. In particular he's copied my autorun menu thingy and started to produce compilation CDs. The first is a compilation of his Apprenticeship Bindings Indexes, Pensioners admitted for Relief, Reassigned Apprentices and a new transcription covering Trinity House watermen, ( the only other body permitted to licence watermen on the Thames ).
He's also working on producing his 72 volume Thames & River Medway Series, which were previously available on microfiche, as individual parish CDs. Rest assured, when they're ready, you'll hear about them here first!
Map exhibition
There's an exhibition at the British Library at the moment featuring the history of London maps. I'm dragging the daughter to it on Saturday ( she'll be thrilled no doubt ). I'm particularly looking forward to seeing the Rhinebeck Panorama of London in all it's 360 degree splendour. Reading about old London is great, but you can't beat looking at the place through the eyes of contemporary artists and cartographers.
The exhibition is free, so if you're in London and maps are your thing, this is a great chance to take in all the famous works. If you see a grumpy Chelsea supporter dragging a sulking 14 year old girl by her foot, do come and say hello!
Some new Jigrah Resource CDs
Two new CDs out this month from Jigrah Resources ( scanners of old books ).
Philips' ABC Pocket Atlas Guide to London, ca 1930 The contents of the Atlas are: A guide to Transport, Places of Interest etc for the stranger to London, including an Index Map to the Sectional Maps in Plates V to XXII; 24 illustrated pages describing places of interest; The main atlas of 25 map plates, 18 of which cover, in detail, an area from Willesden & Wimbledon in the west to East Ham & Plumstead in the east and from Stoke Newington in the north to Sydenham in the south; An ABC Gazetteer of London; An index of Streets in the Sectional Maps. The original scale of the detailed maps was 2 inches to the mile. Scanning has enlarged the scale

Bartholomew's Handy Reference Atlas of London & Suburbs, 1930 The Atlas opens with general details comprising: Lists of Consulates & Principal Shipping Companies; Brief description of London; Maps of London Clubs, Electric Railways & London Theatres; Plans of St Paul's Cathedral, Westminster Abbey & The Tower of London and Map of Metropolitan Borough boundaries. This is followed by the main atlas of 80 pages of maps, 74 of which cover, in detail, an area from Edgware in the north west to Woodford Bridge in the north east and from Kingston in the south west to Sidcup in the south east. The original scale of the detailed maps was 3.25 inches to the mile. Scanning has enlarged the scale. The Atlas is completed by a 134 page Index of Streets in the Sectional Maps.
Click here for all History & Topography CDs
Bits & Bobs
# I've a few new pictures to upload from inside Waterman's Hall this month, courtesy of my mate Rob Cottrell, ( who gains entry where mere mortals like me have to keep our nose stuck to the windows outside. Me? Jealous? ). The sheer decadence of the furniture stands testimony to the ability of the Company to extract cash from it's working members!

# Whilst my mind is on Waterman stuff, I've recently found out about a school for sone of watermen. "The Watermen's School, in Wandsworth Lane, was founded in 1684 by Thomas Martyn, a merchant of London, as a token of gratitude for having been saved from drowning by a Putney waterman. The school is a spacious red-brick building, and in it is afforded maintenance and education for twenty boys, the sons of watermen."(From: 'Putney', Old and New London: Volume 6 (1878), pp. 489-503. URL: http://www.british-history.ac.uk/report.asp?compid=45294. ).
I've not been able to find out much more about it so far. Anybofy else know anything about it?

# In addition to the Bracknell and Barking fairs in January ( thank you to those who wrote in to tell me when I have to turn up ), I have had my arm twisted out of it's socket by Pam from Parish Chest, to do the Who Do You Think You Are? event at Olympia in May. Despite the tables costing £165 per day, and nothing in my piggy bank but a thrupny bit, a button and a Stella Artois ring pull, I have agreed to do it, ( anything for a quiet life Pam ). It's billed as the biggest family history fair in the country ( they all say that), with 15,000 people expected. Anyway, here's the URL for more info:

# As I mentioned last month, I'm writing a book on researching ancestors impressed into the Navy. I know a lot of you have researched this subject, making use of ship muster books at the National Archives for example. So, any light you can shed on the subject, I'd be more than happy to hear from you.
Useful website: Dictionary of Victorian London
This is the website of Lee Jackson, who is another London history nut like me. I've watched Lee's site growing over the last few years and my admiration of what he's achieved has continued to grow too. The link below is to his map page, where you'll find a collection of 16 maps, from 1827-1899. The interactive map is particularly good fun, ( although be warned it won't work unless you're browsing with Internet Explorer ).
1911 Census
Some bright spark has brought the Freedom of Information Act to bear on the 1911 Census. Apparently it means there is a limited access to the 1911 Census now. Although at £45 a pop I'll think I'll wait another 5 years! ( 4 years till it's published, 1 year whilst the website crashes and they sort it out!). Anyway, check out the press release for yourself, a handy link below...
Kind regards
James and the ParishRegister team