Dear Subscriber
Hello and welcome to the February ParishReg newsletter. It's been another busy month on the site the highlights of which are :

The addition of about 40 new images to the picture gallery; a new transcription started; about 30 new book titles added; more book extracts added; another early National Archives waterman transcription completed; the publication of the 1899 Royal Asylum for Watermen book scan; some excellent links added and last but not least the completion of the 1816-1826 St Dunstan trancription.

You also won't fail to notice that the site now has Google adverts on it, but hey, at least they're relevant! I'm hoping that these will pay for the webhosting costs of the site.

We've got some excellent special offers for you this month- be sure to check out the Parish Register Database Search Offer-you'll like it!

Bit of a long Newsletter this time; still not much call for gardeners at this time of year!
Online Searchable Databases
This is the progress of transcriptions underway and uploaded to the online searchable databases:

St Dunstan, Stepney, baptisms, 1816-1826,10,168 entries.100% complete. Lots of entries from Shadwell, Ratcliff, Limehouse, Wapping and Poplar. A fantastic transcribing job done by John & Beryl Powell. Not only is this one of our biggest transcriptions yet, the accuracy rate is amazing.

St Mary Whitechapel, baptisms, 1792-1812, approx 13,000 entries .50% complete, 6500 entries uploaded this month.This transcription follows on from the 1813-1823 earlier transcription.
I shuddered when I saw the film, but young Jim has got this well sorted.

St Mary Newington, Southwark,1829-1837, now underway, about 1,200 entries have been uploaded. Again, this follows on from another St Mary's transcription, done by me from a film sent in a by one of our earliest supporters. Annemarie is cracking on with this and I'm sure it won't take her long to finish it. Thereafter we'll get the other years done up to 1902.

That's 10,000 entries added to the site this month!

As stated previously, more of St George in the East, All Saints Poplar and St Anne, Limehouse etc coming up next.

My good friend Rob Cottrell has launched an assault from south of the Thames, beaching his ships at St Dunstan. He's going to be transcribing the years following our next transcription which is up to 1835. He plans on covering 1835-1875.

Please see our Database Search Special Offer before you nip off to search the databases though :)

I'm often asked if we'll be doing this parish or that one, and when. The answer to that is, it's our intention to transcribe every parish in London. Now that's a pretty tall order, as there's thousands of parishes and each transcription costs money. But, we will get there, erm, eventually! ( Sorry, I feel a quote coming on, " This task was appointed to you, Frodo Baggins").
Parish Register Database Search Special Offer
This has to be just about the best special offer we've run yet. It's a search across all our parish register databases that are to be found on the search page. Basically, we'll search every register for one chosen surname and email the results to you.

We trialled it last week with our Message Forum members and I have to say it did prove rather popular!

It's normally priced at £9.95, but this further reduced for Newsletter subscribers to £7.95

The offer runs until the end of February, so be sure to take advantage now ( and tell all your friends too!).

If you're searching for a name like Smith in 17 databases £7.95represents a saving of £40.
Enough said!
New Docklands Ancestors CDs
Volume 18.St Mary, Whitechapel.Baptisms Registers.1813-1823.6,847 entries,fully indexed.CD-ROM in Adobe Acrobat format (supplied).Transcribed by Jim Sheppard.Published by Docklands Ancestors Ltd.
Price: £5.95 P & P in UK: £1.00 P & P Overseas: £2.00

Volume 19.St Dunstan,Stepney. Baptisms Registers; 1822-1826.4,216 entries, fully searchable, CD-ROM in easy to use Adobe Acrobat .pdf format,(supplied). Transcribed by Beryl & John Powell.Published by Docklands Ancestors Ltd.
Price: £5.95 P & P in UK: £1.00 P & P Overseas: £2.00
Click here to buy this CD
Watermen & Lightermen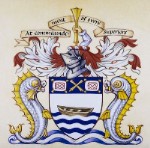 I've obtained another document from the National Archives, this time a 1703 petition from an insurance company to protect their employees from impressment. There's 21 names on it. Hope someone finds an ancestor on it.
Visit the Waterman page to view this, in the free database section.

The highlight for me this month is a booklet I obtained on ebay called 'Royal Asylum for Poor, Aged, Decayed and Maimed Freemen of the Company of Watermen and Lightermen of the River Thames and their Wives or Widows.Penge,Surrey 1899'.
This isn't referring to a lunatic asylum, but to retirement homes at Penge in Sussex. It lists the names of the residents, the patrons and most useful of all, it lists approx 600 people who donated to the charity. I was thrilled to find my great grandfather listed as having donated 13 shillings.
I've scanned the whole thing and put it onto CD.
It's generated a lot of emails from people who had ancestors living there, or remember visiting the place. So I'll probably start a new section on the Waterman page soon devoted to Penge.

We're looking into arranging a Waterman Tour in the summer. This would consist of a cruise on the Thames with commentary by a Thames waterman, a visit to the Museum in Docklands, a walk around St Katherines Dock and lunch at the Prospect of Whitby. There would be a qualified guide and yours truly will be coming along too, with a total group size of about 20.

At this stage I'm trying to find out if anybody would be interested?
I'd much appreciate some emails on this. I should have some idea of the cost next month.

For those who would need to stay in the capital, I'm sure we could get a discount if we made a block booking at say,the Tower hotel, next to Tower Bridge. I'm sure we could rope in young Rob Cottrell for the price of a dinner to give us a bit of a talk in the evening too. ( And I do know of a good pub just around the corner!)

As ever, your thoughts to jameslegon@gmail.com very much appreciated!

The next Waterman transcription has got me quite excited. It's a 1648 petition by waterman to King Charles I. I came across this, I kid you not, at the House of Lords the other day. My daughter wanted to join the queue to audition for a part in the next Harry Potter film, so off we toddled to Westminster Hall. On seeing the queue, which must have been a million miles long and contained every teenage girl in the world, even she said, erm, did you wanna do something family history website/lets buy shoes/MacDonalds? Resistance thus worn down, we decided to explore the archives of the House of Lords, as you do, and we found this document. Talisa is into history at the moment, so I got away with just the MacDonalds and not the shoes!
It's pretty hard to transcribe, but I'm sure I'll have it done by next month.

I know a lot of you aren't really interested in stuff that far back, but, anything that pre-dates the records of the Company of Watermen & Lightermen is pretty rare stuff. One of our aims is to make available all the surviving records, so that's why I'm excited.
Ok, and getting out of buying shoes for Talisa too whilst she was distracted by the House of Lords was a result too!

I'm sure there's a lot more waterman material in their archives so I'll probably be back there soon.

Last, but by no means least, I submitted my ebook, My Ancestors were Watermen: A Guide to Tracing your Watermen Ancestors to the Society of Genealogists for their consideration, with a view to publishing it as a book. Much to my amazement, it's been accepted. I feel a complete fraud, as Rob Cottrell is the the real expert on matters watermen. ( Still, at least he wrote the foreword!). It should be out in April and we're trying to get a book launch sorted out at Waterman's Hall. If we're successful, you're all invited!
Featured Product : Kelly's Directory of Ilford, Seven Kings & Goodmayes, 1926

This is another excellent scan from Jigrah Resources. Here's the description:
'As with many of these directories the map is missing (there is a mere stub left in the book). To compensate for this, four pages (which cover the approximate area) have been included from the Authentic Map Directory of London & Suburbs 1924 (originally published by Geographia Ltd). The remainder of the directory is complete and comprises: Ilford topography (illustrated); Public officers & offices; Parochial information; Churches, chapel, institutions &c; Postal information; Street directory; Private residents (alphabetical list of); Tradesmen and others (alphabetical list of); Professional and trades directory. Some of the scanned pages appear not to be straight. This is a feature of the original book rather than the scanning process.'

The Private Residents Directory is particularly large, amounting to about half of the 500 odd scanned pages. I had a chuckle when I saw at the top of the Trades Directory that early closing day was Thursday. How times change. There's some excellent photographs of the area. Ilford Town Hall looks more or less the same today. But the wide empty streets certainly don't look the same! I'm not usually a fan of directories, but I enjoyed this one, probably because it's the area I spent the first 10 years of my life in.
Published by Jigrah Resources. £11.00

For next month, Graham has scanned an Official Guide to Ilford 1930. I'm quite excited about this, as this was when my grandfather moved to the area ( which is where I was born). I think next month we'll have a 'Focus on Ilford' section. Graham has also just completed a scan of the famous Stow maps, which I can't wait to get my hands on!
Featured Product : London Maps Through the Ages

This CD contains 11 maps of London, from 1666 to 1931. I have to say that the quality of the images is stunning. I was able to zoom in at 1200% before the image started to blur. I'm told that Rod has invested £45,000 in a new scanner and after seeing what it can do I have to say it's money well spent Rod !
I spent an entire morning playing with this cd. What I found particularly useful, when a certain young lady from Bradford asked which Alan Godfrey map a certain street is in, is that you can find streets very quickly on the cd.
I know this is a cd I'm going to be using frequently, so I must remember to put it back in its case! ( Which is one of those sturdy plastic ones. I'm becoming a fan of these too).
Published by Archive CD Books. £14.25.

New Book Titles
We've added about 50 new titles this month. About half of these are newly published with the remainder being old, rare or out of print titles. I've at last got hold of a copy of Men of the Tideway and if you want it, I'll be trousering £75!
Here's a selection of them, ( and oh, how surprising, they're my favourites!):

Bermondsey & Rotherhithe Remembered by Stephen Humphrey
Contributions to the Maritime History of Great Britain by Crighton,J
Dockland: Illustrated Historical Survey of Life and Work in East London by R J M Carr (Editor).
East End Neighbourhoods (Images of London S.) by Brian Girling
Essex Thames-Side: Woolwich to Thorpe Bay by Chris Thurman.Photography book
The First Hundred Years at St Peter's London Docks.
Ilford: A Potted History by Norman Gunby.
Life & Traditions,London's East End, by Jane Cox.
Liquid History:To Commemorate Fidty Years of the Port of London Authority 1909-1959, by Arthur Bryant.
My East End: Memories of Life in Cockney London by Gilda O'Neill.
Our Street: East End Life in the Second World War by Gilda O'Neill.
Port of London 1909-1934 by Alan Bell.
Stepney Story: A Thousand Years of St Dunstan'sby Peter Wyld.
Thames Shipping by Alex Payne.
The Great Dock Strike 1889 by Terry McCarthy.
The Port of London: Official Handbook of the PLA.
Thomas Doggett Pictur'd by Walter Leon.
Victorian London: The Life of a City 1840-1870 by Liza Picard.
The Victorian Workhouse by Trevor May.
Voices from the Waterways, by Jean Stone.
Working Lives: People's Autobiography of Hackney: 1905-45 v. 1.

Apprenticeship Bindings 1688-1692 Atlas.
-We are the sole internet distributor of this book. The only other place it can be ordered from is the LMA-and they are charging £30 UK postage! It's a big heavy book

In general you'll find that the prices of all our books in current publication are in line with the Amazon price.
Docklands Ancestors Series CD Special Offer Compilations
Isle of Dogs Parish Registers. This comprises Docklands Ancestors Series CDs:
Vol 8 St Luke Millwall 1866-1887;Vol 9 Christ Church, Cubbitt Town 1876-1904;Vol 10 All Saints Poplar 1835-1857;Vol 11 St John Cubbitt Town 1887-1902;Vol 15 All Saints Poplar 1813-1835
All baptisms registers, on one CD, in Adobe Acrobat format.
Normal price: 5x£5.95=£29.75, you save £14.80

Limehouse Parish Registers. This comprises Docklands Ancestors Series CDs:
Vol 3 St Paul Shadwell 1852-1881;Vol 4 St James Ratcliff 1841-1913;Vol 6 St Anne Limehouse 1833-1854;Vol 7 St Peter Limehouse 1866-1903
All baptisms registers, on one CD, in Adobe Acrobat format.
Normal price: 4x£5.95=£23.80, you save £8.85

Stepney Parish Registers. This comprises Docklands Ancestors Series CDs:
Vol 12 St Dunstan Stepney 1839-1844;Vol 16 St Thomas Stepney 1840-1876;Vol 17 St Dunstan Stepney 1816-1822;Vol 18 St Mary Whitechapel 1812-1823;Vol 19 St Dunstan Stepney 1822-1826
All baptisms registers,(except Vol 12-burials) on one CD, in Adobe Acrobat format.
Normal price: 5x£5.95=£29.75, you save £14.80

Wapping Parish Registers. This comprises Docklands Ancestors CDs:
Vol 1 St Peter, London Docks 1878-1933;Vol 5 St John Wapping 1813-1847;Vol 13 St George in the East 1815-1820;Vol 14 St George in the East 1821-1826
All baptisms registers, on one CD, in Adobe Acrobat format.
Normal price: 4x£5.95=£23.80, you save £8.85

All priced at: £14.95 P & P in UK: £1.00 P & P Overseas: £2.00
Click here for Special Offers!
Useful Links
We're always adding interesting and useful websites to the Useful Links page. This month there's a site that compares the worth of the pound between 1830 and 2004. It also shows the purchasing power of the pound between 1264 and 1980.

Added too are the Dictionary of Victorian London, a database devoted to Sugar Refiners and a photo image site.

Please get in touch if you know of a website that would be of interest to our visitors. But please, I'm sick of websites that are nothing more than a page of links to other people's websites!
Useful links page
New Releases from Archive CD Books
Book Extracts
Added this month:

Men of the Tideway, Chapter 2, by Dick Fagan & Eric Burgess.
Dockland:Reflections on the lighterage industry.This features an interview by Chris Ellmers (curator Museum of London) with a lighterman, John Jupp.
Alfred Dedman, from Working Lives Vol 1. Another wonderful recollection of a life on the river

Coming next month: Memories of a Working River.
I snapped this one up whilst visiting the Museum of London last week. Unfortunately the only copy. ( I didn't know it's free to get in. An excellent day out, especially if no children in tow! )

The book I'd really like to post an extract from is 'Tales of a Thames Lighterman' by Ernest G Murray. If anybody knows where it's for sale or can lend it to me, I'd be most grateful!

Whilst we're on the subject of a good read, another newsletter I'd recommend is the one from the Guildhall Library. Let me know if you'd like a copy.

Other things we always like reading are emails telling us about your family history success stories. It can get mind numbingly boring proof reading databases all day. The arrival of an email from someone we've helped years ago is a most welcome distraction.
Click here for a good read!
Picture Gallery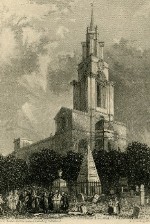 As a site that focuses on parish registers, I thought it was about time that we started to have pictures of the churches on the site. You'll find these in the section called East End Churches. Some of them are from old books and newspapers, whilst others were taken by me whilst wandering around the area where my ancestors lived for three hundred years.

There's some excellent pictures of the inside of Waterman's Hall too. Pictured here is an early picture of Hawksmoor's St Anne Limehouse

If you have any pictures you'd like us to display, please feel free to get in touch. It's better if they're from a source that's over 100 years old, as there's no copyright complications. I'm sure I'm going to get my wrist slapped for one or two of the images on the site. If that happens I'll remove the offending article and apologise. But as we're not charging anything to look at them, I don't see why anybody should mind really.

Next month I'll be posting up some lovely images from the Port of London 1909-1934 by Alan Bell. There's some wonderful pre War pictures of the docks, that are now sadly gone.
Another brick from the wall
Sooner or later in family history, we all hit the proverbial brick wall.
I've been stuck looking for the baptism of my ancestor John Gleghorne, who got married at St Paul Shadwell in 1701. Three years of looking and all I know is where he wasn't born. I was beginning to suspect that as he was a mariner before he was a waterman, that perhaps he'd sailed in and met a local girl and stayed. The name Gleghorne is prevalent in Durham, Northumberland and Scotland in the 17th century, but almost non existent around London.
And then a breakthrough, of sorts. I was at the Guildhall Library with my daughter the other day and we spent the afternoon going through the Harleian Society volumes pertaining to City of London parish registers. And bingo! A Sarah Gleghorne got married at St Katherine by the Tower in 1688(9). Crucially, she was a widow at the time and even better, she lived in Shadwell. Now if that's not John's mother then I'm a Womble!
So, I'd say that probably scuppers my northern theory and I can get back to digging around London again.
Next step is to find Sarah's marriage licence, her first husbands burial entry and their marriage entry too. I bet I find them all in the same place too.
Anyway, the moral of the story is, don't give up, keep looking and enjoy the moment when you do make that breakthrough.
We Recommend Vertical Response for Newsletters: We Use Them!

Money Off Voucher
********************************************************************************************************
VOUCHER


£2.00*

"Yes please James ! I've ordered some stuff, knock £2.00 off.

I've used my own scissors and cut this bit out and sent it with my order. Obviously, I printed it off first ! Or, I copied, pasted and printed it out ! ( Well done Mike!)
* excludes Alan Godfrey Maps and Special Offers and Waterman Affidavits. Minimum spend £5.00

Apparently more small print is needed......
One voucher per customer! Or to put it simply, £2.00 is all yer gonna get! Applies to payment via UK cheque only and to those who can't resist a visit to my shed ( Hello Mrs Proudfoot!).
********************************************************************************************************


The Parish Chest
Parish Chest are actually a competitor , as well as being a distributor of ours. I include their link here because in the 2 years we've been doing business with them they are quite simply the most efficient firm we deal with. Pam and Frank have assembled just about every supplier in the business, making their site the nearest thing to a one stop family history shop.
And, no, I haven't been paid to say that !
Using the website HOT TIPS!
Using the shop pages

Let's look for Historical Books!
Starting from the menu on the Welcome page, click 'Shop'
Where it says 'Browse entire shop' click on the drop down menu
In this example, choose Books, and then click 'Go'
Where it says 'Browse this dept for' click Books –Historical, and then click 'Go'
You're now in the sub-category Books- Historical

Shortcut tip

Let's say you're interested in Ilford.
Starting from the menu on the Welcome page, click 'Shop'
Where it says 'Search for', click the drop down menu and choose 'Entire shop'
Then type in Ilford and press 'Go'
All sorts of things come up, all to do with products about Ilford.

Best wishes & good luck with your researches!

James and the ParishRegister team

The closing quote:

"Much that once was is lost, for none now live who remember it"

And a special hello to Helen, Mary,Carole, Heather, Ken, Heidi, Jean, Peter,Lisa, Edna and all others who have distracted me from my labours in the Shed!